Blog February 2008
26/2/08
I was really saddened today to hear that Gospel singer Larry Norman died last Sunday. He was the first contemporary gospel singer I started listening to after Cliff Richard popularised some of his songs. He was never that well known in Ireland, and many years ago I was really disappointed when I heard one day in Dublin that he had played a concert there the night before and I didn't know about it.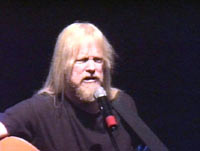 Larry was probably the first of the "Jesus rockers" in the early 70's, a real trailblazer who at times fell foul of the mainstream gospel music world because rock was his idiom, and of the secular music world because it wasn't at all accepted to sing about Jesus in rock music. His song Shot Down, which I have used in class many times captures this early negativity towards his music, and his Why Should the Devil Have all the Good Music provided the rationale for his novel approach. As regards using his songs in class, when looking at themes in music, I tend to use audio only as the students find his appearance too freaky! He certainly was one of a kind, quirky, creative, innovative.
He didn't much go in for devotional material, but pushed the boat out much farther. His songs were full of striking metaphors - Jesus was an Outlaw, a UFO, the Rock that rolled away the blues! I think his early albums are the best - e.g. In Another Land and Only Visiting this Planet which has the classic Great American Novel, a blistering social comment on US society - "Your money says In God We Trust, but it's against the law to pray in school", and a sharp dig at the KKK - "the sheets you wear upon your head are the sheets your children sleep on".
I thought his later material was weaker, and too much of his output was re-releases and compilations, but he always had such a distinctive voice and presence. May he rest in peace!
NB I have put some concert footage on the videos page.
For a moving account of Larry's last days see his website.
7/2/08
I've doing morality with 5th year students and over the last few days concentrating on choice, responsibility and consequences. By chance that very topic came up on the TV series Prison Break on Tuesday night last so I was able to use the relevant clip in class. ("He's a fan" muttered one student when I explained the storyline!) The main character Michael Schofield is a moral character - in the first series he had to break his unjustly imprisoned brother out of jail, and now is trying to break another prisoner out because the life of his nephew is being threatened. He wants to do the right thing and feels really bad about the harm he has inadvertently caused to innocent people along the way. In this week's episode he told his brother how tired he was of all these responsibilities and consequences. Then, having not allowed a young prisoner to join the latest escape attempt, he allows him to make the choice, but says he won't be responsible for this young prisoner. In between the two conversations we see a striking drawing on one of the walls of the jail - an upside down man skewered by a spear surrounded by what looks like the fires of hell! A symbol for the way he feels perhaps?
3/2/08
I'm starting to repeat my sacraments module and scratching around for new resources. Apart from the usual deep theological stuff I try to throw in a few artistic resources to prod the students' imaginations. For the Sacrament of Reconciliation I was looking for material on forgiveness. As before I used that great clip from The Mission where the Robert de Niro character, who has killed his brother, opts to drag all his military gear to the top of a great mountain as a penance. I'll never complain about three Hail Marys again. The load he carries is a great symbol of guilt and repentance, and when it is released from him by people he has offended it's a very moving moment. I find the students usually get absorbed in it. This time round I also included a clip from Spiderman 3 where Spiderman's alter ego, Peter, is visited by an aunt to advise him to forgive himself for hurting his girlfriend and move on. There's more forgiveness near the end when there's a reconciliation between enemies, but I'm reluctant to spoil endings! Last of all I found a music video called Forgiveness on YouTube (see it here) - Peter Katz sings about forgiveness inspired by the forgiving attitude of Michael Berg whose son Nick was murdered in Iraq. It held the attention of 6th year boys on a Friday evening.
I'm continuing with my drama and religion module with Transition Year students - in the most recent class we looked at religious themes in Shakespeare - using extracts from Macbeth, Hamlet and Merchant of Venice, so it's all wonderfully cross-curricular! The extracts I use are on my Teachnet project site (here) and I use video clips of these extracts, borrowing from the English Dept video collection. The three extracts, with the accompanying texts on handout fit nicely into a double class, and of course it helps if you remind the students that they might be doing some of these plays for Leaving Certificate exams. The court scene from Merchant of Venice is particularly riveting for a class, especially if they don't know what's going to happen. Following Portia's great speech about "the quality of mercy" there is great tension as Shylock prepares to cut a pound of flesh out of Antonio.