Advent Resources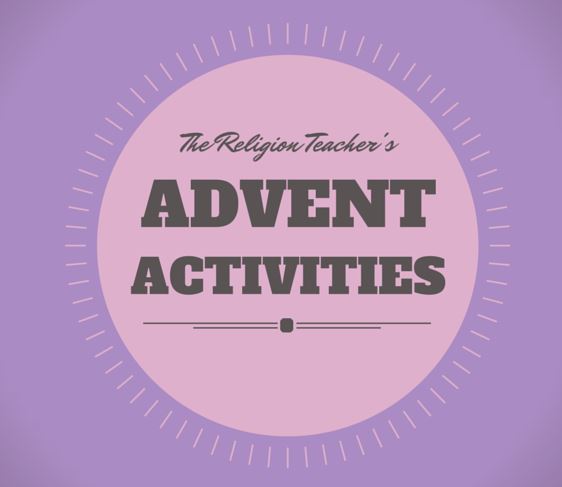 The Religion Teacher is a US website offering a wide range of resources. Some material is free, some is available on subscription. The site's resources for Advent are available at this link.
Palestrina for Christmas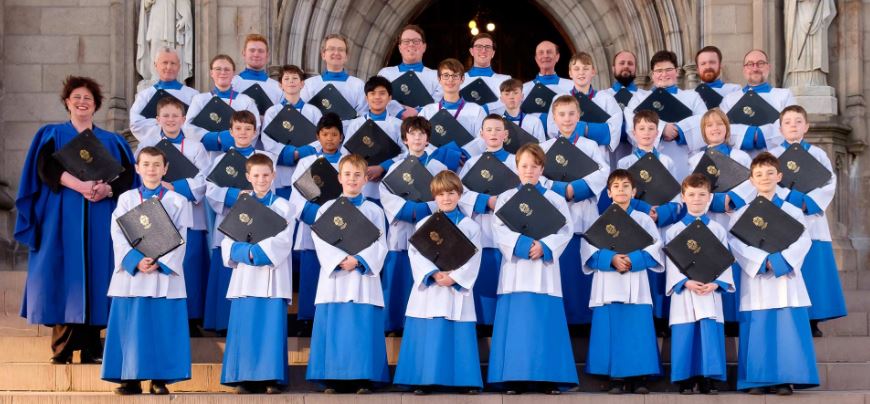 The Palestrina Choir, attached to Dublin's Pro-Cathedral, will celebrate the end of their 120th anniversary celebration with a Christmas concert in the National Concert Hall in Dublin on Wed 6 Dec at 8 pm. Blánaid Murphy is regarded as one of Ireland's leading conductors. She has been Director of The Palestrina Choir since 2002. More info and booking here.
New Dublin Voices Christmas Concert
New Dublin Voices, directed by Bernie Sherlock, will perform a Christmas concert in the John Field Room of the National Concert Hall on Friday 8 Dec. Booking and info here.
Handel's Messiah
Our Lady's Choral Society and the RTÉ Concert Orchestra with Proinnsias Ó Duinn and world class soloists present the 'definitive' performance of Handel's Messiah at the National Concert Hall, on Tues 12 Dec and Wed 13 Dec. Booking and info here.

Catholic Poems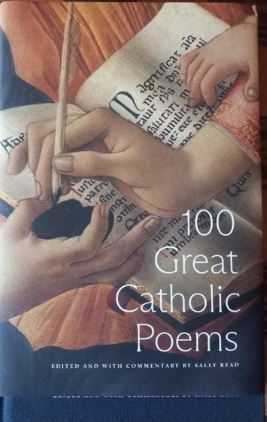 100 Catholic Poems is a collection edited with commentary by poet and Catholic convert Sally Read.
Search for Meaning Workshop



Oide RE (the official RE support service) are having an online elective event to support student engagement with CBA 2: The Human Search for Meaning on Wednesday the 6th of December. More info here. Register here: https://buff.ly/3R9HXZm
All Hallows Concert



Winter Choral Concert - Wednesday, 22 November 2023, 6.30pm
ALL HALLOWS CHAPEL, DCU 6.30-8.00pm Free Admission, all welcome. DCU Lumen Chorale, conductor Róisín Blunnie
DCU Music Society Choir, conductor John O'Flynn with guest soloists and groups. The varied programme includes Schubert's Ständchen, excerpts from Vivaldi's Violin Concerto and Gloria, choral arrangements of The Salley Gardens, Didn't My Lord Deliver Daniel, Into the West (from Lord of the Rings), John Spillane's All the Ways You Wander, Go Your Own Way by Fleetwood Mac, and a beautiful selection of traditional slow airs and dance tunes. Adm free. More info here.
Gardiner St Gospel Choir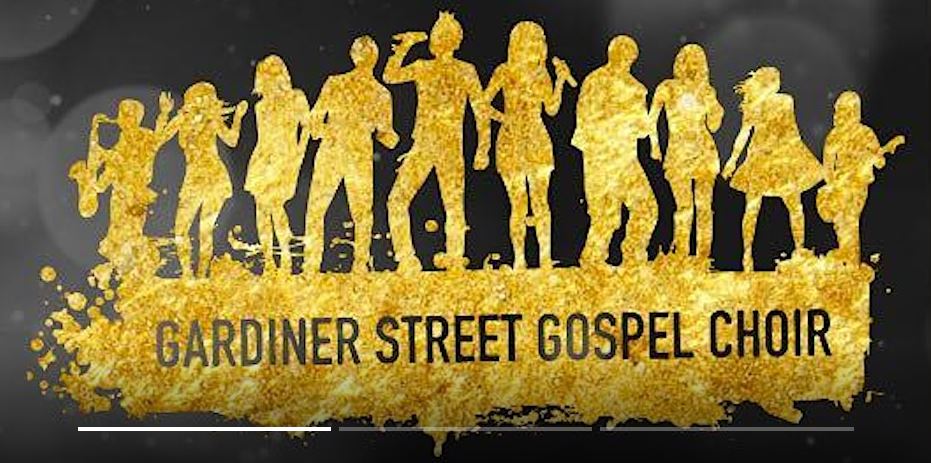 The Gardiner Street Gospel Choir invites you to join them on Wed 13th Dec for an evening of Christmas cheer with fellow parish groups the Gardiner St Primary School Choir & Xavier Music Ministry. Online tickets available here or from the Parish Shop. This is a family friendly event with Adult tickets from €15 and Children from €5.
Howth Concert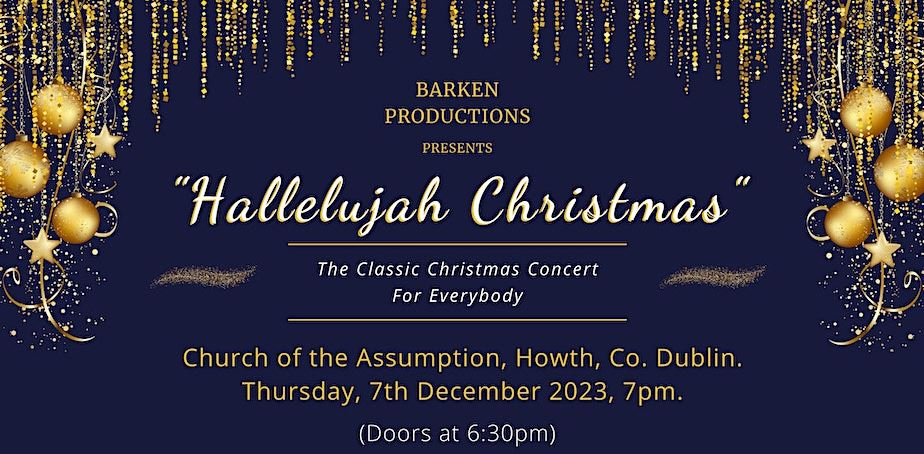 Hallelujah Christmas is a classic Christmas concert aimed at the whole family. The goal is to bring some old-fashioned Christmas spirit and cheer to all who join in. The music has been carefully chosen to create that nostalgic, ambient Christmas mood, those of us of a certain age remember so well. Hallelujah Christmas will have the talents of Barbara Galvin (vocalist), Jeremy Morgan (vocalist), Kenneth O'Regan (vocalist), Pádraig Kilbride (pianist), Denice Doyle (violinist) and David Doyle (cellist) on show, so it is guaranteed to be an unforgettable night's entertainment. Thu, 7 Dec 2023 19:00 - 21:00 Howth Catholic Church. More info and booking here.
Thanksgiving Mass
Mass on American Thanksgiving will be Thursday 23 November at 6pm at Newman Church St Stephen's Green, Dublin 2. Students from the University of Notre Dame will join us and members of the Newman Vocare Emsemble will be singing! All are welcome to come celebrate!
Kildare Orchestra


Fresh from its successful countywide tour with the Shackleton show, "South! Always South", the County Kildare Orchestra, under the baton of Musical Director Lorcan Daly, changes tack to bring you a selection of festive favourites. They will be joined by the Celbridge and Dublin members of Croí Nua under Choral Director Kathryn Smith and tenor Fr. Darragh Connolly to bring you an enchanting selection of carols and Christmas songs including the Hallelujah Chorus, the Holy City, Leroy Anderson's Sleigh Ride, Nessum Dorma, excerpts from The Nutcracker and much much more. With over 100 musicians and singers. Saturday, December 9 · 8 - 9:30pm. Info and booking here.
Christmas Musical Film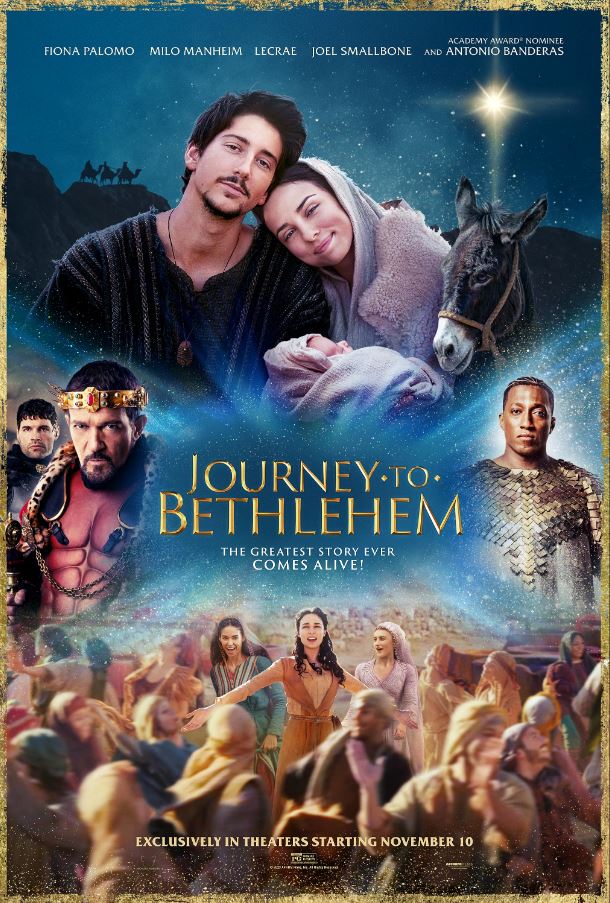 Journey to Bethlehem is a new Christmas musical film, starring Antonio Banderas. The IMDB Entry is here. There's more information and an interview with writer-director Adam Anders at this link. In Irish cinemas from Nov 17th.
Taizé Album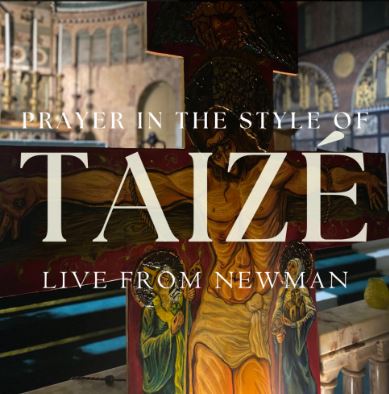 Over the past year the quartet of Taizé musicians at Newman University Church recorded some of their favourite songs from our Tuesday evening service. The album "Prayer in the Style of Taizé" is now on Spotify and Apple Music wherever else you listen to music!
November Moment 2023



As part of Catholic Schools Week 2024, there are resources for the 'November Moment' - a plan of work, a prayer service and a worksheet. The post-primary resources can be downloaded at this link.
Advent and Christmas Events at Newman Church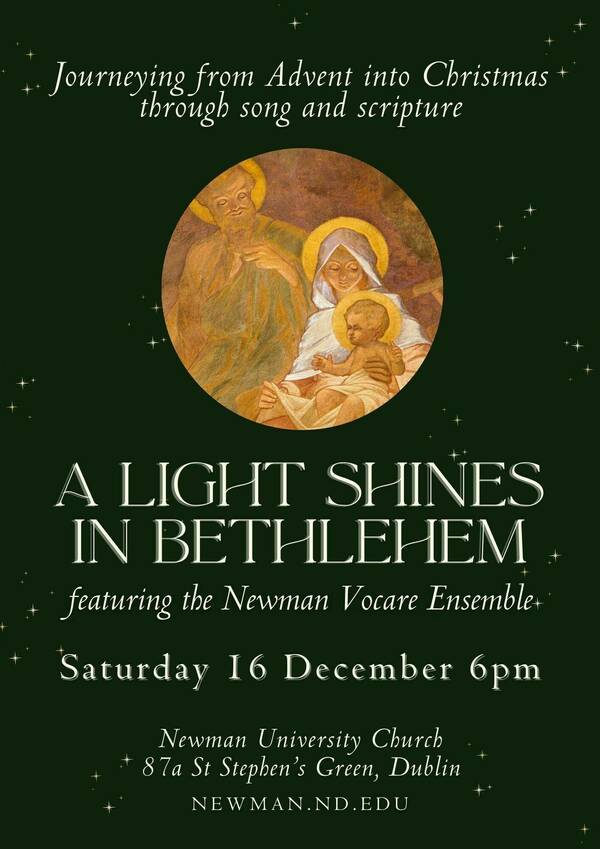 Advent themed prayer in the style of Taizé will be on Tuesday 12 December and 19 December at 6pm, followed by tea and biscuits. (There will be no Taizé on Tuesday 5 December.) "A Light Shines in Bethlehem" Newman Vocare Ensemble's Seasonal Carol Service will be Saturday 16 December at 6pm. This is free and open to the public! Come listen to some beautiful music as we journey from Advent into Christmas.
Safe Home Ireland with Sean Keane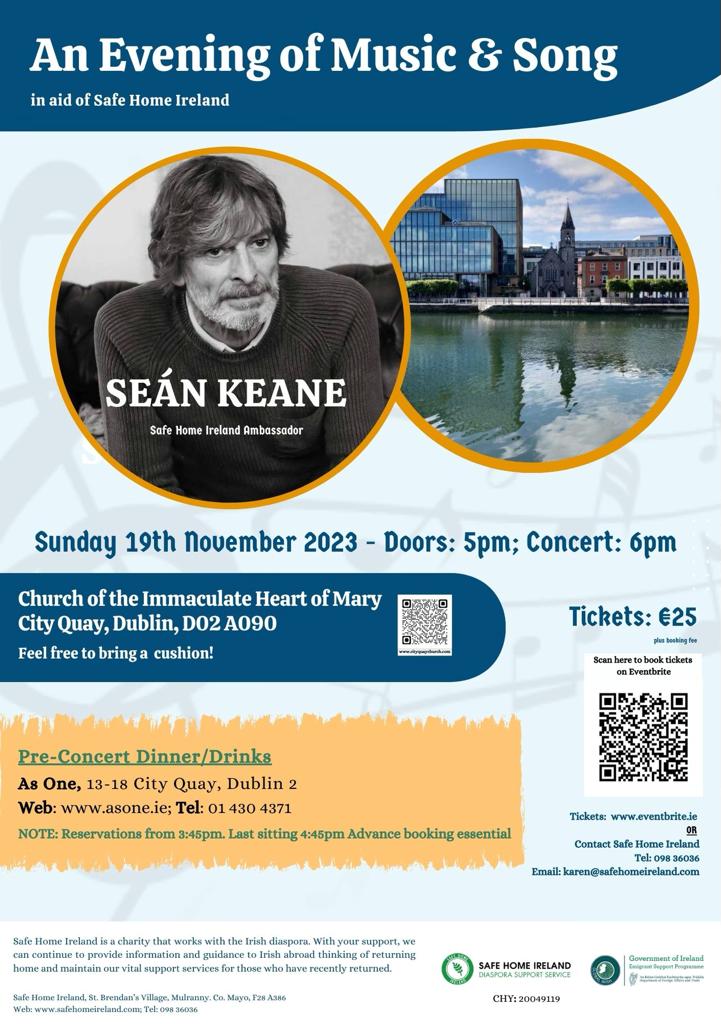 Sean Keane will perform in a concert for Safe Home Ireland, the Emigrant Welfare charity, on Sun 19 Nov 6 pm in the Church of the Immaculate Heart of Mary, City Quay, Dublin. You can also book pre-concert dinner and drinks.
Palestrina Choir



The Palestrina Choir, attached to the Pro-Cathedral Dublin have several upcoming events for the 120 celebrations. On Wed 15 at 8 pm. Nov there's a lecture on the history of the choir and a round table discussion. On Sun 19th Nov there's a new setting of the Latin Mass by Sean Doherty, at 11 am.
Dublin Diocese November Resources



The Education Secretariat of Dublin Diocese has released its blog for November - a wide range of resources, including many arts resources. Check it out here.
Resources for All Saints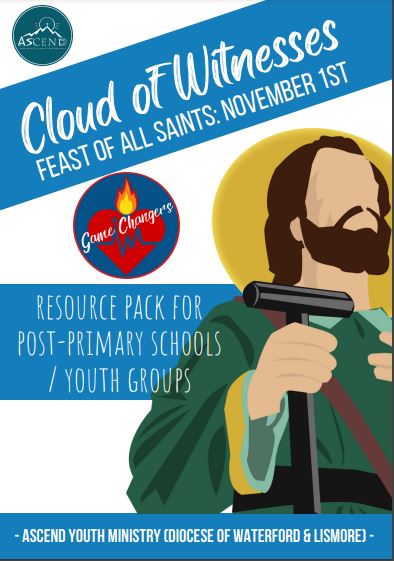 The Diocese of Waterford and Lismore has produced a resource pack for All Saintys Day, Nov 1st, aimed at Post-Primary Schools, especially junior cycle classes. The pack can be downloaded at this link.
Catholic Author Wins Nobel Prize
Catholic convert and author Jon Fosse has awarded the Nobel Prize for literature. His latest novel is A Shining. He will receive the award on 10th December. More info here.
Mission Sunday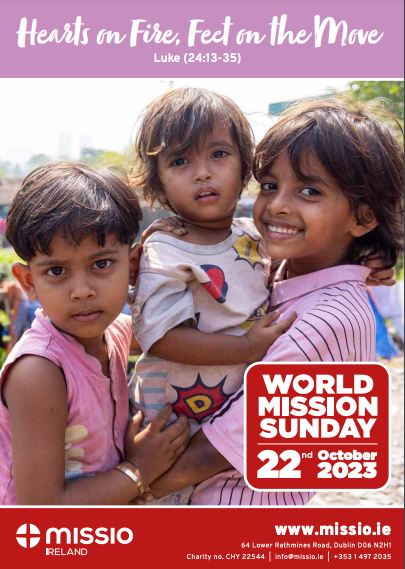 Sun 22 Oct is Mission Sunday. The theme is 'Hearts on Fire, Feet on the Move'. This year's resources can be found at this link.
Ascolta Concert
Ascolta will be having their Christmas Concert in University Church on 15 December at 6pm, In Dulci Jubilo, which will include an exploration of different settings of this famous Christmas text as well as carols that we all know and love! This year, they are supporting the wonderful work of OCF, the Oesophageal Cancer Fund who are bringing the good fight to a bad cancer. Their vision is that everyone affected by Oesophageal Cancer receives the earliest and best support and treatment possible. If you can't make it to the concert but wish to donate, please click here. Tickets are €15 online or at the door. Concession tickets at €12 will be available at the door on the night for students and over 65s.
Calling Artists of Faith!



Press Release from Catholic Communications Office: 'Are you a person of faith, with a creative gift in art, and would like to encourage vocations to the diocesan priesthood?
Perhaps you have already created, or are willing to evoke, the beauty of a vocational calling through paint, sculpture, print, poetry and/or photography. If so, you are invited to apply with your name, an image of your artwork or exhibit, by email to info@vocations.ie. An exhibition called 'Art for Vocations' will be held at Portlaoise Parish Centre from 3.00pm to 6.00pm on 18 October, the Feast day of Saint Luke, Patron of Artists.

On the day, artist Eoin Madigan will give a talk on Finding God in Paint. Mr Madigan said, "visual art has the ability to communicate without words. It can inspire us, touch our emotions, reveal truths and challenge us in so many ways. What better medium than to explore our encounters with God? These are very special encounters that, without words, open our hearts and draw us into an awareness of God's presence"

This initiative has been undertaken by the National Vocations Office of the Bishops' Conference, as part of the 'Year for Vocation to the Diocesan Priesthood, 2023 – 2024'.

Emmanuel 2024
Preparations for Emmanuel 2024 are under way in many schools across the Diocese. Teachers came together in Our Lady of Victories Church on 13th September to receive their induction to the music being performed in the Helix in March 2024. Four nights of beautiful music by students in schools from Dublin Diocese. The soloists and choirs in schools are all busily preparing for the concert in the Helix. Each day before the concerts, students are invited to take part in faith-based workshops, with reflections and rehearsals of music for the night ahead. Each morning of workshops is followed by full rehearsals and then a live concert every evening where parents, family members, teachers and the public get to enjoy the fruits of the musical and spiritual preparations. The students take the music and prayers they learn during Emmanuel and adapt them to prayer services in their school communities throughout the year. Past Emmanuel Students helped once again with the vocal recordings for Emmanuel 2024. They were guided by Ian Callanan, Music Director of the programme.
Remembrance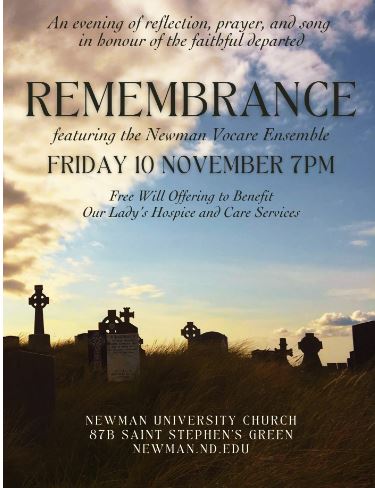 There will be an evening of remembrance, with music, prayer and song, in Newman Church, St Stephen's Green, Dublin 2 on Fri 10 Nov at 7 pm, featuring the Newman Vocare Ensemble. Donations to Our Lady's Hospice.
New Album from Porter's Gate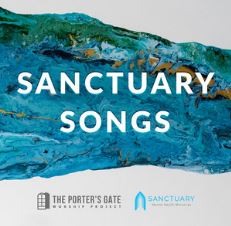 The Porter's Gate music collective have released a new album 'Sanctuary Songs'. The blurb: 'We hope these songs are a helpful resource to you and to the church as we bring our mental health into worship.' Check it out here: https://slinky.to/sanctuarysongs or direct on Spotify https://open.spotify.com/album/1CSfutoC6m5nK6LIAAI0ai
Oide Religious Education
The JCT support service has been incorporated into the new Oide service. For the most up to date news (e.g. on inservice opportunities) check out the Oide Twitter/X page https://twitter.com/Oide_RE
New Film Wildcat is a new film about Catholic author Flannery O'Connor as she tries to get her first novel published. It stars Ethan Hawke, Laura Linney, with Maya Hawke as the young O'Connor. Background info here; IMDB Entry
Season of Creation Resource Pack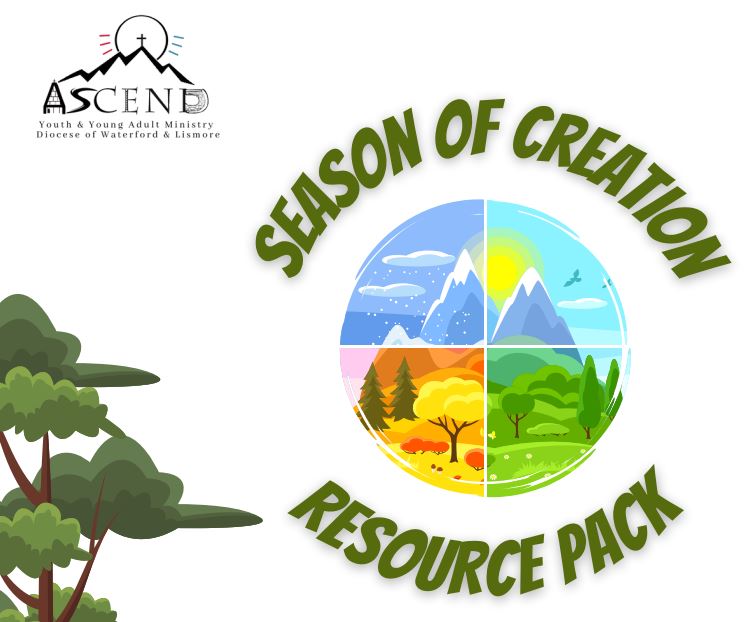 The Diocese of Waterford and Lismore has made available a resource pack for the Season of Creation. This can be downloaded at this link.
Dublin Diocese Sept 2023



Dublin diocese Education Secretariat has release their Sept Blog, which features a huge range of resources for all relevant events and feast days for Sept 2023. This can be accessed at this link.
Newman Church - Season of Creation
Newman Church St Stephen's Green, Dublin 2 has a variety of resources suggested for the Season of Creation - these can be accessed at this link.
New Icon
To mark the 150th anniversary of the dedication of Saint Patrick's Cathedral, Armagh, a new icon of Saint Patrick has been prayerfully and lovingly written by the Redemptoristine sisters of Drumcondra in Dublin. Read more at https://catholicnews.ie/sister-angela-praying-before-the-icon-helps-to-open-our-hearts-and-minds-ever-more-to-christ/
Taizé Resumes



The Taizé prayer service at Newman University Church resumes on Tues Sept 12th at 6 pm, continuing every Tuesday evening. More info here.
Season of Creation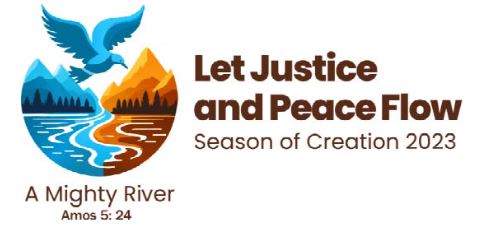 The Season of Creation is marked throughout the Christian world from 1 September to 4 October (Feast of Saint Francis of Assisi) and celebrates the joy of creation as well as encouraging awareness-raising initiatives to protect the natural environment. Resources for 2023: https://www.catholicbishops.ie/laudato-si/ Also Faitharts Resources for Creation theme: http://www.faitharts.ie/creation.html
New Film: Miracle Club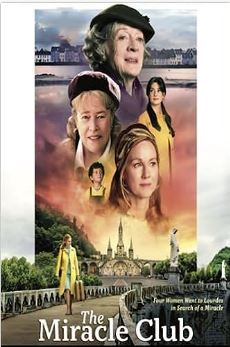 Miracle Club is a new Irish based film centred around a trip to Lourdes. Directed by Thaddeus O'Sullivan it stars Maggie Smith, Kathy Bates and Laura Linney. CatholicReview review here. IMDB Entry here. Choir Director Wanted Ballyboden Parish in Dublin 16 is seeking a new choir director/organist for its church choir, which has traditionally sung for 11am Sunday Mass - interested candidates can contact ICMA for further information. https://www.ballybodenparish.ie/
St Columba Exhibition There's a new exhibition about St Columba in Derry at the St Columba Heritage Centre. It is desccribed as an vitation 'to reflect on Colmcille's remarkable legacy and get an insight into monastic life through interactive displays, exquisite artifacts and stories that stir the soul'.
New Film: Sound of Freedom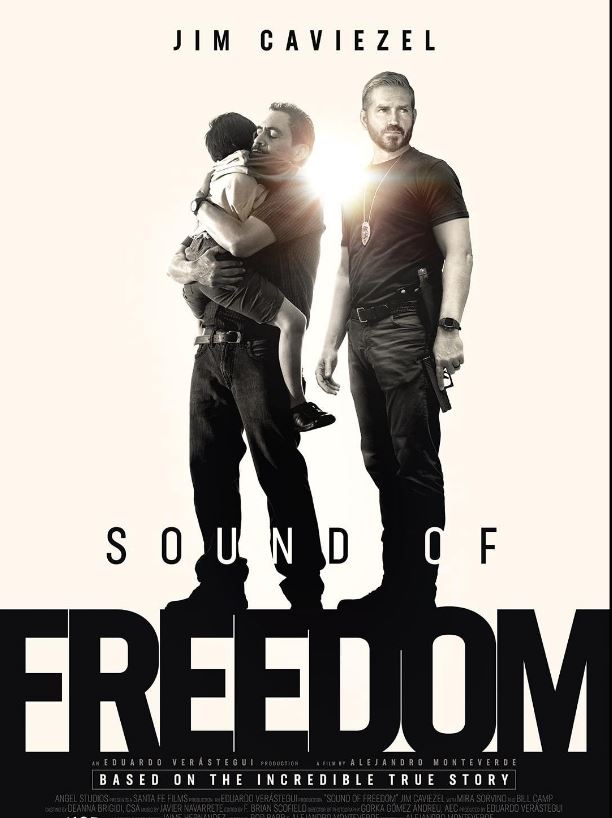 Actor Jim Caviezel (The Passion of the Christ) has spoken of the role his faith played in the making of his new film Sound of Freedom, directed by Alejandro Monteverde. The plot involves a government agent working against child trafficking. Read more about the background here. IMDB Entry.
New Album from Marie Dunne CHF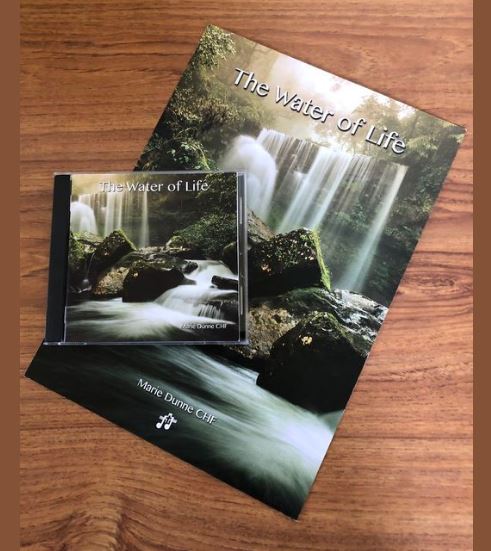 Marie Dunne CHF has released a new album THE WATER OF LIFE. Marie writes: 'Special thanks to Mark Cahill for the wonderful production of the album. The inspiration for this collection comes from both life and Scripture! I am grateful to the St. John of God Choir and to the various artists who contributed to the album (about whom you will hear more as I post to YouTube in the coming weeks). The CD is available at Veritas Ltd and at Knock Book Shop. The music score is also available. The album will be accessible on Spotify and other social media outlets in the next few weeks. In line with the title of the album, may we always appreciate the gift of water - reminding ourselves that many others, and many parts of our wonderful creation are thirsting for water - just to survive'.
New Album from Victoria Johnston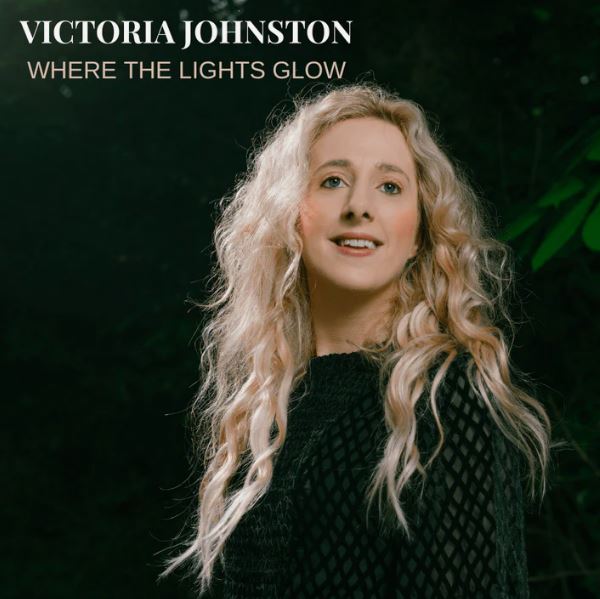 Irish Christian artist Victoria Johnston has released a new album 'Where the Lights Glow'. It is available from usual sources incl Golden Discs. Check it out at this link. or listen on Spotify.
Paul Simon - Seven Psalms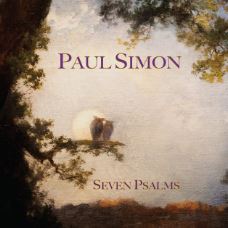 Seven Psalms is the new album from Paul Simon, released May 2023. The album features reflections of life, faith, death and doubt. Though there are 7 psalms, the album comprises just one track of just over 30 minutes.
You can listen on Spotify at this link.
New Film - Faith of Our Fathers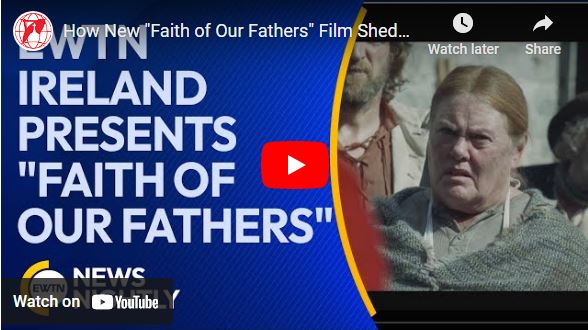 The new film Faith of Our Fathers was shown recently in the Vatican. Produced by EWTN it tells the story of a priest in hiding during penal law times in Ireland. The film depicts the community's efforts to protect him as he ministered to the faithful and celebrated outdoor Masses during the penal times in Ireland when civil disabilities were imposed on Catholics. More info here.
JCT Inservice and Changes



Registration is now open for September / October 2023 for teachers who teach a second subject - a Junior Cycle subject specific workshop that will be provided by Oide Ireland, Oide, a new Dept. of Education (Ire) support service set to be established on 01.09.23 following integration of CSL JCT NIPT & PDST http://jctregistration.ie Register by Friday, 26th May.
Arts in Junior Cycle - Summer Courses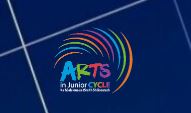 Arts in Junior Cycle has announced a range of elective summer courses in a variety of arts areas, incl music theatre, storytelling, film production, drawing and more. Check out the courses here.
The Pope's Exorcist


A new film The Pope's Exorcist is now, as of late April, in Irish cinemas. It stars Russell Crowe as Fr Gabriele Amorth, Vatican exorcist. A new trailer is now availble on YouTube - at this link. IMDB Entry here.
New CD from Marie Dunne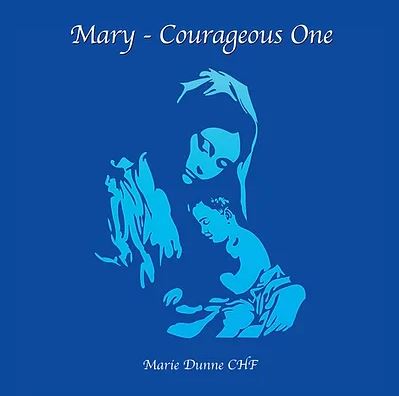 Mary - Courageous One is a new CD from Marie Dunne CHF. It is a collection of hymns in December and is a compilation of previously composed pieces with a Marian theme. The pieces are performed by a variety of singers: Patricia Bourke D'Souza, Linda Ledwidge and Katie O'Flaherty. The CD is available at Knock Book Shop, Co Mayo and at the Divine Master Liturgical Centre, Blackrock, Dublin. It can also be sourced from Faithstar Publications through Marie's website. https://www.mariedunnemusic.com/
The Journey with Andrea Bocelli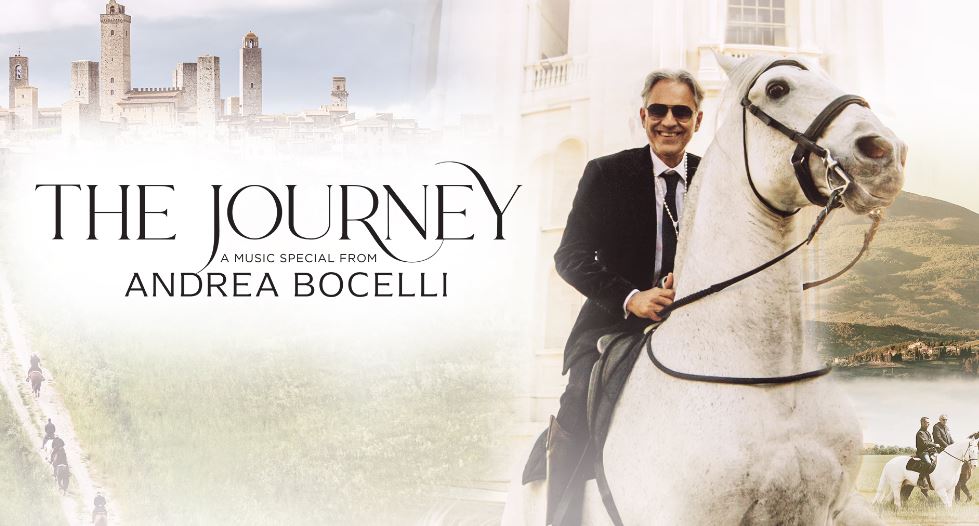 The Journey with Andrea Bocelli is a new film featuring Italian singer Andrea Bocelli, with other performers like Michael W. Smith and Katherine Jenkins. The blurb: 'Combining world-class musical performances with intimate conversations across the awe-inspiring Italian countryside, THE JOURNEY: A Music Special from Andrea Bocelli is an exploration of moments that define us, songs that inspire us, and relationships that connect us to what matters most in life. ' More info and viewing options at this link. Read more here...

Music for Lent and Easter
Dublin Diocese has released a list of music suitable for Lent and Holy Week/Easter. Also there's a full list of the music used for the Laudate and Emmanuel concerts. Check it out at this link.
New Liam Lawton Collection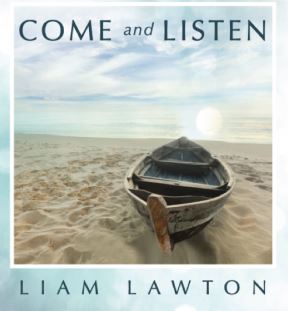 Come and Listen is Liam Lawton's new collection of songs. The sheet music is now available from GIA Music and the CD will follow. The blurb: 'A collection born in the midst of the COVID-19 lockdown, Come and Listen offers music for both the happiest and saddest of life's occasions, the everyday and the special, all blessed with Liam's Celtic sensibilities. "You Are Not Alone" incorporates Psalm 23 and is suitable for funerals while "Love Will Find You" is a wonderful choice for weddings with either choir or soloist. "Lord of Sorrow, Lord of Shame" and "Ubi Caritas et Amor" will find their place amongst your favorites for Holy Week while "In the Breaking of the Bread" is a lovely and useful communion piece based on the famous Stowe Missal.'
Book of Kells Stamp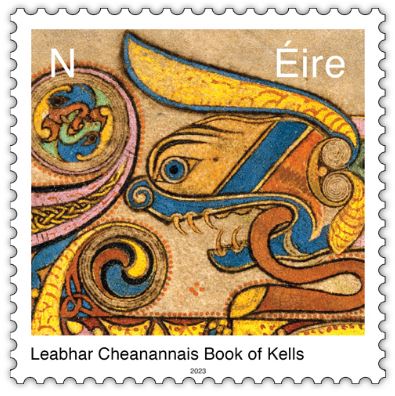 An Post has released special stamps for St Patrick's Day with details from the Book of Kells. They can be viewed and bought at this link.
New Stations of the Cross Book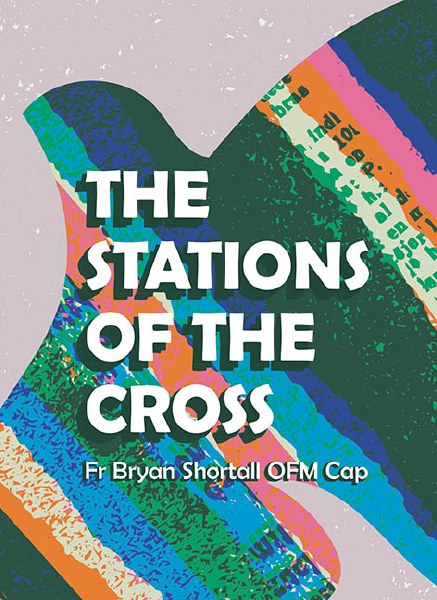 The Stations of the Cross comprises a series of thoughtful meditations and poignant illustrations to aid reflection and prayer on Our Lord's final journey. In a heartfelt and accessible style, Fr Bryan Shortall OFM Cap links Jesus' Way of the Cross to our own personal journeys through darkness and fear towards light, hope and faith..

New St Patrick Song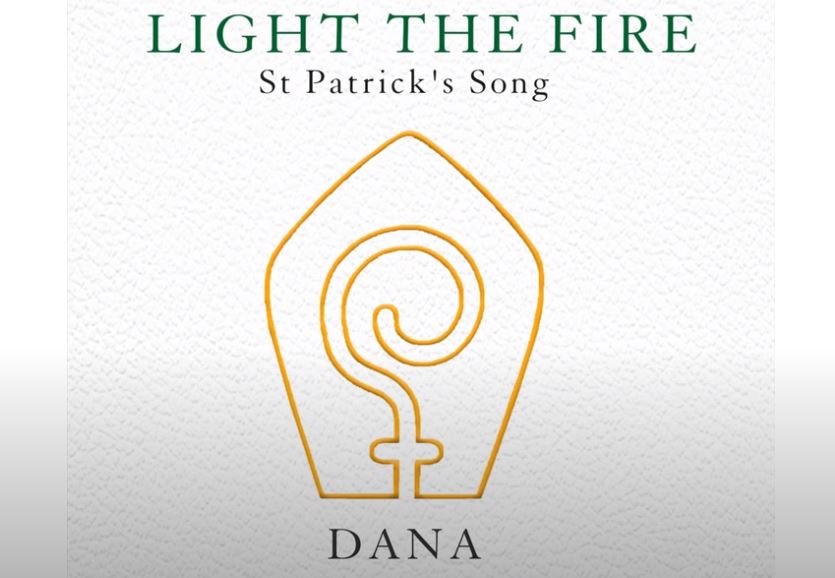 On March 13th Dana is set to release a new song about St Patrick, 'Light the Fire', in conjunction with the St Patrick's Centre in Downpatrick. Also featured on the recording are voices from Schola Cantorum from St Peter's Cathedral in Belfast.
[Video now at https://youtu.be/sN8lJfQ8r78?list=RDsN8lJfQ8r78 ]

Way of the Cross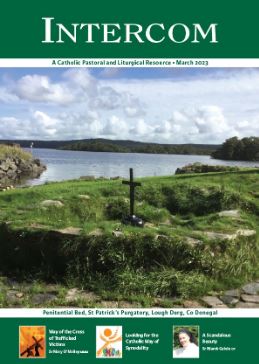 The March edition of Intercom magazine (available from Veritas shops - limited material online) features a Way of the Cross of Trafficked Victims by Sr Mary O'Malley, an interview with Sr Maeve Heaney 'Music and Spirituality', and a short piece on the background to Bernadette Farrell's hymn 'Christ Be Our Light'. There are also music suggestions for the Sundays of Lent.
The Pope's Exorcist


A new film The Pope's Exorcist is due for April release. It stars Russell Crowe as Fr Gabriele Amorth, Vatican exorcist. A new trailer is now availble on YouTube - at this link. ImDB Entry here.
Galway Gathering
There's a weekly gathering for young adults in Galway Cathedral, Wednesdays, 7.30 pm - with prayer, music, adoration, Scripture, followed by refreshments. Contact youth@galwaycathedral.ie for more info.
Wonder Film



A new film series aims to show that faith and science are as interlinked as the double helix of a DNA molecule. The Word on Fire evangelization ministry recently announced the release of "Wonder," a five-part documentary project that explores the interplay between various aspects of science and Catholic tradition. Produced through a grant from the John Templeton Foundation, the episodes — narrated by actor Jonathan Roumie (who plays Jesus in The Chosen ) — is releasedon Word on Fire's YouTube channel.
JCT Festival of Learning



JCT is presenting a Festival of Professional Learning March 25th - March 30th, online and in-person, for teachers, school leaders and students. More info here. Workshops of potential faith and arts interest include:

RTAI Conference The annual RTAI conference will return this year. It will be held on Sat the 22nd April in Tullamore. RTAI is in the process of putting together the agenda for the day and will open registration soon. No charge for RTAI members but non-members will be charged €25. RTAI website. !!Cancelled. Church Music Summer School Save the date! The ICMA Summer School 2023, "Come and Journey with Me" takes place from July 5th to 7th in Maynooth. Timetable and workshop details to follow. Info to follow here.
Actor speaks of Christ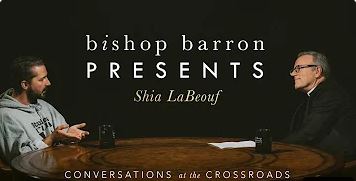 Hollywood actor Shia La Beouf has spoken about what Christ means to him in a a video clip. See it here. There's also a longer interview with the actor and Bishop Robert Barron about film and faith matters. See it here. LaBeouf plays Padre Pio in a new movie. More info on the film here at IMDB.
Funeral Songs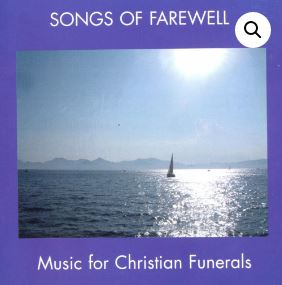 Music suitable for funerals is flagged in a resource from the Diocese of Kerry. It includes Mass suggestions and a comprehensive list of music resources. Resource available here. The CD Songs of Farewell is available here from Dublin Diocese.
Taizé Resumes
After a hiatus for Christmas, Taizé resumes on 17 January at 6pm Newman University Church, Dublin 2 and will continue until the beginning of June. Please consider joining us in prayer. Taizé Prayer is named for the ecumenical Christian community formed in Taizé, France. The Taizé community includes brothers from all Christian denominations, including Protestant, Catholic, and Orthodox traditions. More info here.
Religious Film Series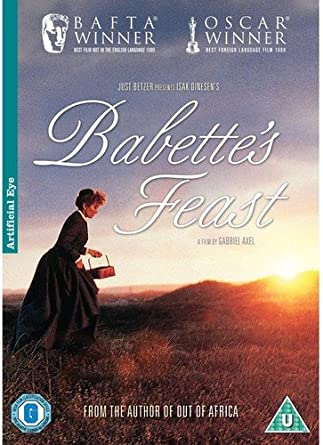 The Irish Catholic newspaper is currently running a series on films of religious interest. This week's choice in Ruadhán Jones series is Babette's feast. www.irishcatholic.com
C.S. Lewis Book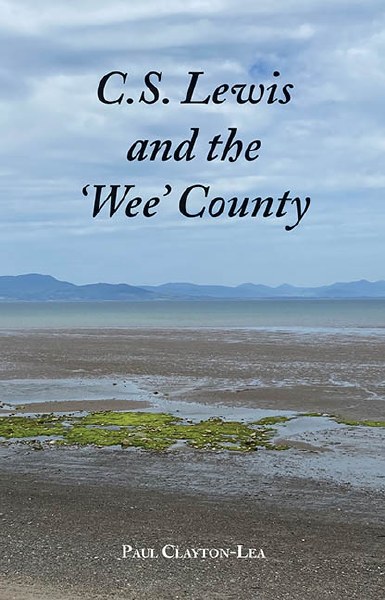 C.S. Lewis and the Wee County is a new book from Paul Clayton-Lea about links between writer C.S. Lewis and County Louth, a holiday destination and refuge for the author. More info here.
Mother Teresa Film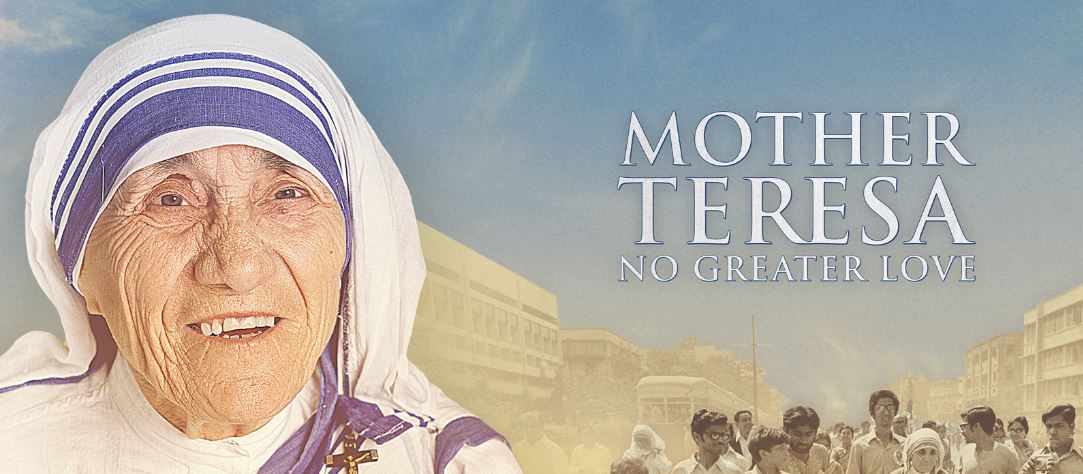 The life of one of the most compelling of modern saints is recounted in the inspiring documentary "Mother Teresa: No Greater Love" (Fathom, in select theaters Oct. 3-4). Its release timed to commemorate the 25th anniversary of its subject's death, aged 87, the film also provides an exploration of her long-lasting legacy. Read more...
The Letter - Laudato Si Film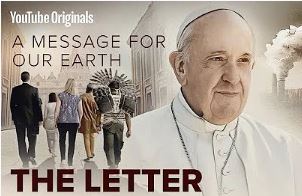 In 2015, Pope Francis wrote Laudato Si' (The Letter); an encyclical letter about the environmental crisis to every single person in the world. A few years later, four voices that have gone unheard in global conversations have been invited to an unprecedented dialogue with the Pope. Hailing from Senegal, the Amazon, India, and Hawai'i, they bring perspective and solutions from the poor, the indigenous, the youth, and wildlife into a conversation with Pope Francis himself. This documentary follows their journey to Rome and the extraordinary experiences that took place there, and is packed with powerfully moving personal stories alongside the latest information about the planetary crisis and the toll it's taking on nature and people. Full film here.
New film: Going Home Like a Shooting Star
The vigorous faith of its subject enlivens the documentary "Going Home Like a Shooting Star: Thea Bowman's Journey to Sainthood." This profile of the celebrated Franciscan nun, who died in 1990, aged only 52, will begin airing on Us stations in October. Written and produced by another Franciscan religious, Sister Judith Ann Zielinski, the hour-long film is a presentation of the Interfaith Broadcasting Commission. It's narrated by M. Shawn Copeland, professor emerita of systematic theology at Boston College, and is a documentary with re-enactments. Read more here.
Ireland's Favourite Hymn - Results
'Lady of Knock' has been selected as Ireland's favourite hymn at the National Ploughing Championships 2022. The competition was organised by Kildare & Leighlin Diocese and although there was some tough competition involved, 'Lady of Knock' is a much-loved hymn that resonates with people at home and abroad, and has become synonymous with Knock and our unique history. Written by Dana Rosemary Scallon in 1980, the hymn has been performed countless times at Knock Shrine during so many important historic Masses and events, including during the visit of Pope Francis to Knock in 2018. Read more here.
New Album from Matt Maher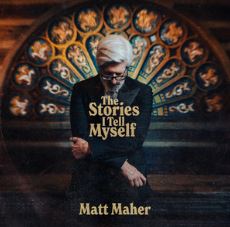 The Stories I Tell Myself is a new album from Canadian Caholic singer-songwriter Matt Maher. The album features collbaorations with fellow artists like Drew Holcomb, Dee Wilson, Lizzie Morgan and Brian Elmquist. Among the songs is an upbeat version of 'The Lord's Prayer'. Listen on Spotify.
Discovering Ireland's Favourite Hymn



The quest to discover Ireland's favourite hymn is underway in advance of the National Ploughing Championships in County Laois later this month has been launched by Bishop Denis Nulty of Kildare & Leighlin. The Diocese of Kildare and Leighlin includes Ratheniska, Co. Laois, where the three-day Ploughing Championships will begin on Tuesday 20 September. In previous years, the diocese organised competitions to find Ireland's favourite poem and the most popular prayer. In 2019, when 300,000 spectators attended the last pre-Covid championships, the Hail Mary was voted the most loved prayer. Read more at Catholicnews.ie

Father Stu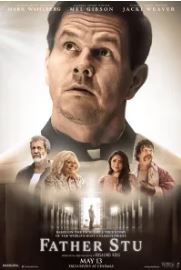 The film Father Stu was released recently and is now available for rental on iTunes/ Apple Movies. Mark Wahlberg plays Fr Stuart Long, who, though deceased, has been nominated for the Lumen Christi award which seeks to honour 'people who radiate and reveal the light of Christ present in the communities they serve'.
New Film: Heart of a Missionary
The life, work and legacy of the principal founder of the Society for the Propagation of the Faith is celebrated in the engaging documentary "Heart of a Missionary: The Story of Pauline Jaricot." Using interviews, dramatized scenes and a globetrotting survey of the current activities of the Society, filmmaker Tim Moriarty makes a strong case for the lasting impact of Jaricot's apostolate. Read more here.
Godly Play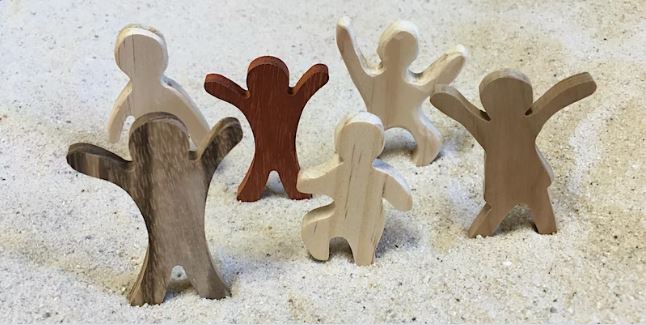 Godly Play Ireland in partnership with the Mater Dei Centre for Catholic Education, is offering a Commuter Core Training course in Dublin. Core Commuter training consists of three days training to take place over three Saturdays in September, October and November. It offers the opportunity to develop your practice and understanding of the art of Godly Play. More info and booking at Eventbrite.
The Chosen on Zoom
The Chosen: Zoom Series, Season 2: TUESDAY nights, 8 - 9.15pm, 4 - 29 October - www.waterfordlismore.ie for more information or click here to sign up.
New Film: Slaves and Kings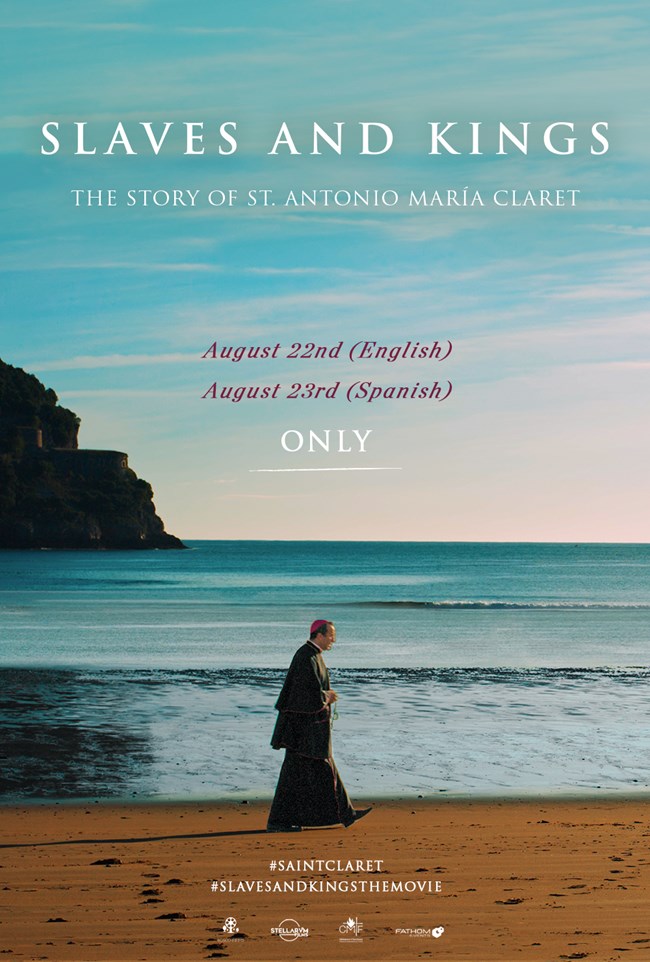 In 1930, the writer and intellectual Azorín discovered a hoax that had been propagated for almost 60 years: the life and works of the Spanish archbishop Antonio María Claret, founder of the Claretian Missionaries, had been adulterated. SLAVES AND KINGS, based on real events, uncovers the route of this investigation that leads to the history, thoughts, and authentic facts that led to the action of the man who was archbishop of Cuba and later, confessor to Queen Isabel II. CAST: Assumpta Serna, Scott Cleverdon, Carlos Cañas, Antonio Reyes, Alba Recondo, Pablo Viña. DIRECTOR: Pablo Moreno.
Review here.
Recent Deaths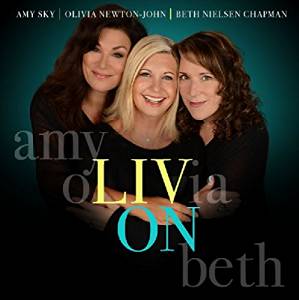 Recently deceased Judith Durham of The Seekers music group, who included gospel songs in her folk/jazz repertoire, and Olivia Newton-John, reported to be a strong believer in prayer. One of her recent albums Liv On, a collaboration with Beth Nielsen Chapman and Amy Sky, featured many reflections of life and grief.

New Single
Irish Christian singer Victoria Johnston releases a new single on Fri 12th August - the well known song 'From a Distance', written by Julie Gold and originally made famous by Nanci Griffith. Check out the usual outlets. Website: http://victoriajohnstonofficial.com/
Organ Concerts
The Dún Laoghaire Summer Organ Concerts have returned at St Michael's Church. Concerts are on Sunday at 8pm. Find out more information on their website.
Knockadoon Cancelled
The Knockadoon Music and Liturgy course due to take place from August 14 to 20 has been cancelled. Find out more at www.knockadoonml.ie
The Pope's Exorcist
The Pope's Exorcist is a forthcoming film starring Russell Crowe as the late Fr Gabriel Amorth who wrote two books about his experiences as an exorcist. Directed by Jules Avery it is due for release in 2023.
IMDB Entry here.
Complaint about Christmas Carol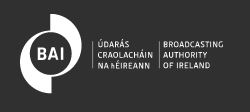 The Broadcasting Authority of Ireland has rejected a complaint about the Christmas hymn O Holy Night being played on the onan Collins Show on RTE Radio 1. From the BAI summary of the complaint: 'The complainant believes that the broadcast of this hymn stigmatised him and other non-Christians, inappropriately and unjustifiably, on the basis of religion. The complainant is of the view that this stigmatisation prejudices respect for human dignity and is harmful to him and to others in society.'
For the full complaint and response you can download the complaints decisions here.
Or use this direct link.
Things Seen and Unseen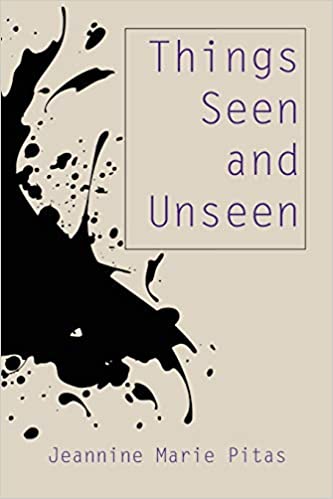 Things Seen and Unseen marks the debut poetry collection from Jeannine Marie Pitas, an American Catholic writer and poet. Check it out on Amazon where it is on special offer. It can also be purchased from the writer's website: https://www.jeanninemariepitas.com/ For background on the author check this link.

New CD - Tradoration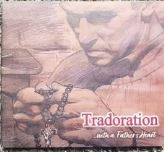 Tradoration …with a Father's Heart, is a new album compiled by Fr Colm Mannion and Trían O'Riordan. This compilation combines traditional music and real life stories with reflections on the great prayer of the Church, the Holy Rosary. It also features an accompanying booklet with evocative artwork by William Nathans. Fr Mannion has been been recording stories of how the faith was once lived in Ireland. He hopes to evoke the wisdom and simplicity of older traditions. An accompanying booklet includs all song lyrics along with paintings and reflections.
More info and purchasing options here: https://www.stmartin.ie/product/tradoration-with-a-fathers-heart-cd/
New Film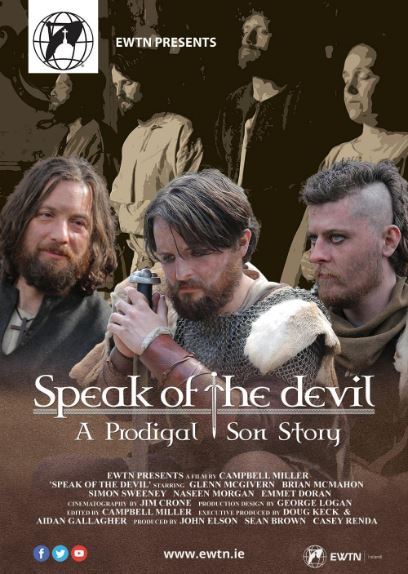 Speak of the Devil is a new docudrama from EWTN and St Brigid Media. It explores the theme of spiritual warfare using the story of the Prodigal Song as a starting point. The film was screened in the Vatican in May.
New Album from Porter's Gate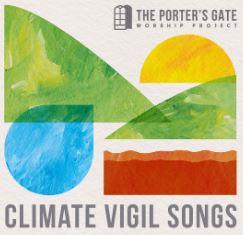 Climate Vigil Songs is a new album from The Porter's Gate, released Fri 3rd June. Themes include climate, creation, care for the earth and more. It is available from the usual channels. Spotify link.
Sheet Music.
Spiritual Poetry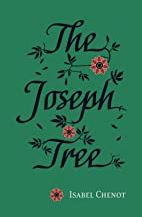 The Joseph Tree is a recently published poetry book by Isabel Chenot. A review in The Irish Catholic says: 'Generously served with quotations from both Old and New Testament, Isabel crafts her lyrics with visionary zeal'.
New Downton Film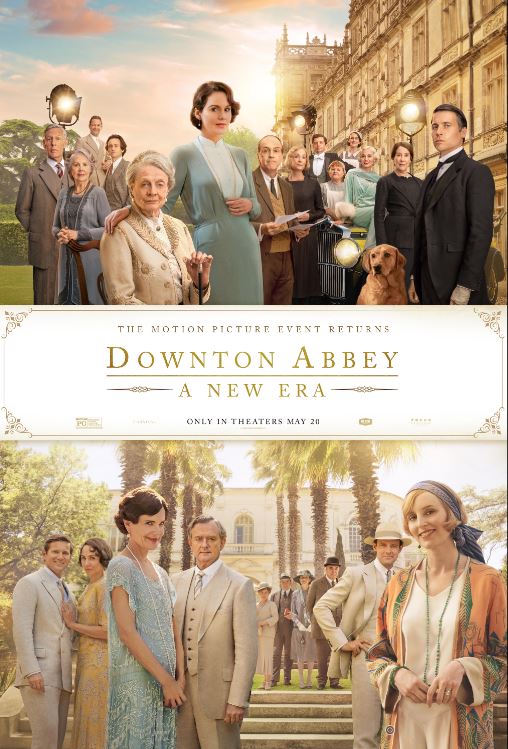 Downton Abbey: A New Era continues the long running story of Downtown Abbey, the second film spin-off from the popular TV series from Julian Fellowes. The review from the US Catholic News Service says: 'As directed by Simon Curtis, Fellowes' script affirms marital fidelity even in the face of neglect and celebrates the reconciliation of once-antagonistic relatives. It also depicts the affectionate bond that develops between Thomas and the Douglas Fairbanks-like Guy, who eventually invites Thomas to follow him back to Hollywood, with apt discretion and even ambiguity. Indeed, Fellowes brings a Catholic sensibility to the picture's treatment of same-sex attraction, with an emphasis on companionship over mere appetite, and a sympathetic view of the plight of homosexuals in the 1920s'.
Father Stu Film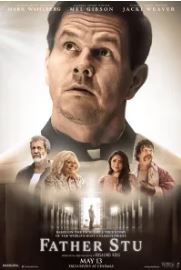 Father Stu is Mark Wahlberg's new film based on a boxer turned priest, which tells the true story of Father Stuart Long. It opens in Ireland in cinemas on Fri 13 May. There's a faith guide to the film which is available for download at this link. Read more at CatholicNews.ie
New Album of Spiritual Music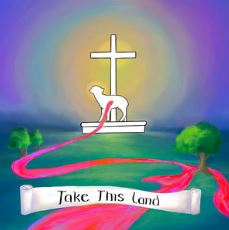 Take This Land is a new album of religious music from the Irish group Poor and Humble Heart. Among those involved are singer Ruth Hogan and Fr Damien Joseph CFR. Available on Spotify and Bandcamp.
Oberammergau Passion Play
Covid-19 caused the cancellation of the famous Oberammergau Passion Play in 2020. Based in Bavaria, Germany, it returns in 2022 May 14th to October 2nd, performed five days per week. More info here.
Jesus Revolution Film
Jesus Revolution is a new film in production telling the story of an increased interest in Jesus in the 1970's in USA. It stars Jonathan Roumie (The Chosen) and Kelsey Grammar (Frasier) and stand-up comedian Jim Gaffigan.
Book on C.S. Lewis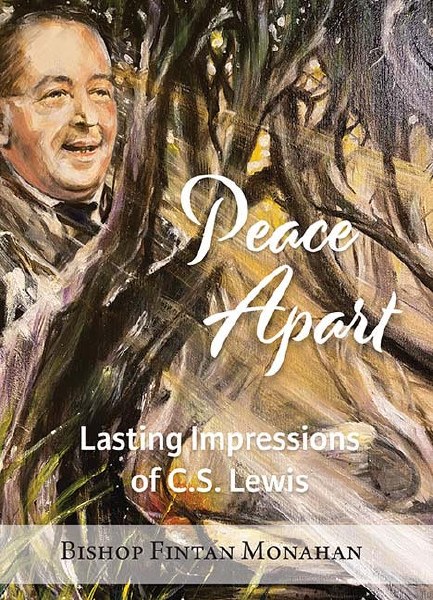 Peace Apart: Lasting Impressions of C.S. Lewis is an introduction to or reacquaintance with this outstanding literary and spiritual figure. Bishop Fintan Monahan gently guides us through the life and work of C.S. Lewis, from his childhood in Northern Ireland and his experiences of loss and war at a young age to his years as an academic in Oxford, his time spent with the Inklings and his career as a world-renowned author, touching on all the magic, imagination, loves, losses and great friendships along the way.
Info and ordering at Veritas.
Joseph Musical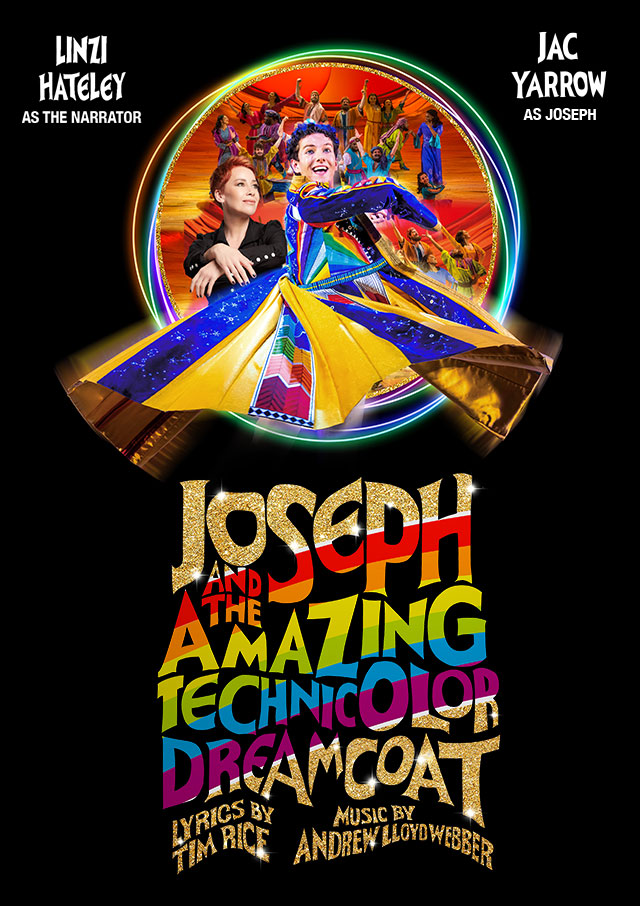 Joseph and the Amazing Technicolour Dreamcoat comes to the Bord Gais Energy Theatre 9th-27th August. Booking and info here.
Frank Duff Film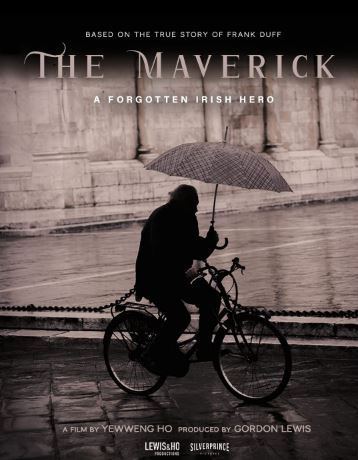 Frank Duff, founder of the Legion of Mary is to be the subject of a new biopic The Maverick, currently in pre-production. Subtitled 'A forgotten Hero' the producer is Gordon Lewis who grew up in Regina Coeli hostel, where his mother was housed.
IMDB Entry
Book of Kells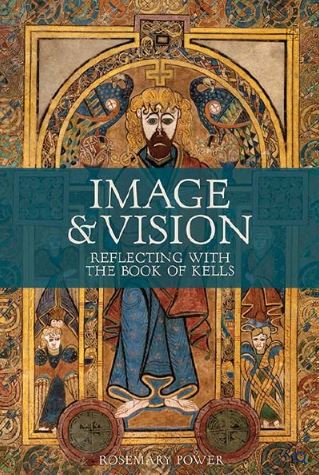 The Book of Kells was originally prepared as a devotional and liturgical work. Image & Vision: Reflecting with the Book of Kells explores the intricate relationship between the text, image and vision, and the scriptural texts that underpin them. Rosemary Power shows how we can use the beauty, humour and insight of this ancient devotional work today to deepen our understanding of scripture and society. Publication March 2022. Published by Veritas. Info and purchasing options here.
New Film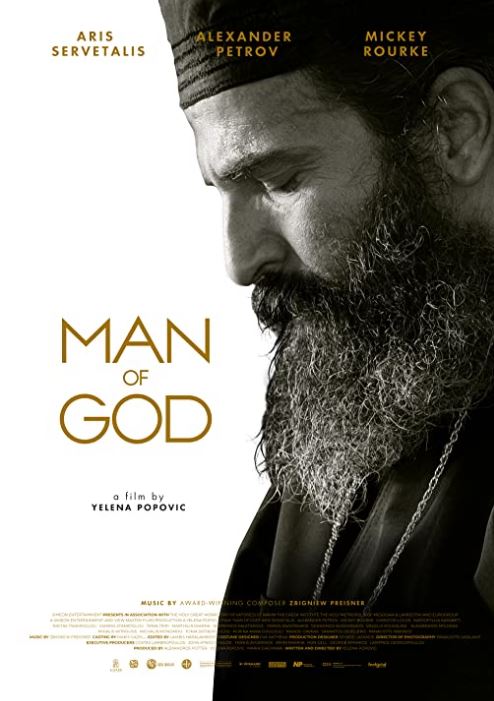 Man of God is a new film due to be released in March. It tells the story of eastern saint St Nektarios of Aegina. The saint was reputed to be a miracle worker and had to face lots of persecution. The film stars Hollywood star Mickey Rourke. IMDB Entry https://www.imdb.com/title/tt6060964/ New CD I Thirst is a new CD of prayerful songs and hymns by Fiona Jennings, also featuring Anthony McGorian and Orla Phelan. For more info contact Fiona at fionaatjennings@yahoo.com or ring 086-8958261 New Poetry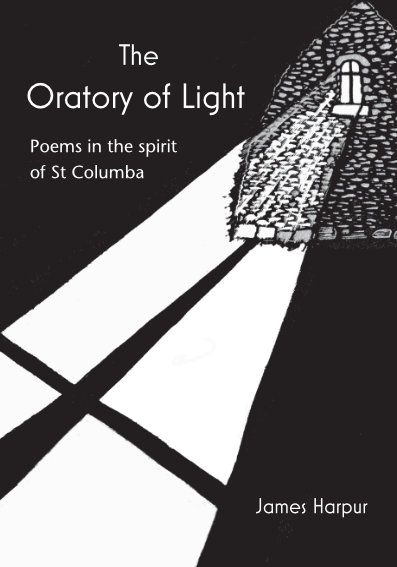 The Oratory of Light is a new poetry book by James Harpur. The poems were inspired by the 1500th anniversary of St Columba. https://www.ionabooks.com/product/the-oratory-of-light/
National Gallery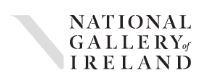 The National Gallery is currently hosting an exhibition of religious art that focuses on paintings featuring Jesus with John the Baptist. Among the works of art is The Virgin and Child with Saint John the Baptist by Giovanni Antonio Sogliani. Read more here.
On Tues 22 Feb Dr Aoife Brady will lead a talk on the subject matter and symbolism that underpin the works in this exhibition Christ & His Cousin: Renaissance Rediscoveries. To book this online lunchtime talk click here.
Catholic Poetry



The Word on Fire Institute has launched a new series on Catholic Poetry with classics from the likes of Gerard Manley Hopkins read by Jonathan Roumie, who plays Jesus in the drama series The Chosen. The readings can be accessed on the Institute's YouTube channel - click here.
Joseph and the Amazing Technicolour Dreamcoat
This biblical musical by Andrew Lyoyd Webber is coming to the Bord Gáis Theatre 9th-27th August 2022. Info and booking here.
Sister Act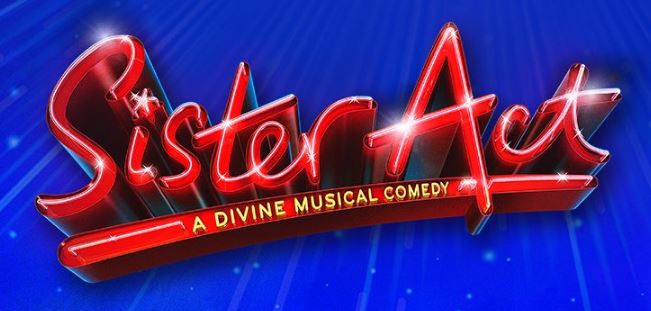 Sister Act the Musical returns to the Bord Gáis Energy Theatre 20th Sept-1st Oct. Info and booking here.
Credible Catholic Programme



Credible Catholic is a Religious Education programme made available for senior cycle non–exam RE by the Council for Catechetics of the Irish Episcopal Conference. It is designed for use in Catholic Voluntary Secondary schools in Ireland. An earlier version was written and produced by Fr Robert Spitzer SJ and the Magis Centre (California, USA) in 2018 and has been almost entirely re-developed for the Irish context, in line with feedback from RE teachers and theological advisors in Ireland.
The materials and programme are Powerpoint based, feature plenty of arts resources, incl film clips, and are free to download here: https://www.catholicschools.ie/crediblecatholic/
Advent Songs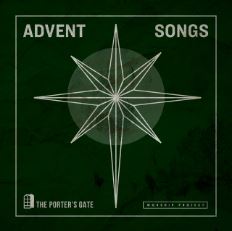 The Porter's Gate music collective has released a new album Advent Songs, featuring new and contemporary songs for the season. The album is available to listen to here on Spotify and can be purchased here at 7Digital and here at Amazon.
Belfast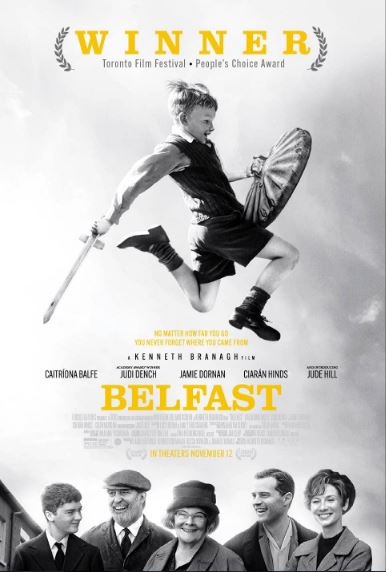 Belfast is a new film from Kenneth Brannagh, based on his experiences during 'The Troubles' in the North of Ireland. Inevitably religious-political strife is part of the background. Stars include Jamie Dornan, Judi Dench and Caitriona Balfe. Catholic News Service here.]
Student Scripture Reflection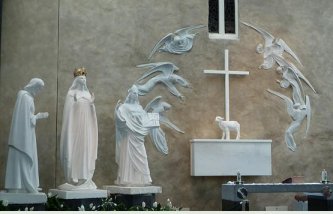 Knock Shrine in conjunction with St Louis Community School, Kiltimagh are organising monthly online scripture reflections. Students will take their favourite passage from Scripture and reflect on it through video, providing their own narrative and imagery. It will be on the first Tuesday of each month (next event Tues 7 Dec). You can join in live at: www.knockshrine.ie/watch-live
To the Heights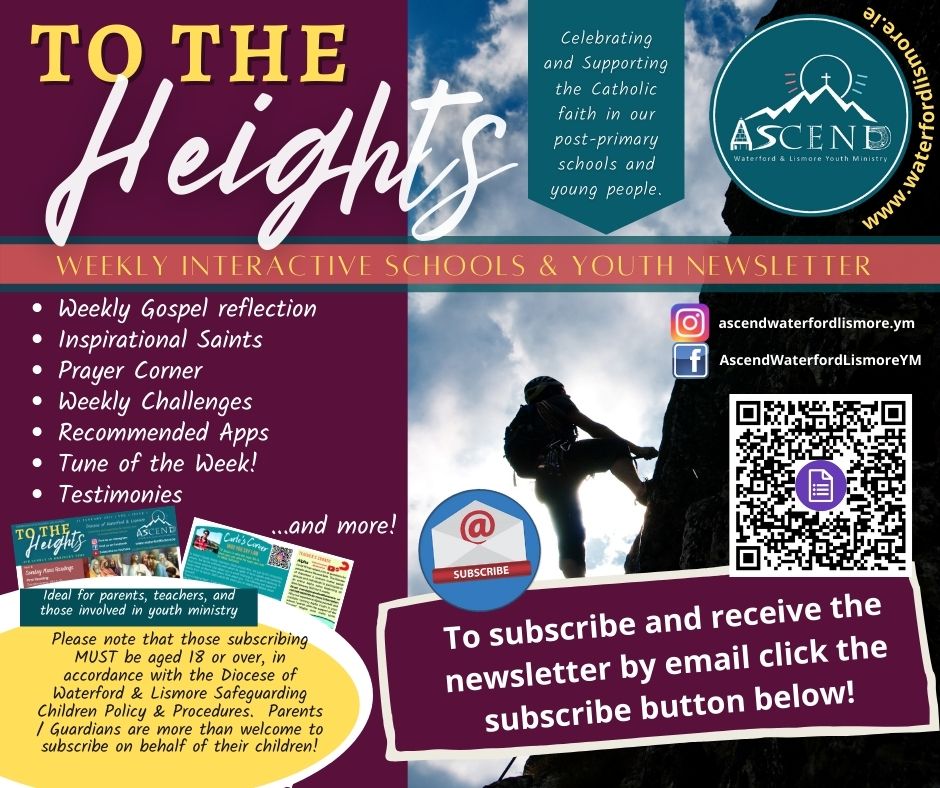 Waterford and Lismore Diocese produces a youth orientated and interactive newsletter, In the Heights, which features articles, music, art work and a range of activities. Check out the October edition here.
Kildare and Leighlin Resources




Kildare and Leighlin Diocese has a wide range of resources for post-primary schools, e.g. resources for Mission Sunday, November themes.
Education Blog



Dublin Diocese produces a monthly Education Blog with lots of resources, including prayer services. The post-primary version can be downloaded at this link.
Leaven Magazine Issue No.4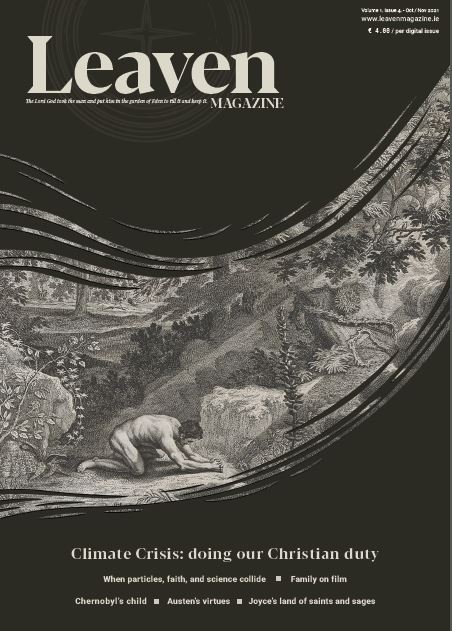 The fourth edition of Leaven magazine is now available to purchase online. Articles include; Niall Gooch on the ghost stories of M.R. James; Bro. Richard Hendrick OFM Cap's poem The Garden is Burning; Natalie Doherty on the music of the concentration camps; Phoebe Watson on the gritty realism of Jane Austen's novels; Ronan Doheny on family in films. Previous issues and a sample article are also available: https://leavenmagazine.ie/
Dante's Inferno
New programme - reading 3 cantos of the Divine Comedy a week, with a short video by a Dante scholar per canto to help you get deeper into the text. You can read along at http://100daysofdante.com/ Pope Francis, in his Apostolic Letter Candor Lucis aeternae of the Holy Father Francis on the VII Centenary of the death of Dante Alighieri, 25.03.2021, like many of his predecessors over the centuries, has encouraged Catholics to read the Divine Comedy. In this essential Catholic masterpiece, we join Dante on a transformative journey to the lowest regions of hell, up the mountain of purgatory, and into the splendor of highest heaven. Along the way, the poet's eyes, and our own, will be opened to who and what we are, the high calling we have been given, and the assistance we receive in answering that most urgent call.
TV Series: The Search


Causeway-Ballyduff parish in Kerry is hosting an online event based on the Catholic TV series 'The Search' on Friday 22 Oct at 7.30 pm. The event Facebook page is here. For some background on the series click here, where you can see a trailer and also purchase the series for viewing online. The blurb: 'In seven beautifully filmed episodes, Chris Stefanick and experts from multiple fields of science, medicine, psychology, art, and religion examine our place in the larger story of existence.'
New RE Programme for TY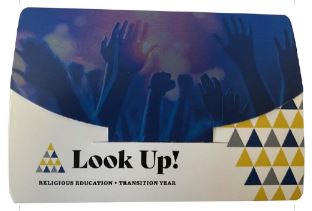 Look Up! is a new RE programme for TY from Veritas. It is largely Powerpoint based, with a student's reflective journal. The journal is designed to enable students to record their personal thoughts and feelings about all the things they will learn from the Look Up! programme. The journal also contains worksheets, as well as a comprehensive Glossary of key terms from the programme. Many resources are included in the programme, including exploration of film and music. More info and ordering details from Veritas.
New Film: The Oratory


Announcing: The World Premiere of THE ORATORY, an inspirational film presented by The Salesians of Don Bosco and The Nollywood Factory, Fri 10 Sept 7 pm, ODEON Point Square, East Wall Road, Dublin 1. Rev. Fr. Michael Simmons, (Rich Lowe Ikenna) is an American Catholic priest sent from Turin, Italy to a posh parish in Ikoyi, Lagos. On arrival, the young, stubborn priest becomes more interested in the plights of street children from the nearby slum called Makoko. However, to reach the desperate boys, he has to step on big toes in his host parish. He must also comfront Shuga, the dangerous Makoko kingpin who has the street boys locked in criminal servitude. Drawing inspiration from St. John Bosco (1815 - 1888) and the Salesian missionaries, Fr. Michael must put everything, including his own personal safety, on the line in order to set up The Oratory and find his life's purpose in a strange and precarious environment.
Booking at Eventbrite.
New Gospel Choir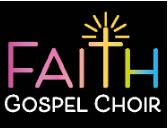 A brand new Gospel Choir is being formed in Dublin 5. The Faith Gospel Choir is seeking a Musical Director. Full job description from and applications to faithgospelchoirdublin@gmail.com
New film - Respect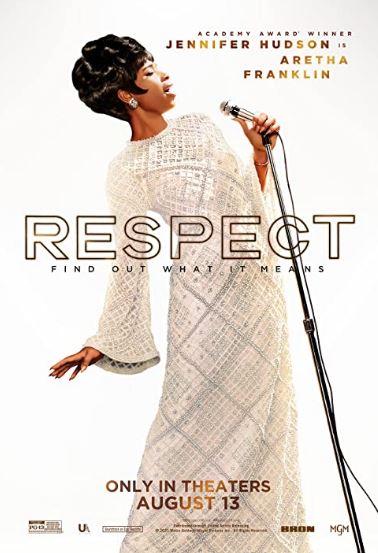 Respect is a new film biography of soul and gospel singer Aretha Franklin, played by Jennifer Hudson. The review from the Catholic News Service, rating it for adults, says: 'it's the constant and salutary role Franklin's Christian faith played in her life, especially as she battled alcoholism, that will most engross those who share her Bible-based beliefs.'
Padre Pio Film
Shia LaBeouf will star as Padre Pio in a new film about the saint. Abel Ferrara will direct the film which is due to start production in the Autumn.
World Meeting of Families


The 10th World Meeting of Families will take place in Rome from 22 to 26 June 2022, and the official image for the event has been revealed. Read more at the Catholic News website.
New Lord of the Rings Series
A new Lord of the Rings series will launch on Amazon Sept 2022, based on Tolkien's classic stories, but with events based thousands of years before those portrayed in Lord of the Rings and The Hobbit. Read more here.
Vox Hiberniae



Musical group Vox Hiberniae have released a musical work, 'A Celtic Journey with St Joseph', to mark the Year of St Joseph. Recorded in the Carmelite oratory in Avila, it features harp, voice and strings. The video can be viewed here.
Vox Hiberniae are an Irish ensemble who perform music in spaces informed by the complementarity that exists between them. This includes bringing sacred music to sacred spaces, weaving Scripture with music to facilitate contemplation. Their YouTube channel is here.

Sister Act Returns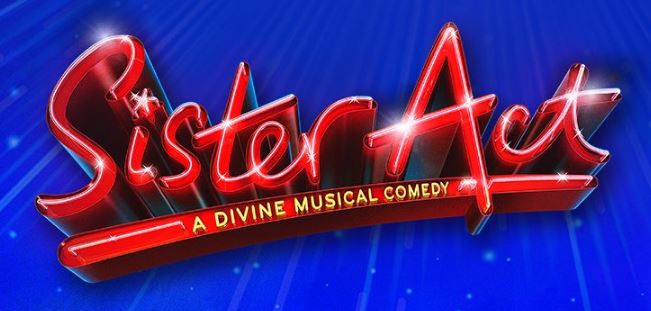 The stage musical Sister Act is due at the Bord Gais Energy Theatre in Dublin 10 May-22 May 2022. Now set in 2021, this sparkling tribute to the universal power of friendship, sisterhood and music tells the hilarious story of the disco diva whose life takes a surprising turn when she witnesses a murder. Under protective custody she is hidden in the one place she won't be found – a convent! Disguised as a nun and under the suspicious watch of Mother Superior, Deloris helps her fellow sisters find their voices as she unexpectedly rediscovers her own. Info and booking here.
New Song of Hope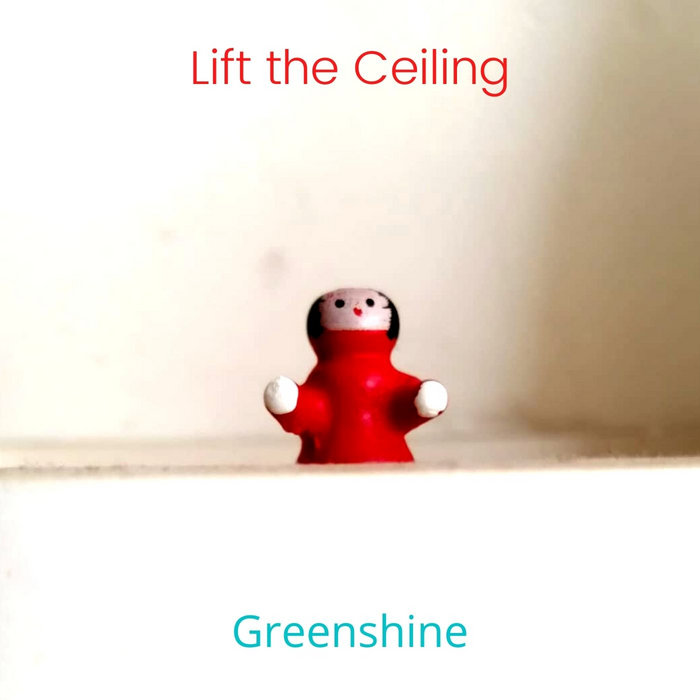 Folk group Greenshine has released a new song on the theme of hope. You can listen to the song 'Lift the Ceiling' and/or buy it, on their Bandcamp page, where you can also read the lyrics.
Changes at Notre Dame Centre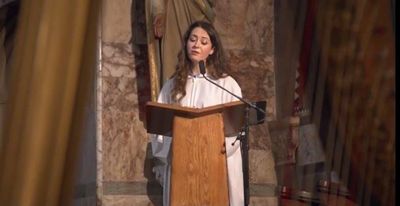 Notre Dame Centre for Faith and Reason in St Stephen's Green, Dublin, is pleased to announce that their new Assistant Director for Music and Liturgy, Dominique Cunningham, has begun her work at the NDNC, taking over for Steve Warner, who has returned to the USA. The are pleased to have her on the full-time staff after she worked as a choral intern there for two years.
Fatima Movie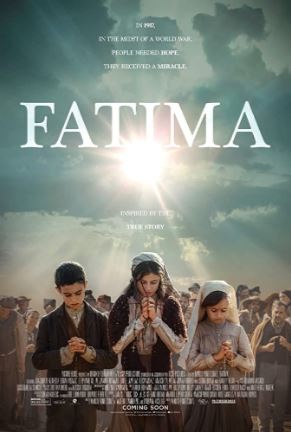 The new film Fatima, delayed due to the pandemic is available in some cinemas and online from Fri 25 June. It stars Harvey Keitel as a skeptical professor and Sonia Braga as the adult Sr Lucia rememembering the circumstances of the apparitions. The Catholic News Service review is here. Decent Films review is here. There is more information in the IMDB Entry. Irish Catholic article here. (Paywall)
New Film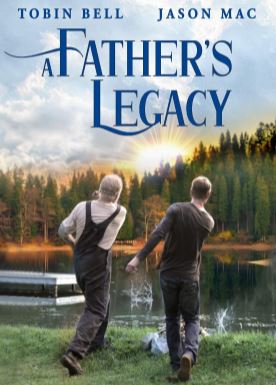 A Father's Legacy is a new film with a positive attitude to religious faith. It is about a son searching for the father he has never known. It stars Tobin Bell, Jason Mac and Rebeca Robles. Catholic News Service review here.
JCT Opportunities for RE Teachers



JCT currently has a number of part-time Associate opportunities nationally. Religious Education is one of the subjects listed. These are part time positions open to serving teachers and teachers recently retired. Deadline is 4th June 3 pm. All relevant information is avilable at this link.
New Album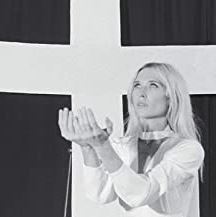 US singer Natalie Bergman has released an album of faith related songs. Mercy follows from the death of her father and step mother in a road accident. Following the tragedy she went on retreat in a Catholic monastery.
Bishop and Bob

To mark Bob Dylan's 80th birthday US Bishop Robert Barron has released a tribute on YouTube where he reflects on Dylan's work and sings a verse of one of his songs - 'Every Grain of Sand'.
New Film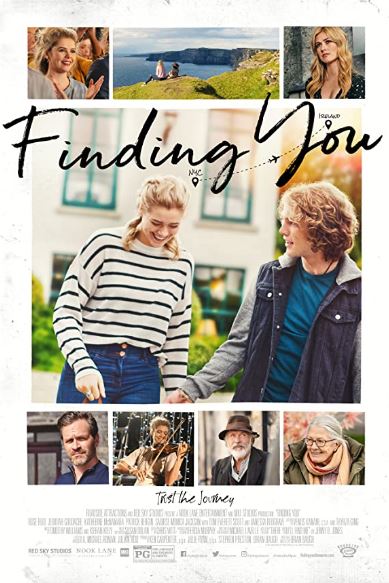 Finding You is a new romantic film set in Ireland about an aspiring musician (Rose Reid) meeting a Hollywood star (Jedidiah Goodacre). The Catholic News Service Review says that despite a character being initially disappointed in prayer 'a sense of God's providence and care does seep into this coming-of-age story about an aspiring musician
Ministry of Catechesis
On Tues 11th May Pope Francis established a formal 'ministry of catechesis' with a new Apostolic Letter Antiquum ministerium Bishop Brendan Leahy, chair of the Bishops' Council for Catechetics has welcomed the recognition for those already involved in the work of catechesis. Read more here.
New TY RE Programme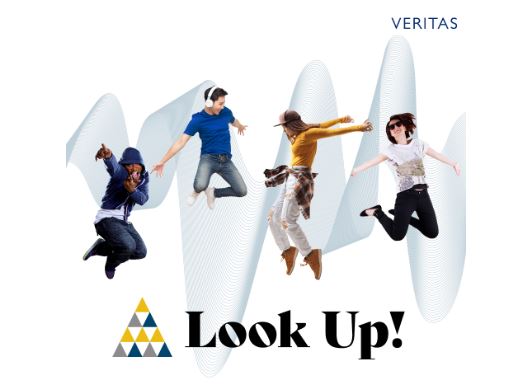 Veritas has launched a new TY programme for Religious Education. In Look Up! The key content for students is presented on PowerPoint slides, to be shown on the class whiteboard. The information on the slides is supplemented by artwork that spans a variety of media and traditions. The accompanying Teacher Notes, which may be viewed in the 'Presenter Notes' viewing panel on the teacher's own screen, include commentary and discussion questions on each slide, as well as additional activities and exercises to supplement and support the information on the slides. These notes also contain resources for the guided prayer reflections that are offered at the close of each lesson. Videos, music and interactive content can be accessed directly from the slides. The content covered is inclusive of all the major world religions. The teacher resources are provided on a USB stick. The accompanying student journal is designed to accommodate students' personal reflections on content studied. It also contains worksheets and a Glossary of key terms. For more information contact Veritas on (01) 8788177 or email caroline.teehan@veritas.ie
Click here to download a sample lesson.
Time to Call Home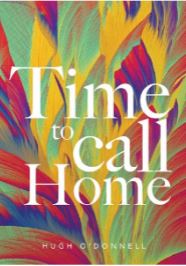 Time to Call Home, written by Hugh O'Donnell, a Salesian priest who works in Sean McDermott Street Parish in Dublin's north inner city, is a collection of short meditations inspired by Laudato Si', Pope Francis' landmark encyclical letter on climate change, that encourages the reader to take courage in the face of adversity and to ponder the astonishing gift of the natural world. Unlike many examinations of the environmental crisis, that are understandably prescriptive in approach, the aim of this particular work is not to admonish but to embolden. Readers are inspired to ponder the awesome gift of creation and to heed its attendant call to stewardship of our shared home. With recourse to poetry, scripture, art and music, Hugh O'Donnell takes the reader on an awesome ecological journey, from which we emerge committed to redoubling our efforts to live at one with our natural surroundings. Check it out at Veritas. The book will be launched online on Wed 12th May at 6.30 pm. If you wish to attend email events@veritas.ie


Vocation Music Award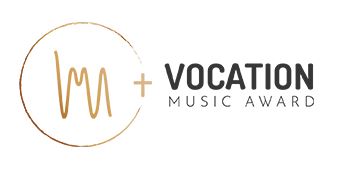 The Vocation Music Award website has been updated, and the UK/IRL version is at https://www.vocation-music-award.com/uk/ This is an international songwriting competition. Songs may be submitted until July 31st. You simply submit a mobile phone or camera video (one take – uncut) on YouTube/WeTransfer and submit the link using the electronic application form.
New St Joseph Song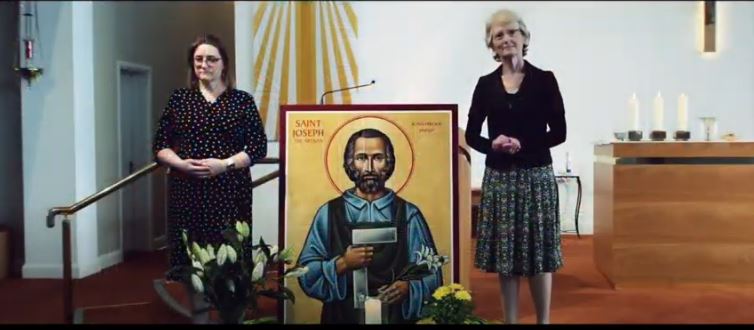 In this Year of St Joseph Marie Dunne CHF has released a new video with a song 'St Joseph - Ever Faithful'. The video can be accessed here.
Sponsor a Work of Art
As part of the restoration of Notre Dame Cathedral in Paris, people are invited to sponsor a work of art. Check out the donation details here. On the site you can also follow the progress of restoration.
Catholicism and Literary Culture
This is an online symposium at the University of Glasgow that brings together international experts to discuss the relationship between literature and Catholicism between the early modern and the modern periods, and in comparative English, Scottish, and Irish contexts. Featuring three keynote lectures and a range of panels, contributors take a comparative approach to the topic, considering continuities and discontinuities across genres, periods, and nations. The event is on Tues 1st June and is free. Booking through Eventbrite.
Leaven Magazine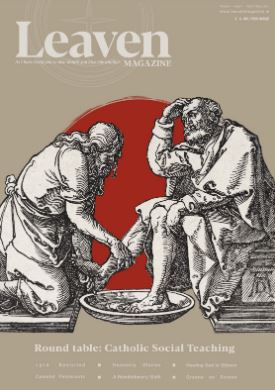 Leaven Magazine is a new bi-monthly online publication 'mainly for and by young Catholics in Ireland'. It features many articles that can be suitable resources for RE teachers, especially those teaching Senior Cycle, exam or non-exam. Of arts interest, the first issue has an article by Niamh White on spiritual themes in the novels of Shūsaku Endō, one on Pentecost themes in the stories of King Arthur by Rachel Sherlock along with articles on songs and stories during times of boredom and one on film versions of the novels of Graham Greene. A sample article is available for free and the full first issue can be bought on the website, along with the option to take out a full year's subscription. https://leavenmagazine.ie/
Trócaire Poetry Competition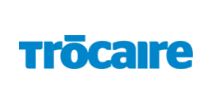 Trócaire and Poetry Ireland have launched their annual poetry competition which this year will focus on the theme 'Pathways to Peace'. The closing date for entries is Friday 7 May 2021. This year's competition invites poets to explore the theme of conflict from a local to global perspective. More info here.
Art Lecture
Online Lecture: The Virgin Mary in the Art of Latin America 1520 – 1820, Prof Gauvin Bailey (Queen's University, Ontario), by the Lumen Christi Institute on Saturday 8 May, 8pm. For more info and registration click here.
The Chosen Season 2



Season 2 of The Chosen, a drama series on the life of Jesus, was launched at Easter. It stars Jonathan Roumie as Jesus. The livestream of the premiere is available on YouTube. The first season, along with many themed clips is available also on YouTube.
Connick Faith CD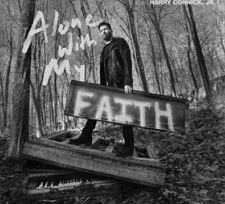 Popular singer Harry Connick Jnr has released an album of faith songs, Alone With My Faith which he put together during lockdown. It includes traditional material like 'Amazing Grace' with new self penned songs. Hear it on Spotify or check it out at Amazon.
Roe v Wade Film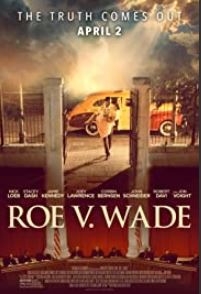 Roe v Wade, starring Jon Voight is a new film about the landmark court case that effectively legalised abortion in the USA. The Catholic News Service review is here. IMDB Entry here.
New Faith-based Film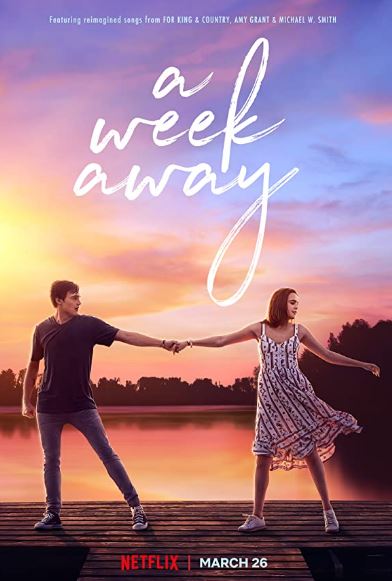 A Week Away is a new faith themed film from Netflix. The plot features a troubled teen sent to a faith-based summer camp. It features music from Amy Grant, Michael W. Smith and more. sThe Catholic News Service review is here. IMDB entry is here.

Art and Cathedrals
James Crowley will give an online talk on Thurs 13th May at 7 pm, exploring how fundamental the aesthetic quality of Salford Catholic Cathedral was to the identity of the Catholic community. It costs £5 and booking is through Eventbrite.

New Film: Resurrection
Resurrection is a new film about the Easter story and is streaming on the Discovery+ platform from 27 March. It dramatises events in the life of Jesus from his death, through the Resurrection and on to Pentecost. Jesus is played by Juan Pablo Di Pace, with Gretta Scacci as Mary. The film is produced by Roma Downey and Mark Burnett. See Catholic News Service Review.
https://www.discoveryplus.co.uk/myaccount/products
Ár nAthair
Recently the Notre Dame Centre for Faith and Reason held a competition for performers to interpret a setting of the Our Father by Steve Warner. A compliation of entries has now been released. You can view it on YouTube here.
Virtual Tour of Vatican - incl Sistine Chapel
A virtual tour of the Vatican is available with a licensed tour guide. This hour long digital tour of the Vatican includes: English-speaking, licensed, and expert Vatican guide; Explore the Vatican Museums, Sistine Chapel and St. Peter's Basilica all from your computer; If you have any questions, there's a live Q&A session with your guide.
Info and registration at Eventbrite.

Award for Gospel Singer
Carla Harris, a top executive at the investment bank Morgan Stanley, and a celebrated gospel singer, speaker and author, will be awarded the University of Notre Dame's 2021 Laetare Medal. The medal, the oldest and most prestigious honor given to American Catholics, will be awarded at the university's May 23 graduation ceremony. Read more at Catholic News Service.
The Mauritian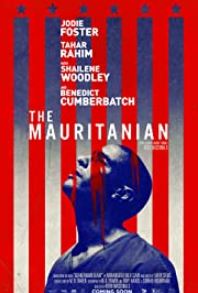 The Mauritian is a new film starring Benedict Cumberbatch and Jodie Foster that tells the story of the imprisonment and trial of a man incarcerated in Gauantanamo Bay after the 9/11 atrocity. The film features positive portrayals of religious faith and includes a Baptism scene that is important in the story line.
New Videos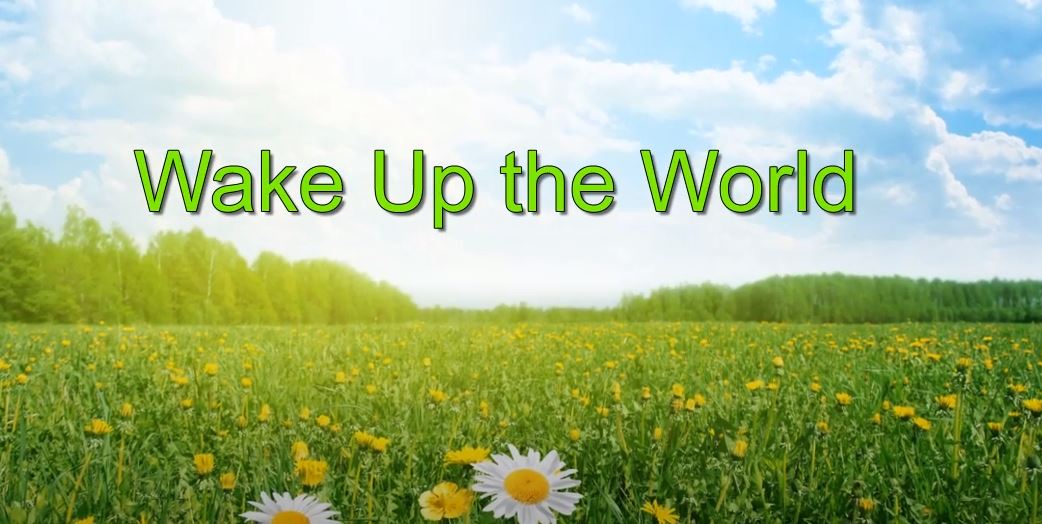 Both Ian Callanan and Marie Dunne have released new videos, featuring songs useful for RE teaching. Wake Up the World by Marie Dunne CHF was composed to celebrate the Year of Consecrated Life in 2015. It is a song of joy - calling on us to 'wake the world' with the joy of the Gospel message. Featured on the album are Adèle Commins, (solo vocal), along with Marjorie Doherty, Marie Dunne, Padraic McGinn and Anne Pepper. Instrumentalists are Mark Cahill (piano) and David Arkins (Guitar). Come Back to Me is a new song and video from Ian Callanan, specially for the Lenten jorney 2021.
Jamboard Workshop for RE Teachers


There will be an online workshop on Jamboard and other Whiteboard applications for online or in-class teaching on Thurs 4th March 7.30 pm. Apart from Google's Jamboard, the workshop will explore the whiteboards in MS Teams and Zoom. These tools provide a creative way for teaching RE, including the use of arts resources, and facilitate interaction between teacher and student. If interested email editor@faitharts.ie to book. If you missed it and wish to learn the software contact editor@faitharts.ie
Vocations Music Award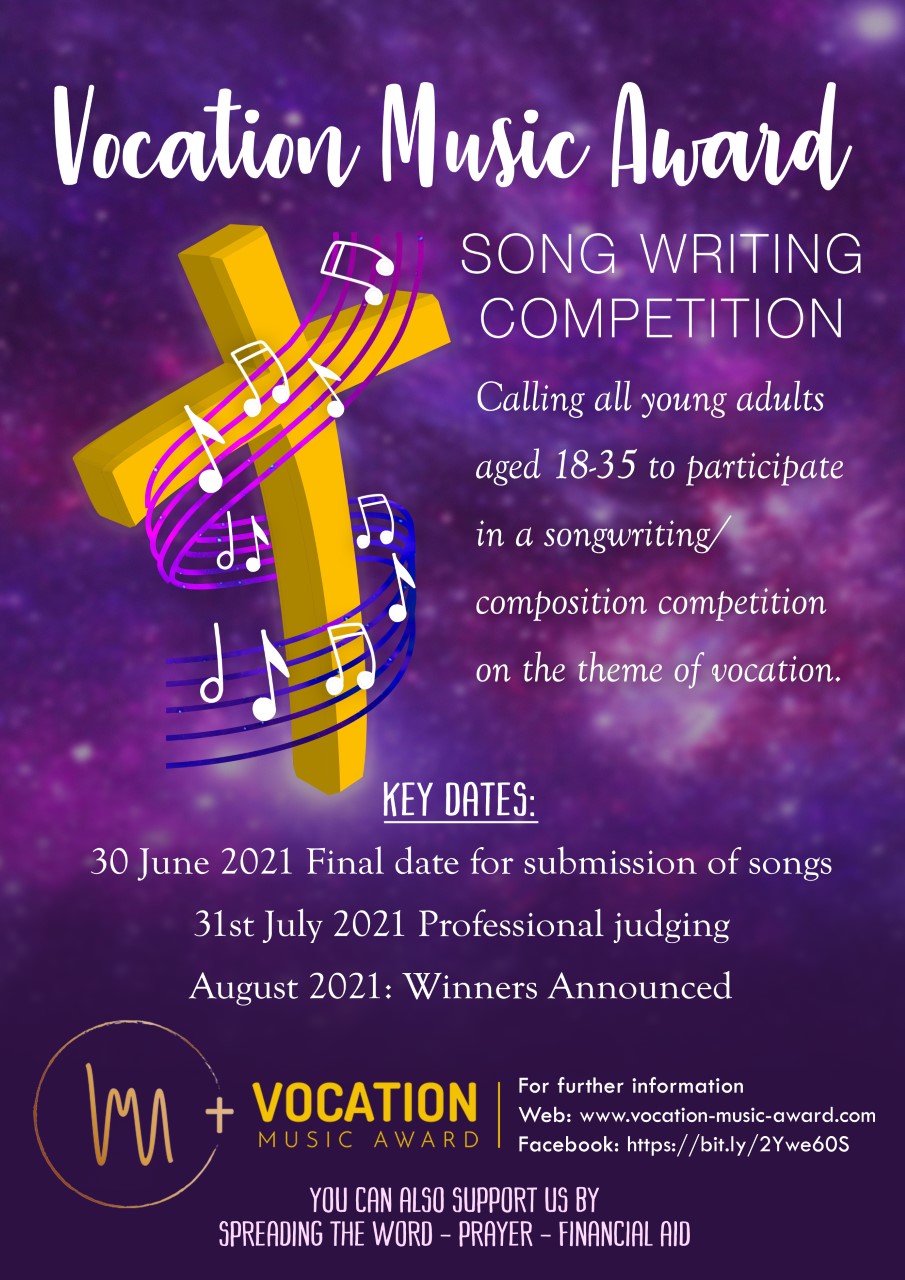 The Vocations Music Award is a Europe wide songwriting competition.The Award aims to bring the idea of vocation to the young people, in a creative and innovative way. Deadline for submissions is 30th June 2021, and details are currently being finalised. Information on previous years can be accessed here. Click here for UK/Irl link.
Beauty in the Catholic Tradition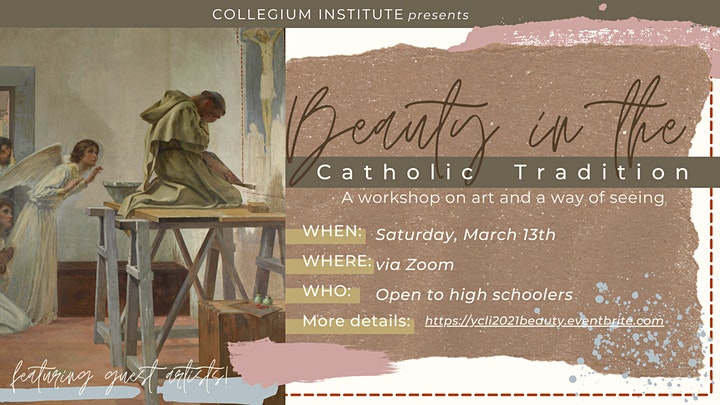 On Saturday, March 13th, in a digital workshop, the Collegium Institute, joined by guest artists and writers, will lead high school students on an exploration of "Beauty in the Catholic Tradition," considering questions like the following:
What resources does Catholicism have for understanding the inter-relation of art, beauty, and faith?
How can beauty shape a soul or aid a life of faith today?
How is it possible for the artist to be faithful to the reality of human suffering and also faithful to the need to transcend it?
Through seminar discussions, students will explore thinkers like Pope John Paul II, Thomas Merton, Madeleine L'Engle, C.S. Lewis, and others; in addition, they will have the opportunity to participate in hands-on creative workshops with guest artists and writers, engaging the mind, the heart, and the hand.
Booking at Eventbrite
Youth Initiative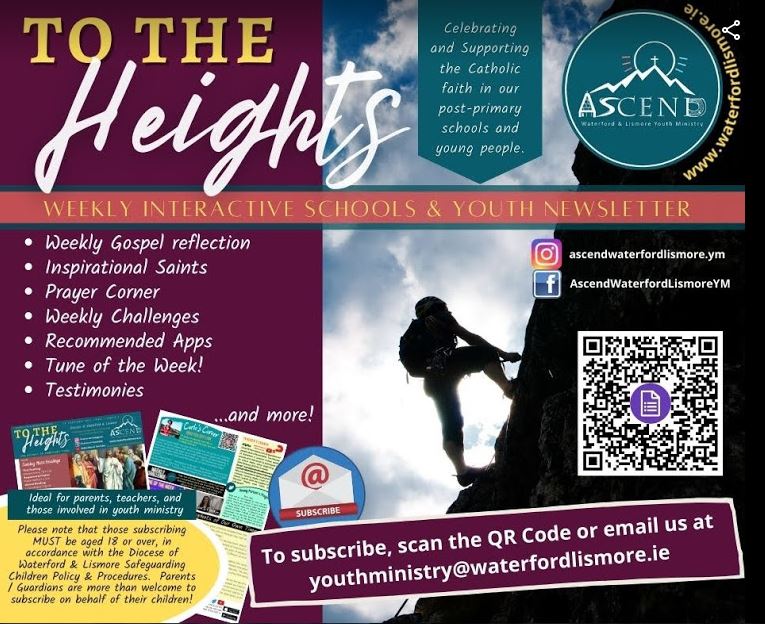 To the Heights is a weekly interactive schools and youth newsletter from Ascend, the youth ministry of Waterford and Lismore Diocese. Included are weekly gospel reflections, inspirational saints, testimonies prayer corner and more. To subscribe contact youthministry@waterfordlismore.ie.
New World Youth Day 2023 Song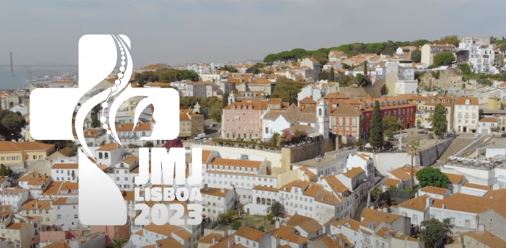 The official theme song of World Youth Day (WYD) 2023, scheduled to take place in Lisbon, Portugal, was released on Wednesday 27 January, exactly two years since the announcement of the city chosen by Pope Francis to host the next world meeting for young people. Titled Há Pressa no Ar (There's a rush in the air), the song is inspired by the WYD 2023 theme: "Mary rose up and went with haste" (Lk 1:39). It recalls the "Yes" of Our Lady and her rush to meet her cousin Elizabeth, who was also with child. The theme song was recorded in two versions: one in Portuguese and the other in an international version that includes Portuguese, English, Spanish, French and Italian. Read more here. View here.
New Film - Herself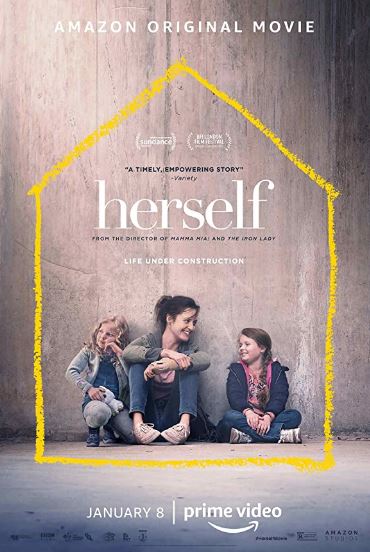 New Irish film Herself centres around a story about St Brigid. It is also a tale of homelessness and domestic abuse. It stars Clare Dunne who co-wrote the script with Malcolm Campbell and is directed by Phyllida Lloyd. It is streaming currently on Amazon Prime in USA, and is due for cinema release in Ireland in March, having been postponed in the Autumn due to Covid restrictions.
Catholic News Service Review here. IMDB Entry here.
Gadiner Street Gospel Choir



Gardiner St Gospel Choir sings at the 7.30 pm Mass every Sunday Sept-May. This is available online at https://gardinerstparish.ie/live-video/ and https://www.facebook.com/thegsgc/live
New Marie Dunne CD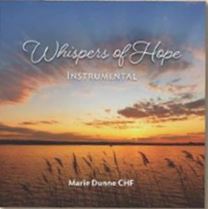 Liturgical composer Marie Dunne CHF launches a new CD, Whispers of Hope, on Wed 3rd December. It is an album of instrumental music - of Marie's earlier compositions, with new material as well. If you wish to attend the online launch that evening 7 pm, contact events@veritas.ie The album is available from Veritas.
Christmas Stamp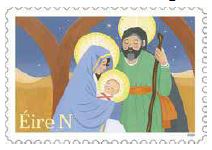 An Post has launched it's Christmas stamps for 2020. The nativity scene stamp pictured is illustrated by Liz
Rockard.


Sir James MacMillan: Catholicism and Music
This is a free online event on Wed 9 Dec at 6 pm. James MacMillan, from Scotland, and famous for compositions like Veni Veni Emmanuel completed his BA and PhD at Durham University in the 1980s and is Professor of Theology, Imagination, and the Arts at the University of St Andrews. In this lecture, MacMillan will discuss the relation between Catholicism and music. He will talk about his own music, music of the past, music from previous centuries which has been employed in liturgy, and the religious traditions and heritage of Catholicism. Register at Eventbrite. Event is now over but a recording is available here.
Online Advent Retreat
Waiting in Mindful Hope - Advent Journey: Four weeks of Video Reflections for the Season of Waiting. Martina Lehane Sheehan and Patrick Sheehan team up with Deirdre Ni Chinneide in offering this four week retreat based on the above best selling title.
In weekly Videos sessions, they will explore the rich and beautiful season of Advent using Music, Poetry, Meditation, Ritual. Cost €100. More info here: https://www.ruahrest.com/retreats-and-events

Columban End Racism Competition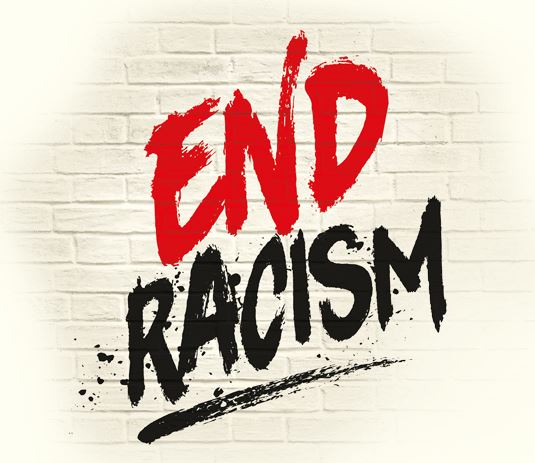 The Columbans are organising a competition on the theme ''Let's Create A World Without Racism'. Two separate competitions will be held, one for students in Ireland and one in Britain (England, Scotland, Wales); each has two categories: Writing and Image. Winners will be announced in Columban media on 15 March 2021. The winning entries will be published in the Far East magazine, online on Columban websites in Ireland and Britain, shared on Columban social media, and published in other Catholic media. This is a chance to engage with an issue that addresses equality, justice, inclusion and also draws on faith and personal experience. Deadline for entries: 20 February 2021. More info here.
Catholic Creatives Podcasts
Catholic Creatives USA has a series of podcasts on topics in faith and the arts. Recent additions include a podcast with contemporary singer-songwriter Matt Maher. More info here.
Sacred Music Saturdays
As part of the Sacred Music Institute of America's ongoing commitment to provide online training for church musicians, they wish to announce the new monthly online lecture series, "Sacred Music Saturdays." The series offers an innovative hybrid approach designed to cater to various learning styles and life situations. Each video lecture can be viewed according to each individual's availability, but live question-and-answer/musical coaching sessions with Institute faculty are also included in the registration fee of $20. More info here.
Holy Shocking Saints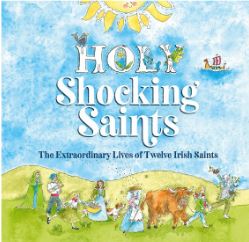 Holy Shocking Saints is a beautifully illustrated book celebrating the extraordinary lives of twelve remarkable people. Whether mystics, healers or holy people, their strong belief was the catalyst that set them on the spiritual path. Some renounced wealth, position and marriage proposals; others had a burning desire to explore the world to teach about their faith. The book is written by Síne Quinn and Margaret Ann Suggs (illustrator). The books is published by and available from Veritas. Click here.
New Film - Clouds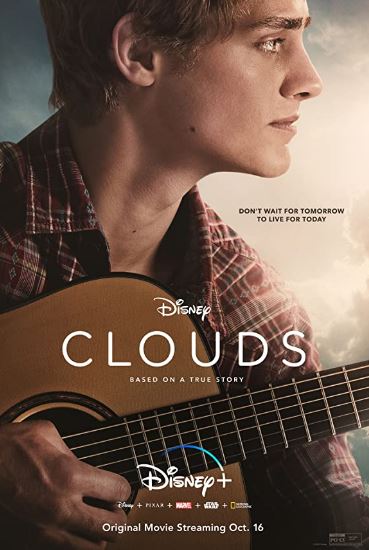 Clouds is a new film, released October 2020 on Disney+. It tells the true story of young Catholic and singer-songwriter Zach Sobiech, who died from cancer in 2013.
IMDB Entry is here, while there's biographical and film background here.
New CD from the Poor Clares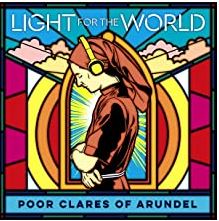 The Poor Clare sisters from Arundel, Susex, UK have release a new album Light for the World. It has already reached No. 1 in the Classical Music Charts and is a best seller on Amazon and iTunes. It aims to bring calm to people in these difficult times.

MyFaith.ie


On 13 October Bishop Dermot Farrell launched a new interactive website to help prepare children for the celebration of the Sacraments of Reconciliation, Communion and Confirmation. MyFaith.ie is an innovative parish-based programme of preparation that allows the children to journey towards the celebration of the Sacraments in the company of their families, supported by their parishes. Designed to support children preparing for the Sacraments of Reconciliation for the first time, First Holy Communion and Confirmation. This online and interactive programme leads students though the steps necessary to understand, appreciate and, in time, fruitfully celebrate, and then live, the Sacraments. Registration is needed, but a sample lesson is available.
Warner Talk Recording Now Online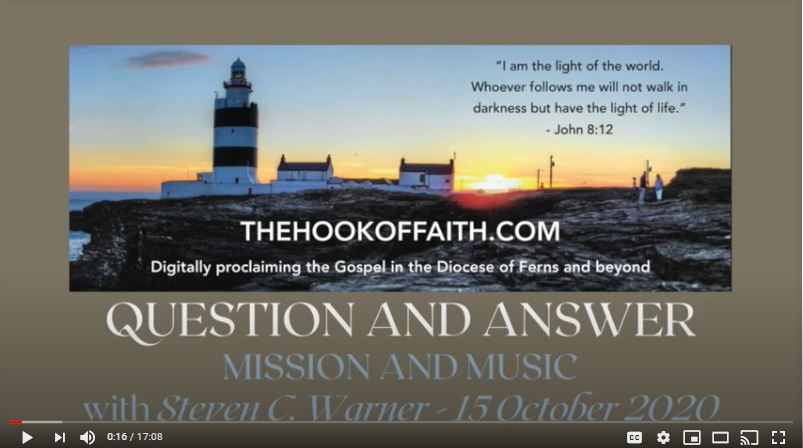 The online workshop on Mission and Music recently conducted by Steve Warner for The Hook of Faith website is now available online. Part One is here, Part Two here.
Ian Callanan Concert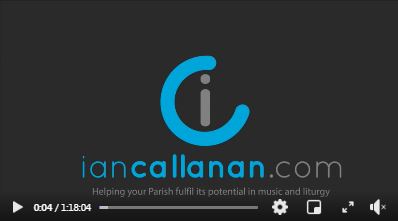 On Tues Oct 20th liturgical composer Ian Callanan hosted a livestream concert of sacred music in aid of the charity As Music Heals. The event is still available online, click here.
October Resources



Dublin Diocese has published their October Blog which features a wide range of resources for various events and feast days in October. Check it out here.
Sister Act 3?
Actress Whoopi Goldberg has hinted that another Sister Act film may be possible, and that she is working to progress the project. See IMDB entry.
Sharon Carty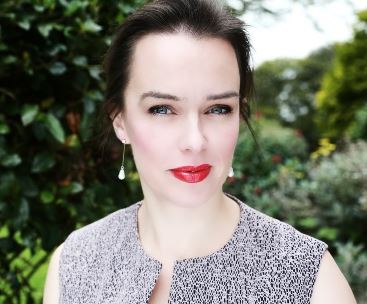 St Patrick's College, Maynooth has announced the appointment of mezzo-soprano Sharon Carty as Maynooth campus associate artist for the coming academic year, 2020-2021.
New Bocelli CD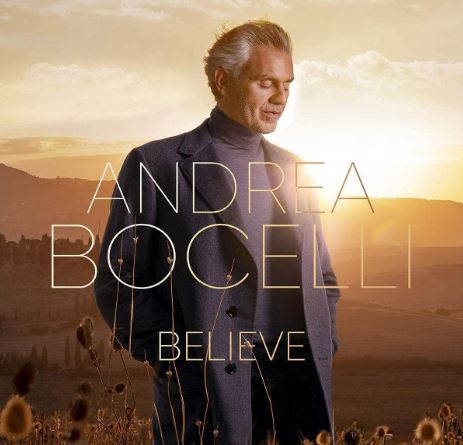 Due for release in November, the internationally renowned Italian tenor Andrea Bocelli releases his new album, Believe, celebrating the power of music to soothe the soul. It follows his record-breaking 'Music for Hope' performance at Easter from the historic Duomo cathedral in Milan which was watched live by millions around the globe. It features a previously unreleased track from the late, great Italian composer Ennio Morricone, as well as 'Gratia Plena' – from the critically acclaimed new movie, Fatima –, two duets with award-winning mezzo-soprano Cecilia Bartoli, and for the first time ever Andrea Bocelli has recorded his own interpretations of 'Ave Maria' and 'Padre Nostro' along with familiar favourites such as 'Hallelujah', 'You'll Never Walk Alone' and 'Amazing Grace'. Believe, co-produced by Steven Mercurio and Haydn Bendall, is a collection of uplifting songs that have inspired and sustained Bocelli over the years. DELUXE EDITION - Features 3 extra tracks; "Mui Grandes Noit E Dia", "Mira Il Tuo Popolo" and "Amazing Grace (solo version)".
Christian Music Hour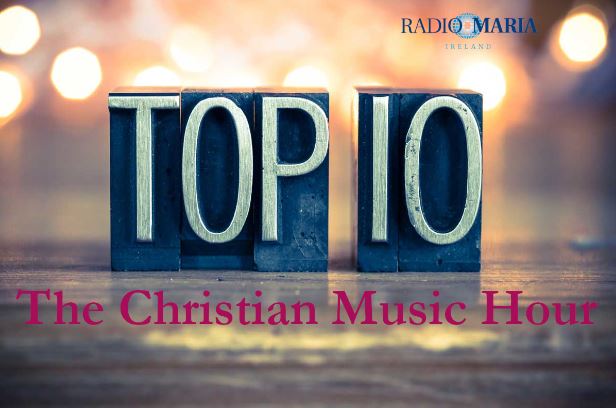 Radio Maria Ireland features the 'Christian Music Hour' on Mondays at 4 pm. The show is also available as a podcast here.
Listen to Radio Maria Ireland via:
– SAORVIEW: Channel 210
– the Free App: "Radio Maria Ireland"
– Internet Streaming: www.radiomaria.ie
– on Facebook by clicking "Listen Live Radio"
– or on landline 01 437 3277
New Film on Fr Peyton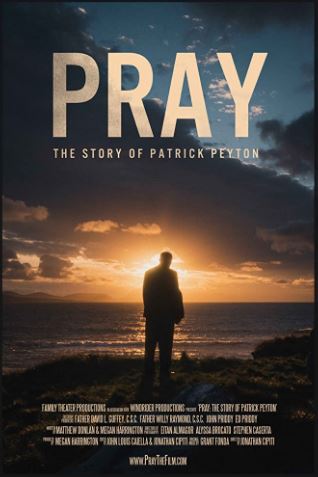 Pray: The Fr Peyton Story is a new film on the life of Fr Patrick Peyton, popularly known as the Rosary Priest. He enlisted several Hollywood celebrities in his work promoting the rosary.
IMDB entry here.
Catholic News Service Review here.

Church Music Licensing
In a new Church licensing deal Churches in Ireland will gain access to a repertoire from top sacred music publishers including The Taizé Community, The Iona Community, Oregon Catholic Press, GIA Publications, Inc., the Royal School of Church Music, Oxford University Press, Hope Publishing, Kevin Mayhew and many more. SA-based ONE LICENSE, LLC, and Irish Church Support Group (CSG) have announced this new partnership to bring more than 80,000 songs and music from leading Christian composers and publishers to churches in Ireland and the UK. Read more at Catholic Ireland.
New Film - Infidel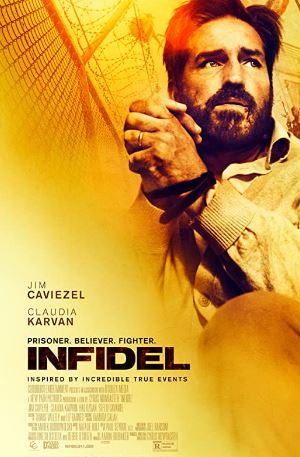 Infidel tells the story of an American Christian man (Jim Caviezel) captured in the Middle East. When the American Government won't help his wife (Claudia Karvan) must save him.
Catholic News Service Review.
IMDB Entry
New video from Karl McGuckian and Liam Lawton
Liam Lawton has written a new song 'Second Dance', for organ donation week, and it is sung by Karl McGuckian (pictured). The accompanying video is by Cathal Hegarty. The video can be viewed here.
New School Year Ceremony



Derry Diocese has designed a ceremony for the opening of the new school year. The Tree of Hope ceremony takes Covid restrictions into account and is classroom based. This free liturgy can be downloaded at this link and the associated Powerpoint is available on request.
Return of Taizé Service
The Taizé service of the year at Newman Church, St Stephen's Green, Dublin 2, will be on Tuesday the 8th of September at 6:00 PM. Social distancing guidelines will be in place for the entirety of the service, and if unable to join in person, it will be live-streamed on our YouTube page. We hope that many of you will be able to join us for an evening of ecumenical prayer, song, and meditation! [Continuing every Tuesday - online for the duration of Dublin restrictions]
Trócaire Poetry Competition Results
Trócaire and Poetry Ireland have announced the winners of their poetry competition and will celebrate the winners on a streamed video event on Poetry Ireland's YouTube channel on Culture Night (Friday 18 September) instead of the normal live readings and presentations. More info and detailed results are available at Catholic Ireland.
Fatima Movie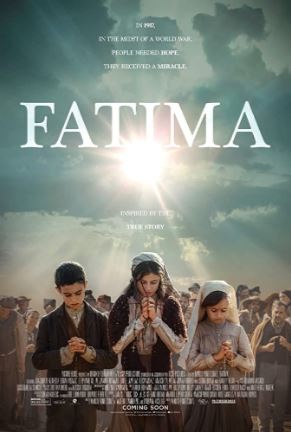 The film Fatima, delayed due to the pandemic has been released in the USA. It stars Harvey Keitel as a skeptical professor and Sonia Braga as the adult Sr Lucia rememembering the circumstances of the apparitions. The Catholic News Service review is here. There is more information in the IMDB Entry.
New Film With Faith Element
Words on Bathroom Walls is a new film featuring Andy Garcia as a sympathetically portrayed priest trying to help a young student who has schizophrenia. Catholic News Service Review here.
New Eilidh Patterson Album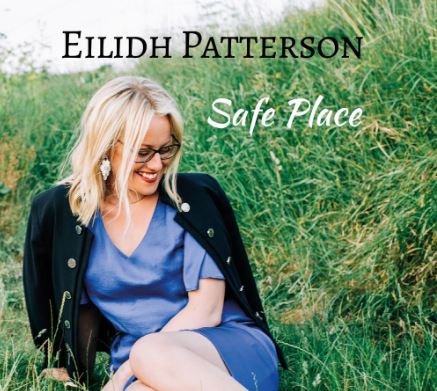 Eilidh Patterson's new album Safe Place is due for release on Friday 7th August 2020. Recorded in Glasgow, Scotland before the Coronavirus Lockdown hit, Eilidh has been working on getting the album ready for release over the past few months. At a time when the world has been rocked by fear and uncertainty, this vibrant sequel to Journey Maker reveals the destination of Eilidh's Safe Place. The album will be available to download and to buy on CD from 7th August on her website, with an online album launch due for Sun 9th August 2020 on Facebook and YouTube.
The Chosen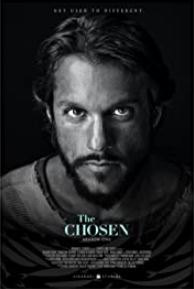 The Chosen is a TV series based on the life of Jesus. It is directed by Dallas Jenkins and stars Jonathan Roumie as Jesus. There are 9 episodes in the first season and a second season is promised. The series is being produced outside of the Hollywood system. The first episode can be viewed for free with various paying options (which helps to support the project) and ways to watch after that. Check it out here.
The first episode and extensive other content is also available on the Chosen's YouTube Channel.

New Album from John Michael Talbot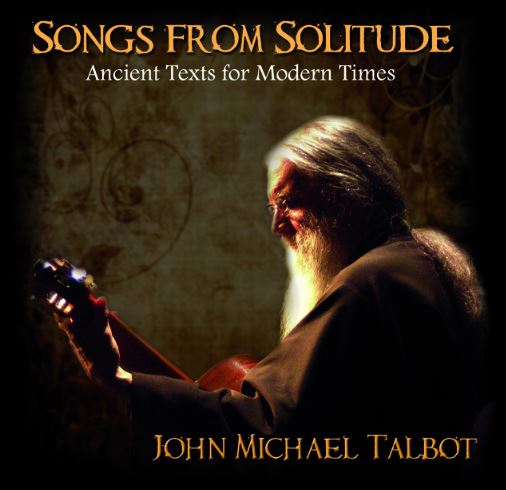 Songs From Solitude - Ancient Texts for Modern Times is the new album from John Michael Talbot. The blurb: ' Recorded alone in a hermitage during the COVID-19 pandemic, it is at once both solitary on earth and in timeless communion with the choirs of heaven. It embodies as much as possible, the music of heaven on earth'.
Season of Creation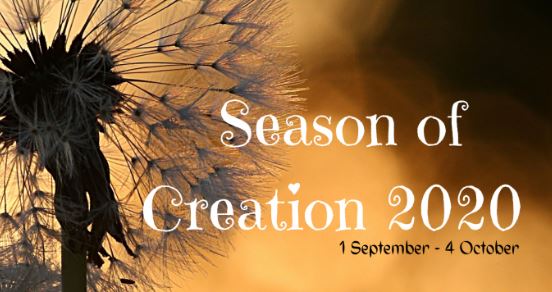 The Season of Creation has a special significance for the Catholic Church, particularly since Pope Francis established 1 September as an annual World Day of Prayer for the Care of Creation. The Season of Creation or Creation Time, is marked throughout the Christian world from 1 September to 4 October (Feast of St. Francis of Assisi) and celebrates the joy of creation as well as encouraging awareness-raising initiatives to protect the natural environment. Resources have been developed for the occasion. Poems by Bro Richard Hendrick are included. Check out the resources here.
New Flannery O'Connor Film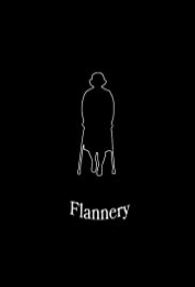 A new film documentary Flannery on the life of US Catholic author Flannery O'Connor has been released. O'Connor was best known for her Southern Gothic short stories and the novel Wise Blood, later filmed by John Huston. The soundtrack features the song 'Get Right With God' by Lucinda Williams. CNS Review here.
Cloud's Veil - Kildare and Leighlin Virtual Choir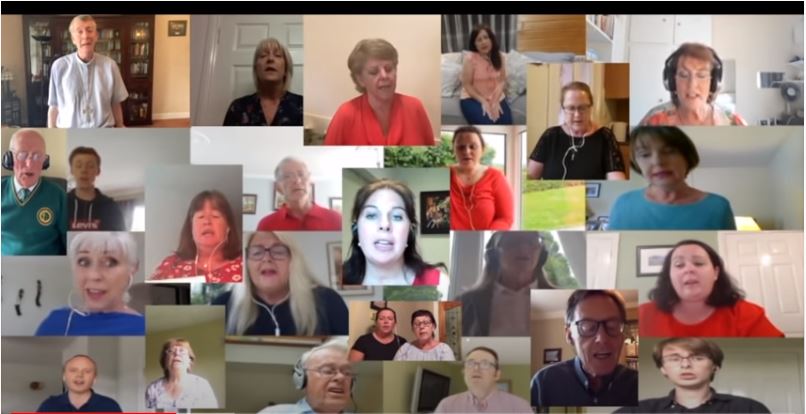 Bishop Nulty asked Liam Lawton to co-ordinate a virtual performance because choirs were not able to come together to sing due to COVID-19 restrictions. They want the song to give people hope during these difficult times of pandemic. Bishop Denis Nulty has led the singing with his debut solo performance of an uplifting hymn in a virtual choir helped by renowned musician Fr Liam Lawton. The recording of A Hymn of Hope – The Clouds Veil by the combined choirs of the diocese went live online on Sunday (12 July 2020). The video can be viewed here. Read more at Catholic Ireland.
Listowel Writers' Week
This year's Listowel Writers' Week was cancelled due to the Covid pandemic. In the current edition of the magazine Ireland's Own Fr. J Anthony Gaughan reflects on the origins and history of the event. Read more at Catholic Ireland.
New Film from Mary's Meals



Love Reaches Everywhere is a new documentary film on the Mary's Meals, an organisation that delivers food to the needy through schools. It is presented by actor Gerard Butler. The film shows us the work of Mary's Meals in Haiti and Liberia in particular. It can be viewed free at https://www.marysmeals.ie/
More Veritas Shops Opening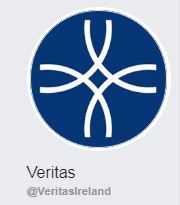 More Veritas shops are opening - the shop in Abbey Street opened earlier in the month, Blanchardstown, Letterkenny and Cork shops are due to open by 25th June. There free shipping on all orders over 20€
New Lawton Video
Launching 6 pm Thurs 11 June at 6 pm on YouTube - video of Liam Lawton's song 'You Are Not Alone', which featured on his recent live stream concert.
Psalmathon on YouTube
Singer Ben Vonberg-Clarke is singing his way through the Psalms on YouTube during the Coronavirus lockdown. His videos can be accessed here.
Veritas Re-Opens
Veritas has announced that their flagship store on Dublin's Lower Abbey Street will reopens on Monday, 8 June. Veritas would like to thank all of its customers for their support during this difficult time. Online ordering continues.
Knock Film Wins Award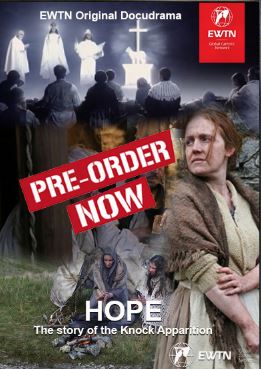 The film Hope, a docudrama about the apparitions at Knock is not available for streaming on Amazon Prime. It was directed by Campbell Miller for EWTN. It was a recent winner at the international Gabriel Awards. Gabriel Awards are presented annually by the Catholic Press Association in the US and Canada. For more info and purchasing options click here.
Teachers and Assessment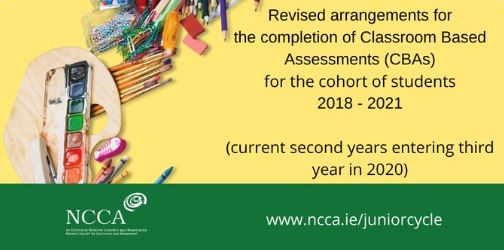 The NCCA has released a document relating to Classroom Based Assessments (CBAs) for Junior Cycle. It applies to all relevant subjects. This is the blurb: 'The very real challenges that school closures have created and the ongoing efforts by teachers and schools to continue to plan lessons and, where possible, provide online resources and lessons for your students are very much appreciated. We are aware that, where it was feasible, students may have been asked to continue working on Classroom-Based Assessments (CBAs) with guidance from their teachers. Please note that for students currently in second year (2019/20) revised assessment arrangements for the completion of CBAs will now apply. In summary, in the exceptional circumstances prevailing, students from this cohort will be required to complete one Classroom-Based Assessment in the subjects taken rather than the usual two'. The full document can be downloaded here. [updated 4/6/20]
A previous circular is also relevant.
Virtual School Trips for Religious Education
Google is offering a range of online training opportunities at the moment. Among these is a webinar this week (Thurs 3.30 pm) on creating a Virtual School Trip using Google tools for Education. Here is the blurb: 'Join the Google for Education Team and Google Certified Trainers to learn about how G Suite tools can be used to facilitate distance learning. In this session we will be using fantastic Google tools such as Google Earth, Google Maps and Expeditions, to explore the wider world and discover new places of interest. Students can then capture their findings in a Google Slides to share with teachers, families and friends.' This approach could facilitate virtual RE related outings as part of a student project. Access the webinar here:
https://www.youtube.com/watch?v=9A5UFlCMyz4
*Previous webinars, which will include the above after Thurs, are available here:
https://events.withgoogle.com/distance-learning-webinar-series/past-webinars/#content
Trócaire Poetry Competition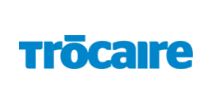 Organisers of the Trócaire poetry competition, which raises awareness of global justice issues, have extended the deadline to 12 June 2020. "During times of crisis, many find comfort in the arts, with poetry particularly helping us to express our feelings and connect with others," stated the organisers of the Trócaire Poetry Ireland Poetry Competition. "Adults and children alike can get creative during the current COVID-19 restrictions and enter a poem or poems." Poets of all ages are encouraged to explore the theme, 'Standing Her Ground', from a local to global perspective. Each year, the winning poems are published in booklet form and presented to the winners at an awards ceremony. Read more at Catholic Ireland and Trócaire.
Matt Maher Concert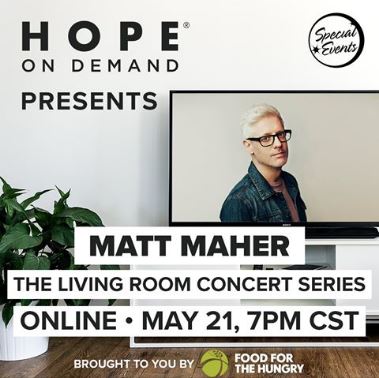 Contemporary Catholic singer-songwriter Matt Maher from Canada will perform in the 'Living Room Concert Series' online on Thurs 21 May at 1 am at night (effectively Friday). It is presented by Hope on Demand. Further info here.
Book on Raphael
Fr Michael Collins has witten a new book of the Renaissance painter Raphael, whose works were often of a religious nature. Raphael's World is published by Messenger Publications.
Online Concerts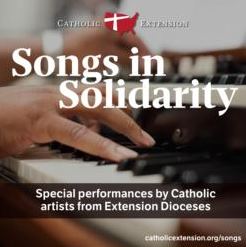 Catholic Extension's online concert series aims to lift people's spirits during a time of struggle and uncertainty caused by the pandemic, while also promoting the vitality of the Catholic faith in the poor communities in U.S. mission dioceses supported by the Chicago-based organization. Twice weekly, Catholic Extension hosts watch parties of livestreamed concerts on its website, www.catholicextension.org, and its Facebook page from various artists across the country. These include including a Christian rapper from Arkansas, Jaime Torres ("El Serio"), Mariachi Nuevo Santander from South Texas, Jossie Santiago from Puerto Rico and many others. Read more at Catholic News Service.
Tribute to Frontline Workers
Singers and musicians from across the various Churches in Ireland will collaborate in a performance of the hymn 'Be Thou My Vision' and this will be released on Pentecost Sunday. Singers and musicians from churches north and south of the border are to join together in a "virtual" music tribute to frontline workers which will be released on Pentecost Sunday. According to Ethan Tohill, a spokesperson for the event, the initiative aims to unite the Christians of Ireland in song, and to pray a blessing for care workers in these unprecedented times. Inspired by similar initiatives in the UK and South Africa, 'The Irish Blessing', as the event is being called, aims to engage musicians from the various Churches in Ireland in a performance of the Irish hymn 'Be Thou My Vision'.
Read more at Catholic Ireland.
Ecumenical Bible Week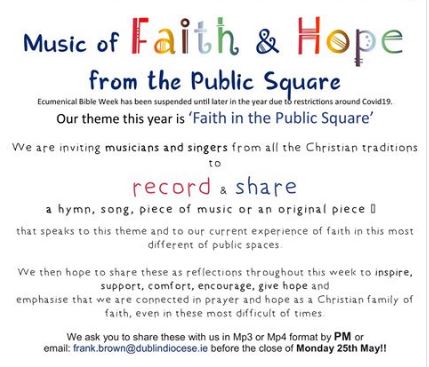 This week's Ecumenical Bible Week takes place from Petecost Sunday 31st May to Sun 7th June. This year the event will be online and the theme is: ' Faith in the Public Square: Past Histories ... Current Realities'. As part of the event the organisers are calling out to musicians and singers to contribute recordings - songs or pieces of music that reflect the current and unique public space. Contributions can be emailed in MP3 or MP4 format to frank.browne@dublindiocese.ie by 25th May. https://www.bibleweek.ie/
Musical Event in Laois Church
Members of the music ministry team of Portlaoise parish offered an evening of Songs of Hope from the Church of Ss Peter and
Paul. Those involved included Nuala Kelly, Aisling Rohan, Georgina Cathart, Fr Ciprian Matei, Fr David Vard and Vivienne Graham. The event was broadcast live on Shalom World television and can be viewed on this link:
https://shalomworld.org/episode/songs-of-hope
Recruiting for Pro-Cathedral Choirs
Dublin's famous Palestrina Choir has launched a recruiting campaign to find new boy choristers – and St Mary's Pro-Cathedral Girls' Choir are recruiting too. Both choirs are looking for children in first class, primary school, aged between seven and eight years. Read more at Catholic Ireland.
Ian Callanan Live Online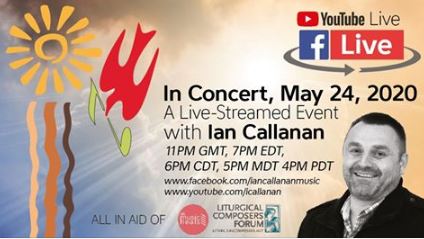 On Sun 24 May liturgical composer Ian Callanan will do his first Facebook & YouTube live concert. It is a free concert and will be an hour long but donations toward the As Music Heals fund will be very welcome. It will on at 11pm Irish time, and in USA 7pm ET, 4pm PT. More details will be available in the coming weeks. More info: https://www.facebook.com/iancallananmusic/
Song Writing Competition
Vocations Ireland invites you to consider the meaning of vocation and share your musical talents with 2021's Vocation Music Award. If you have a passion for music and songwriting, prepare your entry now for a chance to compete at the international Vocation Music Award and Key2Life Music Festival in Germany. The deadline for submission of an original song is
December 2, 2020. Details will be available at www.vocationsireland.com
Online Music Workshop


There's a livestream workshop on music, prayer, and dialogue at 5 pm Irish time on Thurs April 30. A recording of the event will be available afterwards.
The link is here: https://youtu.be/4JVtfN4uc8Y (or https://www.facebook.com/events/224107442338127/ ). Steve Warner will share about meeting people where they are, dialogue between American and Irish cultures through music ministry, and his composition of liturgical music for the Newman Vocare Ensemble's album "Easter in Ireland." Everyone is welcome to tune in! Please register at the following link if you wish to access sample audio clips and scores from the "Easter in Ireland" album: https://blueq.co1.qualtrics.com/jfe/form/SV_cYBGusUClRt9fPD
Steve Warner is the founder of the Notre Dame Folk Choir and directed the choir for 36 years. Since 2017, he and his wife have lived and worked with the Notre Dame - Newman Centre for Faith & Reason at St. John Henry Cardinal Newman Church in Dublin, Ireland. There they founded the Newman Vocare Ensemble, and continue to minister through music daily with post-grad volunteers in the House of Brigid (Teach Bhride).
Thank you to GIA Publications for providing these samples. Thanks also to the House of Brigid and the Notre Dame - Newman Centre for Faith & Reason for running the livestream.
New Album from Notre Dame Folk Choir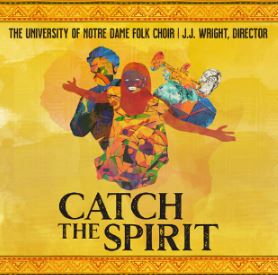 Catch the Spirit is a new album from the Notre Dame Folk Choir, with director JJ Wright. Songs include 'Tune My Heart According to Your Will', 'Day is Done' and 'Canticle of Simeon'. The album is available on Spotify, YouTube and Apple Music. More info and videos on choir's website https://www.folkchoir.com/
Free Easter Resources
Emmaus Productions (home of the music of Monica Brown) is offering lots of free resources, for young people and adults. These are built around Easter themes but are aimed at providing support during current lockdown situations.
https://www.emmausproductions.com/special-feature/spiritual-comfort-for-troubled-times-holy-week-2020/
New Fatima Film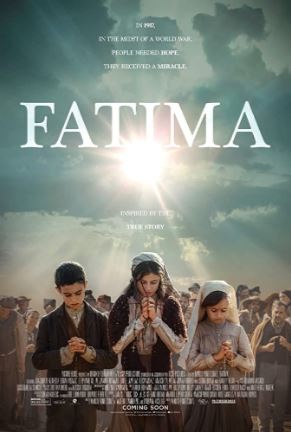 A new film 'Fatima' about the appearances of Our Lady in 1917 in Portugal, originally due in April is now scheduled for release in August 2020. It stars Harvey Keitel and Goran Visnjic, and is diected by Marco Pontecorvo. Among the writers is Barbara Nicolosi.
IMDB Entry
New Matt Maher Album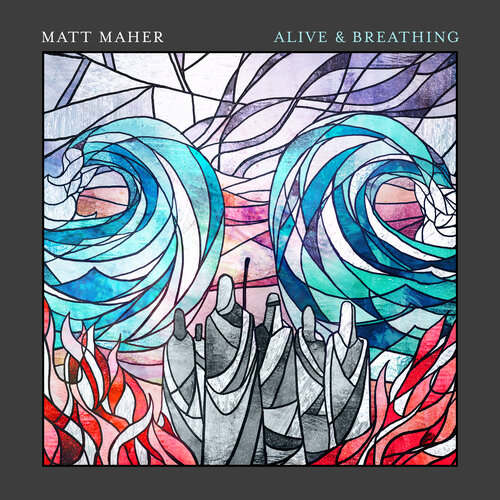 Canadian singer songwriter has released (March 2020) a new CD collection Alive and Breathing, which is available at usual outlets, Spotify, Apple Music, Amazon Music etc. The album is a combination of studio versions of brand new songs, live versions of some of Maher's biggest hits (Because He Lives (Amen), Lord, I Need You), as well as new live recordings of songs that Maher has written with other artists, but has not recorded himself (Soul on Fire, Come As You Are). The CD can also be purchased at Amazon
Poem 'Lockdown'
A poem 'Lockdown', written by Br Richard Hendricks about life in Coronavirus times has been gaining traction, even being recited on CNN. The poem can be viewed on Br Richard's blog.

New CD from Vocare Ensemble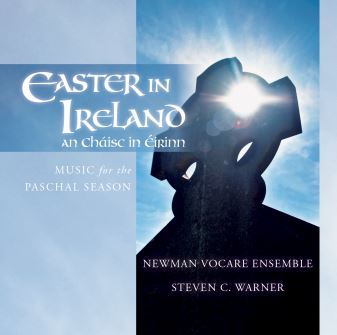 GIA Publications, Inc. has launched Easter in Ireland, their first recording by Steve Warner and The Newman Vocare Ensemble, music ministers at the Notre Dame-Newman Centre for Faith and Reason in Dublin. This album offers a taste of the rich fabric of sounds found in Ireland. It is a merging of traditions: four-part choral singing; Uilleann pipes, low whistle, harp and harmonium; strings, organ and guitar. All of the selections are directed toward the joy of Easter. The available octavos and downloads include choral anthems, hymns, refrain songs, psalmody and liturgical items for use in any parish. This recording also honors one of the newest and most celebrated saints, St. John Henry Cardinal Newman, who commissioned the building of University Church, home to the Newman Vocare Ensemble and site of this recording. There are samples of all tracks, along with options to purchase the MP3 download (whole album or song by song) or the physical CD at this link: https://www.giamusic.com/store/resource/easter-in-ireland-recording-cd1072. It will later be available from Newman Church direct, and when the shops re-open, from Veritas.
Online Concerts
During the virus crisis many gospel/liturgical performers and composers are having online concerts - these are accessible on their Facebook or Instagram pages or YouTube channels. The Facebook Watch App is also useful for this purpose.
Irish Catholic Offer



Currently the Irish Catholic newspaper if having a special ofer on their digital edition - €9.99 for a three months subscription. The news frequently has content relating to the arts, including film, music and TV/Radio review sections. Check out and avail of the offer here: https://www.irishcatholic.com/product/newspaper-digital-edition/

New Lawton CD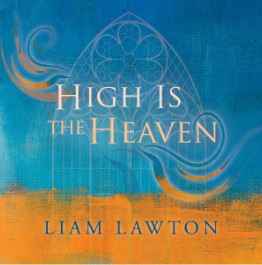 High Is the Heaven is a new collection from Liam Lawton. What Lawton says about the new collection: 'I have tried in this new collection to offer a variety of songs and themes but all with the common denominators that the melodies are strong and very sing-able, with a Celtic theme running through all of them. The Choral and Music Arrangements are done by Paul Tate and are really beautiful and effective, and in the recording some extra Orchestra lines have been developed Mark Cahill.' More info and ordering from Veritas here.
New Film: I Still Believe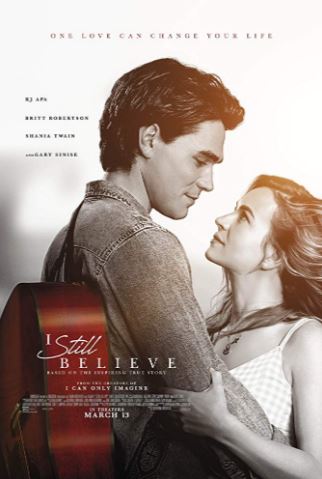 I Still Believe is newly released in the USA, March 2020. It tells the life and challenges of Christian singer Jeremy Camp, based on the song and book of the same name. It is a romantic story with affirmations of religious faith.
CNS Review here. IMDB Entry here.
I Am Patrick - New Film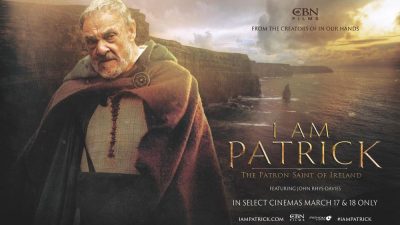 'I Am Patrick' is a new full length docudrama on the life of St Patrick. It will limited release in cinemas and will be available on Netflix from Thurs 12 March. It stars John Rhys Davies from 'Lord of the Rings' as the older Patrick. Read more at Catholic Ireland. IMDB Entry here. CNS Review here.
Victoria Johnston - New Recordings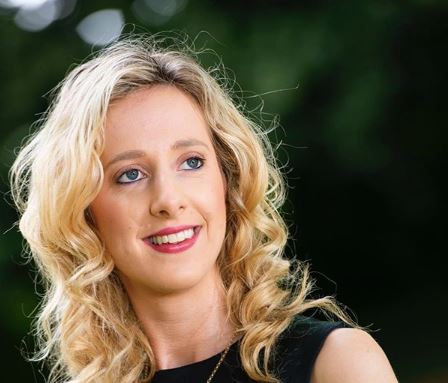 Friday 13th March is release date for a double A-side single from Irish singer-songwriter Victoria Johnston. The songs are 'Tar Liom' and 'You Are the Peace'. The songs will be available through the usual sites - e.g. iTunes. A video for 'Tar Liom' will be available on YouTube after the 13th March to link in with St Patrick's Day. Info here.
Irish Church Music Association Summer School
The Irish Church Music Association will hold its Summer School from Tuesday, 30 June to Friday 3 July 2020 in St Patrick's College, Maynooth, Co. Kildare. Special guest director will be David Saint, well known composer and lecturer. Other workshops will be given by Liam Lawton and Columba McCann. Following the very successful Conference in July 2019 to celebrate 50 years of the Association it has been decided to hold a day Conference on Tuesday, 30 June. The concluding event of the Conference will be the opening event of the Summer School.
Workshops and Tutorials will begin on Wednesday 1 July. Fr Liam Lawton will conduct workshops over the three day as will Fr Columba McCann OSB, Óral Barry, Karen O'Donovan, Sarah Waldron, Sr Moira Bergin. The guest director has yet to be confirmed. Info here.
Movies that Matter

The Movies that Matter series brings a new selection of films for 2020. This series takes place on Wednesday nights at Manresa Retreat Centre 426 Clontarf Road, Dollymount, Dublin, D03 FP52. Each film will be preceded by a brief introduction and followed by a discussion. For details of the films being shown, sign up for our newsletter at www.manresa.ie More details here: https://www.manresa.ie/programmes/movies-matter-10 Dates Wed 11 March, Wed 1 April, Wed 20 May.
Raised on Songs and Stories

An event at Emmaus Centre Swords Co. Dublin- Using songs, poems, stories from life, passages from Scripture and our Church's liturgy, participants will explore the stories and events that have shaped us and our call to be story-tellers, people of faith, and rooted in kindness. With accompaniment from Fr. Vincent Sherlock, author of The Enchanted Way and Let Advent be Advent, these days will be relaxed and flexible, allowing time for input, reflection and sharing. The event takes place Sun 10th May - Fri 15 May. Booking and info here.
Encounter Dublin
The Encounter. Join other young adults (20's & 30's) for a night of live acoustic music, reflective prayer in adoration, with guest speaker on life, faith and purpose. Followed by social, pizza and refreshments. The next Encounter will be Friday 20th March at 8pm when Musician and Guest Speaker for the night will be Riaghan O'Callaghan. For more information Email st.pauls@dublindiocese.ie or follow on Instagram @theyoungchurchdublin or visit 'the encounter dublin city' on Facebook. https://www.facebook.com/events/419064342061033/
Called to More



Called to More is a new online initiative, a Catholic apostolate based in Dublin. The mission is to help people know their faith as a way of life and a relationship with their Creator. Initially resources including podcast and articles focus on the topic of Lent. https://www.calledtomore.org/
The Creative Schools Initiative


Creative Schools aims to put the arts and creativity at the heart of children's and young people's lives. Participating schools will understand, develop and celebrate their engagement with the arts, empowering them to bring about real change in the way they work. They will draw on the range of resources within their school and wider community, developing new ways of working that reinforce the impact of creativity on student learning, development and well-being. This is an Arts Council Initiative and funding is available. The deadline for submitting applications is 19 March 2020. The window for submitting applications opens on 18 February. More info here.
Good Friday at NCH



There will be at performance of St John's Passion by Bach at the National Concert Hall on Good Friday 10th April at 3.30 pm, with the RTE National Symphony Orchestra and soloists. One of the most magnificent and moving of all choral works, Bach's St John Passion is a compelling re-telling of the events leading up to Christ's crucifixion on Good Friday. Operatic in its scale and intensity, it's a bold, dramatic and emotional experience that speaks of human frailty and divine redemption with overwhelming sincerity. Info and booking here.
Taizé in Wexford
Taizé prayer and music nights take place every first and third Friday at 8pm in Good Counsel College Chapel, New Ross.
Knock choir sings at Vatican Mass
The ladies of the Schola Cantorum Basilicae choir from Knock Shrine and their leader Úna Nolan have performed for the first time the iconic hymn "Lady of Knock" in St Peter's Basilica, Rome. Also present on the altar for the Papal Mass on Sunday was the new Pilgrim Statue of Our Lady of Knock, with Pope Francis pausing for a quiet moment of prayer and to bless the statue. Read more at Catholic Ireland.
Faitharts on Twitter


Starting this January Faitharts is now on Twitter, to provide even more ways to get Religious Education resources. Follow at https://twitter.com/faitharts , tweet to @faitharts
Film - A Hidden Life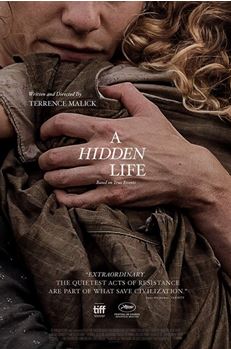 A Hidden Life is a new film from Terrence Malick and is released in Irish cinemas from Friday 17 January 2020. It tells the story of Austrian Franz Jägerstätter, a conscientious objector, who, inspired by his faith and his love for his wife, refuses to fight for the Nazis in World War II.
Poetry Weekend
There will be a poetry weekend at FCJ Ibricken Lodge, Spanish Point Co. Clare Fri 29 May - Sun 31 May 2020 - exploring the poetry of Mary Oliver and relating her to the work of Emily Dickinson, Walt Whitman, Robert Frost and Gerard Manley Hopkins. Director: Jo Donovan RSM. More info here.
Taizé Nights Resume
Taizé resumes on Tuesday, 14 January 2020, at the usual time of 6pm in Newman University Church, St Stephen's Green, Dublin 2. This ecumenical form of prayer is modelled after the liturgies of the Taizé community, which was established near Cluny, France, in 1940. It incorporates music, readings, and quiet time for meditation. Continuing every Tuesday. Most weeks, there is tea and fellowship following.
Videos for RE



Online hub iCatholic has a special section for videos for and about schools. Included are videos of school public speaking competition, Mission Sunday, National Day of Prayer for Children, religious arts and crafts and reflections on Catholic Education.
https://www.icatholic.ie/category/schools/
Council for Culture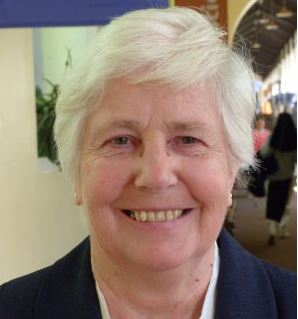 An Irish nun has been appointed by Pope Francis as a consultor to the Pontifical Council for Culture. Sr Pat Murray from Dublin is Secretary of the International Union of Superiors General (UISG), a Rome-based worldwide canonically approved organization of Superiors General of Institutes of Catholic Women Religious. . Sr Pat commented, "I am truly honoured to accept this nomination from Pope Francis and to serve as a consultor of the Pontifical Council for Culture ... Through the Council, the Church engages with the complexity of the contemporary world in a creative and imaginative way. Such a dialogue is essential considering the pluriformity of cultures that exist today." Read more at Catholic Ireland.


Andrea Corr Memoir
Singer Andrea Corr has written of how her religious faith and that of her mother-in-law helped get her through the pain of a series of miscarriages. "I walked and I prayed," she writes in Barefoot Pilgrimage: A Memoir by Andrea Corr. "And my mother-in-law, Pat (a blessing in herself) prayed and lit a candle for us every day. Torches and tallow lamps, often to 'the Little Flower' St Thérèse, for whom there is a shrine in the Church of St Jean." The Dundalk-born singer describes in her memoir, newly published by Harper Collins, how she holds fast to her Faith and is introducing her children to it. "I bring Jeanie and Brett to Sunday Mass too, like Daddy did us," she writes. Continue reading at The Irish Catholic
Calm the Soul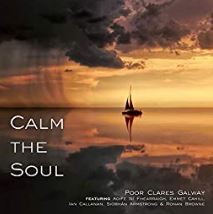 A community of contemplative nuns in Galway have launched a new single in response to the mental health challenges which so many people in Irish society today are facing, especially in families. 'Calm the Soul' is sung by the Poor Clare community in Galway City who launched it ahead of World Mental Health Day which takes place on Thursday 10 October. The song is inspired by a poem from their best-selling book of the same name – 'Calm the Soul' – which the nuns brought out in 2012. The nuns received important help from professional artists as well as friends in the production of the song including from piper and flautist, Ronan Browne, and Ian Callanan, who acted as arranger and producer of 'Calm the Soul'.
The song can be downloaded here.
itunes: https://music.apple.com/…/calm-soul-feat-ian-cal…/1481218838
Amazon: https://music.amazon.com/albums/B07YBN1VJY
Google Play: https://play.google.com/album/Poor_Clares_Galway_Calm_The
Read more at Catholic Ireland
Newman
The beatification of John Henry Newman took place in Rome on Sun 13 October. Apart from being a cardinal and theologian Newman was also a prolific poet, most famous for 'Lead Kindly Light'. A range of his poetry can be found here.
Unplanned Film Opens in Ireland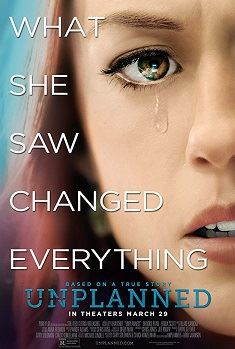 Unplanned, an American movie about abortion opens in many cinemas in Ireland on Fri 4th Oct and will run for at least a week, depending on demand after that. It tells the story of Abby Johnson, an abortion clinic worker who became disilliusioned. Faitharts review here.
New Eilidh Patterson Album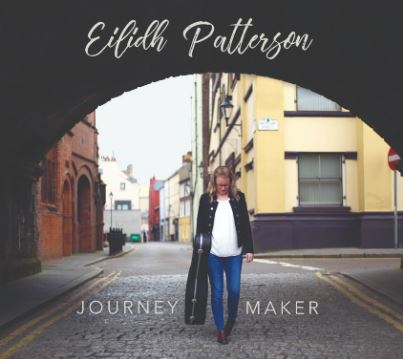 Derry based singer songwriter Eilidh Patterson has released an album Journey Maker, made up entirely of original spiritual and religious songs. From the blurb: 'Journey Maker is a collection of vibrant, heartfelt songs chronicling Eilidh's spiritual journey after coming through a difficult time. From the revelatory first single 'Broken', to the hopeful wait for wholeness in 'The Waiting Room', to the confident trust in 'Shepherd', Eilidh takes the listener on a journey of brokenness to healing, using pop, country and bluegrass as the modes of transport. Eilidh's honest songwriting and crystal clear vocals form the backbone of this truly inspirational record. Every song displays the warmth and intimacy of this deeply engaging songwriter'.




Public Speaking Competition for Schools


Since 2014 the Knights of St Columbanus have organized a very successful All Ireland Public Speaking Competition. Schools are invited to partake in this year's competition which will conclude on April 4th 2020 in Maynooth University. Teams participating in recent All Ireland Finals can be viewed at https://www.icatholic.ie/kosc . Among the topics on offer for 2019/2020 is the following: "Young people today can be drawn to the faith and supported in their faith by music, film and the arts in general". Deadline for application is Thurs 31st Oct, Application forms have been sent to schools and can be downloaded here.
New Film: The Two Popes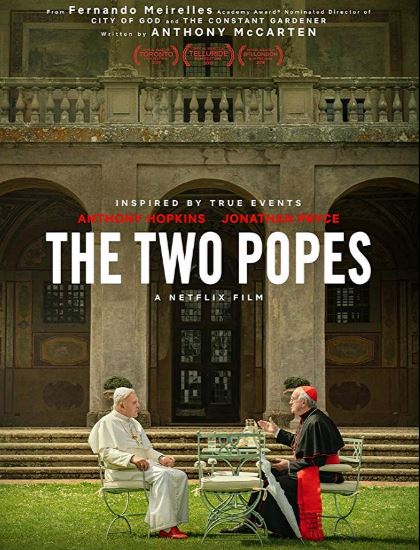 A new Netflix film The Two Popes is due for release in November. It stars Anthony Hopkins as Pope Benedict XVI and Jonathan Pryce as Pope Francis, and is said to be 'inspired by true events'. Cinema release in Ireland - 29 November, Netflix streaming from 20 Dec. [updated 21/11/19]
Trailer available here: https://youtu.be/bOJbHP1TtsU

Taize nights will resume at Newman University Church, St Stephen's Green, Dublin 2 on Tuesday 10th Sept at 6pm, continuing every Tusday.

Power of the Word Conference
The sixth Power of the Word Conference takes place at the Loyola Institute Trinity College Dublin in July 2020 and will explore aspects of the 'call of literature', for authors and audiences alike. How do writers and critics understand it? What does it mean to speak of a 'vocation' to write and what have theologians and philosophers got to say on the matter? In what sense can we speak of readers being called to literature? However we might resolve these questions, we are still left with a profound problem. Is the spirit of literature necessarily an 'angel of light'? Or does the call of literature sometimes prove to be a siren song?
More details at this link, incl a call for papers. https://www.powerofthewordproject.com/poweroftheword6
Book of Kells Course
This September there's an online course about the Book of Kells. On this course you will use the Book of Kells as a window through which to explore the landscape, history, faith, theology, and politics of early medieval Ireland. You will also consider how the manuscript was made, its extended biography and how it has affected different areas of the contemporary world. More information and registration here.

Film about Sr Faustina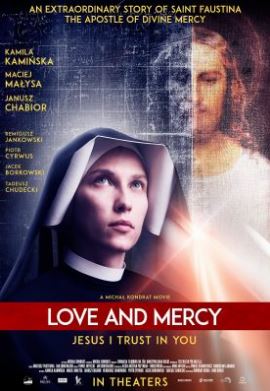 A new full-length feature film about the life and times of visionary saint Maria Faustyna Kowalska is due to hit the silver screen in Ireland this autumn. The movie Love & Mercy – Faustina, directed by Michael Kondrat, tells the extraordinary story of the woman responsible for the Divine Mercy devotion, which is now part of the Church's liturgical calendar. The Feast of the Divine Mercy is celebrated on the first Sunday after Easter Sunday. In the movie, Sr Faustina is played by Kamila Kaminska and the role of her confessor, Fr Michael Sopocko, is played by Maciej Malysa. See more at Catholic Ireland.
St Oliver Plunkett Statue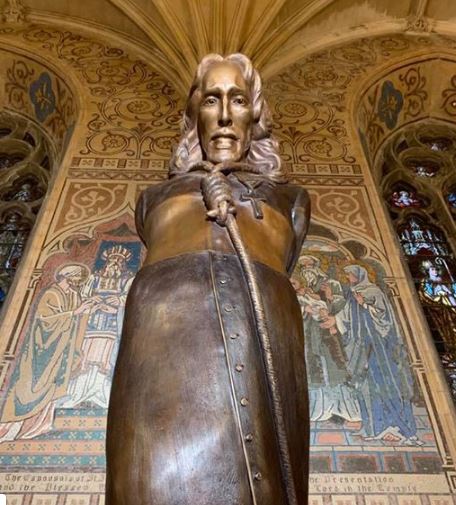 A new statue of St Oliver Plunkett was unveiled, in mid July, in Armagh Cathedral. The artist is sculptor Dony McManus from Dublin. At the unveiling Archbishop Eamonnn Martin said: "My prayer tonight is that we will never forget St Oliver Plunkett, and all of the 'martyrs of yesterday, today and tomorrow', and that we will hear more strongly in our own hearts the personal call to holiness and to witness, that is given to every Christian." (full text here)
New Film - The Passion of the Christ: The Resurrection
Due for release at Easter 2020 - a new film The Passion of the Christ: The Resurrection, or The Resurrection of the Christ, a follow up to The Passion of the Christ. As before the director will be Mel Gibson and Jesus will be played as before by Jim Caviezel, with Maia Morgenstern reprising her role as Mary. Reports suggest it will cover the period from the death of Jesus to the Ascension.
New Film - Emanuel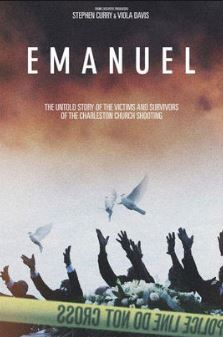 Emanuel is a new documentary film about the shooting at the Emanuel African Methodist Episcopal Church in Charleston, South Carolina in 2015. The film focuses on the stories of the survivors and on the families of those who died, with emphasis on hope and forgiveness. CNS Review here.
Ephrem Feeley Music Collections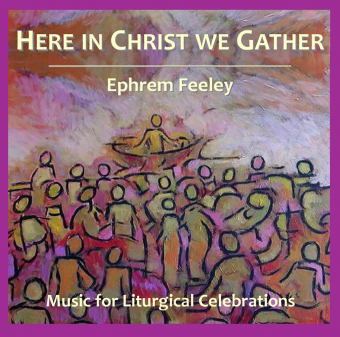 Ephrem Feely, Irish composer of liturgical music has two collections of liturgical music published by GIA Publications in the US recently. The collections are Here in Christ we Gather, and Our Hearts are Restless, and are suitable for choirs, assembly, cantors with piano or organ accompaniment. The music is available in octavo collection format, single octavos, and CD and mp3. Further information is available from
https://www.giamusic.com/store/search…
New Film 'Hesburgh'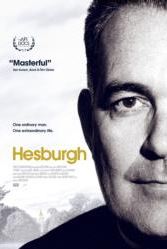 Just released in USA is a new film dcumentary Hesburgh, telling the story of the late Holy Cross priest Fr Theodore Hesburgh (1917-2015), long time President of Notre Dame University. The Catholic News Service review of the film is here.
Amazing Grace Film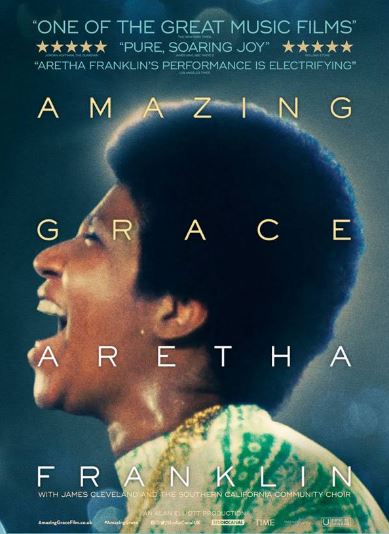 Opening May 10th in Ireland Amazing Grace is a gospel concert film featuring Aretha Franklin and James Cleveland with the California Community Choir. The concert was filmed in 1972 but never released until now because of technical difficulties.
RTE Spirit
RTE has launched a new resource - RTE Spirit. This is a hub for some of RTE's religious output, including recent religious ceremonies and programmes from the archives.
Stained Glass Windows
There's an exhibition of stained glass windows at the Church of the Immaculate Conception in Clonakilty. They depict events from the history of the town.
New Film: Breakthrough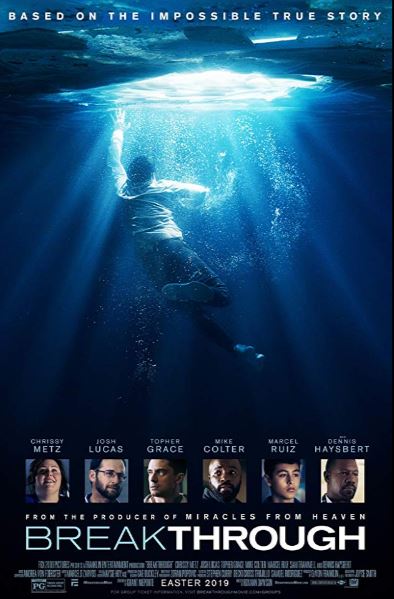 The new film Breakthrough, based on a true story of events that happened in 2015, is about the power of faith when a mother won't give up on her son who fell through ice and was under water for 15 minutes. Already out in the USA, it is due for Irish release in May. The US Catholic News review (here) describes it as 'faith-affirming'.
New Film - the Best of Enemies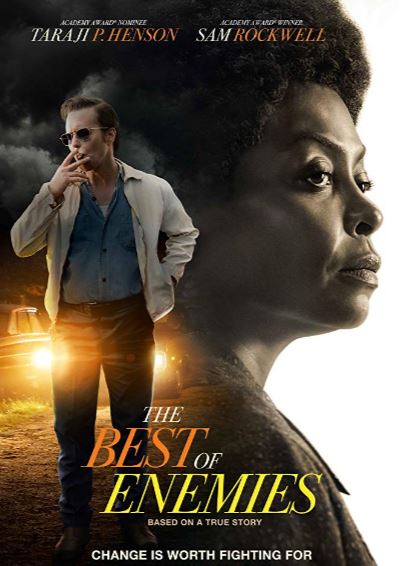 The best of Enemies is a film newly released in the USA this week. Set in the early 70's, it features a background of race relations, and tells the story, based on fact, of the fractious relation between a civil rights activist and a Ku Klux Klan leader. The US Catholic News review service describes it thus: 'an appealing fact-based drama that promotes humane values and Gospel-guided behavior .... a rewarding film for older teens, the inclusion of some mature material notwithstanding.'

Unplanned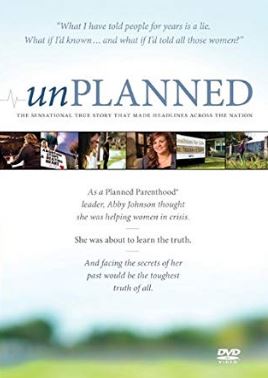 The new film Unplanned is released end of March in USA. It featres an abortion related theme - the story of Abby Johnson, one a clinic director for Planned Parenthood and now a pro-life activist. No dates yet for an Irish release. Clips are available at Wingclips, the IMDB entry is here, the US Catholic Bishops News Service review here.
Book of Kells Course
Trinity College is currently offering an online course on the Book of Kells. There are free and paid options. Topics include: Where and how the manuscript was made
The social context from which the manuscript emerged, including early medieval faith and politics
The artistic context of the manuscript, reflecting local and international styles
The theology and interpretations of the text
How and why the manuscript survived
The Book of Kells and contemporary culture
For more information click here.
New Film on Padre Pio
We'll Rise at Dawn: The Strength of Friendship is a new film obliquely based on the life of St Padre Pio. It features two boys who investigate hie life, speaking to people who knew him. So far it has had limited showings. The director is Fr Jean-Marie Benjamin, currently based in Dublin. He also directed an earlier film Padre Pio: The Night of the Prophet. Read more here.
Religious Education - Junior Cycle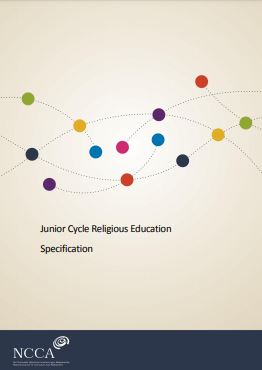 The new 'specification' for Junior Cycle Religious Education is available here. This 'specification' will replace the current syllabus for first year students starting in Sept 2019. There is some relevant arts content:
Statement Of Learning 3 ...Examples of relevant learning: 'Students will engage with a wide range of texts in narrative and aesthetic forms and explore the meaning that people assign to certain religious texts'.
Key Skills: 'Students will access and engage with oral, written and multi-modal texts to explore a variety of religious beliefs and traditions and develop religious literacy'.
Strand 1 (Expressing Beliefs) Learning Outcome 1.5 'Students should be able to explore the presence of religious themes in contemporary culture through an examination of art, music, literature or film'.
Strand 2 (Exploring Questions) Learning Outcome 2.1 'Students should be able to research artistic, architectural or archaeological evidence that shows ways in which people have searched for meaning and purpose in life'.
2.3 'Students should be able to explore how different narratives/stories, religious and non-religious, express an understanding of creation/the natural world, and consider their meaning and relevance for today'.
[revised 14/3/19]

Arts Competition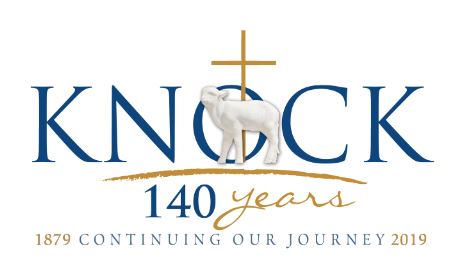 Knock Shrine is inviting all students to get creative with the theme "Knock 140". This August marks 140 years since the Knock Apparition in 1879. Using the title "Knock 140", they are inviting students to get creative and help to celebrate this wonderful occasion.Your group can use a creative channel of your choice for example: Video, Art, Poetry, Short story, song etc Applications can come from individuals or groups (max 5 students per group). Applications must be submitted by Wednesday May 1st to youthministry@knockshrine.ie or post to Youth Ministry, Our Lady's Shrine, Knock Co Mayo. 20 finalists will have their work on display at an exhibition here at Knock Shrine for the Week of the National Novena (Aug 14th – Aug 22nd).
The Winner or winning group will be chosen by select guest judges who will attend the exhibition
The prize up for the taking is an Apple iPad for the winning individual or for each member of the winning group.
More info here.
Retreat
"Mystics, Martyrs and Poets"- Led by Fr Brendan Comerford, SJ. This retreat will present the lives and thought of such Christian witnesses as Edith Stein, Dorothy Day, Oscar Romero, Brother Roger of Taizé and Jean Vanier. Brendan will also draw on the rich literary legacy of poetry to help us reflect on perennial experiences in our spiritual lives. Venue - Dromantine Retreat and Conference Centre, Co. Down, June 10th-June16th. More info here.

New Edition of Kavanagh Book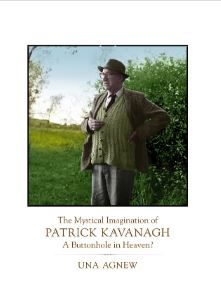 Recently published is a new edition of Una Agnew's book The Mystical Imagination Of Patrick Kavanagh: A Buttonhole In Heaven? The blurb: The poetry of Patrick Kavanagh offers a radical affirmation not only of the human condition, but of the natural world and of God's presence in both the majestic and mundane facets of daily life. In this illuminating landmark study of the great Monaghan sage, Una Agnew situates Kavanagh's life and writings squarely in the tradition of Christian mysticism, exploring how his intensely earthy and accessible poems celebrate the presence of the divine 'in the bits and pieces of everyday'. Info and sales here.

Taizé Nights
Taize prayer and music nights continue at Newman University Church St Stephen's Green, Dublin 2 - 6-7 pm.
New Christmas CD from Matt Maher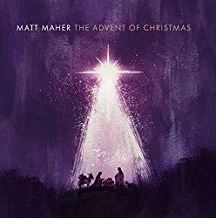 The Advent of Christmas is the new album from Canadian singer-songwriter Matt Maher. It features traditional Advent and Christmas with some original material as well. It includes the song ' Always Carry You', a duet with Amy Grant.
New CD from Palestrina Choir
One of the most iconic choirs in the Catholic Church in Ireland has released a new CD of the world's best-loved Christmas carols and choral music spanning almost five centuries.
The Palestrina Choir's latest CD is titled Joy to the World. It was recorded at St Mary's Pro-Cathedral in Dublin, not only because it is home to the choir but also because of its excellent acoustics. The album features timeless carols such as 'Silent Night', 'The First Noëlle', 'Joy to the World', and 'Adeste Fideles', as well as modern compositions by Irish composers, and iconic choral pieces that are instantly evocative of the Christmas season. More info at Catholic Ireland.
Gratias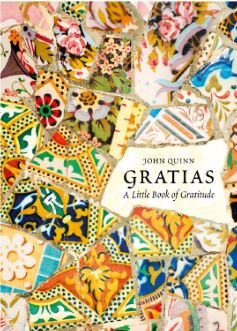 Gratias is a new book by John Quinn, with readings, incl poetry, on the theme of gratitude. With contributions from over one hundred sources, ranging from Pope Francis to Richard Burton, Seamus Heaney to Maureen Potter, Gratias offers the reader a wide spectrum of inspirational insights into the rewards of being thankful for the blessings we receive in our daily lives. Through wisdom – ancient and modern – the reader is invited to reflect on the gift of gratitude in their own lives and to express this gratitude for all things including: the natural world; the gift of love; health and healing; silence; contentment; parents; everyday things; teachers; blessings; the gift of faith; and a loving God. It is published by Veritas ... more details here.
Teen Hope
Teen Hope is a parish based faith outreach to teenagers. Young people often feel stressed and anxious. Would you agree? Teen Hope is a space where teens can just be themselves – a pressure free zone. It is a space where through fun and engaging activities you can build friendships, and encounter an experience of welcome, belonging and discipleship. Each gathering includes hospitality with music & refreshments, team building games, main activity & prayer. Teen Hope Clontarf will launch on November 25th in St John the Baptist Parish Center at 7pm. We are also looking to recruit volunteers from the Blanchardstown area for Teen Hope Blanchardstown. If you are interested please email st.pauls@dublindiocese.ie

Writing Competition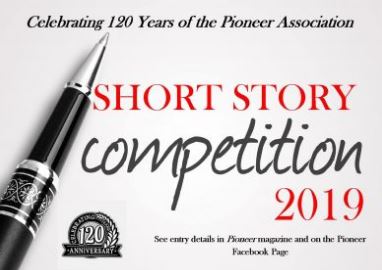 The Pioneer Total Abstinence Association (Pioneers) is calling on budding writers to shine in its short story competition to mark its 120th Anniversary."The Pioneers are 120 years old on the 28th December this year (2018) and the celebrations will run from then until the same date next year 2019. So the short story competition is the first thing to mark that," Roisin Fulham, assistant editor, the Pioneer magazine, told Catholicireland.net. Stating that the dark winter days are ideal for writing, she said: "People can stay in and do their writing and it doesn't depend on the weather." Entrants are invited to submit a short story of approximately 1000 words for publication in a future issue of the Pioneer magazine. The winner and two runners up will have their stories published and receive cash prizes of €100 and €75 respectively. More info at Catholic Ireland.
New Film for 2019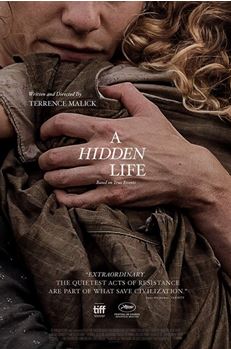 Radegund (A Hidden Life) is the new film from Terence Malick, director of Tree of Life and Days of Heaven. It tells the story of the Austrian Franz Jägerstätter (played by August Diehl), a conscientious objector, who refused to fight for the Nazis in World War II. The IMDB entry for the film is here, and a detailed article on the background story is here.
Emmanuel 2019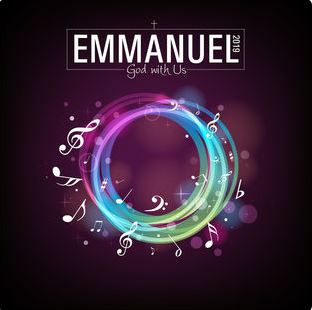 The music for Emanuel 2019 has been released on iTunes cost €5 Songs can be previewed and/or downloaded on the site.
New Callanan CD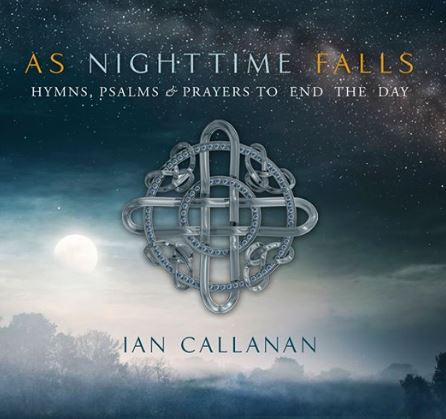 As Night Time Falls is a new album from liturgical composer Ian Callanan. Subtitled 'Hymns, Psalms and Prayers to end the day' it is available through iTunes, Spotify and other digital outlets.

Advent Service for Dublin



Advent the Orphan Season It's becoming harder to celebrate the beautiful season of waiting with so much anticipation of Christmas about. Once again the full time chaplaincy students from DCU will prepare the Diocesan Advent Service which will take place in St. Columba's Church, Iona Road, Glasnevin, at 4.00 p.m. on Saturday 1 December. Take a slice of Advent home with you. More info here.
Remembrance Service
The Annual Remembrance Service for Dublin Diocese will take place in the Monastery of St. Alphonsus, Drumcondra, on Thursday 22 November at 8.00 p.m. This will offer a time to mourn and a time to hope. Music will be led by the Dublin Diocesan Music Group.
Laudate 2019
Primary Schools from Dublin Diocese are invited to participate in the 3rd Laudate Festival of Liturgical Music which will take place during Catholic Schools Week – 27 January to 2 February 2019. Teachers have been invited to a workshop on the new music programme on Wednesday 19 September from 7.30 - 9.00 p.m. in Clonliffe College. Leaders of parish choirs and music groups are also welcome to attend so that the shared repertoire will find its place into the living worship of the parish. More info here.
New John Paul II Film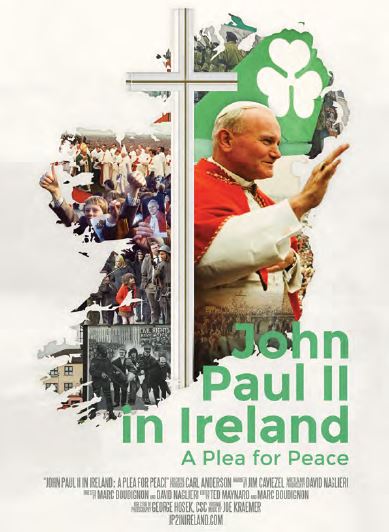 John Paul II in Ireland: A Plea for Peace is a new film that will open in selected Omiplex cinemas on Fri 21st Sept. The film is narrated by Jim Caviezel, witten and produced by David Naglieri and directed by Marc Boudignon. For more info: https://jp2inireland.com/ s
Arts Events at Avila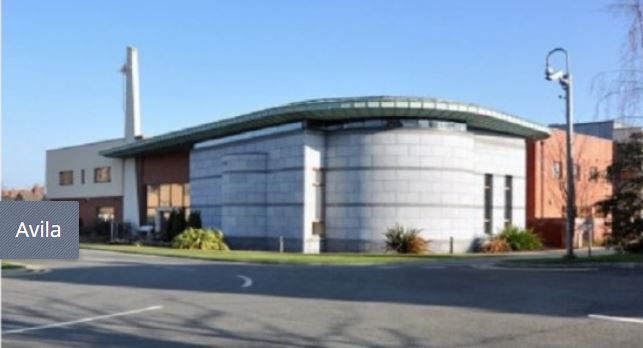 Among the courses at Avila Retreat Centre in Donnybrook Dublin 4 are: first Saturday of every month 'The Silver Screen' (Discover Gospel values and the meaning of life through the medium of film, led by Noel O'Connor OCD. There are refreshments and discussion after each showing. Suggested offering: €5.00 per session); Advent in Art, Sat 8 Dec - On this feast of the Immaculate Conception, explore the Advent and Marian themes of the great masters, deriving inspiration from their unique insights into the Christian mystery, with Maureen Ryan, Director, Friends of the National Gallery. http://www.avilacentre.ie/
YOUCAT for Kids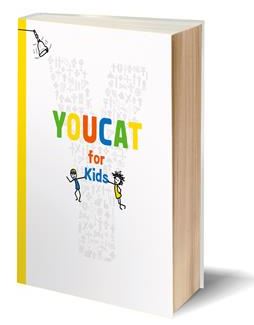 Launched at the World Meeting of Families in Dublin, this new and colourful book, the newest in the YOUCAT series, is described as: An exciting new way to help children and parents to discover their Catholic faith together. In child-friendly language, accompanied by talking points for parents and teachers, YOUCAT for Kids explores:* Creation * The Creed * The Sacraments * The Ten Commandments * Prayer * The Life of Jesus
All the much-loved characteristics of the bestselling YOUCAT series - including fun graphics, quotes from Saints, and thought-provoking images - have been adapted to suit a younger audience. Designed in consultation with parents and families, YOUCAT for Kids is an essential addition to every family bookshelf.
More info here.



Latest Assad Album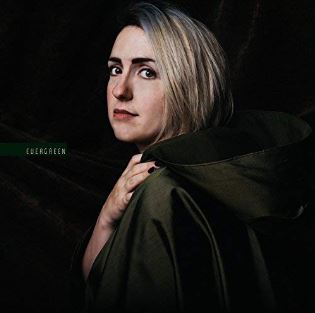 'Evergreen' is the latest album from US Catholic singer-songwriter Audrey Assad. Ther are more details including some video tracks at http://www.audreyassad.com/ Songs can be streamed or purchased through the usual channels.
Latest Matt Maher Album


'Echoes' is the latest album from contemporary Catholic singer-songwriter Matt Maher. A trailer for the album and various purchasing/streaming options are available here.
Autumn Liturgy Gathering
This year's Autumn Liturgy Gathering in Dublin Diocese will take place on Sat 29 Sept in Clonliffe College, 9.30 - 1 pm. Details of workshops will be posted as they become available - here.
Burning Hearts
"Burning Hearts" is beginning on Friday 6th July 2018 and will take place every First Friday at The Emmaus Centre, Swords, Dublin from 7pm to 9pm with social afterwards. The Emmaus Centre is getting young adults together for worship, teaching & fellowship. We will have Mass, talks, testimonies, music & Eucharistic Adoration. Contact gerard.hanley@emmauscentre.ie more info here.
Youth 2000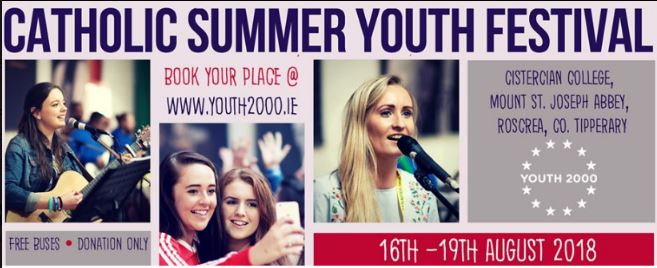 This year's Summer Festival with Youth2000 takes place in the Cistercian College Roscrea, Co. Tipperary, 16th-19th August. For info and booking click here. ****Cancelled.
Knockadoon Course



The annual Knockadoon Music and Liturgy Course takes place Sun Aug 5th - Sat Aug 11th. The week is packed with music workshops, tutorials, prayer and plenty of free-time to enjoy the beautiful surroundings of Knockadoon head. More info and booking here.
New Film: First Reformed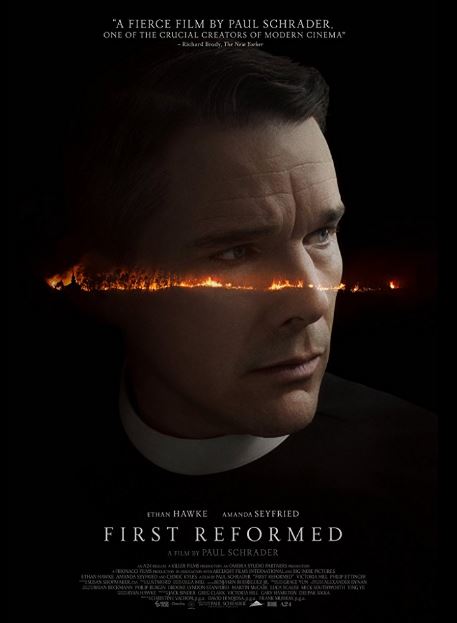 'First Reformed' ia a new film about faith, relationships and environmentalism. It is directed by Paul Shrader (Taxi Driver) and stars Ethan Hawke as a Dutch Reformed Church pastor in a poorly attented city church in the USA. For the Catholic News Service review click here.
New Marie Dunne CD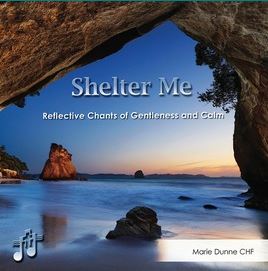 Sr Marie Dunne CHF attended the RE Congress at Anaheim, California last month and launched her new album SHELTER ME. In her own words Marie says "Shelter Me is a collection of chants based on scripture texts and set to gentle melodies. It is my hope that those who listen to the chants will find calm, refreshment and comfort – trusting in the One who cares for us and shelters us on life's journey." More info and audio samples here.

New Film on Jean Vanier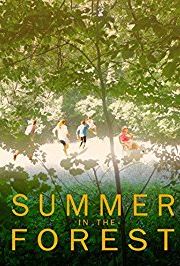 'Summer in the Forest' is a new documentary film on the work of Jean Vanier with intellectually challenged adults, providing care that was homely rather than institutional.
IMDB Entry
Catholic News Service Review
New Film on Pope Francis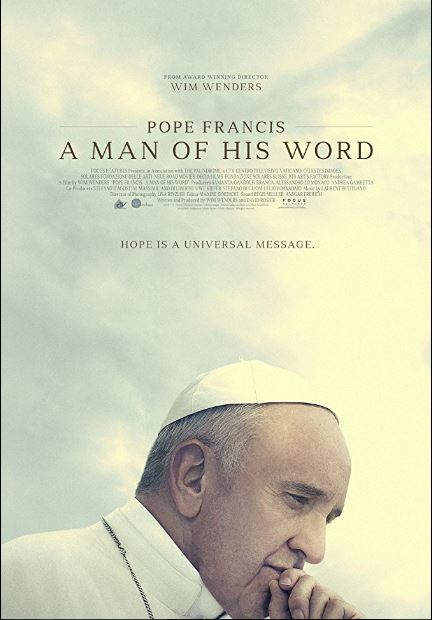 Pope Francis - A Man of his Word is a new documentary from director Wim Wenders. The publicity says this is intended to be a personal journey with Pope Francis, rather than a biographical documentary about him. The Pope's ideas and his message are central to this documentary, which sets out to present his work of reform and his answers to today's global questions.
IMDB Entry
New Film - Paul, Apostle of Christ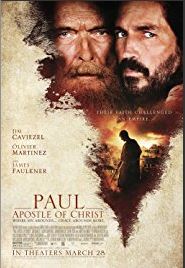 Paul, Apostle of Christ is a new film on the way, focusing on the relationship between Paul (James Faulkner) and Luke (Jim Caviezel) in the early days of the Church. Irish actor John Lynch stars as Aquila. US release date 23rd March. The US Catholic News Service describes it thus: 'works better as an easy and enjoyable introduction to its two central figures' lives and works than it does considered strictly as a piece of cinema. As a valuable resource for catechetical instruction, moreover, the movie makes acceptable and worthwhile fare for teens'. Full review here. IMDB Entry here.
Les Miserables
Cameron Mackintosh's acclaimed Broadway production of Boublil and Schönberg's musical "LES MISÉRABLES", with themes of forgiveness and redemption, comes to Bord Gáis Energy Theatre later this year as part of a new UK & Ireland tour. The show runs from 5 December 2018 - 12 January 2019. Tickets on sale through Ticketmaster. More info here.

YOUCAT Confession Book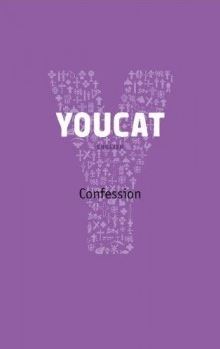 The YOUCAT Confession book for young people is a practical guide created to take away undue anxiety about the Sacrament, and to show how it works. It came about as a collaboration between young people and clergy, including those responsible for "Nightfever", a popular program of prayer, Eucharistic adoration, and confession that started at World Youth Day in Cologne. The book includes the usual distinctive art work. It can be ordered from Veritas. There's a 'look inside' facility at CTS UK . Cost is €6.95 though there may be discounts for schools/bulk orders.
New Film on Exorcism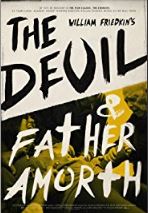 The Devil and Father Amorth is a new film documentary on exorcism, by William Friedkin, director of the original Exorcist film from 1973. For more background information the IMDB Entry is here. The Catholic News Service Review is here.
Tommy Fleming - Voice of Hope II
In September 2018 Tommy will record Voice Of Hope II in the beautiful setting of The Galway Cathedral and release the new CD & DVD in October 2018 followed by a Nationwide tour. The Voice of Hope II tour will be a special collection of spiritual inspirational music together with Tommy's usual songs. One of these concerts will be in the Bord Gáis Energy Theatre on 3rd March 2019. More info here.
Mary Magdalene Film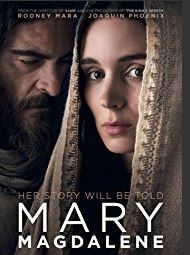 A new biopic of Mary Magdalene, starring Hollywood actors Rooney Mara (Mary Magdalene) and Joaquin Phoenix (Jesus), opens in cinemas across Ireland and the UK on 16 March. Directed by Gareth Davis, the biblical drama is being promoted as "an authentic and humanistic portrait of one of the most enigmatic and misunderstood spiritual figures in history". Read more at Catholic Ireland. IMDB Entry here.
The Happy Easter Egg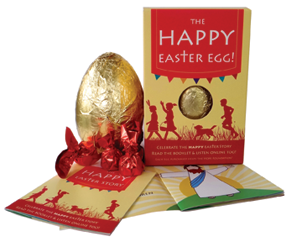 The Happy Easter Egg is an egg that aims to put Jesus back at the heart of Easter. It includes poetry, artwork and chocolate! The initiative has been endorsed by the Catholic and Church of Ireland dioceses of Dublin. more info and ordering here: www.happyeasteregg.ie/. And there's a background news story here: https://www.catholicireland.net/happy-easter-egg-resurrection-message/
Seeing With New Eyes
Event at Manresa Jesuit Centre of Spirituality, 426 Clontarf Rd, Clontarf East, Dublin, Tuesdays, March 6th, 13th, 20th and 27th. Images and imagination were important to Ignatius of Loyola; he invited people to engage fully with Scripture scenes and drew throughout his life on strong personal inspirations. Colm Brophy draws on his training in Ignatian spirituality and as an art therapist in these evenings in helping participants to reflect on images that are important to them. If you are ready to take a fresh look at favourite images and how images reflect your inner experience and then go on to reflect on your images of God, these evenings may be of help.
You do not need the skills of an artist but simply a relationship with the visual. Although we communicate verbally, most of our inner life - like sacred mysteries - cannot be put into words. Details here: https://www.manresa.ie/programmes/seeing-new-eyes-0
Events Postponed
Two events listed below have been postponed. The Emmanuel concert in the Helix Theatre DCU, scheduled for Wed 28th Feb has been postponed, as has the '7 Last Words' event in Newman University Church, which is rescheduled for 25 March, Palm Sunday, following the 6:15pm Sunday liturgy.
Lady Bird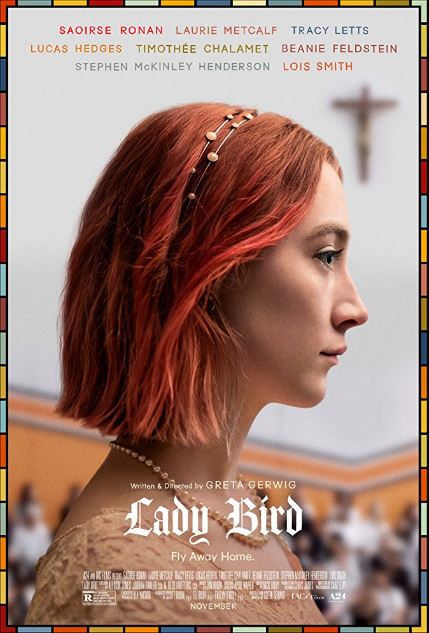 Saoires Ronan's new film, Lady Bird, opens Feb 23rd in Ireland. This coming of age film features a Catholic background and spiritual themes. The Catholic News Service Review is here, and a review by Bishop Robert Barron here. IMDB entry is here.

New film on Samson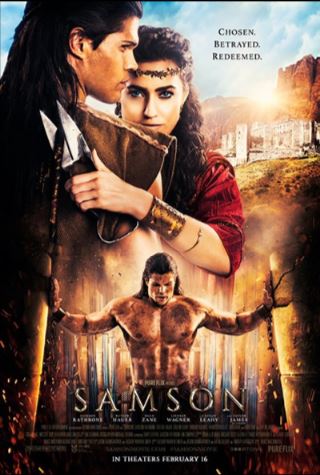 'Samson' is a new film about the exploits of the Old Testament hero, with Taylor James in the title role. It has opened in US cinemas. Catholic News Service review here. Decent Films Review here.
Passion at NCH
At the National Concert Hall, Good Friday 3.30 pm - St John's Passion with the RTE National Symphony Orchestra. One of the most magnificent and moving of all choral works, Bach's St John Passion is a compelling re-telling of the events leading up to Christ's crucifixion on Good Friday. Operatic in its scale and intensity, it's a bold, dramatic and emotional experience that speaks of human frailty and divine redemption with overwhelming honesty and is a devotional masterpiece of searing power. Preceded at 1.30pm by a performance of Beethoven's String Quartet in A minor, Op. 132 by RTE Contempo Quartet.
Note: FREE entry to 1.30pm performance with 3.30pm ticket. Info and booking here.
Rend Collective
Contemporary Christian Group, the Rend Collective from Northern Ireland, will be in concert at the Olympia Theatre, Dublin 2 on Sun 20 May 7.30 pm. For more info see https://rendcollective.com/
Duhan Tour


Singer-songwriter Johnny Duhan, whose work is often features spiritual themes, has an Irish tour coming up Feb-May .. see poster for dates and venues.

Art Workshop at Knock
Join artist Róisín de Buitléar as she shares the ideas, design process and development behind her commissioned work 'Pilgrimage' for Knock Basilica. The two glazed halls at the entrance to the Basilica were completed over a two year period in collaboration with the Shrine and award-winning Architects, A&D Wejcherts, Dublin. This will be on Sat 14 April at Knock Shrine, Co. Mayo. More info here.

Emmanuel 2018



This year's Emmanuel concerts will take place Mon Feb 26th-Thurs March 1 st.- hundreds of secondary schools in Dublin diocese singing quality liturgical music. Venue as usual is the Helix Theatre at DCU. Adm is €12. Booking and more info here.
YouTube Course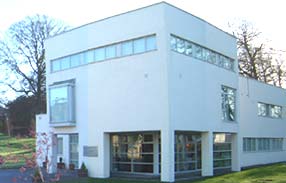 Of interest to RE teachers and teachers of all subjects Navan Education Centre is holding a 'YouTube Masterclass' on Thurs 22 Feb 5-7pm. It will be a chance to learn a variety of tips and tricks for YouTube, along with many lesser known but very useful YouTube features. This will be a hands on course and topics will include embedding YouTube videos in Powerpoint presentations, recording clips from longer YouTube videos, the online safety features in YouTube, gathering YouTube videos in Blendspace, educational features in YouTube and much more. It's all free for teachers. Booking here.
Nightfever Dublin
The next Nightfever event in Dublin will take place on Sat 17 Feb after the 6 pm Mass in Clarendon St Church (off Grafton St). There will be music, prayer, adoration, reconciliation and street outreach. More info here.
New Callanan CD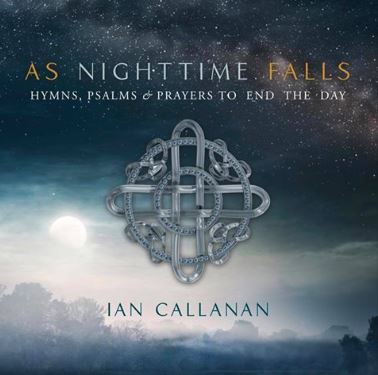 Due in March - Liturgical composer Ian Callanan has a new album on the way -As Night Time Falls - Hymns, Psalms, Prayers to end the day. See sample track here.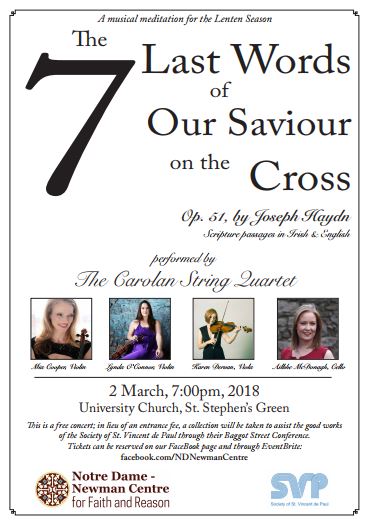 7 Last Words Concert
There will be a performance of Haydn's 7 Last Words of Our Saviour on the Cross (Op 51) in Newman University Church on Fri 2nd March at 7.30 pm. This will be a free event but there will be a collection for the Society of St Vincent de Paul. Performance will be by the Carolan String Quarter. Tickets can be reserved at https://www.facebook.com/NDNewmanCentre and at Eventbrite.
Liturgy Seminar



Dublin Diocesan Liturgical Resource Centre is organising a Liturgy Seminar at Clonliffe College Jan 27 9:30 am – 1:15 pm. There will be a variety of workshops including one on the 'Voice for Life' Training Programme of the Royal School of Church Music, Resources for Lent, Resources for the World Meeting of Families. More info here.

World meeting of Families 2018
Among the initiatives for the World Meeting of Families is a family art exhibition, featuring a children's family album. Julieann Moran explains all in a video in the iCatholic.ie website. Click here for video.

Icon - World Meeting of Families
At all Christmas Day Masses people will be given a copy of the Holy Family Icon for their home.The Icon card includes the official World Meeting of Families Prayer. A large copy of the Icon will also be made available for display in each church. Fr Timothy Bartlett explains all about it in a video at iCatholic.ie - click here for video.
Mary's Land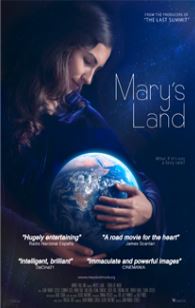 The film Mary's Land will run at the Savoy Cinema Dublin from Friday 27 Oct. The blurb is as follows: 'The Devil's Advocate receives a new mission: to fearlessly investigate those who still trust Heaven's formulas. Are they swindlers? Swindled? If he discovers that their beliefs are bogus, our lives will remain the same. But - what if they're not a fairy tale?' Booking here. Film's website here.
Faithcast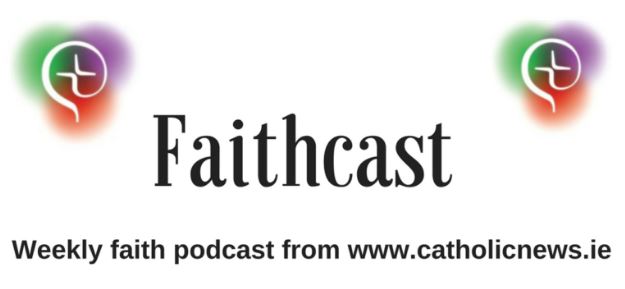 The Irish Catholic Bishops' website features a podcast series, Faithcast, which features a variety of interviews, including one with Ephrem Feely (Episode 21), the composer of 'A Joy For All The Earth', the official hymn for the World Meeting of Families 2018, about his inspiration for the hymn.
Romero Awards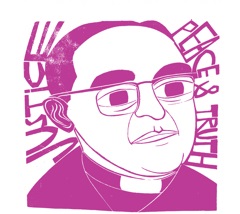 Trócaire has announced the Romero Award as part of the preparation for the World Meeting of Families. The Trócaire Romero Award highlights the efforts of people in Ireland and across the world to raise awareness of human rights violations and support people who are experiencing hardship. There's a section for school students. The competition is open to an arts based approach. This could involve producing a podcast, making a video, creative use of social media, editing a newsletter or any other innovative use of communications tools to highlight issues of global justice. All entries will receive a certificate of participation, while the most innovative and inspiring entries will win prizes for their school/youth group. Entries can be submitted from schools, classes or youth groups. We also welcome individual entries as we love to see young people taking the initiative to inspire and bring about change. The closing date for entries is 27 April 2018. Email romeroaward@trocaire.org for further details. See also: https://www.trocaire.org/getinvolved/romeroaward
Public Speaking Competition
The Knights of Columbanus organise an annual public speaking competition for second level schools. Schools have been circulated with the topics for 2017-2018, and this year one of the topics has an arts theme: 'The arts give expression to the beauty of the faith and proclaim the Gospel message of the grandeur of God's creation.' – Pope Francis, Aug 2017. Teams participating in lasts year's All Ireland Final can be viewed at https://www.icatholic.ie/kosc For more info contact: koc@iol.ie
Newman Church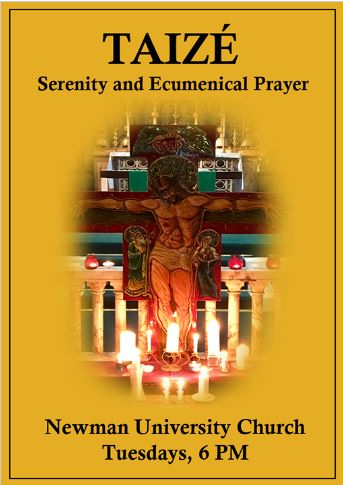 Notre Dame–Newman Centre for Faith & Reason, based in Newman Church St Stephen's Green, Dublin 2, will host a Taizé prayer and music night on Tuesdays at 6 pm, starting Tues 26th Sept. A new weekend liturgy has been added to the Newman University Church mass schedule, at 6:15pm on Sundays. Choir rehearsal takes place immediately proceeding the liturgy in Newman Church Choir Gallery at 5:00pm. A new choir has been formed to provide music at this mass, and voices are welcome! The Hospitality Group provides Tea, Coffee and biscuits after 11am Mass on the 1st Sunday of each month.
NUA TOUR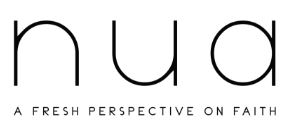 NUA is an initiative featuring short videos on faith matters aimed at young people in a school or parish context. This tour gives you the opportunity to see NUA for yourself in a venue close to you. Hear from the creators, meet the host and find out how NUA can be used in your context. On Thursday Sept 21st the team is launching NUA in the Kilmore Diocesan Pastoral Centre, Culles, Cavan from 7:30pm - 9pm. This is a free event with refreshments. On Sept 28th the event will be in the Vienna Woods Hotel, Glanmire, Cork from 7:30pm - 9pm also a free event with refreshments to enjoy. On Oct 3rd the final destination of this inaugural tour is in the Clayton Hotel, Monivea Road, Ballybrit, Galway, H91 D526 from 7:30pm - 9pm. Booking here.
Shekinah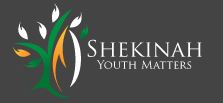 Shekinah is a training programme for adults who wish to facilitate youth retreats or other youth ministry programmes. The Shekinah course ethos is rooted in in scripture and the message of Jesus but with a profoundly practical interpretation to help Shekinah graduates reach new levels of awareness to engage better with the youth of today. Among the lecturers are - Ciaran Coll, who is very involved in the work of Music Ministry for young people and is a regular contributor at school/parish workshops and talks in the area of Liturgical Music and Youth Ministry; Michael Keenan, who has recorded 10 Gospel music cds, most of which he has written himself and is particularly interested in the use of music to promote mental health in young people; Fr Joe McGrath, who uses drama skills in trying to re-present the Good News of the Gospel in a rapidly changing youth culture. For more info click here.
New Catechetics Website



The Council for Catechetics has launched a new website, with news and resources for catechetics in parish, primary and secondary schools. There are policy documents relating to RE, and prayers for a variety of settings. See www.catechetics.ie .

The Pope and the Artists
Pope Francis' prayer intention for August is related to the importance of artists in our culture. In the minute-long video, the Pope says: "The arts give expression to the beauty of the faith and proclaim the Gospel message of the grandeur of God's creation. "When we admire a work of art or a marvel of nature, we discover how everything speaks to us of Him and of His love. "That artists of our time, through their creativity, may help us discover the beauty of creation." More info and a link to the video at Catholic Ireland.

Course on Book of Kells
The Loyola Institute in Trinity College is offering a short course module for Autumn 2017: 'The Book of Kells - A Theological Reading'. This course offers an opportunity to learn about the magnificent Book of Kells in the company of others. In particular - explore: • The iconography of the manuscript • The theological significance of the imagery • The manuscript tradition • Recent scholarship on the Book of Kells. Cost of module €150. More info here.

Religious Art Competition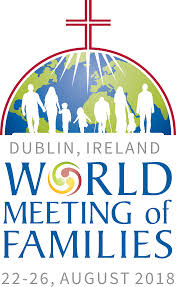 In conjunction with the World meeting of Families there will be a religious art competition. Artists have been invited to submit religious art inspired by the theme of the World Meeting of Families – 'The Gospel of the Family: Joy for the World', and Pope Francis' Amoris Laetitia. The selected art pieces will be part of an exhibition in 2018. The competition is part of the preparations for World Meeting of Families 2018, and organised by the Committee for Sacred Art and Architecture of the Irish Bishops' Conference, in association with the National Centre for Liturgy. More info at Catholic Ireland, Competition details for download here.
Art Journalling Days
'The Gold of our Experiences' - An Autumn Art Journalling Day to reflect upon and celebrate the 'gold' hidden in our lives and to prepare for Winter's return. No previous experience or training in art is required. All materials are provided. Limited spaces. Registration at 9.30am. For further information email: ocimagine@yahoo.co.ukCost £35.00 includes course / Art Materials / Mid-day meal / teas and coffees.
Venue is the Dromantine Retreat and Conference Centre, Newry, Co. Down. More info and booking here.
The Shack


A new faith related film, 'The Shack', based on the novel by William Paul Young, is now on release in Ireland (check cinemas and times here). It deals with the personal traumas of a young father whose daughter has been kidnapped and features an unusual portrayal of the Holy Trinity. The US Catholic Conference review is here. Decent Films review is here. Faitharts review of the book here.
Trócaire Poetry Awards
Trócaire has published on its website the winning poems of the competition it ran in association with Poetry Ireland. The full booklet of all 18 poems is now available for download. This year's theme, 'Before the Storm', explored disasters like flooding due to climate change, how people prepare for extreme weather and the helplessness that they feel when they know that a storm is coming. The competition was linked to Trócaire's work in Honduras, where the aid agency helps vulnerable communities to plan for the next extreme weather event and minimise damage. The overall winner was published poet David Butler, with his poem 'Before the Storm'. Read more at Catholic Ireland.
YOUCAT Bible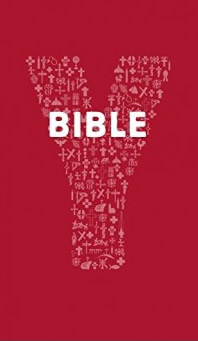 The newest title in the internationally best-selling -YOUCAT- series for youth and young adults, this Bible features the creative elements of the best-selling YOUCAT youth catechism and the DOCAT social teaching handbook. It's filled with engaging photos, clever and fun illustrations by YOUCAT's award-winning designer, insightful sidebar quotes from great thinkers, Catholic saints and leaders, past and present, and young people living their faith today. It includes helpful introductions to the books of the Bible and short, easy-to-understand commentaries by some of today's top Bible teachers.
[added 6/9/17 - this Bible is now available from Veritas, and you get a look insite at the CTS site.
Hymn for World Meeting of Familes

The official hymn for the World Meeting of Families 2018 was launched on 2nd June in Dublin at an event attended by Cardinal Kevin Farrell, Prefect of the Vatican's Dicastery for Laity, Family and Life. The hymn called A Joy For All The Earth was written by Irish composer Ephrem Feeley. A Joy For All The Earth was produced by Dr Sharon Lyons and recorded in Blackrock College Chapel. It features soloists Dr Sharon Lyons and Derek Malady. The adult choir performing on the recording of the hymn is WMOF Chorale and the Children's Choir is Piccolo Lasso, directed by Dr Ite O'Donovan. More info here.
Let It Shine


'Let It Shine - Songs of Faith' is a new CD from the Christ the King Youth Choir, launching in Christ the King Church, Strathroy, Omagh on Palm Sunday, April 9th, 7.30 pm. More info on the group's Facebook Page
New CD from Sr Marie Dunne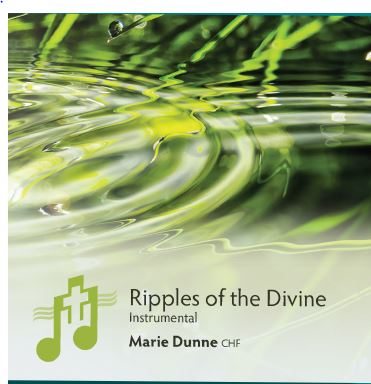 Ripples of the Divine is a new CD from liturgical composer Sr Marie Dunne. The album features 14 instrumental versions or Sr Marie's favourite compositions, including 'Journey to Your Heart', 'Lúireach Phádraig', 'Mary's Magnificat' and 'Blessing of Hospitality'. Arrangements are by Mark Cahill. The album is available from Veritas bookshops, Knock Book Shop Knock, Co. Mayo, and Liturgical Centre, Newtownpark Ave, Blackrock, DublinMore info at mariedunnemusic.com
Nua Films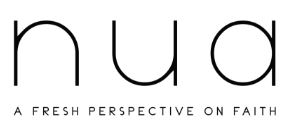 In an ecumenical initiative for education, The Irish Scripture Union has launched a series of films that aims to help young people to more fully explore and engage with their Christian faith. The NUA film series consists of eight short films designed to be viewed over the same number of weeks by senior cycle secondary school pupils, or by university-based or parish-based youth groups. The topics dealt with in each film involve one or more of the big questions that Christians must ask themselves: How did we get here? What is the meaning of existence? How much of the Jesus story is fact? Why are so many Christians unlike Christ? In a world of so much pain, how can we say God is good? Has the Church caused more harm than good? More info at Catholic Ireland and at the Nua website.


Pilgrimage Film
Pilgrimage is a new Irish film on the way, due for release in 2017. It was filmed in the West of Ireland in 2015 and features Tom Holland as Br. Diarmuid, a young monk leading a dangerous pilgrimage to Rome with a sacred relic. The soundtrack features the choir 'Crux' directed by Paul McGough. Read more at the IMDB Entry.

Mass of St Patrick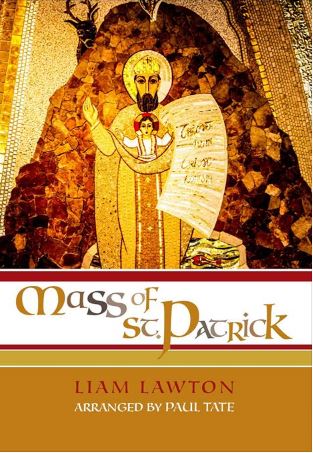 The Mass of St Patrick by Liam Lawton, was composed for the Octo Centenary Celebration of Ballintubber Abbey, Mayo, Ireland. It will be launched at the Los Angeles Religious Education Conference at the Anaheim Convention Centre, L.A. on Friday Feb 24th. It is published by GIA Music.
Composed in melodic and accessible form for Choirs ( Soprano Alto and Men ) It includes piano accompaniment, guitar chords and notation for C Instrument and is arranged by Paul Tate who previously collaborated with Lawton on The Glendalough Mass.
It will be performed in the parish of St. Clare's Graiguecullen, Carlow on Thursday 16th March at 6.30 on the eve of St. Patrick's Day.
For Workshops on the new Mass setting please contact
info@liamlawton.com ... available nationwide soon.
( The Art work is taken from a Mosaic by Mark Rupnik SJ, which features St. Patrick and can be seen at the Irish College Chapel in Rome ).
New Book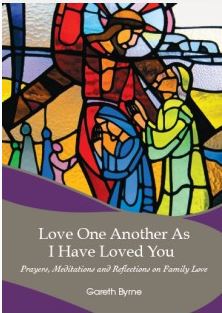 Love One Another As I Have Loved You is a book of prayers, meditations and reflections compiled by Gareth Byrne in response to the publication of Amoris Laetitia, Pope Francis' apostolic exhortation 'on Love in the Family'. This collection includes reflective pieces on family, friendship and community and invites readers to take time in the healing presence of Jesus, opening themselves to the Spirit of God's love at work in their lives and in their relationships. The book includes poetry and art work. More information from Veritas here.
The Silence Movie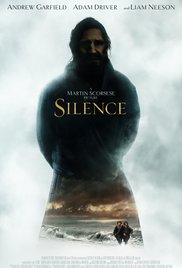 One of this year's most anticipated movies, Silence, directed by Martin Scorsese, got its world premier in the Vatican on Wed 30 November. The film, which has been 26 years in the making, tells the story of two Jesuit priests who face violence and persecution as evangelists in 17th century Japan. After reading the novel of the same name by Shūsaku Endō in 1988, Scorsese, now aged 72, immediately bought the rights to the movie. Since 2004, he has been saying that Silence was the one film that he really wanted to complete, and in 2014 it was reported that Scorsese said he would make no other movie until his wish was fulfilled. (Read on at the Catholic Ireland website.) Also see report on Reuters TV. [Read Faitharts Review]
Liv On Album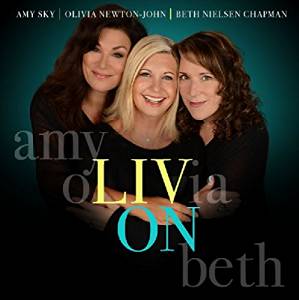 Liv On is the title of a new album featuring Olivia Newton-John, Beth Nielsen-Chapman and Amy Sky. The songs deal with themes like love, bereavement, personal pain, afterlife, grief, relationships and more. Among the tracks are a new version of Beth Nielsen Chapman's 'Sand and Water', a reflection on 'Grace and Gratitude', 'Don't Know What To Say' a song about reacting to the bereaved and a Christmas song 'There's Still My Joy'. Song samples and ordering at Amazon.
New John Michael Talbot Album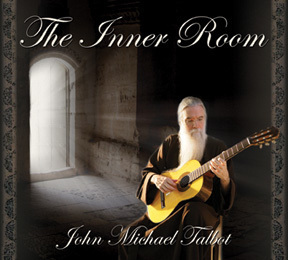 The Inner Room is a new album from John Michael Talbot. It is his first recording in nearly seven years.
The album includes, The Beatitudes, The Light of the World, Revive Us, The Inner Room, Our Father with Doxology and My God, My God (Ps. 22). "THE INNER ROOM" features ten classic Talbot compositions integrating Middle Eastern sounds, Americana Roots music and contemporary styles masterfully orchestrated by long time Talbot arranger and producer Phil Perkins and Jim Gray (whose credits include Josh Groban, Amy Grant, Casting Crowns, and more). JMT is joined by three legendary figures: Multi-Grammy Award winner and Bluegrass Music legend Ricky Skaggs (Mandolin, Fiddle), Multi-Dove Award winning guitarist Phil Keaggy and mixdown consultant Bill Halverson, whose credits include Producer / Engineer for Crosby, Still & Nash, and Eric Clapton among countless others). Ordering and song samples available here. Also available at Amazon.

DOCAT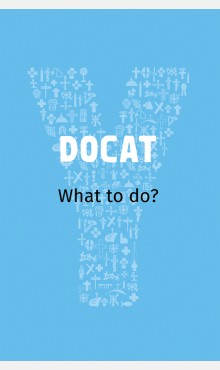 Another publication in the YOUCAT series for teens and young adults, DOCAT presents the social teaching of the Catholic Church in a new and creative way. It includes the now familiar cartoons that illustrate the various elements of the book. It is available here from Veritas. There's also an accompanying study guide.
Death of Elizabeth Wang
Religious artist Elizabeth Wang passed away on 10th Sept. Her inspired religious art appears on her Radiat Light website, where there's now a tribute to her.
New Lawton Album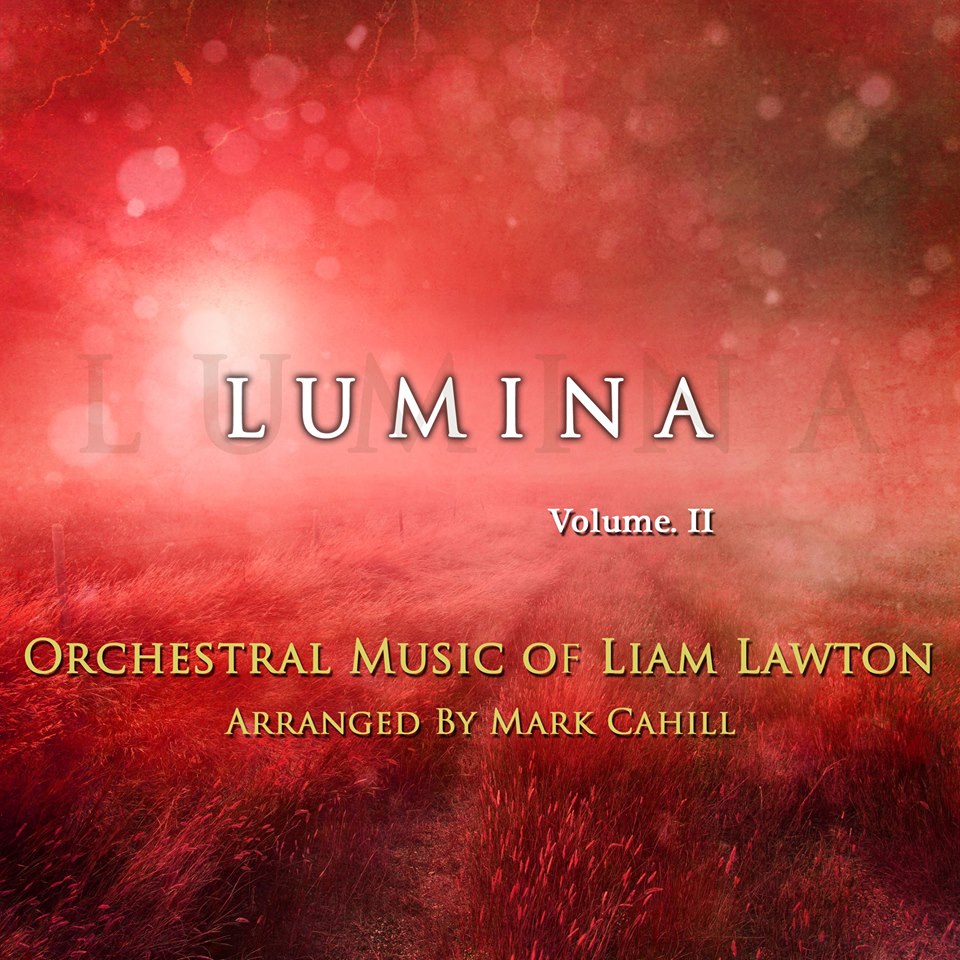 Coming this November - Liam Lawton's new album LUMINA Volume II in. It is an Instrumental Collection with arrangements by Mark Cahill, as a follow up to LUMINA Volume 1. It will include such tracks as ~ The Glendalough Theme, Benedictus, Journey of a Soul, Heal us Lord and Labyrinth and many more. It will be available Nationwide and on line.
New Johnston Album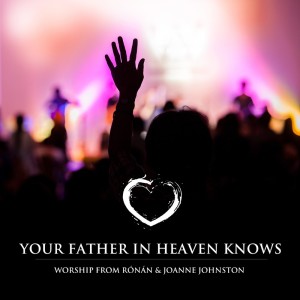 Your Father in Heaven Knows is a new album of worship songs from Rónán and Joanne Johnston. Tracks include 'Father I believe', 'Patrick's Shield' and 'You Have Called Me'. Songs can be previewed and the album purchased here.s
Ben Hur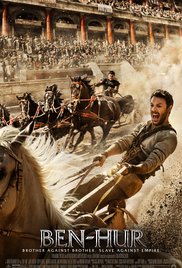 The new Ben Hur film opens in Ireland on Sept 7th. As with the earlier version starring Charlton Heston Jesus makes an appearance, played by Rodrigo Santoro. For more on the background to the film and its source novel see this article in the Irish Catholic.
Laudate 2017
This is the name of an initiative of the Education Secretariat and the Liturgy Resource Centre in Dublin Diocese for Primary Schools. The idea has come from interested teachers who would like the liturgical music repertoire of primary schools to be reflected in the parish liturgy. A pilot project will take place in 2017 and will involve 20 schools from the north and south side of the city whose students will learn a programme of music which will be presented in a prayerful way during Catholic Schools Week (29 January – 4 February). Schools have been chosen and music in a range of styles has been selected.
Nightfever Dublin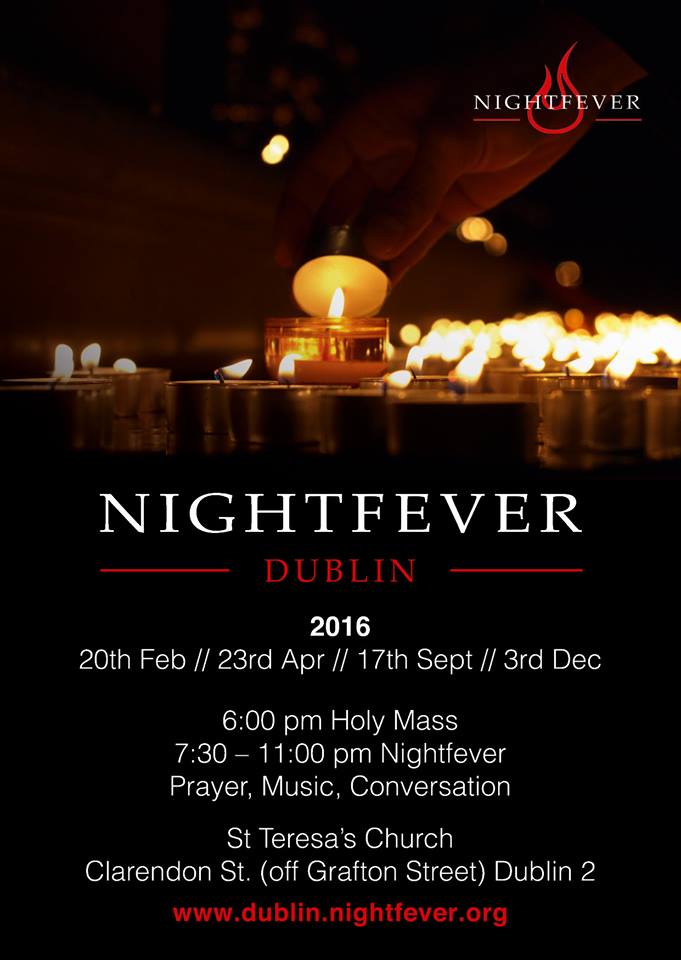 The next event for Nightfever Dublin is on Sat 17 Sept at the Church in Clarendon St off Grafton St. Prayer, music, reflection, reconcilation and street outreach in a candle lit atmosphere. 7.30 pm to 11 pm.
Book on Mercy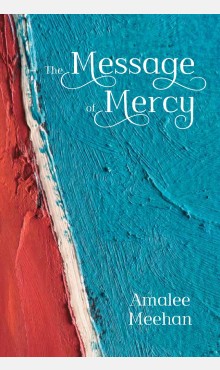 One of the books published by Veritas for the Year of Mercy is The Message of Mercy by Amalee Meehan. In The Message of Mercy, Amalee Meehan considers the subject of mercy, not only through a careful reading of relevant Scripture passages, but by exploring revealing extracts from literary classics and pertinent, sometimes surprising, examples from popular culture. More info and a chance to 'Look Inside' here.
Death of a Poet
The funeral has taken place of the renowned academic, author, poet and publisher, Mgr Pádraig Ó Fiannachta, who passed away after a short illness. A native Ballymore in Co Kerry, Mgr Ó Fiannachta, who was in his late 80s, had been a Professor of Irish in NUI Maynooth and was a famed linguist. He was also the founder of the third level institute in Dingle, An Díseart. Read more at Catholic Ireland website.
New Sheen Film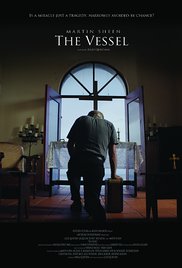 Martin Sheen stars as a priest in the new film The Vessel, due for release in September. The film has Terence Malick (Tree of Life) as Executive Producer and Julio Quintana is director. The storyline involves a community whose children have died in a tidal wave and focuses on how hope might come as people work through the grief. Official website here. More background info here.

Goretti Girls Album
Méabh Carlin and Hannah McCauley, known as the Goretti Girls have released an album I Will Wait. They discuss the launch of their first album and perform the track 'Here Am I' on iCatholic.
Eilidh Patterson in Concert
Derry based singer-songwriter Eilidh Patterson, who often includes spiritual music in her repertoire will take part in a singer-songwriters' 'in the round' acoustic concert on Sunday 3rd July at 8.30 pm in the Bishop's Gate Hotel Derry. Paul Casey will also feature as will Karen Porter on cello.
Nano Nagle Novel


Presentation Sister Sr Noela Fox from Australia has written a novel about the life of Nano Nagle, foundress of the Presentation Sisters. 'A Dream Unfolds' is published by Columba Press and was launched at an event at the Nano Nagle Centre in Ballygriffin, Co Cork. Read more here. Order here.
Award for Gary Sinise
At the end of May award winning actor Gary Sinise received the Saint Padre Pio Award. Sinise is well known for roles in Forrest Gump, Ransom and the CSI series. More info here.
Book Club



The Life to the Full Book Club meets in St Paul's Church Arran Quay (Smithfield Luas) 7-8.30 pm. This is organised by the Dublin Office for Evangelisation and aimed at young adults. More info here.
Graduation Music Resources
The Liturgical Resource Centre for Dublin Diocese has provided a list of suggestion for music resources related to graduation ceremonies. It can be downloaded (as a Word document) by clicking this link.
New CD from Sr Marie Dunne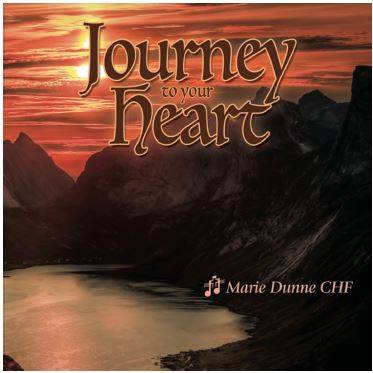 The new CD from Sr Marie Dunne CHF, Journey to Your Heart features a variety of liturgical (Psalms) and inspirational music. It is hoped that it will be a source of nourishment on the journey of Faith that leads us to that deep and sacred place and space - the Heart. One of the tracks is a setting to Psalm 130 entitled WITH THE LORD THERE IS MERCY AND LOVE - an appropriate piece for this Jubilee Year of Mercy. The CD is available in a number of outlets including Veritas, Knock Book, Emmaus and at The Divine Master Liturgical Centre, Stillorgan.
Read the Faitharts review here.

Nightfever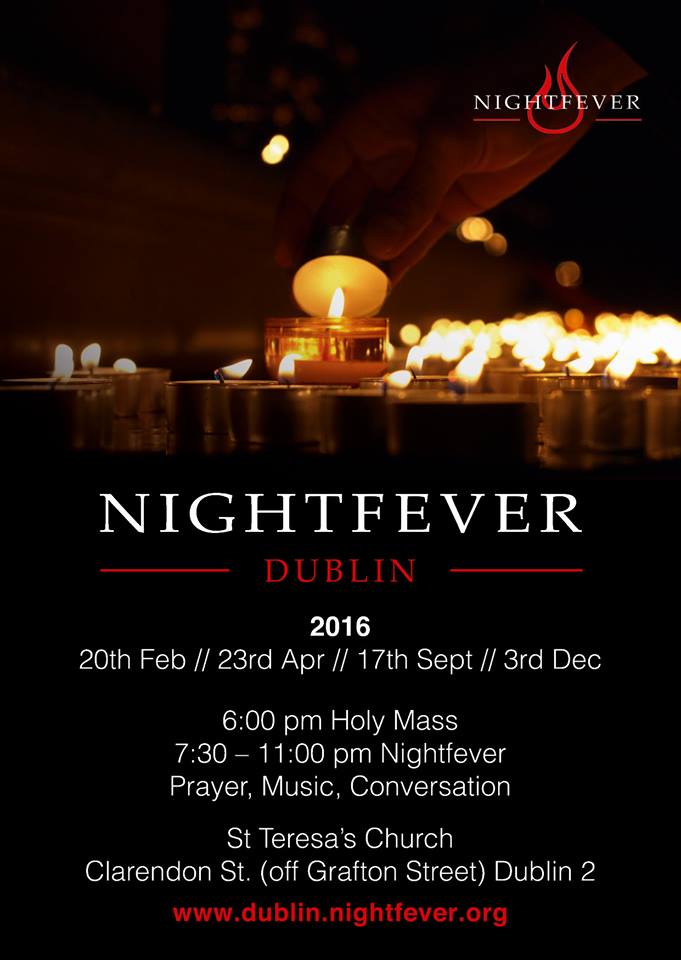 Nightfever returns to Clarendon St Church on Sat 20th Feb - a night of music, prayer, adoration, reconciliation and street outreach. 7.30pm-11 pm.
Spirit Radio
Ireland's Christian radio celebrates 5th birthday by doubling its listenership figures in just two years. Spirit Radio is now reaching 540,000 adults each week and the station is most popular with young adults in the 25-34 age group. Read more here.
Trócaire/Poetry Ireland Competition


Ireland is renowned for its literary and cultural heritage, as well as for its generosity in supporting those in need around the world. Trócaire and Poetry Ireland's annual poetry competition brings these two elements together in a creative way, using the arts to raise awareness about the leading global justice issues of our time. This competition is unique, because poets are invited to explore a different global development theme each year. The competition is also free to enter. Forced to Flee: "This is our exodus". The theme for this year's competition is Forced to Flee: "This is our exodus". A great human tragedy continues to unfold in Syria and in the wider Middle East. There are sections for students and for adults. Deadline 6th March. More info here.
New Duhan CD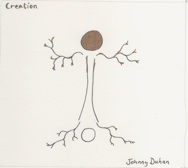 Galway based singer-songwriter Johnny Duhan has released a new CD, Creation, which features many religious songs, including the title track, 'Advent 2013', 'The Cross' and 'Resurrection'. More info and ordering here.
New CD from Eilidh Patterson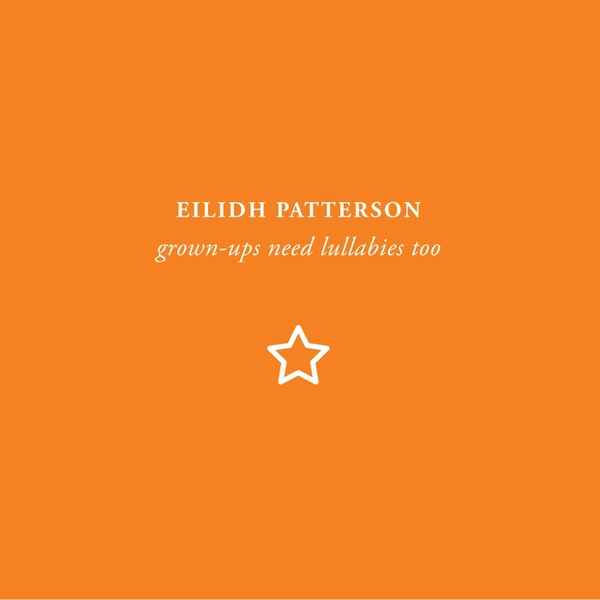 Derry singer-songwriter Eilidh Patterson, recently seen in concert with Ian Callanan at St Paul's Dublin has released a new 6-track CD. Grown Up Need Lullabies Too features several spiritual songs including 'Your Love' and 'God Has A Plan'. The CD can be bought here using the 'Buy Now' button. On this web page there's also a special offer for December 2015 on her previous CDs.
New Animated Film
The world premiere of The Monster & The Saint will take place on Sunday, December 6 at the Community Hall in Miltown Malbay, Co. Clare at 4pm. This animated film tells the story of St Senan and his battle with a sea monster. It is written and directed by Dermott Petty.
Celine Byrne Christmas Concert
Join internationally acclaimed Soprano Celine Byrne with her Orchestra for her Christmas Gala conducted by David Brophy. Programme include favourites from the world of Opera and Viennese Operetta such as Villia, Csardas from Die Fledermaus and The Blue Danube along with well known Christmas classics O Holy Night, The Holy City and I'm Dreaming of a White Christmas to name but a few. National Concert Hall Sun 6th December 8 pm. More info and booking here.
Culwick Choral Society Christmas Concert
Join the Culwick Choral Society, and very special guest, soprano Claudia Boyle, plus the Dublin Brass Ensemble, and the children of St Bridget's National School choir, for an unforgettable celebration of the season with music, songs and carols from across the ages, including the Irish premiere of the Christmas cantata, A Winter's Night, by the English composer, Cecelia McDowall. National Concert Hall Mon 7th Dec 8 pm. Info and booking here.
Handel's Messiah at the NCH
Our Lady's Choral Society and the RTÉ Concert Orchestra with Proinnsias O Duinn and world class soloists present Handel's Messiah at the National Concert Hall, Wed 9th Dec, Thurs 10th Dec and Fri 11th Dec. Info and booking here.
Night Fever in Cork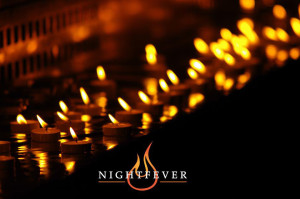 Nightfever takes place in Cork on Sat Dec 5th 8-11 pm at the Augustinian Church. During the evening teams of young people go out onto the nearby streets to invite passers-by into the Church and light a candle, enjoy the beautiful music and be in the loving presence of God. Please pray for the mission and spread the word by inviting others to come! Nightfever event also takes place in Clarendon St Dublin on the same night ... see below.
Dublin Gospel Choir Christmas Concert
Dublin Gospel Choir return to the Civic Theatre Tallaght for their annual Christmas Celebration on Thursday December 8th with a seasonal repertoire. Booking and info here.
Christmas Variety Concert in aid of the Derry Diocesan World Youth Day Pilgrimage
An evening of song, worship, poetry and festive cheer will take place in St Mary's College, Northland Road, Derry on Sunday 6th December at 7pm. The evening will feature local choirs, a children's chorus, special guests and local entertainers. Tickets are £5, £15 per family and £3 concession. For tickets contact Derry Diocesan Catechetical Centre 04871264087 or pay at the door.
Memorial Concert
Fr Liam Lawton and The Priests will perform in a January concert to commemorate Garda Adrian Donohoe (above) at the Redemptorist church in Dundalk. The concert will mark the third anniversary of the death of a Garda who was murdered near Dundalk. Titled 'Remembering Adrian,' it will be held in St Joseph's Redemptorist Church which is where his funeral mass was held. It will take place on Friday 29 January, four days after the date of his death but three years exactly to the day that he was shot dead outside Lordship Credit Union in Louth, on the last Friday in January 2013. More info here.
Nightfever
The next Nightfever event in Dublin will be on Sat Dec 5th in Clarendon St Church after the 6 pm Mass. This is a night of prayer, music, reflection, adoration and reconciliation.
Religious Christmas Stamps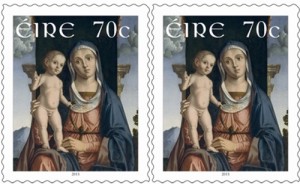 This year both the Royal Mail and An Post feature religious Christmas stamps. Full background info and images here.
Lawton Christmas Tour
This Dec 2015 Fr Liam Lawton embarks on an extensive Christmas tour. Details:
4TH – The Walter Raleigh Hotel, Youghal – Tickets: 086 2382751
6TH – Corhownagh Church, Sligo – Tickets: 086 8253531
10TH – Scoil Mhuire Clane Community School, Clane – Tickets: 085 1108614
13TH – St Patricks Church, Fermoy – Tickets: 087 4485743
15TH – St Lgnatius Church, Galway – Tickets: 086 6005926
17TH – St. Columbanus' Church, Ballivor – Tickets: 046 9546488
20TH - Armagh Cathedral (With Karl McGuckin & Fran Fee) - Tickets: www.ticketsource.co.uk
21ST – Church Of The Good Shepherd, Churchtown, Dublin – Tickets: 01 298 4642
Dublin Gospel Choir - Candlelight Mass
Dublin Gospel Choir will sing at a candle light Mass in St Mary of the Angel's, Church St, Dublin 7 on Sun 22nd November at 7 pm.

Project Messiah
Learning Handel's Messiah in 6 weeks and performing it at the start of Advent … an extra performance has also been added. This year the concert will celebrate the beginning of Year of Mercy as well as of Advent on Saturday night (28 November) in the well-known Carmelite Church of Our Lady of Mount Carmel on Dublin's Whitefriar Street. The second performance takes place on Sunday afternoon (29 November) in Our Lady of Good Counsel Parish, Mourne Road, Drimnagh and all the profits of this will go to charity. More info here: http://www.catholicireland.net/project-messiah-add-performance-charity/
Dolls From Heaven
A new resource for teaching RE to the younger ones – dolls of saints as a teaching aid. Dolls from heaven are 18 inch Saint Dolls. They come with an outfit based on what the Saint wore during their life. They also come with a book that will inspire children to become saints. Our first Doll is Saint Therese of Lisieux. The plan is to introduce a series of saint dolls, whose story will encourage children to follow Jesus. Saints, like Saint John Paul II, Saint Bernadette, Saint Patrick, Saint Joan of Arc, and many more.
http://www.dollsfromheaven.com/
Dublin Gospel Choir New Album
DGC is delighted to announce the release of a new album 'Celebrate' marking 20 years of gospel music in Ireland. The album was recorded by Andy Knightley of K Recording at Camelot Studios in Tyrellstown and represents some of their favourite tracks over the past 20 years. Available to purchase from Dublin Gospel Choir Shop or download on iTunes or Google Play.
Irish Composer's Oratorio
Cormac O'Duffy, a former teacher and graduate of UCD and UL, had his oratorio The Wedding Feast of the Lamb premiered in front of a full church at St John the Evangelist in Philadelphia during the World Meeting of Families (WMOF). The work, dedicated to marriage and family, was performed by the Choirs of Villanova Catholic University, soloists from Philadelphia Opera and a youth orchestra.
- See more at: http://www.irishcatholic.ie/article/irish-composers%E2%80%99-song-performed-world-meeting#sthash.OzOamuHK.dpuf
Emmanuel 2016
Work is already under way in preparation for Emmanuel 2016, where school choirs from Dublin Diocese join together for three wonderful nights in The Helix. Preparatory sessions are coming up next week, and the event itself will take place 1st, 2nd and 3rd March. Full details here: http://education.dublindiocese.ie/wp-content/uploads/sites/5/2015/09/Emmanuel-2016.pdf
Knock Film
Underground Films are making a documentary on Knock and are having a crowdfunding campaign to finance it. Among other things it will look at what Knock means to those who travel from abroad to the shrine. A new mosaic has been commissioned for the basilica and is being made near Venice. The film will feature behind the scenes footage of this work. For more info and details of the fundraising click here: http://www.catholicireland.net/documentary-knock-seeks-funding/
New Films
'Little Boy' is a new film released in USA which features religious themes in a positive way. Review from the US Catholic Conference here.
Also on the way, a new film, currently titled 'Apostle Paul', starring Hugh Jackman and produced by Matt Damon and Ben Affleck. Info here.
New Film on Pope
Shades of Truth is a new film on the life of Pope Pius XII, detailing his efforts to help Jews escape the clutches of the Nazis during WorldWar II. In a film that debuted early March in the Vatican, the protagonist, an Italian-American investigative journalist and a Jew, had this same mentality—at first. The movie shows David Milan's journey as he was commissioned to do an investigation on Pope Pius XII, which brought him from New York to Rome to the Holy Land and other parts of Europe. More info here. IMDB Entry here.
St. Padre Pio Film
Godfather star Joe Mategna has announced that he intends to make a film on the life of St. Padre Pio. Mategna also played the father in the series Joan of Arcadia. More information here.
A New Irish Christmas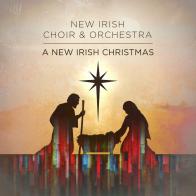 A New Irish Christmas features the New Irish Choir and Orchestra in a selection of Christmas standards like 'Joy to the World' and 'O Holy Night' along with some newer material like 'Angelsong' by choir conductor Jonathan Rea and 'Jesus Joy of the Highest Heaven' by Keith and Kristyn Getty. They are also joined by the New Irish Youth Choir. The album can be purchased from usual outlets or at New Irish Arts
New Veritas Facebook Page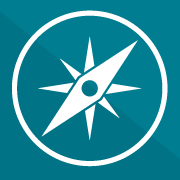 Veritas in Ireland has a launched a new Facebook page for RE Teachers. It provides links to various useful resources, especially for the Post-Primary RE teacher. Check it out here.
New Children's Book on Pope Francis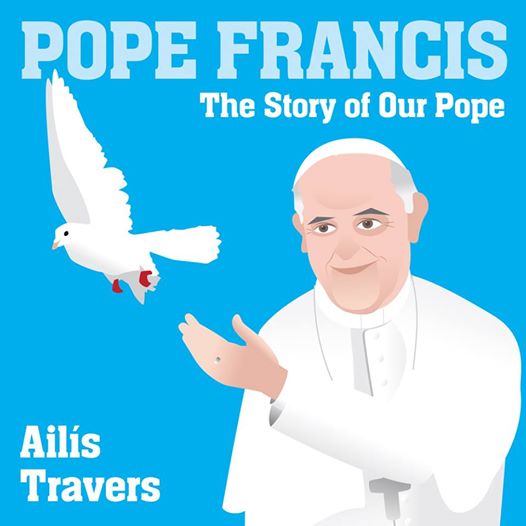 Mid-August sees the publication of a new children's book on Pope Francis, published by Veritas and written by Ailis Travers. This fully-illustrated book tells the story of the life and work of Pope Francis.
Heaven is For Real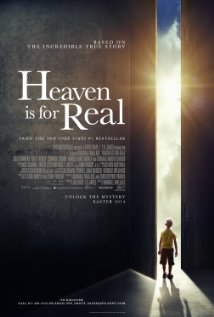 The film 'Heaven is for Real' opens in Irish cinemas on Friday 13th June. The storyline, based on real-life event and best selling book, features the experiences of a young boy, Colton Burpo, who claims to have visited Heaven during a near-death experience. For more information and views see the following sources: News item on the Catholic Ireland website, Catholic News Service Review (USA).
Hymns of Passion and Resurrection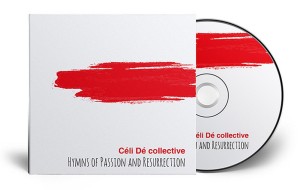 'Hymns of Passion and Resurrection' is an album of hymns for Easter. Produced by the Célí Dé Collective it sold very well leading up to Easter 201, reaching no. 6 in the national charts and no. 1 in the independent charts. The hymns tell the story of the Holy Week and Easter events. The CD is available in music stores and online from itunes. From Irishmusicmail.com it retails at €10.56, plus postage and packing (total €12.99). Proceeds from sales go to the Dominican summer camp at Knockadoon, Co Cork. More info here.
New Lawton Album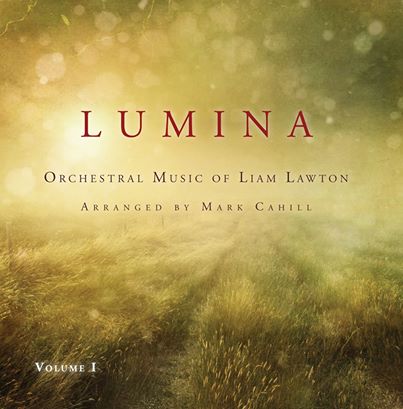 Lumina, the new album of orchestral music by Liam Lawton, arranged by Mark Cahill, will be available in shops from April 18th and online at www.liamlawton.com from April 14th. Track listing: I will be the Vine; Far Beyond; The Hermit Song ; In the Quiet ; The Hiding Place ; Could It be; The Silence and the Sorrow; There is a Place ; The Voice of an Angel; Allelu ; The Lord is my Shepherd ; The Clouds' Veil.
New CD from Ellie Holcomb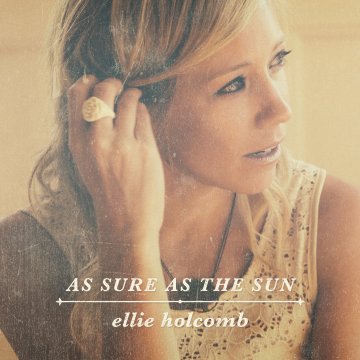 Contemporary Christian music singer-songwriter Ellie Holcomb has released her first full length album As Sure as the Sun. It's a mixture of reflective music, country rock, roots and folk. The album can be previewed/purchased at the usual outlets - Amazon, iTunes.
!! Faitharts Review now here
Ten Commandments TV Series
Coming up on US TV later in 2014 - a TV drama series on the Ten Commandments. Each episode is directed by a different director will put their own contemporary spin on a particular commandment. Directors include Jim Sheridan, Wes Craven, Michael Cera, Gus Van Sant and Lee Daniels. More info here.
Philomena
The nuns who ran the mother and baby home portrayed in the newly-released film 'Philomena' have described the biopic starring Judi Dench, as "very misleading." See the full story here.
Pope Film
Italian film director Liliana Cavani has announced plans to make a film about the work of Pope Francis in saving hundreds from the dictatorship in Argentina when he was Fr Bergoglio. The film will be based on the book Bergoglio's List by Nello Scavo.
Friar Alessandro CD for Christmas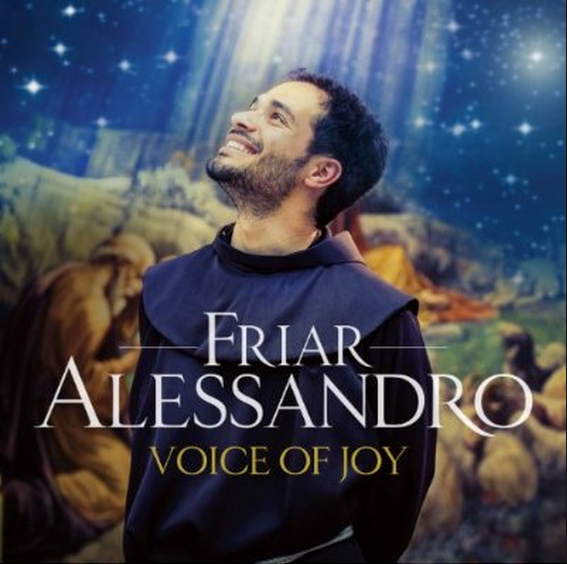 Friar Alessandro from Italy has released a Christmas CD on Decca records. The Franciscan Friar is a sanctuary guide in Assisi, Italy where he was born. His hope as the first Franciscan Friar to be signed to a major record label, is that his voice will have the ability to foster a stronger Catholic presence in contemporary art & music. His enthusiasm for music since childhood influenced him to study organ, musical composition, and operatic singing at institutions and conservatories throughout Italy. However, his success in music felt incomplete in the absence of a driven religious life. So at the age of twenty-one, he entered as a postulant in the Order of the Friars Minor of Umbria and would take his final vows some ten years later. It was in fact the desire to join the Order which pushed him to complete his qualification at the musical conservatory as it was considered a touchstone for the seriousness of his commitment. At present he lives at the Porziuncola Friary in Santa Maria degli Angeli, Assisi, where he welcomes pilgrims to the Basilica. The album can be checked out here: at Amazon, iTunes and YouTube.
Mary of Nazareth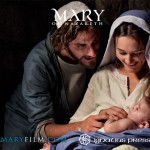 Mary of Nazareth is a new film on the life of Mary, from Ignatius Press and Carmel Communications. The dedicated website for the film includes a trailer, several clips from the film, details of screenings and availablility and other background information - www.maryfilm.com
Pope Francis: Arts express beauty of Church's Faith
Pope Francis, in an address to the "Patrons of the Arts" in the Vatican Museums, the group which is dedicated to preserving the vast and unique collection of art housed in the Vatican Museums, said, "In every age the Church has called upon the arts to give expression to the beauty of her faith and to proclaim the Gospel message of the grandeur of God's creation, the dignity of human beings made in his image and likeness, and the power of Christ's death and resurrection to bring redemption and rebirth to a world touched by the tragedy of sin and death." Full text of the address here.
Prayer Group
The Maximilian Kolbe prayer group meets every Wednesday night at 7.30 pm, at the Franciscan Friary in Wexford town - a prayer group which frequently features musical elements .
New Album from Audrey Assad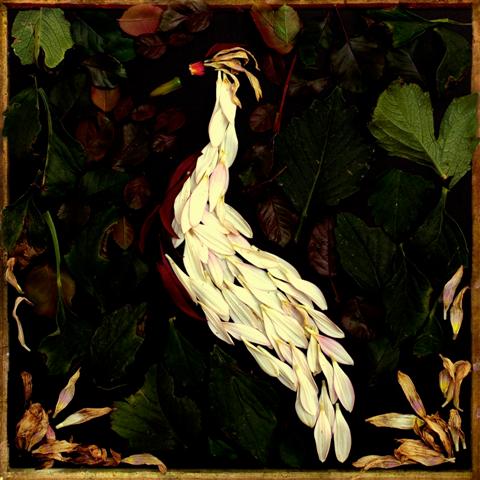 Fortunate Fall is the new album from US singer-songwriter Audrey Assad. Songs are contemporary in style and are written or co-written by Assad, while collaborators include Matt Maher who performed recently at World Youth Day. Assad's song are mostly piano driven and this album is primarily music for reflection and worship. Each song is tagged as being suitable for particular contexts - e.g. personal devotion, Mass, eucharistic adoration, praise and worship. The album is available from Amazon (Audio samples available), iTunes (samples) and the singer's website.
[Faitharts Review now here]
Movies That Matter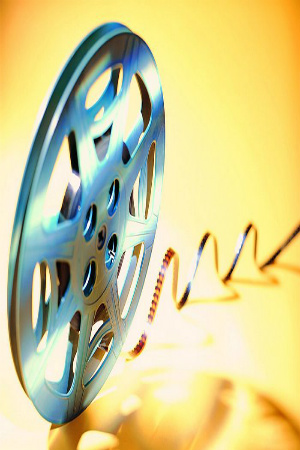 A series on film at the Manresa Jesuit Centre 426 Clontarf Road, Dollymount, Dublin 3. For over a hundred years now, innumerable stories have been told through the medium of film. In Movies that Matter, participants will view a film together each evening, following a short introduction. They will then be helped to reflect, individually and together, on the issues and values raised in the film, particularly through the eyes of faith. Programme Director: Ms. Eileen O'Brien Cost: Donation at your discretion, No need to book. Just come along! Time: 7.30pm to 10.00pm Dates: Wednesday Evenings; 11 and 25 September, 09 and 30 October, and 13 and 27 November.
Faith in Harmony
At the Manresa Jesuit Centre 426 Clontarf Road, Dollymount, Dublin 3 - Evenings of prayer and music with Marie Dunne CHF Concluding the Year of Faith, this series of four evenings presents an opportunity to spend some time with composer Marie Dunne as she describes the faith story of some of her compositions. She will invite participants to consider how the themes that have been inspirational to her connect us all and can move us to a deeper understanding of faith and scripture. These evenings promise to offer renewal and refreshment through receiving the word of God in a setting of meaningful music. Dates • Monday 4 November 2013 ? Before I formed you in the womb I knew you • Monday 11 November 2013 ? I have come that you may have life • Monday 18 November 2013 ? In my Father's house there are many rooms • Monday 25 November 2013 ? I am the Way, the Truth and the Life Time 7:30 p.m. to 9:00 p.m. Cost Donation at your discretion.
Film and Gospel Values
Discovering Gospel values and the meaning of life in film - the theme at Avila Retreat Centre Donnybrook Dublin 4 - with Br. Noel O'Connor OCD. First Saturday of each month at 7.30 p.m.
Book and Poetry Club
Reading for Inspiration - SHARE THE JOY OF READING WELL-LOVED BOOKS AND POETRY WITH OTHERS with Fr Eugene McCaffrey OCD at Avila Retreat Centre Donnybrook Dublin 4 FIRST TUESDAY OF EVERY MONTH 7.30 P.M.
New RE Textbook: Seek and Find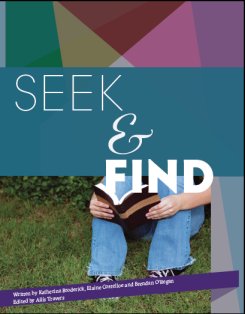 Seek and Find, the new RE Text for Senior Cycle Religious Education, is now available from Veritas. Written by Katherina Broderick, Elaine Costelloe and Brendan O'Regan, and edited by Ailis Travers, it features lots of arts resources, including film, music, visual art and poetry. Each section is divided into lessons as opposed to chapters, making it very user friendly - Each lesson has objectives and a summary to give a clear focus to the content covered - In each lesson, students are given opportunities to build their own responses to the material, thus ensuring they engage on a personal level - Activities vary to challenge and encourage faith development in students by helping them to relate to God in their own lives, in the life of the Church and in the local community, as well as in the wider world - Activities provide for differentiated, active and co-operative learning by including a variety of methodologies and a wide range of different exercises - Additional resources will be available online at www.seekandfind.ie (coming soon). For further info and ordering details click here.
Nuns Top the Charts
Currently in USA's Billboard's classical music charts (as on 22/8/13) no. 1 album is Mater Eucharistiae by the Dominican Sisters Of Mary, and this is its first week on the chart! Meanwhile, at position 9, after 15 weeks on the charts, including No. 1 position, is Angels And Saints At Ephesus by the Benedictines Of Mary, Queen Of Apostles, and it is climbing again. Mater Eucharistiae is also No. 2 on the Christian album chart.
New Lawton Album


Due out soon - Liam Lawtion's new album Eternal. Publishers GIA Music describe it as featuring 'expressive texts, soaring melodies and powerful emotions'. The songs are scored and orchestrated by Chris de Silva. Tracks: Holy Ground • Into the Quiet • In God We Live • Eternal Is Your Love • To You Glory and Praise • The Lord Is My Shelter • Christ Has No Body Now but Yours • Ave Maria • Bethlehem Sky • Holy Is God's Name • How Good Is God • Breastplate. More info at Gia Music.
[Faitharts review here, added Sept 4th 2013]
Chesterton Sainthood?
Bishop Peter Doyle of Northampton UK has announced his intention of advanccing the cause for sainthood of writer G.K. Chesterton, author of the Father Brown stories recently dramatised by the BBC, and many theological works.
Breda Coman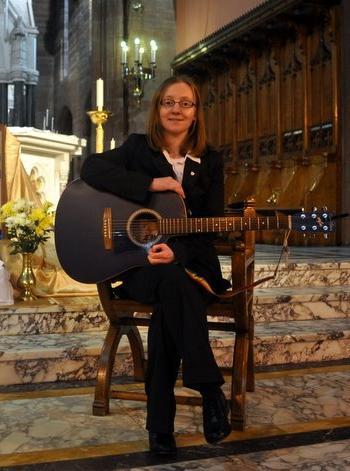 Breda Coman is an experienced musician and singer and has launched (July 2013) a new website at www.bredacoman.com. Breda has two spiritual CDs to her credit, and is now available to sing and play at weddings and other events. Her website features some MP3 tracks from the albums, a facilty to buy the CDs and contact details.
Emmaus CD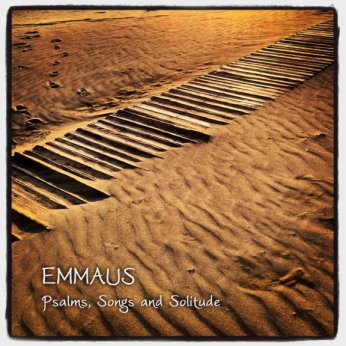 Irish gospel group Emmaus are due to launch a new CD, Psalms, Songs and Solitude - a compilation of quieter songs from previous albums. 1. My Burning Heart - from the album "Emmaus Community Praise Live", 2002 2. Lord I am not proud (Psalm 131)- from the album "Mountaintop", 2009 3. And I will worship you - from the album "Mountaintop" 2009 © 4. You have never let me down - from the album "Mountaintop" 2009 © 5. Out of the depths (Psalm 120) - from the album "Closer Nearer" 1999 6. Jesus, Jesus Touch me - from the album "Closer Nearer" 1999 7. We have a hope in Jesus/All will be well - from the album "Emmaus Community Praise Live" 2002 8. Draw Me - from the album "Across the River" 1995 9. Shadow of your wings - from the album "Across the River" 1995 10. The Father's Song (You are mine) - from the album "Come to Me" 1989 11. I will lose control to you - from the album "Across the River" 1995 12. Who are you? - from the album "Come to Me" 13. Trust Surrender Believe Receive - from the album "Come to Me" 14. You are my Beloved Child. Emmaus features Ronan Johnston, whose activities includes presenting the weekday morning show on Spirit Radio. The album can be ordered here
Film of the Month
As an initiative for the Year of Faith Veritas is highlighting a Film of the Month online - click here. Reviews and study guides are provided by Fr John-Paul Sheridan, and so far the films covered are - The Mission, It's a Wonderful Life and Shadowlands.
New CD From Belfast
The folk group of St Therese's In the Holy Family Parish in Belfast has released a Christmas CD. Te album was recorded in various locations and includes many Christmas classics. The album is for sale in Veritas shops and from the Holy Family parish office, Newington Ave, Belfast, at 10 stg.
Year of Faith - Callanan Workshops
Ian Callanan, liturgical composer, is now taking bookings for music workshops that will inspire active participation during the liturgy. The workshops will awaken prayerful reflection and service to others and he will offer resources to help you celebrate and share in the Year of Faith. Full day and evening workshops are available. For more information contact Ian at (086) 249 0779 or by e-mail info@iancallanan.com
New Ian Callanan CD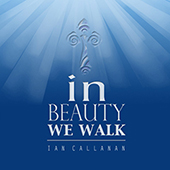 In Beauty We Walk is the title of Ian Callanan's new collection of contemporary sacred music which is now available from Veritas Shops and directly from GIA Publications. It is a combination of real-world songs for worship that implore us to become the body of Christ—to live together in unity as "one holy people." The songs are suitable for use throughout the liturgical year and encompass a variety of musical genres infused with Celtic grace. "Lord Heal the Darkness," "Come and Eat This Bread," and the title track, "In Beauty We Walk," all seek to encourage, embolden, and enliven the spirit. A song of farewell, "The Warm Embrace," offers courage and consolation to those who have experienced the loss of a loved one. Callanan draws us toward conversion and healing while inspiring us to live out the gospel message every day of our lives. Samples and more info on the making of the album are available at Ian Callanan's website. Callanan is also available for school and parish workshops - more info and contact details here.
Lourdes CD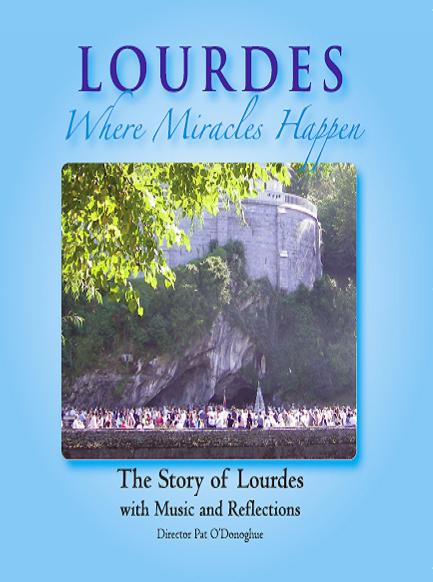 The story of Lourdes in music, prayer and reflection Music presented by Dublin Lourdes Choir, Dublin Diocesan Music Group Soloists – Mihaela Loredana-Chirvase, Rodrigue Marino Nguekam, Sharon Lyons, Mary Flynn and Paul Kenny Organist – David Grealy, Harpist – Denise Kelly Director – Pat O' Donoghue. Available from Veritas Shops and Pro-Cathedral, Marlborough Street Shop – €15. More info here.
Year of Faith
The official hymn of the Year of Faith is called "Credo Domine" and the sheet music can be downloaded from the official Year of Faith Website. Resources and information about the Year of Faith in Ireland are available here.
Liam Lawton's Irish Mass Workshops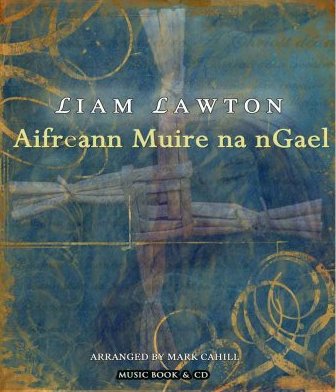 New Irish Mass Setting - Fr Liam Lawton has written a new Irish Mass setting for the revised missal. Following the success of the Glendalough Mass, Liam has composed a Mass setting with a very Irish style, which highlights the beauty of Irish melody and language. Written for soloist and choir, it is also very suitable for Irish instruments as will appear on the recording. Aifreann Muire na nGael (see below also) celebrates one of the great Irish Saints, St. Brigid of Kildare – the 5th century saint affectionately known as Mary of the Gael. I wanted to compose a Mass setting that celebrates the life of one of our great saints but also to celebrate the beauty of Irish music form. So the Mass setting has pathos, joy and melodic tones that are unique to our beautiful and rich culture. Liam Lawton With musical arrangements by Mark Cahill who has worked with Liam on a number of collaborations the collection is very accessible and melodic. Along with arrangements for Soloist, Choir and Instruments, participants will also receive a backing track which will enable them to learn the Music with the help of the recorded Irish instruments, which will be very useful in Church, school or other settings. Workshops – Dates and Venues To help introduce the New Mass setting to choirs and cantors- Fr Liam is hosting two workshops in Naas and Graiguecullen. Tuesday November 13th 8:00p.m Parish Centre, Graiguecullen; Wednesday Novmeber 14th 8:00p.m Church of the Irish Martyrs, Ballycane Naas. Cost of Workshop: €15 to include Music Book and CD There will also be a limited number of CDs available with backing tracks Booking Booking is essential: Contact Christine 059 9164084 Email fds@kandle.ie
Restless Heart
Restless Heart is a new feature film on the life of St Augustine. It is due for release this Autumn. Christian Duguay (Joan of Arc) directed the film, and the cast includes Franco Nero, Johannes Bandrup, Monica Guerritore and Alessandro Preziosi. Read more about the film and see stills and clips here. [added 15/9/12: Catholic News Service Review here.)
Fintan O'Carroll Masses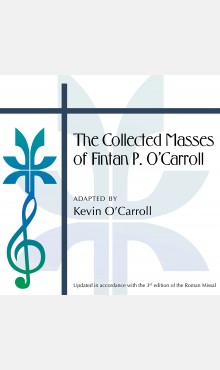 Veritas has published a new book of Masses: The Collected Masses of Fintan P. O'Carroll revised by his son Kevin in line with the new translation of the Roman Missal. The Masses featured are: - Mass of the Angels - Mass in onoir Mhuire, Mathair De - Missa Salve Regina - Missal Salve Regina (SATB) - Mass of the Immaculate Conception - Mass of the Annunciation Costing 24.99 It also includes accompaniment parts for Trumpet, Trombone, Timpani, Tuba and Bass Trombone. Available separately - an accompanying CD. More info, ordering and a facility to preview many pages from the book here.
New Taizé CD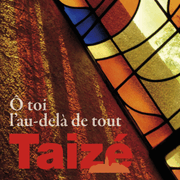 A new CD of mainly French language chants from the Taize community, O Toi, l'au-delà de tout is now available for download, costing €9.99 for the full album or 99c per individual song. Song previews and downloads here.
Beauty in Art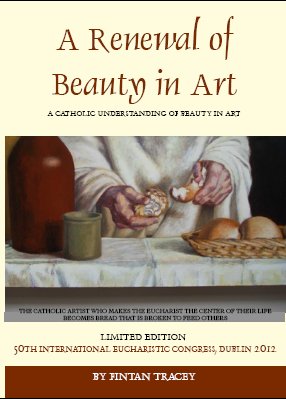 A Renewal of Beauty in Art - a Catholic Understanding of Beauty in Art is a new book by artist Fintan Tracey. It is a book of essays from Tracey's time studying this topic at the Maryvale Institute in Birmingham. There are illustrations from some of his own work which was displayed at the International Eucharistic Congress in Dublin, June 2012, as well as consideration of the work of other artists. The book includes detailed notes and bibliography. Copies of the book are available from Fintan Tracey, 18 St Anthony's, Laytown, Co. Meath for €10, including postage. Email contact: shamrockflair@gmail.com.
Aifreann Muire na nGael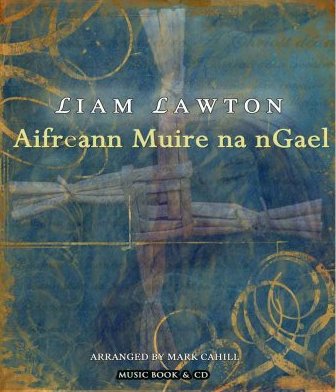 Liam Lawton has written a new Irish Mass setting for the revised missal. Following the success of The Glendalough Mass, Liam has composed a Mass setting in a very Irish style, which highlights the beauty of Irish melody and language. Written for Soloist and Choir it is also very suitable for Irish instruments as will appear on the recording. Aifreann Muire na nGael celebrates one of the great Irish Saints, St. Brigid of Kildare, the 5th Century saint affectionately known as Mary of the Gael. She is also the patron saint of the Diocese of Kildare &Leighlin where Liam ministers. " I wanted to compose a Mass setting that celebrates the life of one of our great saints but also to celebrate the beauty of Irish music form. So the Mass setting has pathos, joy and melodic tones that are unique to our beautiful and rich culture." Along with arrangements for Soloist, Choir and Instruments, participants will also receive a backing track which will enable them to learn the Music with the help of the recorded Irish instruments, which will be very useful in Church, school or other settings. The Mass will be published in September and a number of Workshops throughout the country are being arranged. Further details will be on www.liamlawton.com
Elation Ministries - New Album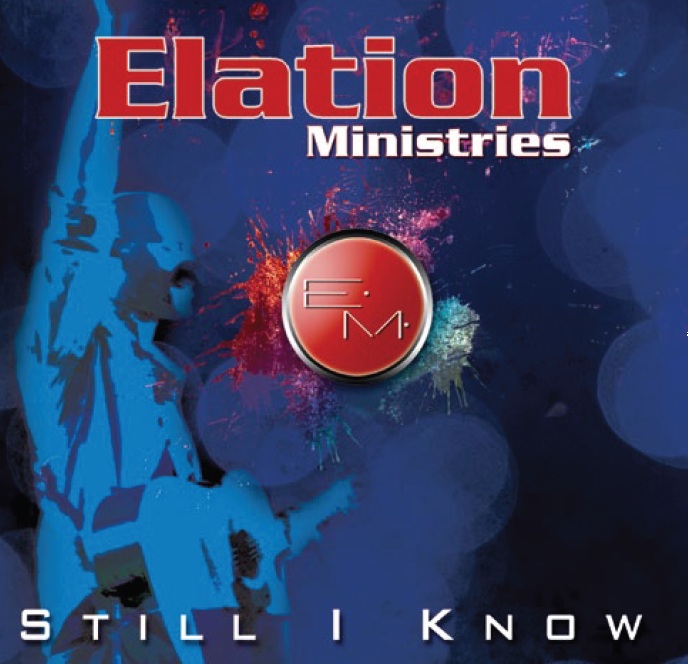 Still I Know is the second album from Elation Ministries, well known for their parish retreat work around Ireland. These are self-penned songs with scriptural themes by members of the group.The group will play in the Youth Space for the International Eucharistic Congress in June (see below). For more information including sample tracks and videos of performances see their website www.elationministries.com

Jesse Box
The Jesse Box is a new initiative to help parents tell Bible Stories at home, but could also be used with younger children at school. The method is based on drama and imagination, using Bible figures that the children help to make. Story kits are now available for the Nativity and Easter, and there are support materials available online to those who purchase the kit. For more details see video clip above or go to www.jessebox.com
Virtual Tour of the Sistine Chapel
There's a 365 degree online virtual tour of the artwork of Michaelangelo in the Sistine Chapel . Click here.
New CD
Your Face O Lord is a new CD by Domican Sister Ann McGovern. Sr Ann, a soprano, sings with Our Lady's Choral Society. Liturgical composrer Ian Callanan was involved in the recording which is available fromthe Dominican Sisters in Ireland.
There Be Dragons Film
There Be Dragons is a new film by Roland Joffé (The Mission, The Killing Fields), is now available on DVD and Blu-ray. There's an associated website with resources related to the film. In part it features some key moments in the life of St Josemaria Escriva, founder of Opus Dei. It aims to promote a message of forgiveness, finding peace with the past and overcoming inner dragons. THE IMDB Entry for the film is here. Faitharts review of the film here.
Christmas CD from Redemptorist Choir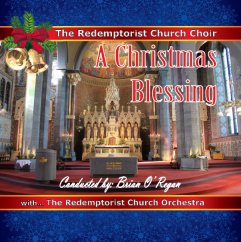 A Christmas Blessing is a new CD from the Redemptorist Choir at Mount St Alphonsus in Limerick city. This is their first ever CD. The album features the Redemptorist Church Orchestra , Tom Rozario on organ & piano as well as solos from Eugene O' Connor and both Ellen & Conor O' Hara, all under the direction of their conductor and musical director Brian O' Regan. The 12 track album contains Christmas classics like "O Holy Night", "Walking in the Air" and "Angels We Have Heard on High" as well as more contemporary carols such as the "Shepherd's Pipe Carol", "Candlelight Carol" and "A Christmas Blessing". "A Christmas Blessing" is selling for €12 and is available to buy at the Redemptorist Shop at Mount St Alphonsus on South Circular Road. The choir will be singing at the Crescent Shopping Centre, Limerick, on Saturday the 10th of December from 11am - 1pm where the album will also be for sale. For further details please call (061) 318352. The choir normally sings at the 12 o'c Mass every Sunday (can be viewed by webcam at www.novena.ie or www.churchservices.tv ) and the CD will also be available at the Sunday Masses leading into Christmas.
More Christmas Albums
Some Christmas albums newly released: A Christmas Carole by Carole King (see mini-review on blog) - familiar secular songs for the most part, with some originals by Louise Goffin, King's daughter, and on the spiritual side "Do You Hear What I Hear" and "Chanukah Prayer"; Libera: The Christmas Album, spiritual and secular Christmas songs from this popular boy-choir, including "Once In Royal David's City", "Oh Holy Night" and "White Christmas"; Christmas by Michael Bublé, secular songs primarily, but also with "Silent Night" and "Ave Maria".
Limerick CD
Christmas - A Journey of Hope, is a new CD from a group of priests and lay people in Limerick, including Fr Tony Mullins, Diocesan Administrator and member of the Sagart priests group from the 1980's. The music will be performed in St John's Cathedral on Fri Ded 16th. The CD costs €15 from St John's and the Abbey Book Store. More info here.
Christmas Stamp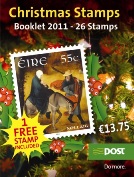 An Post has launched a Christmas stamp featuring Joseph, Mary and the baby Jesus on the way to Egypt. It's based on the painting "Flight into Egypt" by Dutch painter Jan de Beer.
New Book/CD from Lyric FM's Gloria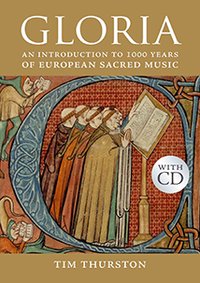 Published by Associated Editions, An Introduction to a Millennium of Sacred Music, features art from Irish collections it also includes a CD of the finest recordings of Christmas music from the Hyperion catalogue. This is a companion book for Lyric FM's Gloria programme, broadcast for many years past on Sunday mornings, and presented by Tim Thurston. The Book/CD package can be ordered here. At this link there are also links to podacasts and information on previous programmes.
Liturgical Arts Group
The Vatican is establishing a new commission for liturgical art and sacred music linked to the Congregation for Divine Worship. The body will study church architecture projects and look the music used at Mass.
Portlaoise Choir CD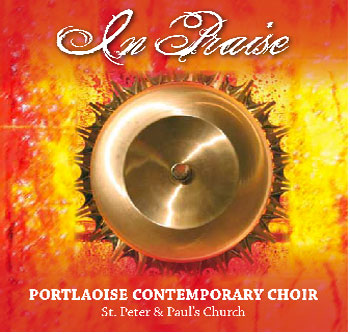 The Portlaoise Contemporary Choir have released a CD 'In Praise' to mark the occasion of their tenth anniversary. The choir is the Contemporary Choir who sing at the 12.30pm Mass in St. Peter & Paul's Church, Portlaoise. The CD 'In Praise' is a culmination of 10 years Music Ministry in Portlaoise and some favourite of the choir and congregations favourite tracks feature on it – 'Knowing You', 'You Are Mine' and 'Stand By Me' to name but a few. Their repertoire is mostly from contemporary liturgical composers such as Liam Lawton, David Haas, Tom Kendzia and Graham Kendrick. The CD costs 10 Euro and is availablr from Portlaoise Parish Centre. More info here.
Death of Jessy Dixon
Renowned gospel singer Jessy Dixon died on Monday 26 Sept 2011 at the age of 74. He was best known in secular circles for collaborations with Paul Simon, but he had a huge career in gospel music. For a New York Times article on his passing click here.

Film: Soul Surfer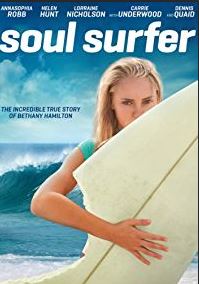 The faith based film Soul Surfer, starring Helen Hunt and Dennis Quaid, opens in Irish cinemas on 23rd September. It tells the true story of a young girl who rises to the top of her sport after a vicious shark attack. The US Catholic News Service review has this to say about it: "Directed by Sean McNamara ("Raise Your Voice"), 'Soul Surfer' is that Hollywood rarity: a film that is not afraid to talk about God or to show a happy, well-adjusted family that makes faith its foundation." Steven D. Graydanus at Decent Films writes: "Soul Surfer does nearly everything you expect it to, but it does it more likably and satisfyingly than you might think it would."
Pope Speaks of Finding God in Art
At a recent meeting with English speaking pilgrims in Rome Pope Benedict had his to say: "Today we reflect on the need to draw near to God through the experience and appreciation of artistic beauty. Art is capable of making visible our need to go beyond what we see and it reveals our thirst for infinite beauty, for God. Dear friends, I invite you to be open to beauty and to allow it to move you to prayer and praise of the Lord. May Almighty God bless all of you!"
New Book from Sr Wendy


Real Presence - In Search of the First Icons, is a new book by Sr Wendy Beckett, famous for her art programmes on BBC. This book looks at early icons of Christ, including from a time in the Church's early history when icons were frowned upon and even suppressed by some in the Church, especially Byzantine Emperor Leo III who clashed with Pope Gregory who issued a document in defence of icons. For a detailed review of the book click here.
Music CD from Trim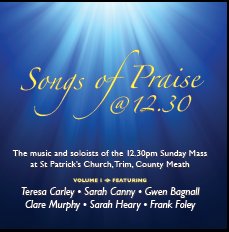 Songs of Praise @12.30 is a new CD from a group of singers in Trim, Co. Meath. The non-profitable, limited-edition CD features some of the town's most recognised soloists who have recorded hymns and spiritual anthems that have been heard at the Sunday 12.30pm Mass since music was re-introduced to that Mass. The performers are Teresa Carley, Gwen Bagnall, Sarah Canny, Sarah Heary, Clare Murphy and Frank Foley. Songs include Stand by Me, Only in God, The Deer's Cry, Voice of an Angel and more.
The CD is on sale at Veritas from 25th July, and due for launch at the 12.30 Mass in Trim on Sunday 24th July. [corrected 22/7/11]


Poetry Website
Emptiful Vessels: This site features the poetry of Fr Seamus Devitt CSSR, a poetic priest of the Redemptorist Order. A wide variety of spiritual topics is covered, and the site layout is attractively simple and uncluttered.

60 Artists Celebrate Pope's Anniversary
60 artists have donated mostly original works of art for the occasion of the 60th anniversary of the ordination of Pope Benedict XVI. These include composer Ennio Morricone.

Of Gods and Men on DVD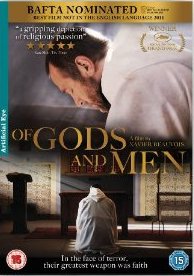 Of Gods and Men - the award winning French film about monks in Algeria being harassed by local extremists is available on DVD/Blu-Ray from Mon 11 February. It was nominated for a BAFTA Award and won the Signis Award for Best European film of 2010 (SIGNIS is the World Catholic Association for Communication and Media). It includes many scenes suitable for Religious Education classes. For the Faitharts review of the film click here.
New John Michael Talbot Album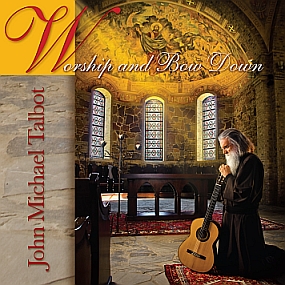 Due for release in June - Worship and Bow Down, Talbot's first studio album in over 2 years, 17 tracks with rich, orchestral arrangements and multi-layered choral background harmonies . Includes John Michael Talbot's new Mass of Rebirth in a beautiful "Contemporary Chant" style (New Roman Missal Translation!). The album can be pre-ordered here.
New film: Cristiada
Due out later in 2011, Cristiada is a feature film about resistance to the enforced secularisation of Mexico in the 1920's. Andy Garcia plays one of the leaders of the resistance, while Peter O'Toole plays a pacifist priest. The film is directed by Dean Wright who worked as visual effects executive producer on the Lord of the Rings and Narnia series.
Sacred Music and the Young
Sacred music has a universal appeal, but a particular attraction for young people, according to a monsignor promoting a concert series in Roman basilicas. Monsignor Liberio Andreatta, who is vice president of Opera Romana Pellegrinaggi, and the commissioner of the artistic agency A Voce Sola, was speaking about a music festival that will take place in St. John Lateran and the Basilica of the Twelve Apostles on the last three Wednesdays of April. For the full story see Zenit newsagency article. Zenit also has a related article on cris and hope in sacred music.
Stations of the Cross for Our Time
Kildare and Leighlin Diocese has provided a Powerpoint and accompanying text of the Stations of the Cross. The original art works of the Stations of the Cross that accompany each written reflection are the work of Ken Cooke and are from the Church of St. George the Martyr in Newbury. The presentation is here and the booklet here.


Scripture Sharing for Lent
Kildare and Leighlin Diocese has launched a "Scripture Sharing for Lent 2011" booklet. The accompanying artwork is from the enamels of Irish artist Anne Murphy. For more information and ordering click here.
Passionist CD


Love Casts Out Fear is a new CD of sacred music from the Passionist order. This initiative is in aid of their Building Fund for Crossgar Monastery in Co. Down. A donation of £10 + £1.50 postage and packaging is suggested. To request CD please contact Eilish at 028 44830242 or Email: secretary@tobarmhuirecrossgar.com
Award for "Of Gods and Men"
The film Of Gods and Men (see below) has won the SIGNIS Award for Best European film of 2010. SIGNIS is the World Catholic Association for Communication and Media. Director Xavier Beauvois' film tells the story of Cistercian monks under threat from Islamist extremists in Algeria. For the Faitharts review of the film click here. The film, as of early February 2011, is still running at the Lighthouse Cinema in Dublin. More info and booking here.
Spirit Radio Launches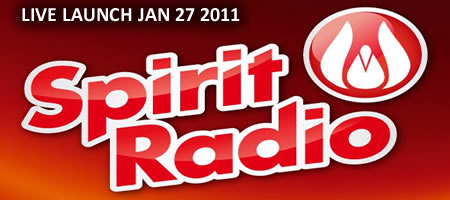 Ireland's first national Christian Radio station launched 27/1/11. Music plays a prominent role in the schedule, and will include specificaly Christian music as well as positive and uplifting secular music. Frequencies: On FM in Dublin 89.9 - Limerick 89.8 - Galway 91.7 - Cork 90.9 - Waterford 90.1 and online. There's an iPhone app, and It can also be found on Nokia Internet Radio app (Download from OVI store).

13th Day on DVD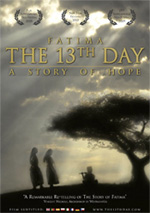 The 13th Day - A Story of Hope, is a modern film (2009) about the apparitions in Fatima and is now available on DVD. Veritas has it available for €19.95, click here. For the Faitharts review of this film (and a trailer) click here and see entry for 17/2/10. One quote from that review: "One thing the filmmakers have achieved is to present this timeless story to a modern audience in an idiom they can understand and relate to". The review suggests possibilities for school use. There's also a detailed review at Decent Films. More information is available at the Internet Movie Database here, while the film's official website is here.
Official Hymn for the Eucharistic Congress 2012
Preparations for the Eucharistic Congress in Ireland in 2012 are well under way. The official hymn for the event, Though We Are Many is now available. It's a specially commissioned piece and was written by Bernard Sexton. Click here to hear the song and to download the sheet music.
Priest Poet
Fr Martin Kelly from Belfast has released a CD of original poems which deal with his life experiences. The Rhythm of the Ordinary is available from Veritas. He discovered his love of writing in Portasferrry in 2004 and is currently PP of Drumbo and Carryduff.
Word of God at the Globe Theatre
In 2011 Shakespeare's Globe Theatre in London will celebrate the 400th anniversary of the King James Bible which was completed in 1611, and the enduring power of dramatic language with a season entitled 'The Word is God'. The theatre season will commence with a cover-to-cover reading of The Bible and a small-scale touring production of Hamlet, presenting a rare opportunity to experience the two foundation stones of the modern English language back-to-back. Around the Easter weekend a simple, unstaged recital of The Bible – one of the greatest pieces of world literature – will only be interrupted by performances of Hamlet – widely celebrated as Shakespeare's intellectual masterpiece – which opens at the Globe on Shakespeare's birthday, 23 April, before it takes to the road for a UK and European tour. The season's theme will be followed through with the first Globe production of Christopher Marlowe's Doctor Faustus, the greatest tragedy in English before Shakespeare, which tells the tale of a man who sells his soul to the devil for power and knowledge. Later in August, The Globe Mysteries will present a fresh perspective on The Mystery Plays, using the Globe's historically resonant auditorium to look anew at the earliest form of English drama, which retells the story of the bible, using street theatre and processional performance. More info here.
Hymn for World Youth Day
The official hymn for World Youth Day has been released. This is the Spanish version - English version should be available soon. Called Firm in the Faith it is performed by the Youth Orchestra of the Community of Madrid and the Youth Choir of the Escolanía de El Escorial. The accompanying video (left) features touching scenes from previous World Youth Days, including a young adult Baptism. Fr. Enrique Vázquez composed the music, while Msgr. César Franco, general coordinator of WYD and auxiliary bishop of Madrid, composed the lyrics. More information, other versions of the song, and sheet music is available here.
Sagrada Familia
On 10th Nov Pope Benedict celebrated a Mass at the Church of the Holy Family in Barcelona, the famous Sagrada Familia of architect Antoni Gaudi. In his homily he spoke of the element of catechesis in Gaudi's marvellous artwork - He spoke of how Gaudí was "filled with devotion to the Holy Family of Nazareth," and "inspired by the ardour of his Christian faith, succeeded in raising this sanctuary as a hymn of praise to God carved in stone." Benedict said that Gaudí used his craft to "bring the Gospel to everyone." "For this reason," the Pope explained, "he conceived of the three porticos of the exterior of the church as a catechesis on the life of Jesus Christ, as a great rosary, which is the prayer of ordinary people, a prayer in which are contemplated the joyful, sorrowful and glorious mysteries of our Lord."
There Be Dragons Film
There Be Dragons is a new film by Roland Joffe (The Mission, The Killing Fields), due for release in 2011. A trailer is now available as is a website with resources related to the film. In part it features some key moments in the life of St Josemaria Escriva, founder of Opus Dei. It aims to promote a message of forgiveness, finding peace with the past and overcoming inner dragons.
New Lawton Album and Tour

Due out on Dec 1st, a new album from Liam Lawton - Courage Can Cry. Here's what the official website has to say about it: "Courage Can Cry is album about hope over adversity. It's about the triumph of the human spirit when we can lay the ghosts of fear to rest, and dare to journey within, finding the hidden reserves lying within each one of us". New tours dates are also available for the Chrismas season: click here for details and booking.
Christmas Album from The Priests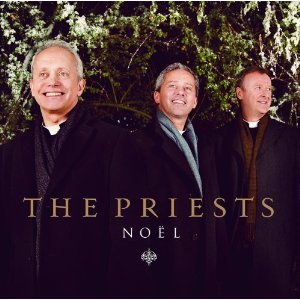 Noel is the title of a new album due out from The Priests. Release date is the 6th December. Track list is as follows: 1.Ding Dong Merrily On High 2. First Nowell, The 3. Sussex Carol 4. Little Drummer Boy/Peace On Earth 5. Holly And The Ivy, The 6. Away In A Manger 7. God Rest Ye Merry Gentlemen 8. In The Bleak Midwinter 9. In Dulci Jubilo 10. Joy To The World 11. Silent Night 12. O Come All Ye Faithful 13. What Child Is This 14. Hark The Herald Angels Sing. More information and purchasing options at Amazon, and at The Priests own website.
New Album from Angela Hutchison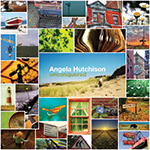 Canadian Gospel singer Angela Hutchison has released a new album - Unconquered - which is available to order from her website (click on the music page link) , or the album can be downloaded from iTunes and from Amazon. On these download sites track previews are available. All songs are original except for the Rich Mullins song Quoting Deuteronomy.
Diocese Susan Boyle Christmas CD


The Gift is Susan Boyle's new Christmas CD, due out on 15th November. Tracks include The First Noel, Do You Hear What I Hear, Away in a Manger and Come All Ye Faithful, along with some non-seasonal songs like Make Me A Channel of Your Peace. More information, including pre-ordering and a video exclusive at Amazon's page for the album.
Gregorian Chant CD


Voices - Chant from Avignon is a new CD due out in November. It features the singing of a community of Benedictine nuns from near Avignon in France. The nuns from Our Lady of the Annunciation Abbey were chosen out of a selection of 70 convents worldwide. More information, including a video, and purchasing options is available on Amazon's page for this album.

Christmas CD
Our Lady's Choral Society is set to launch their Christmas CD in late November. This will include original arrangements of traditional and new carols, and there will be orchestral accompaniment with guest artists. More info from their website: www.olcs.ie

First Holy Communion Book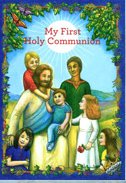 My First Holy Communion is the first publication from a new publishing company Clonmacnois Press. It is written by Deirdre Mary Ascough and features colourful artwork by Lisa E Brown. From the publisher: "this book takes young readers, in the company of their parents and grandparents, into the mystery of the Eucharist as they prepare for their First Holy Communion. This fascinating presentation tells a bird's eye version of God's story of love for his children that is found in the Bible and explains First Holy Communion in the context of that great adventure". More information, purchasing options and sample illustrations here.


Logos Review
Logos Review is a "journal of arts and ideas" in harmony with the teaching of the church, produced by the Logos Institute. The 9th Edition is now available free online here. Back issues are also available.
One Billion Stories
Seth de Moor is the creative force behind this website, onebillionstories.com featuring videos of Catholic witnessing, telling their individual faith stories, singing their spiritual songs. Many of the clips were filmed by deMoor as he journeyed through the USA. Religious educators should find lots of useful material here.
Imogen Stuart Award
Sept 2010- Famous sculptor Imogen Stuart has been honoured with the McAuley Medal for her contribution to the arts in Ireland. The ceremony took place at Mary Immaculate College in Limerick which gave Ms Stuart one of her first big commissions. Peadar Cremin, the current president of the College praised her "remarkable fusion of early Christian imagery, German Romanesque art and 20th Century expressionism.

Alma Mater Special Offer
Universal Music has a special offer on the album "Alma Mater - Music from the Vatican". Featuring an illustrated book with an account of the Pope's pilgrimage private writings from His Holiness and all the lyrics from the album. Neatly packaged with the book is the CD album and accompanying DVD featuring a 22-minute documentary on the making of the album. It's €11.99. Available here.
Rap Song For Papal Visit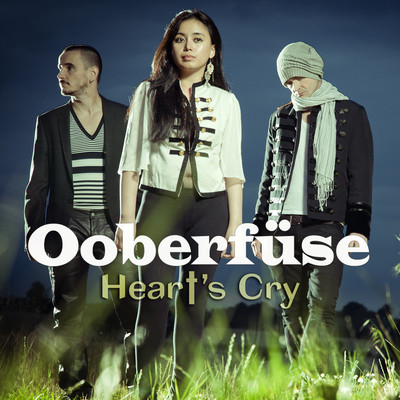 A rap song has been chosen as youth anthem for the upcoming Papal Visit to the UK. The song is Heart's Cry by Catholic trio Ooberfuse, who are from London. Worldwide digital release date is 12th Sept, but the song can be heard by clicking here. The includes extracts from one of Pope Benedict's speeches, where he declare: "evil will never reign in the hearts of men again."
CALL FOR PAPERS:
Abstracts are invited for contemporary art and Christianity conference on the 20th of November 2010 at the Avila Centre for Spirituality, Dublin. The theme of the conference is The Baptised Imagination. (Abstracts of 250 words for 20-30 minute presentations.) The organisers are interested in submissions from across all artistic disciplines as well as relevant theological papers. This is the third in a series of conferences, primarily aimed at visual artists. An AGM of the group will be held after the presentations. Further information and submissions: Baptisedimagination@gmail.com m: (+353) 87 4108165
Award for Janey Mary
Dubliner Paul Brady has won the Best Director Award for his short film Janey Mary, at the Mirabile Dictu International Catholic Film Festival in Rome. The film is based on a short story by James Plunkett. This is 5th international award for the film. For more info, trailers and a facility to buy the film check out the film's official website.
Tom Jones Gospel Album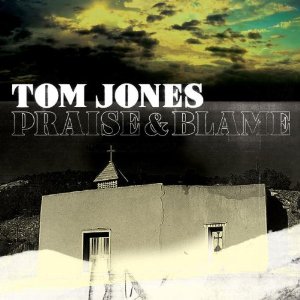 The next album from Welsh pop singer Tom Jones will be a gospel album! Praise and Blame is due for release on July 26 and features many of the songs Jones grew up singing in the Welsh valleys. There has been some controversy about a leaked email in which the record company's Vice President is supposed to have called the project "a sick joke", but others wonder if this might be a marketing ploy by the company.
There's a video about the making of the album at Amazon, along with track details.
The Dream of Gerontius
To celebrate the beatification of John Henry Cardinal Newman Our Lady's Choral Society will present the Dream of Gerontius (Text by Newman, Music by Elgar) at the National Concert Hall, on Thursday 2nd Sept at 8 pm. Also taking part are the RTE Concert Orchestra and the UCD Choral Scholars. More info and booking here.
New Emmaus Album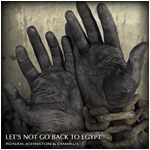 Ronan Johnston and Emmaus have released their new album "Let's not go back to Egypt", a reflection on things economic and spiritual in Ireland for these past couple of years. The album begins with the title track "Let's not go back to Egypt", a romp through the American spiritual landscape recently so successfully occupied by the Blind Boys of Alabama. Then an immediate change of pace with the orchestral (and choral) "Arise Shine", lyrics taken from Isaiah 60. From folk rock (All who are born of the Spirit) to Rock rock (I Belong), from quiet meditation of "because of the Lord's great love" to the wig out of "Hush (and listen)" this is Emmaus back to their collective ideal of having a real wild mix on every album. More info here.

Christian Artists
The International Society of Christian Artists is holding a conference in September 2010, from 28th Sept until 2nd Oct. Location of the conference will be the Abbey in the beautiful village of Schlierbach in Austria. The aim of the conference is mainly to build on relationships and also to provide the possibility of taking part in two workshops: leaded glass and glass fusing.

New Liturgical CD


Ancient Promise is a new CD of liturgical music arranged by Ronan McDonagh. At the recent launch in Maynooth it was presented by music group Fuaimlaoi. The CD includes many musical settings, in Irish and English. There is an accompanying book as well. Further details will be available at the Fuaimlaoi website.
Bleeding Hands, Weeping Stone


Bleeding Hands, Weeping Stone - True Stories of Divine Wonders, Miracles, and Messages. This is the title of a new book by Elizabeth Ficocelli, aimed at teens and adults. It is a compilation of extraordinary phenomena in the Catholic Church - Eucharistic miracles, the stigmata, incorrupt bodies, apparitions, amazing abilities of the saints, and weeping statues and artwork. See author's website for more details. The book can be purchased from Amazon. On the Amazon page it is possible to view the first few pages of the book.
Bible Online
Catholic.net has launched a new Bible search engine useful to find quotes or full readings. The Bible can be searched by part, book, chapter verse, phrase etc. It should be useful for teachers planning graduation masses and other ceremonies. Quotes can be easily added to Facebook and other social networking sites (You may have to temporarily allow pop-ups to use this feature - e.g. by holding down the "Ctrl" button when clicking the Facebook link). Try it here.
Music to Unite East and West
May 21st: At a concert in the Vatican with Eastern Orthodox representatives Pope Benedict reflected on the potential of music to bring East and West closer together. Read the full story here. The Russian Patriarch of Moscow sent a message to the Pope for the occasion - "To Understand a People, It Is Necessary to Listen to Its Music", he said. Read his address here.
Pope Benedict on Music
After a recent (late April) concert in the Vatican Pope Benedict spoke of the value of music in education - ""The study of music has high value in the educational process of the person, inasmuch as it produces positive effects in the individual's development, fostering his harmonious human and spiritual growth," he said. "We know that the formative value of music, in its implications of expressive, creative, relational, social and cultural nature, is commonly recognized." In relation to spirituality in particular he said that music is "capable of opening minds and hearts to the dimension of the spirit and of leading persons to raise their gaze on High, to open to absolute Goodness and Beauty, which have their ultimate source in God."
Eucharistic Congress CD
A new CD of music for the Eucharistic Congress (Dublin 2012) has been launched (April 2010). Becoming the Body of Christ features music by the Dublin diocesan music group directed by Fr Pat O'Donoghue. More info on liturgical music and resources in Dublin Diocese here.
Nigel Connell Album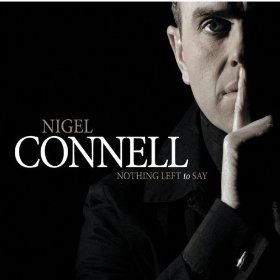 Nothing Left to Say is the new album from Nigel Connell. Connell has performed with Liam Lawton, a features some of Lawton's songs on the album. Much of the material is self written, and some of the songs have spiritual themes. The album credits feature one "to God above for blessing me with my talents". Sample tracks can be heard on the artist's website and on Amazon. There will a special event to celebrate the album on Mon April 19th in The Old Darnley Lodge, Athboy. Read the Faitharts review of the album here.
Diploma in Church Music at Maynooth
Diploma in Arts (Church Music) is a part-time course offered by the Department of Music, NUI Maynooth. It is conducted in association with the National Centre for Liturgy. For further information see www.may.ie/academic for access to the Department of Music, NUIM or contact Professor Gerard Gillen, Department of Music, NUIM, Maynooth, Co Kildare. Contact information: The Pontifical University Office, St. Patrick's College, Maynooth, Co. Kildare. Tel (01) 708 3600/708 3890 Fax (01) 708 3441
Song For Year of Evangelisation
At the recent Emmanuel choirs event the winning song in the competition for the Year of Evangelisation was performed for the first time. Raise Your Voice was written by Padraig Meredith, from Newbridge and Anna Keegan from Dun Laoghaire. The sheet music for the song can be downloaded here (piano) and here (guitar).
Catholic Novels
Carmen Marcoux has been writing novels with a romantic flavour for Catholic young people, which aim to promote Pope John Paul II's Theology of the Body, and to encourage good values relating to marriage and relationships. Arms of Love and Surrender are the two novels published so far. For more info click here.
Stations of the Cross Resource
The Kildare and Loughlin website is currently offering a Stations of the Cross resource - it can be downloaded as a pdf file or as a Powerpoint presentation. The resource is a combination of art works and meditation - art work is by Ken Cooke. The Resource can be downloaded here.
Post Grad Diploma
There's a Post Grad Diploma in Spirituality and Leadership in Education organised by Marino Institute of Education. This one-year programme aims to provide participants with the knowledge, values and skills in Catholic educational leadership that will enable them to facilitate efficient and effective leadership and administrative practices. For more information contact: Aiveen Mullally Course Director Marino Institute of Education Griffith Avenue Dublin 9 Ph: Email: aiveen.mullally@mie.ie More info here.
There Be Dragons
There Be Dragons is a new film by Roland Joffé (The Mission, The Killing Fields, City of Joy), which deals with incidents in the life of St Josemaria Escriva, founder of Opus Dei. Arising out of the horror of the Spanish Civil War, a candidate for canonization is investigated by a journalist who discovers his own estranged father had a deep, dark and devastating connection to the saint's life. A release date in 2010 is expected. IMDB Entry here. Official film website here.
The Perfect Game
Coming to cinemas in the USA in April - The Perfect Game, the true story of young Mexican baseball players finding dignity and success with the help of a dedicated coach and a helpful priest. It is reported as having a strong faith element. No Irish release dates planned yet. Check out the official website.
New Beth Nielsen Chapman Album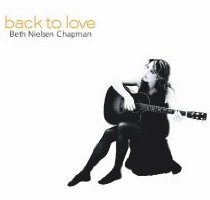 Back to Love is the title of Beth Nielsen Chapman's new album (released January 2010). This doesn't seem to be as overtly religious as her Hymns and Prism albums, but it looks like there are some general spiritual and uplifting themes. Tracks include, Peace, Happiness, and The Path of Love. Previews of the songs can be heard on Amazon.
New Teachers' Group
The Association of Catholic Teachers is a new network, mostly of Primary Teachers, with the aim of sourcing good RE resources for the primary classroom. They produce a regular E-Bulletin with lots of such ideas including arts resources. Some of the resources would also suit junior classes in secondary school. Anyone interested can email irishcatholicteachers@gmail.com
Patty Griffin Gospel Album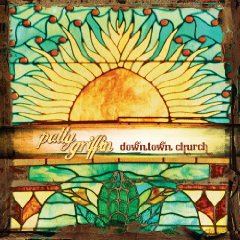 Highly regarded US roots singer Patty Griffin has released an album of gospel songs. Downtown Church was produced by Buddy Miller, no stranger to gospel, and features guests like Shawn Colvin, Emmylou Harris and gospel group The Fairfiled Four. Songs include All Creatures of Our God and King, Wade in the Water, Virgen de Gaudalupe, We Shall All Be United, and House of Gold. Previews of the songs can be heard on Amazon.
Book on Stained Glass Windows
Lumen Christi - The Stained Glass Windows of Mount St Joseph Abbey by Laurence Walsh OCSO is a new book from Cistercian Press. Mount St Joseph is in Roscrea Co. Tipperary. There's a detailed review (by Raymond Gillespie of NUI Maynooth) of the book in the Irish Times Weekend Review section for Jan 16 2010. Click here to read the review.
Lassus Scholars
Dublin choir, The Lassus Scholars, provided the sacred music for an event in Rome to mark the Year For Priests. Choir director Ite O'Donovan described the concluding mass as one of the highlights of the trip. Ms O'Donovan's diary of the event can be read here. For forthcoming events featuring the Lassus Scholars click here.
Advent and Christmas Psalms


New CD of Advent and Christmas Psalms: Catholic composer Brian J. Nelson has released a new recording of Lectionary Psalms for organ, cantor and choir. The music is deeply rooted in the chant tradition, reflecting both Brian's classical training and immersion in the Liturgical life of the Catholic Church. More info here.
Simpsons and the Vatican
Vatican Newspaper L'Osservatore Romano has commented on the Simpsons, congratulating the show on its 20th Anniversary. The show is praised for "realistic and intelligent writing", but there is also a reference to "excessively crude language, the violence of certain episodes or some extreme choices by the scriptwriters." More details here.
The Priests: New CD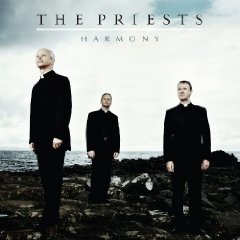 Harmony is the new CD by the Priests. Their previous CD broke the Guinness world record for the fastest selling classical debut album of all time. This new album features well known songs like Amazing Grace, You'll Never Walk Alone and How Great Thou Art, along with lesser known pieces like When Thou Art Near, King of Kings and Lift Thine Eyes. There are audio samples at the relevant page on Amazon, along with a video of The Priests singing Amazing Grace live at Gladstone Library.
Splendors of the Magnificat
Splendors of the Magnificat is a beautiful art book and audio CD with 11 of the most inspiring musical renditions of Mary's Magnificat. - 11 meditations on Mary's Magnificat prayer of praise, along with 65 high-quality reproductions of sacred art with commentaries - More than 1 hour of splendid music. More info and sales here.
Mary Duff CD


Recently released CD from Irish singer Mary Duff features 13 INSPIRATIONAL SONGS, FEATURING THE PRAGUE FILM HARMONIC ORCHESTRA. Track Listing: 1. Voice Of An Angel 2. Be Still And Know I Am With You 3. Panis Angelicus 4. Ag Criost An Siol 5. There Is A Place 6. Nearer My God To thee 7. Ave Maria 8. If I Can Help Somebody 9. Amazing Grace 10.O Holy Night 11.Let There Be Peace On Earth 12.How Great Thou Art 13.Goin' Home
Susan Boyle CD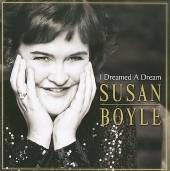 "I Dreamed a Dream" is the new CD from Susan Boyle (Britain's Got Talent star) which features some spiritual music, including Amazing Grace, Silent Night and How Great Thou Art, along with some popular secular material, like Daydream Believer, Cry Me a River and title track I Dreamed a Dream. Audio samples are available here at CD Universe.
CD: Christmas at St. Michael's Abbey
This CD features the propers of the 3 Christmas Masses sung by the choir of priests and seminarians at St. Michael's Abbey, in Silverado California. The chants of the Norbertine Order are slightly different from the Roman versions and add a richness to the patrimony of Church music. They are recorded here by the fathers in the abbey church. More info and audio samples here
Daniel O'Donnell Gospel Album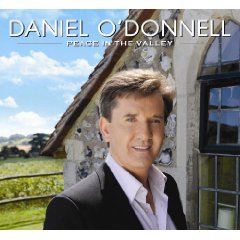 Daniel O'Donnel's new album Peace In The Valley features 15 new recordings of inspirational favourites, including "Peace In The Valley", "Mansion Over The Hilltop", "Just A Closer Walk With Thee" and "I'll Fly Away", all of which have been recorded by some of the most famous artists in the Country/Gospel genre, including the title track which was made famous by Elvis Presley. Tracks can be previewed at Amazon.
Song for a Winter's Night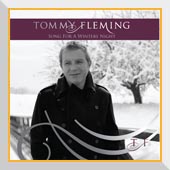 Tommy Fleming's new album Song for a Winter's Night is available from Friday 4th December 2009. Tracks: Walking in the Air, Bells are Ringing, Angels We Have Heard on High, In the Bleak Mid Winter, Christmas 1915, O Little Town of Bethlehem, The First Noel, It Came upon a Midnight, Who Comes This Night, Wexford Carol, O Holy Night, Silent Night, Song for a Winter's Night. Also released is the DVD of the same title, recorded live in Belleek Castle, Ballina, Co. Mayo in a unique intimate setting with an invited audience of family and friends. The DVD features 20 tracks including many Christmas songs from the album "Song for a Winter Night", along with some of Tommy's favorites including "The Orchard", "Wait 'till the Clouds roll by", "Old Clothes" and many more. The CD and DVD are available from the usual outlets and from the artist's website.
Alma Mater Album Released

The highly anticipated album from Music From The Vatican, 'Alma Mater' featuring the voice of Pope Benedict XVI is out now - Dec 09. You can order your copy of this album now from Amazon, or buy in the usual oulets. At Amazon you can also preview all eight pieces of the specially commissioned beautiful blend of gregorian chants and contemporary classical melodies. At the official site of the album there are videos relating to the album including a performance from the Vatican Choir.
Choirs for Christmas Competition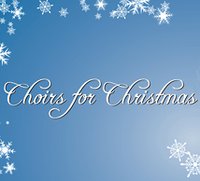 Now in its eleventh year, the established RTÉ lyric fm Choirs for Christmas Competition invites choirs from all around to country to share their music making with lyric listeners throughout the Christmas Season. Choirs from all corners of Ireland competed in last year's celebration with some outstanding entries coming from Dublin, Kilkenny, Wexford, Limerick, Mayo and Wicklow. Deadline for entry is Friday December 4th 2009. More info here.
Resonance of the Gift
Theology of the Body inspires beautiful music - Resonance of the Gift: Musical Reflections on Theology of the Body. A set of 12 piano hymns by Peter Gerard Baklinski, to soothe the heart and uplift the spirit, celebrating the truth, meaning, and power of human love within the divine plan. Available on CD or downloadable mp3. Listen to a sample or order here. All orders shipped FREE until Christmas.
New Christmas Albums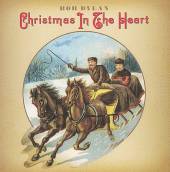 New Christmas albums for this year include: Christmas in the Heart, by Bob Dylan (see left), My Christmas by Andrea Bocelli, A Cherry Cherry Christmas by Neil Diamond, and The Irish Tenors Christmas. There are also some Christmas songs, including "Gabriel's Message" on Sting's new album If on a Winter's Night, and Midwinter Graces by Tori Amos also features some Christmas material, including "Coventry Carol". For more details, including song samples go here at CD Universe.
Music From the Vatican - Alma Mater
This new album, Alma Mater, is due out on 30th November 2009. It features a range of music and includes the voice of Pope Benedict, who along with the Choir of the Philharmonic Academy of Rome will be releasing recordings of eight original pieces of modern classical music – proceeds from the album will be used to provide music education for underprivileged children around the world. More info, including the facility to pre-order the album, is available on the official website for the project.
Pope Benedict on Music
At a piano concert in the Vatican on 18th October 2009, Pope Benedict reflected on the power of music: "Music is a part of all cultures and, we might say, accompanies every human experience, from pain to pleasure, from hatred to love, from sadness to joy, from death to life ... We see how, over the course of the centuries and millennia, music has always been used to give a form to that which we are not able to speak in words, because it awakens emotions that are difficult to communicate otherwise". He also referred to the ability of music to become prayer: "Music," he said, "great music, gives the spirit repose, awakens profound sentiments and almost naturally invites us to lift up our mind and heart to God in every situation, whether joyous or sad, of human existence. Music can become prayer." Full text of the speech here.
New Film on Fatima
Due for release in USA in October 2009, The 13th Day is a new film about the apparitions of Our Lady of Fatima. There are no plans currently to release it in Ireland, but the DVD can be pre-ordered from the film's website - www.the13thdaymovie.com where a trailer from the film can also be seen. The film is written and directed by Ian And Dominic Higgins.
New Film on Life of Mary
Mary, Mother of Christ is due for release to cinemas in April 2010. It will star, among others, Al Pacino (Herod), Camilla Belle (Mary), Peter O'Toole (Simeon) and Jonathan Rhys Meyers (Gabriel and Lucifer!). The script was written by Barbara Nicolosi (a Catholic and founder of ACT One–a screenwriting school aiming to empower Christians in Hollywood) and The Passion of the Christ co-writer Benedict Fitzgerald. More info here.
Pope's New Album
Reported by Reuters news agency: - A Muslim, a Catholic and an agnostic composer have contributed music to an album called Alma Mater featuring Pope Benedict singing and reciting prayers, which is due for release in November. Read more here.
NEW CD from Louth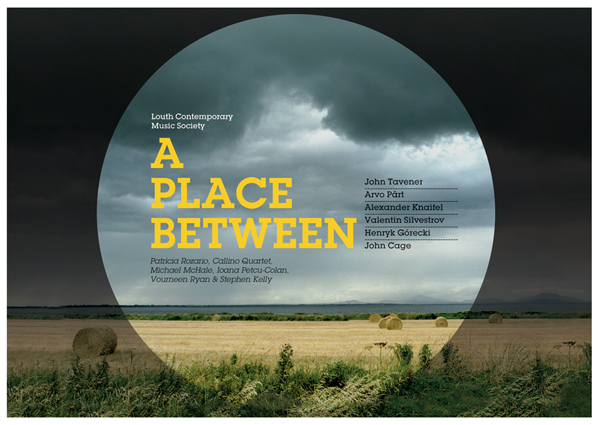 The Louth Contemporary Music Society has released a new CD featuring many spiritual pieces. The new disc is titled A Place Between, and features world première recordings of works by John Tavener, Arvo Pärt, Valentin Silvestrov, Alexander Knaifel as well as pieces by Henryk Górecki and John Cage. All of these composers have, in various ways, been deeply influenced by profound spiritual, religious or cultural encounters. The CD intersperses beautiful works for string quartet (Silvestrov's meditative "Ikon", Tavener's deeply moving "Ikon of Joy/Sorrow," Pärt's reflective "Da Pacem Domine") with two solo piano works (Pärt's uplifting "Hymn to a Great City," Cage's melodic and expressive "In a Landscape"). Górecki's memorial for Michael Vyner "Good Night" and Knaifel's mystical "O Heavenly King" both feature the haunting voice of soprano Patricia Rozario. Silvestrov's 25.X.1893 lullaby is a melancholic and lyrical piece for violin and piano.
Quilty Artists
Quilty Artists is new group for Catholics intersted in the arts, especially those who pratice the arts. Their new website is in blog/forum format and is in the early stages of development. There's an opportunity to share personal stories of one's experiences with the arts and faith, a chance to share song lyrics, a prayer section, and ideas to inspire beautiful artists!
Award for Secret of Kells Film
Tomm Moore, Director of Cartoon Saloon's THE SECRET OF KELLS accepted the prestigious audience award for best Feature film at the 33rd Annecy Animation festival in France on Saturday June 13th. Moore received his Crystal award from Jean-Pierre Jeunet, director of Amelie and Alien 4. The festival, one of the most respected events for animation film in the world, screened 525 films including 27 feature films over a week. With over 120,000 tickets sold it is one of the largest film festivals in Europe. Henry Selicks's feature CORALINE and Adam Elliots film MARY AND MAX shared the Jury prize for best feature, with the audience choice going to THE SECRET OF KELLS. Tomm Moore was not the only Kilkenny native to be honoured on the night. David O'Reilly, who trained in Cartoon Saloon while a student and also from Kilkenny received the Special Distinction Award for his film Please say something, a film which won him a Golden Bear at the Berlin festival earlier this year. THE SECRET OF KELLS is released on DVD in Ireland August 7th 2009
Latest CD from the Hutchisons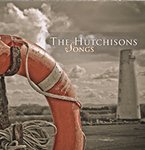 Songs is the latest CD from Canadian group The Hutchisons- it's gospel folk, acoustic style with great harmonies and subtle backing. Three songs from the album can be played from their new website, where there's also an option to buy the album and earlier releases, including Angela Hutchison's solo albums. "Songs" has a particular focus on heaven, and how the hope of eternity sustains us through earthly suffering.

Little Oak Glass
This is a stained class workshop in Kerry that produces all sorts of stained glass works, some of a spiritual nature. Check out the "Glance at Glass" series on their blog. One of the items on the page is a stained glass window featuring Our Lady, which can be seen in Waterville Church Co. Kerry.
CD - A Song for all Seasons
This CD by Emmanuel Mc Stravick from Belfast will feature 10 catholic songs and a new song dedicated to Our Lady that will be released as a single.This album will help fund the Passionist Fathers in Ireland and also a major pro-life organisation. Each song will be represent a particular saint from the Catholic Church and features themes of hope and healing. It will be released in September 2009.
Scorcese Movie on Martyrs
Renowned director Martin Scorsese is reported to be working on a movie about the Japanese Martyrs. Filming is due to begin in New Zealand in 2010. The work will be based on a novel, Silence, by Catholic author Shusaku Endo, which tells the story of a Portuguese missionary from the 17th Century and the martyrdom of early Christians in Japan.
Resource for Music Ministers
The Diocese of Kildare and Loughlin has produced a guide for music ministers. On their website there is an introduction and extracts from the resource along with a link for downloading the full resource. Click here.
New Album from Liam Lawton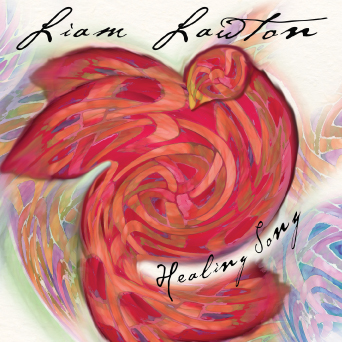 Healing Song is the latest album from Liam Lawton, due to be released in May 2009. It is a new collection of liturgical music, featuring the orchestrations of Mark Cahill, The Prague Philharmonic Orchestra and the St Colman's Cathedral Choir under the direction of Dominic Finn.
Added 7/6/09: Hear clips from the album here.
Added 31/10/09: Read review of album here.
The Courageous Heart of Irena Sendler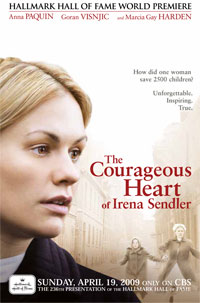 This is the title of a new TV movie premiering on April 19th in USA. It tells the story of Irena Sendler, a Catholic social worker in Warsaw during World War Two who risked her life to save Jewish children from the Nazis. Anna Paquin stars in the title role, with Goran Visnjic co-starring. For the official website of the film click here. The site includes materials for teachers, including links for further study, and a short video on the making of the film. Sendler died in 2008.
Ireland's Own Article
The Ireland's Own issue of March 6th 2009 features an article on "Holy Hollywood", a wry and lively view of the relationship between Hollywood and religion, by Tom McParland.
The Secret of Kells
The Secret of Kells is an animated film featuring a fictional story about the writing of the Book of Kells currently showing in Irish cinemas. Music is by Kila and Bruno Coulais (Les Choristes). The official website for the film is impressive (www.thesecretofkells.com) and includes related worksheets for primary and secondary schools. The secondary version is here. See also the blog entry for 24/3/09.
Celtic Joy


Celtic Joy: A Celebration of Christmas - another new Christmas album for 2008 - this time featuring Nóirín Ní Riain with her sons Eoin and Micheál Ó Súilleabhain. Style ranges from Sean Nós to Gregorian Chant, and tracks include: Coventry Carol, Ave Maria, Salve Regina, The Holly and the Ivy, Song for Jerusalem and The Beatitudes.

Enya - And Winter Came


Enya has released a seasonal album And Winter Came, which features some Christmas music - including the standards O Come O Come Emmanuel and a choral version of Oíche Chiúin (she released a solo version a few years ago). Other tracks include Journey of the Angels, Spirit of Christmas Past and White as the Winter's Night. The lyrics are available here.
Chant - Re-release for Christmas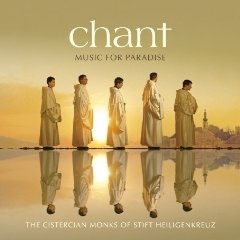 Chant - Music for Paradise (Universal Music) an album of Gregorian Chant recorded by a group of young monks of Holy Cross, a Cistercian Abbey in Austria. was released in May 2008, and has now been re-released in a 2-disc edition for Christmas, with extra tracks for the season, including music for Advent Vespers, Advent Mass, Christmas Lauds and Christmas Mass. For more information and reviews see the Amazon listing.



James Kilbane Christmas Album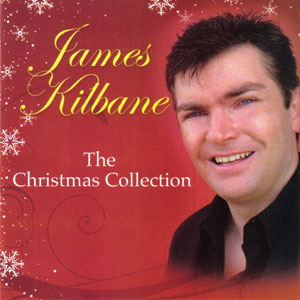 Irish gospel singer and former You're a Star finalist James Kilbane has released (Nov 2008) his first Christmas album. The Christmas Collection features many Christmas standards like Little Drummer Boy, When A Child Is Born, Away In A Manger, One Holy Night and Mary's Boy Child, along with some lesser known Christmas material. This is James' seventh album - check out his other gospel material on his website. All James Kilbane's music is available on download at iTunes, Napster or CDBaby.


The Priests Album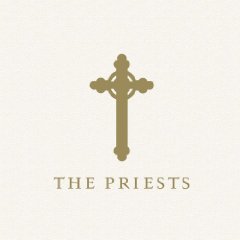 Three Northern Irish priests, Eugene O'Hagan, Martin O'Hagan and David Delargy have a new album (Nov 2008) which is expected to do well in the Christmas market. Released by Sony BMG, tracks include Ave Maria, Panis Angelicus, Benedictus, Pie Jesu , Abide With Me, Ag Crióst an Síol and O Holy Night. There's a full track listing, a video interview with the Priests and a chance to buy at Amazon.
See The Priests singing here.




Mary Chapin Carpenter Christmas album


Just released (Oct '08) new Christmas album by Mary Chapin Carpenter - called Come Darkness Come Light - Twelve Songs of Christmas it features traditional songs like Once in Royal David's City and Children Go Where I send Thee, with new songs writen by the singer. Genre spans country/acoustic rock/folk.
Saints and Scholars
Saints and Scholars, a CD of rare liturgical plain chant sung by the group Schola Gregoriana from Maynooth is now available from Veritas shops, the National Concert Hall music shop and St Patrick's College Maynooth.
Vision - The Musical
Vision is a musical re-telling the story of Bernadette of Lourdes in a modern idiom, with rick, pop and jazz influences. Written by Jonathan Smith and Dominic Hartley, and originally performed in 2002, this year has seen performances in England, Nigeria and Lordes itself. Check out the website for more information, including upcoming performaces, a downloadable score and a recording of the Lourdes event.
Irish Priest's New Novel


Fr William King, parish priest of Drumcondra, has published a new novel - Leaving Ardglass. Set in 1950's Ireland it tells the story of two brothers, one of whom becomes a priest and one a builder in England. This is his third novel. More info here.
Vatican Bans Filming
The Vatican has banned the use of churches for the filming of Angels and Demons, a new film based on one of Dan Brown's books, a prequel to the Da Vinci Code story. Some scenes are set in the Vatican and other churches. A Vatican spokesperson said that Brown has "turned the gospel upside down to poison the faith".
New Musical on Mary
Mary of Nazareth, a Story that Continues is a new musical on the life of the Virgin Mary, which has Vatican support. Alma Menera, a former Miss Italy plays the title role. The musical is also sponsored by the Italian Senate. More details here.
Church Architect
North by Northwest: The Life and Work of Liam McCormick is a new book by Paul Larmour and Shane O'Toole about one of Ireland's most prominent architects of modern church buildings. His best known churches include St Aengus' Church, Burt, Co. Donegal.
Chant Music
Chant - Music for Paradise (Universal Music) is a new CD (released in May) of Gregorian Chant recorded by a group of young monks of Holy Cross, a Cistercian Abbey in Austria.



Lourdes CD
Lourdes Where Miracles Happen is a new (Feb 08) 17 track music CD launched to mark the 150th anniversary of the appearances at Lourdes. It is dedicated to the people who have travelled to Lourdes with those who are ill.
New John Michael Talbot Alum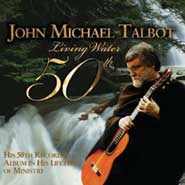 Living Water is John Michael Talbot's latest album, his 50th. There are samples to listen to on his website, and the album can also be ordered from there. It includes more songs for worship - A Kyrie, Sanctus, Gloria and many other tracks. On the news section of the Catholic Music Network site there's an enjoyable account of a presentation made to JMT on the occasion of this 50th album. Read it here.