Blog Oct-Nov 2010
30/11/10
Lately I've been doing my Transition Year module on Religious Themes in Drama. You can get an idea of what I do from the "Previous Blogs - Drama" link on left, or here. I've many of the old reliables, but have added some new material. Covering TV drama I was delighted to be able to use the final scene of US drama Lost - (clip on left) where all the main characters gather in a church to get ready to move on into the next life. When Jack meets his decesed father in the sacristy you can see a rather unusual stained glass window in the background - featuring the symbols of the major world religions, though the church seems predominantly Catholic, and certainly Christian. Even playing it in class I found it quite moving, though I've seen it several times. It certainly held the attention of the class. In general the clips that worked best were those from programmes the students were familiar with, like Lost, Prison Break, The Simpsons. The latter I used in a class on animated drama - I used a clip from the episode where Homer and Bart become Catholic. There are some crude references and what might by some be considered anti-Catholic prejudice, but, employing judicious selectivity, I played a scene that includes the vision of Protestant Heaven (very sedate, like a refined country club) and Catholic Heaven (much more fun, including Jesus bouncing on a trampoline!). This year I also inclded clips from The Miracle Maker (life of Jesus) which uses cartoon and claymation. Some students were familiar with this from Primary School, and it did hold the attention.
10/11/10
If you like that last video here's another in a similar vein, a fine version of Angels We Have Heard on High, also by Sixpence None the Richer. This song and other Christmas classics are available on the band's album "The Dawn Of Grace" (2008). Sample and/or buy the album at 7Digital. "The Dawn Of Grace" features 8 Christmas classics and 2 original recordings! Also includes "Silent Night" (see below) featuring Dan Haseltine from Jars Of Clay
9/11/10
Admittedly it's rather early to be listening to Christmas music, but I came across this version of Silent Night by the group Sixpence None the Richer and thought it deserved an airing. Nice animated video to go with it as well - probably more suitable for primary than secondary school. Have got two new Christmas albums this year so far - more of those anon. For more Christmas music from past years click on the Christmas link in the "Previous Blogs" section on the left.


29/10/10
Have been sampling some seriously good spiritual (and other) music over the last week and will write it all up over the next few days. For starters I'd like to draw attention to a new radio programme - Religion Matters on Kildare FM (Kfm broadcasts on 97.6fm and 97.3fm ). It is presented by Brenda Drumm on Sunday mornings 8-9 am - worth getting up for! If you're not in the Kildare area you can listen online at http://www.kfmradio.com/ . Last Sunday morning the music was well chosen - suggestions had been made to the busy Religion Matters Facebook page. My favourite was Sarah McLachlan's haunting version of the Prayer of St Francis - play clip on left. Brain Kennedy sang Liam Lawton's Allelu, as Gaeilge, The Prayer, sung by Katherine Jenkins covered the more classical side of things, while pieces from the Mission perfectly matched the occasion - Mission Sunday. You can listen back to the show at http://www.kfmradio.com/kfm-podcasting.html
13/10/10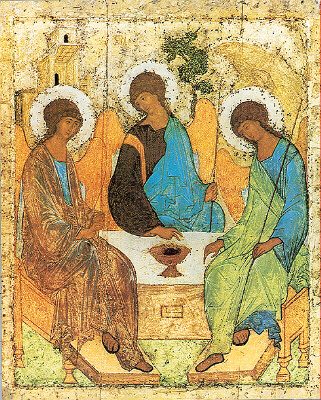 Have been looking at the section on Signs and Symbols in the Junior RE course. Some of the students have taken well to it - one student who was great at coming up with suggestions for various symbols said he was really "in the zone" on this topic. Tomorrow we'll be working on Icons, in particular Rublev's Trinity Icon (left) - there's good stuff on that in Orla Walsh's book Know the Way. If the internet is working in my room tomorrow I'll be using a nice little web resource on the icon - check it out here. The reflections are simple, and navigation through the resource is easy too.
3/10/10
Watched the film Raising Helen last night and was surprised by how positive it was towards religion and how warm towards people and good values. Kate Hudson is excellent as Helen, a swinging party girl who must grow up fast when she has to raise her sister's children when the sister dies. At one stage she prays that God will find her a good school for the children and immediately passes a Lutheran faith school - "That was quick" she says/prays. There's a very funny scene where she pretends to the pastor (she calls him "Father Pastor") that they are all Lutherans. The Pastor jokes that they will have to have a blood test to prove it, but Helen doesn't get the irony and says the kids can have no blood tests, on medical grounds. Later, when the pastor asks her out on a date, she feels terrible that she may have lead him away from God and his vows of celibacy - he explains that clerical celibacy is not an issue for Lutherans!
1/10/10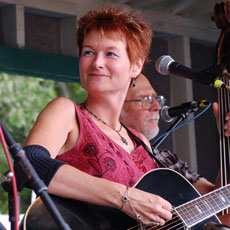 Last Tuesday I ran a gig featuring Amy Gallatin and Stillwaters from USA - it was bluegrass and country all the way. Amy's music wasn't too unlike that of Emmylou Harris, and one of her best on the night was the gospel song Satan's Jewel Crown, though it was a more uptempo version than Emmylou's mournful version (from her classic album 'Elite Hotel'). Another fine gospel song on the night was Sailing On, written by Rick Lang. Amy drew attention to a new album of original bluegrass gospel songs by Lang - 'Look to the Light', featuring various artists performing his songs. Sounds like it's worth a look.