Blog September 2009
22/9/08
I'm back doing the Sacraments with 6th Year students, and relying at least some of the time on tried and trusted resources. Today I showed the clip from The Mission where the Robert de Niro character chooses his own penance after killing his brother over a woman - he has to haul his armour to the top of a mountain. It's a great scene for dealing with guilt, reconciliation, repentance, redemption. When de Niro is finally relieved, literally, of this burden of guilt, by the indigenous people he had traded as slaves, it's a truly emotional and memorable moment. It was useful to compare this powerful symbol of forgiveness with the students' own symbols which I had them draw in the previous class - suitably hearts and hands figured strongly.
16/9/08
Faith in the Frame is a low-key new series about religious paintings, showing on UTV Sunday nights. Last Sunday prestigious chairman Melvyn Bragg and his panellists locked at the medieval Doom panel paintings in St Peter's Church, Wenhaston, Suffolk. Doom paintings were a gene of their own and depicted rather scary visualisations of Judgement Day. Most of these were destroyed after the reformation by Puritan reformers but this one was whitewashed instead of being destroyed, and much later was rediscovered when a fortuitous downpour washed it clean again. Fr Anthony Sutch wasn't too keen on the sight of Archangel Michael appearing to bargain for souls with the devil, but he wasn't averse to the idea of judgement being prominent - people nowadays had too much of a lovey-dovey Jesus in mind and presumed too much on salvation. He felt to an extent that judgement was within ourselves, and was a consequence of freedom. He reminded us that the cross was originally in the middle of this painting, so that mercy and forgiveness were central, even on a visual level. Church historian Eamonn Duffy thought judgement was about facing up to adult consequences of our actions - in effect the painting, on one level, was a call to grow up! I can't see myself using the programme in RE class - I'd say students would find the discussion boring, and the painting is somewhat graphic, but I found it helped me with my understanding of religious art - not my strong point.
Taizé was the focus of interest on a recent Sunday morning when RTE 1 broadcast a prayer service from the Pro-Cathedral in Dublin, with special guest Bro Alois, the new Prior of the Taizé community in France. I've already used clips of this service in RE class - we were loking at a variety of holy places in preparation for our RE journal, and I though Taizé was worth a mention. Fr Damien McNiece provided an introduction which included a little background information on Taizé, while Archbishop Diarmuid Martin introduced the service. As usual it was wonderfully prayerful, calm and relaxing. The distinctive Taizé chants were hugely evocative, especially for anyone who has previously experienced the music in a prayerful setting. Despite the rise of gospel and contemporary Christian music, the simple music of Taizé, much of it in Latin, is exceptionally popular with young people, who comprised a large proportion of the congregation.
15/9/08
I wasn't expecting to use clips from Amazing Grace (see entry for 14/9/08) so soon in RE class, but we doing a class on morality and the law and predictably the question of slavery came up - I showed the scene where Wilberforce speaks from the deck of a slave ship, and it seemed to hold the students attention and illlustrate the point. The clip on left is a shorter version but contains the relevant speech.

14/9/08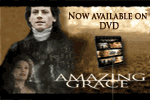 Now that I've survived the shock of getting back to school I'm fit to write again. One new resource I'm going to use soon is a film I saw recently, Amazing Grace. It tells the story on the campaign to abolish slavery in England, focussing on the efforts of William Wilberforce to get an anti-slavery bill through Parliament. It moves slowly, goes back and forward in time quite a bit, but still holds the attention. There are so many clips that could be used in religion class, and not just on slavery and justice issues. For example there's an early sequence where Wilberforce tries to discern his vocation in life - torn between the work of God and his political activities. Eventually he believes he can do both by campaigning against slavery. Other useful clips include a scene where he meets his mentor John Newton, writer of the song Amazing Grace and a former slave ship owner who is now haunted (metaphorically) by the ghosts of the slaves he carried. The representation of slavery is not that graphic, but there are descriptions in another early scene where a group of like minded friends gather at table to discuss the issue with Wilberforce, and later when some well off citizens are given a close quarters experience of a slave ship. The scenes where he addresses parliament should also be useful in holding students' attention and introducing issues.