Arts Resources for Lent
(revised Feb 2021)
Poem 'Ash Wednesday' by Malcolm Guite

Softly and Tenderly (Come Home) - Audrey Assad and Sandra McCracken
Softly and Tenderly (Come Home) - Audrey Assad (with lyrics)
Called to More Web resources, articles and podcast on Lent. Irish site. Some arts content.
Poem on theme of service 'Could Lead and Serve' by Brendan O'Regan
Poem for Lent: penitents and elements by Julia Walsh
40 Days - Matt Maher
Lord, Who Throughout These Forty Days - Chris Brunelle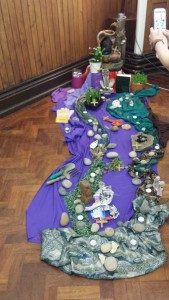 'Lenten Path/Lenten Garden', created by Lizzie Harrison (Youth Ministry Coordinator at the Esker Retreat Centre).
Click here for notes on creating the garden and other Lenten resources:
Lenten Ideas from Dublin Diocese, including artistic Lenten Garden
Come Back to Me - John Michael Talbot
Striking image of the temptations in the desert
Lent: A Season of Repentance - Reflection and music by John Michael Talbot
Create in Me a Clean Heart by John Michael and Terry Talbot
Ash Wednesday and Lent in Two Minutes from Busted Halo
Hymn: Forty Days and Forty Nights
The lyrics of 'Forty Days and Forty Nights'
Ashes by Tom Conry
Lenten Song - Michael John Poirier