Spiritual Outbreak during Pandemic – by Brendan O'Regan
(This original version of this article was published in the July/Aug 2020 edition of Intercom).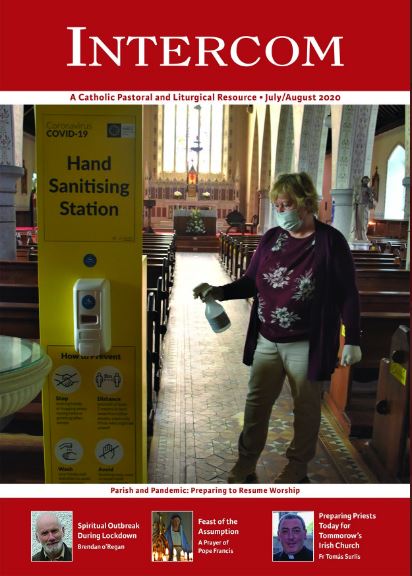 When the lockdown started in reaction to Covid-19 there was a massive shut down of so many worthwhile workshops, concerts, shows and religious services. But it didn't take long for the lively imaginations to kick in and soon there was a spiritual and creative outbreak – and yes, it was online.
Church liturgies had been broadcast online for a long time, a wonderful service for those who couldn't attend in person and those not directly affected were often unaware. Now they know! And now we're familiar with concepts that were alien only a few months ago – Facebook Masses, Zoom Masses … who would have thought?

As regards artistic and creative expresion I first became aware of the creative outbreak when I heard of US singer-songwriter Mary Chapin Carpenter doing one song per night from her own home (with dog and cat in attendance). The simple format particularly suited her intimate style and insightful lyrics. Performers and composers with more religious themes quickly took to Facebook Live, YouTube and Instagram to sing their songs and play their music. Some went live, some recorded first, and the great thing is that some of their output is still available on the various online platforms.

Derry singer-songwriter Eilidh Patterson, whose latest album Journey Maker is made up entirely of spiritual songs, opted for short concerts, 'Live From Lockdown', from her home over several Sunday evenings . Beki Hemingway, an American singer-songwriter now living in Ireland was an early adopter and with husband Randy performed a wide range of songs, some spiritual in a broad sense (e.g the prayer-like 'Thank You for the Rain') – it was one song per night on weekdays and that was fine! On the classical front Andrea Bocelli had millions of viewers in April for his short concert from the Duomo cathedral in Milan – his rendition of 'Amazing Grace' from the front of the Cathedral was a highlight.

Irish liturgical composers were active as well. Liam Lawton streamed an impressive live concert from Graiguecullen-Killeshin parish church in mid May; Sr Marie Dunne posted videos of some of her beautiful songs on YouTube, with intentions related to the pandemic - e.g. 'A Candle For You'; Ephrem Feely was active online as well, posting a variety of pieces through his channel - e.g. 'Come O Holy Spirit of God'; Rónán Johnston, along with wife Joanne streamed several soulful songs on Facebook. On 24th May Ian Callanan streamed a live concert on YouTube, 'straight from the farm'. In early June Bernard Sexton produced the beautiful virtual choir version of 'God Will Wipe Away All Tears' on YouTube. American composer Steve Warner, currently working as Music Director in Newman University Church, St Stephen's Green, Dublin, conducted a webinar on music and culture which was quite unique, and linked in to the new CD of his music ('Easter in Ireland'), with the Newman Vocare Ensemble based there. Indeed the small community there has been playing a blinder – daily masses with music, Taizé nights on Tuesdays and Rosary from Our Lady's Chapel.

Singer-songwiter Johnny Duhan has a unique itimate style and his live broadcasts on Facebook perfectly suited his combination of songs on stories – he went for a series of Monday night concerts based on his back catalogue, autobiography and unique reflections on trends in the arts - e.g. 'The Fab Four and the Four Evangelists'.

I've been a fan of US singer-songwriter John Michael Talbot for ages, and apart from broadcasting encouraging messages on Facebook, he also has been offering concerts. Another US singer Jenn Bostic ('Jealous of the Angels'), was in the middle of a UK tour when the Covid axe fell, but when she just about got home she played concerts from home on the dates she would have been due to go live over here. Check out two songs she sang for Easter here.

Then of course there were those virtual choirs and split-screen performances. My favourite was the version of 'Be Not Afraid' by 'Catholic Artists From Home', which inluded Talbot, Dan Schutte, John Angotti, Sarah Harte and many more. Coming in a close second was a 'Day Is Done (All Through the Night)' by the Notre Dame Folk Choir Alumni.

For some of these performers the lockdown had drastic effects on their incomes, so it was perfectly understandable for some of them to have sought to monetise their online output. Some stayed free, some had online 'tip jars' and some had a registration charge in advance before you could access the concerts – all good!

Sometimes, especially in the early days, the audio or video quality was ropey, some camera angles were unusual, but I found that many of the performers improved on this front as time went on – they too were learning new skills.

This selection has been a personal one rather than a comprehensive overview of all the good spiritual and religious stuff out there – I think there's a book in that.
Brendan O'Regan