Classroom Resources on the Theme of Remembrance
by Brendan O'Regan
A friend recently asked me about resources on the theme of remembrance for November, which got me thinking. This page is the result ... I hope teachers will find it useful, not just for remembrance, but for bereavement situations in school. As I looked back on some of this material I found it can be quite saddening and while students need to have their sadnesses acknowledged I think it's important not to have them absorbed by sad thoughts of death. Many of the resources I've recommended have uplifting, forward looking messages
I was originally asked to suggest a film for the occasion, and A Walk to Remember (2002) sprung to mind. It's a trendy teen film whose heroine is genuinely religious. The opening is dramatic and the film holds the attention with its fine charaterisations. It is not overbearing in its positive messages and that's not all that's going on. Apart from faith it deals with relationships, school bullying, marriage and death. Hard to fault though the ending is somewhat sentimental. I have found that it is popular with young adults.
Music wise we are spoiled for choice and there are many suitable songs that could enhance remembrance prayer services. This is very much a personal selection, and many of the songs are available as downloads on iTunes and 7Digital, or through streaming services like Spotify. My favourite is 'Now is the Time for Tears', by Charlie Peacock from the album Coram Deo (play it on left). Based on Scripture it explores our reaction to bereavement - how there can be times we don't know what to say, or say too much. The lyrics are here, entry for March 12th). Eric Clapton's 'Tears in Heaven' is a touching tribute to the musician's son who died in an accident. Recently I came across a beautiful song on the theme of death by Judy Bailey (from her album Travelling) - she sang it during the World Youth Day vigil in Brazil 2013. You can watch a performance of her 'Life Goes On' on the videos page. The familiar hymn 'Be Not Afraid' should hit the spot as well - there are many versions, from the original St Louis Jesuits recording to John Michael Talbot's version on his Table of Plenty album. Many people find solace in Liam Lawton's 'The Cloud's Veil'. For an upbeat song there's always 'When the Saints Go marching In' and there are many many versions of that, though I have a soft spot for Bruce Springsteen's soulful version on his Live in Dublin album. Beth Nielsen Chapman's album Sand and Water album features many songs about bereavement, written after the death of her husband. For something more traditional there's always the 'Going Home' or 'Time to Say Goodbye'. For a very positive Christian message at times of bereavement there's 'My Redeemer Lives' - I like particularly the passionate and confident version of Mark Heard (clip on right), a talented songwriter who died young. It's on his album High Noon and a various artists album At The Foot of the Cross Vol 1.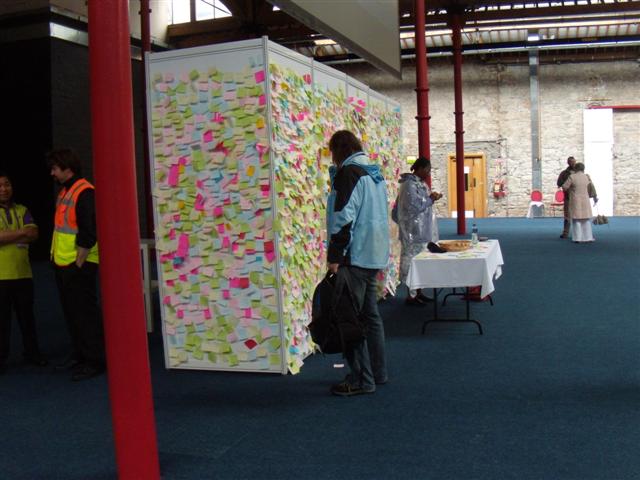 Not sure if it fits exactly under the heading of 'the arts', but a memorial prayer wall might catch the imagination of students. I was impressed by the prayer wall at the Eucharistic Congress in Dublin 2012 (see pic of left) and the idea is very simple - students get to stick coloured post-its with the names of, or references to, those they'd like to remember onto a board or wall. A prayer service with some of the music above could be built around the placing of post-its. I've heard of other schools where students place the names of deaprted loved ones into a small box that gets pride of place in a classroom sacred space or in the school prayer room for November.
There is so much poetry that touches on these themes - 'Felix Randal' by Gerard Manley Hopkins springs to mind - Hopkins, the priest-poet remembers the great blacksmith in his prime rather than in his illness. He reflects on the emotional impact of end-of-life caring both on the carer and the one cared for, and on the impact of the sacraments. I like 'To One in Sorrow'; by Grace Noll Crowell 'I have known a sorrow such as yours, And understand.'. 'Memories and Peace' by Gloria Matthew is a simple and positive remembrance poem very suited to a school prayer service. Christina Rosetti's 'Remember' is interesting but more complex.