Reviews of Events Relating to Religion and the Arts.
14/6/19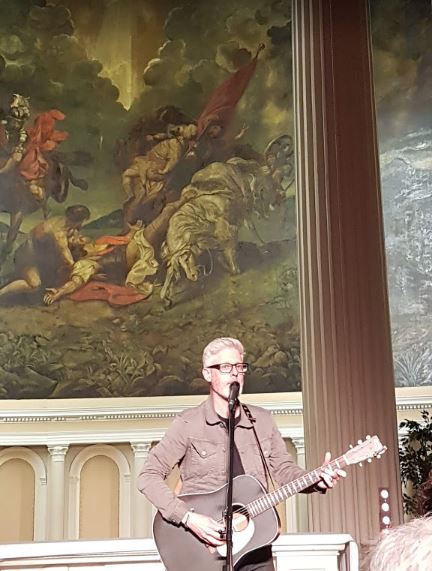 I was delighted to get to see Matt Maher in concert again last Thursday night in the beautiful venue that is St Paul's, Arran Quay, centre for so many initiatives to do with young people and religious faith. Encourage your senior students to connect! Or maybe bring them to an event in the next school year? It was as much a worship event as a concert and spirits were high. It helped to have the lyrics on screen, and even so I was surprised by how many people (mostly young) were so familiar with his music. Many of his songs are pretty much anthems by now - I especially like 'Lord I Need You', 'Because He Lives' and 'Your Love Defends Me'. And he didn't just stick to his own material - there was a powerful rendition of '10,000 Reasons (Bless the Lord)' by Matt Redman. I also like the songs that were less overtly religious – e.g. the tender 'As Good as it Gets'. He accompanied most songs on guitar but towards the end he showed how accomplished he was on piano as well - I'd love to see more of this! Also, his patter between songs was both light and deep, witty and insightful.
28/2/19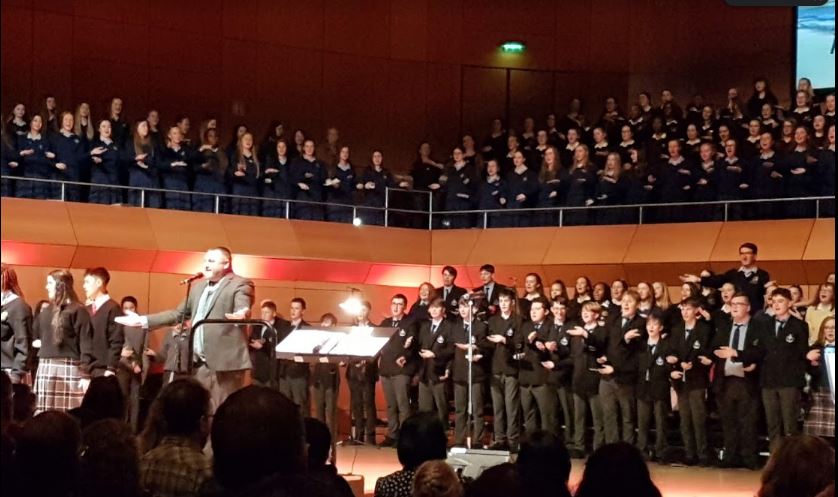 Having missed it last year due to the big snow event I was delighted to get back to one of the Emmanuel concerts last night. As always there was a varied selection of liturgical music sung with gusto by hundreds of secondary schools students, under the excellent musical direction of Ian Callanan and accompanied by a really fine band composed of professional musicians and students. In particular the percussionists played a blinder, with piano and sax quite impressive, along with a brass section that shone especially in the several songs that had a Latin rhythm. The works of prominent composers were included, incl Callanan himself, Liam Lawton, Chris Da Silva, Kirk Franklin, Darlenev Zschech and Irish teacher Ciaran Coll. It was a nice touch to have video greetings from some of these - incl Da Silva, Sarah Hart and Holly Star.
For some reason water was a prominent theme in many of the songs, including the mid-tempo 'Gather at the Water' (Sarah Hart) and the upbeat 'My Lighthouse' (Garth Gilkeson, Chris Llewellyn). There were two Irish language songs, including the swing flavoured 'Molaigí an Tiarna' (Lawton, arr Callanan). As always the choir from the Holy Family School for the Deaf provided a graceful presence.
The songs are available on Spotify - click here and on Youtube click here.
24/8/18
World Meeting of Families - more Arts Events: This morning in the Family Arena a group from Comhaltas Ceolteoirí Eireann provided a lively presentation of music, song, dance and poetry on the theme 'Families of Faith in the Irish Tradition'. The young performers were excellent, and while the presentation wasn't overtly that religious there was a Rosary motif with references to the 'Sorrowful Mysteries' of life, including emigration, and later the 'glorious Mystery of the Irish tradition'.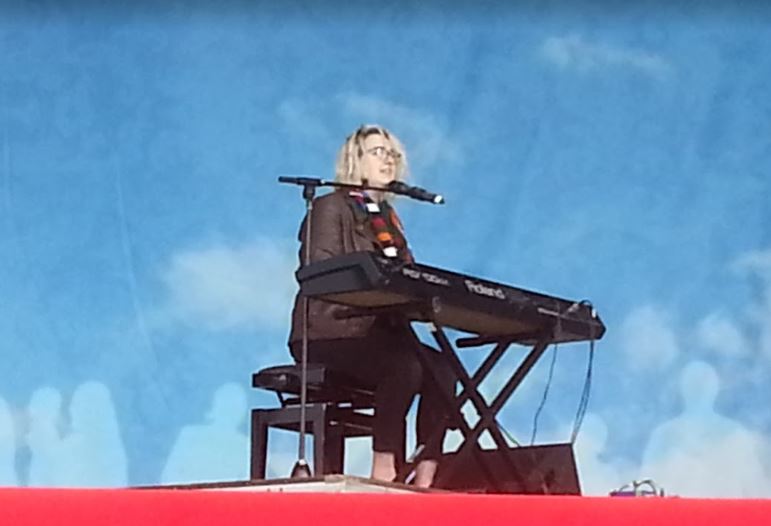 (Audrey Assad at World Meeting of Families)

Again with the morning show the crowd was small but increased when American singer-songwriter Audrey Assad took to the stage. I've long been a fan and was really looking forward to this. With just herself and piano she turned the huge RDS arena into an intimate space for reflection and prayer. She sang some of her best known songs like 'Sparrow' and 'Garden' (co-written with Matt Maher) and her voice soared beautifully, the performance enhanced by graceful hand movements.
Her chat between songs was worthy of note. She said she was coming to us as she was, with her doubts and scepticism. Her songs, she said, were often addressed to herself - she was preaching the Gospel to herself. Despite her doubts she was 'leaning' towards faith, joy, hope and love, while wrestling with Scripture (as in her treatment of Psalm 23 - 'I Shall Not Want'. It wasn't one of her own songs but I loved her heartfelt rendition of Chris Tomlin's 'Good Good Father'.
Assad's performance was entertaining, challenging and inspiring, and all delivered with plenty of good humour.
23/8/18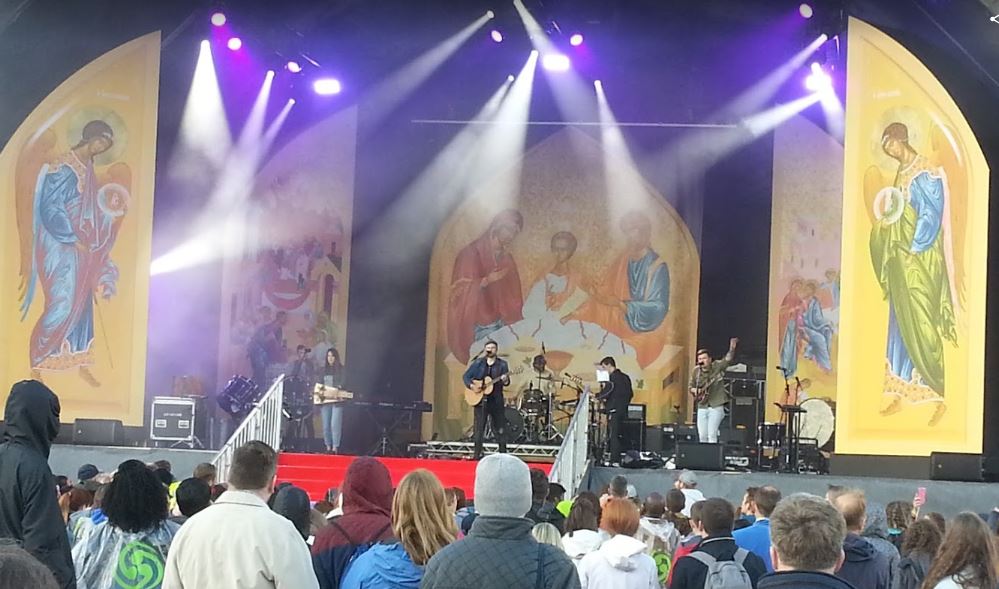 (Rend Collective at WMOF)
World Meeting of Families - more Arts Events: This Thurs morning in the family arena I was delighted to see the group Kisi Kids performing their musical 'Song of Ruth'. It was vibrant and celebratory but with touching quiet moments as well. The music seemed to be on backing tracks but the vocals were fine and the harmonies especially good. The cast was huge, with a mixture of young children and older teens, all performing with gusto and very professionally. Kisi is a movement within the Catholic Church and hails from Austria, but has branches worldwide. Their primary work is performing Biblical musicals. Check out www.kisi.org
Unfortunately with so many other activities, including talks, panel discussions and workshops going on the crowd for the morning performance was small and it deserved wider exposure. It struck me that a Catholic arts festival would be an excellent idea for the future.
Fortunately crowds were bigger in the afternoon for the beautiful music of the Mullingar Cathedral Choristers and the Lynn Singers as they sang well known songs like 'Christ Be Our Light' and 'Cead Míle Failte Romhat a Íosa'. The singing was enhanced by some fine piano and harp accompaniment, with violin and horns as well.
Later the group 'Factor One' sang the catchy children's song 'Please, Thanks You and Sorry' inspired by the words of Pope Francis.
Mid afternoon there was an unexpected set from singer-songwriter James Kilbane at the Veritas stand, and I stumbled on various young trad groups in the Tech Hall.
Then back to the Family Arena for the day's Mass when again the music was exceptionally good. Not sure who was leading the music, combined choirs I think, but I did spot some of the talented folks from Newman University Church, including composer Steve Warner. The Congress theme song 'The Joy of Love' by Ephrem Feeley was an apt opening hymn and I've rarely heard the recessional 'Laudate Dominum' sung with such gusto by choir and congregation alike - I even saw young children singing it out.
Finally, in the evening folk-rock Christian band Rend Collective took to the stage and got the crowd moving. It was great to see young nuns and monks bopping with the teens and young adults. The band had energy to spare and sound Christian messages, and style-wise had something of a Mumford vibe. The effect was enhanced by the variety of instruments, with the addition of fiddle, accordion, and distinctive percussion. 'My Lighthouse' is one of their best known songs and they gave a fine performance of that one. It's not my favourite kind of religious music, but there was no denying the confidence and conviction. Pity it was on at the same time as the Rex Band was playing in the Teen Space as the audience would have been similar.
22/8/18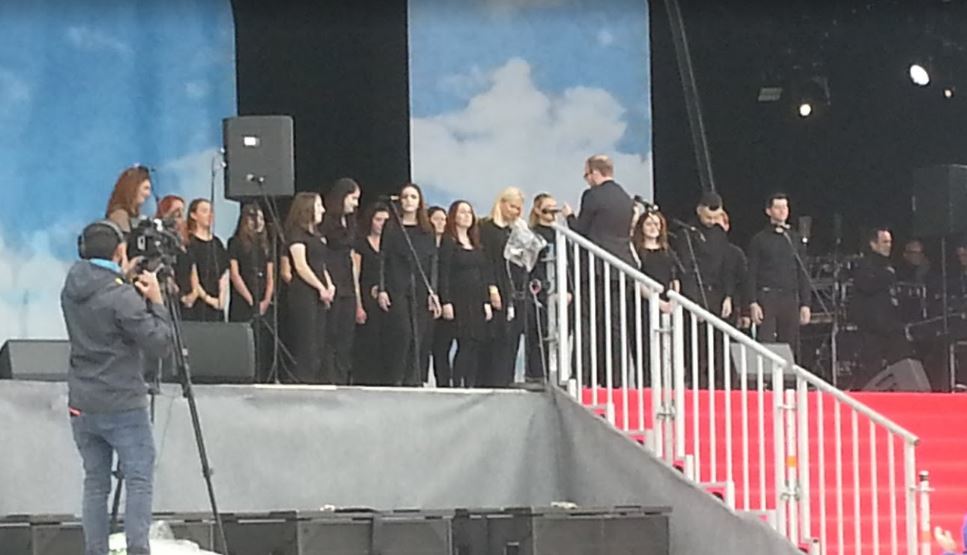 (Our Lady of Victories Gospel Choir)
So, my first day at the Pastoral Congress of the World Meeting of Families was most enjoyable. Apart from catching up with friends there were plenty of arts based activities to enjoy.
First off, over at the Teen Space the Rise Theatre Group, a Christian drama group from Reading UK put on a little drama, 'Race of Life' where life in general was compared to a race, with participants having a choice between the 'Quick Fix' stop or the 'Living Water' rest stop. The former was chosen initially but it led to greed and cut-throat competitiveness, with the Living Water meeting the deeper needs eventually. It was a simple sketch with a simple message but hopefully the teens were provoked to deeper thought and got a chance to tease out the relevant issues in the workshops that followed.
Still in the Teen Space the Elation band were equally at home rocking it up or calming the teens with in the lead in to workshops with the chant-like 'Trust, Surrender, Believe, Receive'
Gospel music fans weren't disappointed with three groups performing today. The Dublin Gospel Choir livined things up early in the morning, unfortunately the crowd was small. They concentrated on familiar material that was borderline Gospel - e.g. 'Something Inside So Strong', 'Lovely Day' and 'Bridge Over Troubled Water', all performed strongly and with confidence. A few weeks ago I heard 'Bridge Over Troubled Water' in the same venue, this time sung by its writer Paul Simon - he said it came from somewhere outside of himself, though he didn't pin down the source of the inspiration.Later Ciaran Coll directed a lively set with the Our Lady of Victories Gospel Choir of Ballymun (pictured above). It seemed more focused on the Gospel and I enjoyed the fact that much of the material was less familiar. Both choirs were in the Family Arena, and in the evening The Gardiner Street Gospel Choir livened up the audience in the Teen Space. From the songs I heard they concentrated on broadly spiritual songs from the mainstream catalogue, e.g. 'You Got the Love'.
Heading back to the family arena I caught an impressive set from the Rex Band, a rock-gospel group from India. I counted about 15 on stage and they certainly exuded lots of Gospel energy. Much of it was upbeat praise and worship material, but some songs had an Indian flavour, and there was a slow pro-life song/presentation 'Cry of an Unborn Child', with its plaintive chorus line 'Let Me Live'. It was a tad more preachy than I like in a song and I'm not a fan of spoken parts in a song, but it was well received, albeit by the small crowd that remained after the main Mass of the day.
The liturgical music at the Mass was beautiful, delivered by a choir (particularly from the ecclesiastical province of Armagh), and small orchestra. The responsorial psalm sung by Karen O'Donovan was a highlight. A link with the Eucharistic Congress from a few years in the same venue came with the inclusion of the theme song from that event 'Though We Are Many' by Bernard Sexton. Before the Mass Archbishop Eamon Martin delivered a keynote address, and introduced it by singing a song of joy - never knew he could sing so beautifully!


9/3/17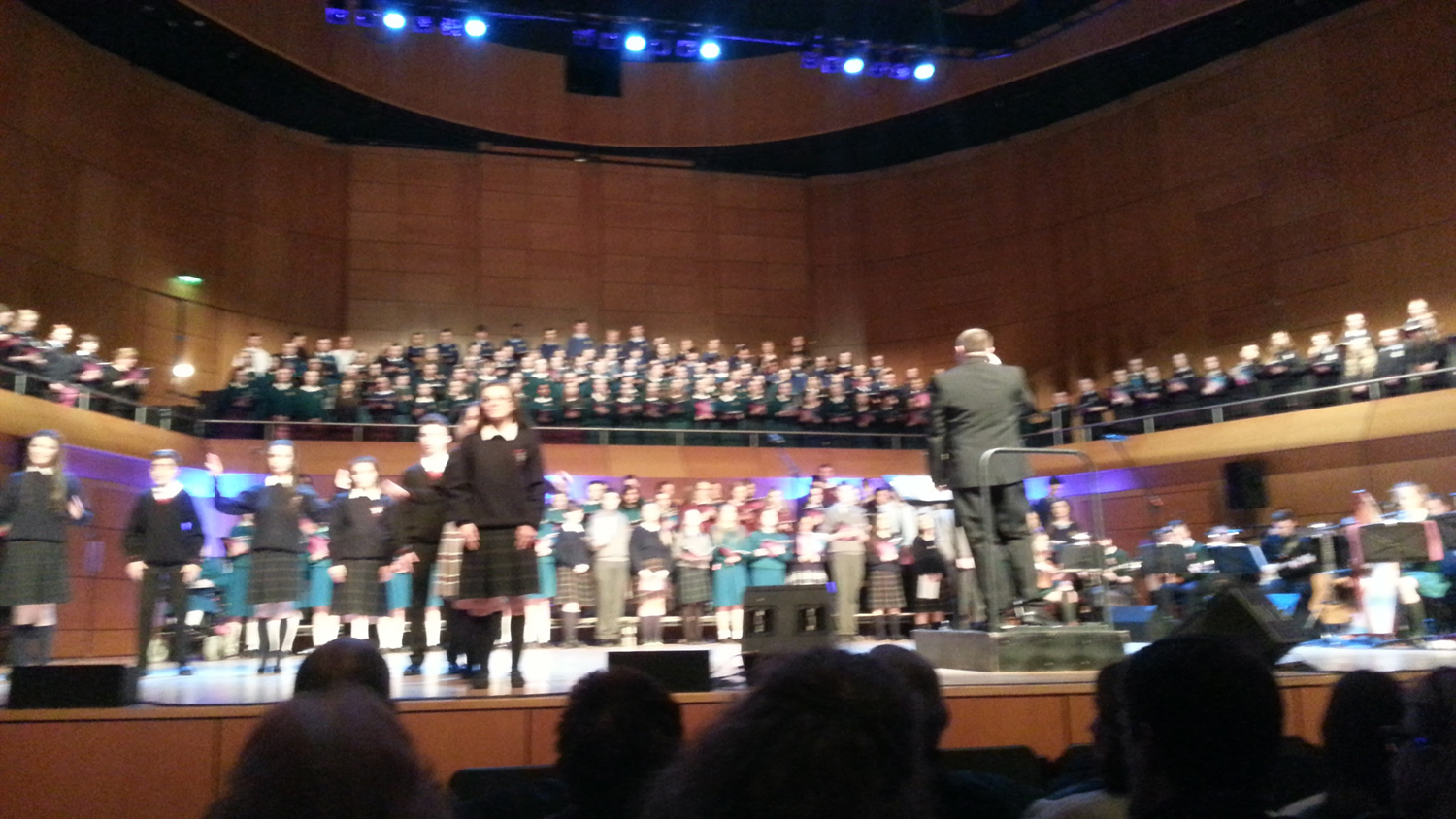 What another great Emmanuel Concert last night at the Helix! It was such an uplifting experience to hear hundreds of young teens singing high quality spiritual songs with such gusto, all under the musical direction of Ian Callanan. I was thrilled to see students from my former school Arklow CBS doing so well, with several solos. It was great to experience the confidence of all the solo singers who sang so well. Some definitely have potential careers in music - the way they comfortably 'owned' the mic and the whole auditorium. It's a winning formula, though this year there were some changes, and they worked well - gone were the slides and instead a few prayer moments led by Callanan and Diocesan Advisor Anna Maloney, who impressed with her striking singing voice. Talk about hidden talent! I was also glad to see music teachers singing on stage or on the balcony with their students. I thought this year's songs were generally more mellow than before, but there were upbeat songs as well - a standout was Callanan's arrangement of 'Wade in the Water'. There were songs for the varying liturgical seasons, but it was strange to be be singing Christmas songs in March - even if it was Liam lawton's beautiful 'Nowell, Nowell'. The audience got a chance to join in on 'Marvellous Things', while the atmosphere was electric when the waving phone lights came out for Matt Maher's 'Abide With Me'. And, as always, the choir from the Holy Family School for the Deaf was impressive. I'm looking forward to listening to the CD.
4/3/16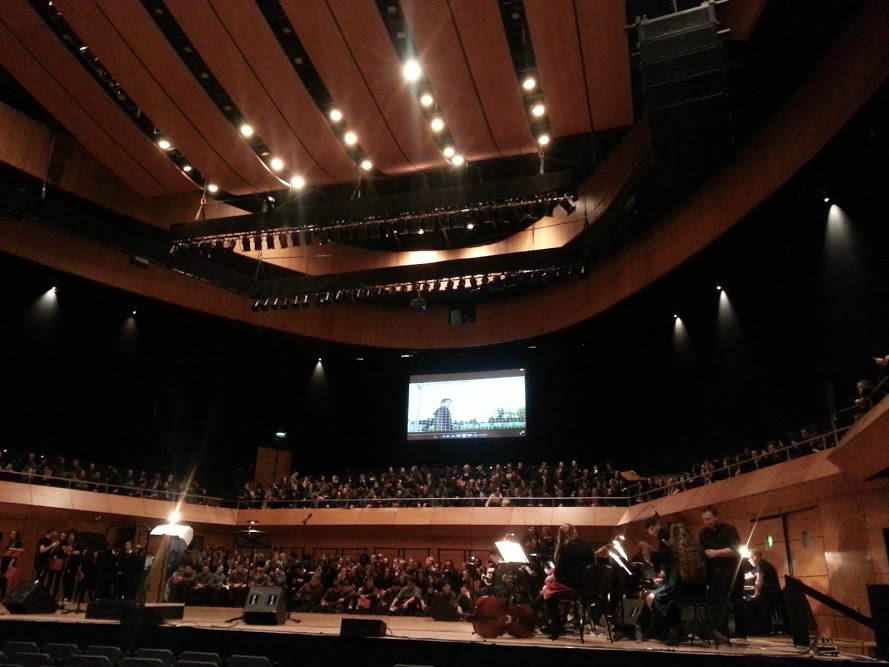 What another wonderful night at Emmanuel! This year the event for school choirs was spread over four nights in The Helix theatre, and I got there on Wednesday night to support my own school Arklow CBS. I was delighted to see quite a few of the Arklow boys getting solos, and they were impressive. In fact all the soloists were excellent .. growing in confidence from year to year. The choice of music was, as always, top notch, with a mixture composers rerepresented, including John Rutter, Liam Lawton, Ian Callanan (music director for the event), Sean O Riada, Dan Schutte, Marty Haugen and many more. I loved the soulful rendition of Matt Maher's 'Lord I Need You' - anthem-like with all the students waving the lights on their mobile phones. The Year of Mercy was acknowledged in many songs, including 'Blest Are the Merciful', the theme song for this year's World Youth Day in Poland, and 'Prayer for Mercy', a medley of 'Kyrie' songs. Unfortunately there was only one song in Irish - 'Ag Críost an Síol', but that was beautiful and enhanced, as all the songs were, by a wonderful slide show presentation that gave me new insights into a familiar song. The musicians were top class on the night and especially noteworthy was the sax and electric guitar work on Callanan's 'Let My Prayer Rise to You'. The Emmanuel event is always a visual treat, but it manages the difficult feat of balancing spectacle and intimacy.
4/12/15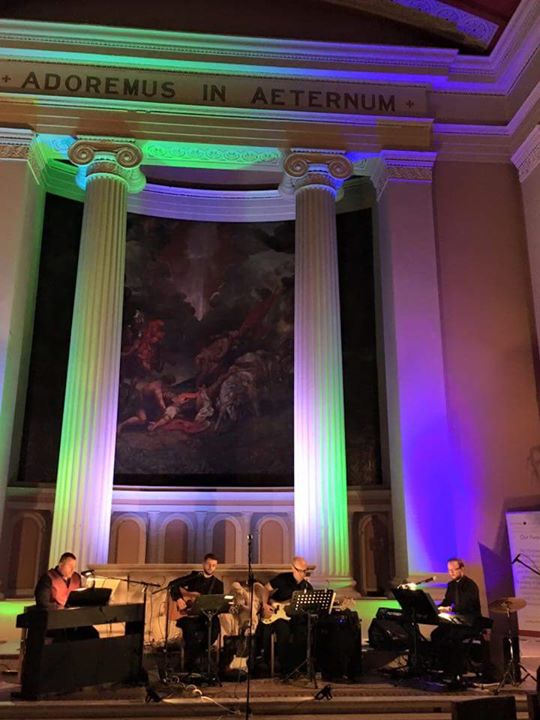 The first Faitharts concert, featuring Ian Callanan and Eilidh Patterson took place last week in St Paul's Arran Quay. Attendance could have been highrer but the music and venue were brilliant I thought. I'm used to seeing Ian Callanan conducting at the wonderful Emmanuel concerts in The Helix, but this time he was in solo performer mode, accompanied by a tight band - 2nd keyboards, bass and guitar. Mostly he performed his own well crafted work, but his cover of 'Winter Song' was also a treat. Derry singer-songwriter Eilidh Patterson's songs were also a hit and since the concert she has released a new EP, six songs including some of the spiritual songs she sang on the night, incl 'Your Love' and 'God Has a Plan'. (Buy it here for £5). Hopefully I'll get to organise another concert in the new year.
11/9/15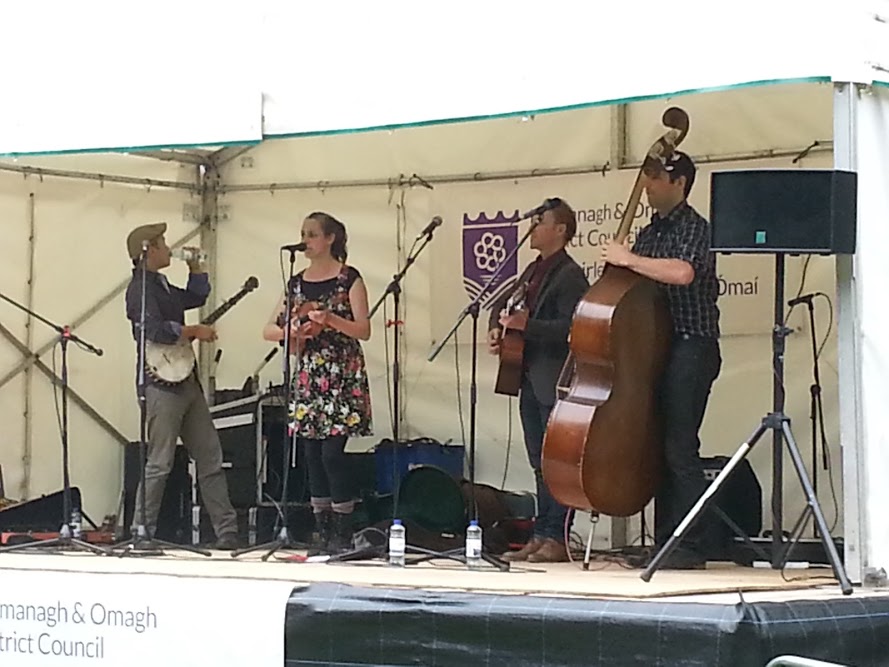 Was lucky last weekend to attend the annual Bluegrass festival in the Ulster Folk Park in Omagh .. what a great venue! The music was excellent if you're into roots music, and it was great to hear bands including gospel music in their sets .. I was particularly impressed by Viper Central (pictured above) from Canada and delighted to come away with their gospel album Live at the Street Church.
Here's a flavour from a 2011 concert: https://www.youtube.com/watch?v=bJT3P-WNPBM

20/8/15
I was away at the Edinburgh Festival ... and wow what a huge range of music and theatre events! The amount of religious content wasn't great, but it was good to see St Mary's Catholic Cathedral involved with lunchtime concerts and also shows on in the attached Camino theatre space. The Protestant 'kirks' also featured some fine music and I was lucky to see a performance that included some religious music from Irish group Ardú in St Giles Cathedral.
One of the musicals I saw was an American High School production of Zorro which was quite colourful and energetic. This featured a confession scene that reminded me of the one in Hamlet ..as in the latter one man's confession was used by another to plot revenge.
31/5/15
I managed to get to a few of the Bible Week events during the week, and arts wise I was glad I got to Frank Brown's presentation on film and the Bible in St Paul's Arran Quay. There were interesting film choices and some news of upcoming films about Pontius Pilate, the Council of Nicea and more ... seems like biblical films are 'in' at the moment .. e.g. the recent Noah and Exodus Gods and Kings. Frank is a pastoral worker in Rathmines parish and runs a film series 'Movies that Matter' with young people in the parish.
5/3/15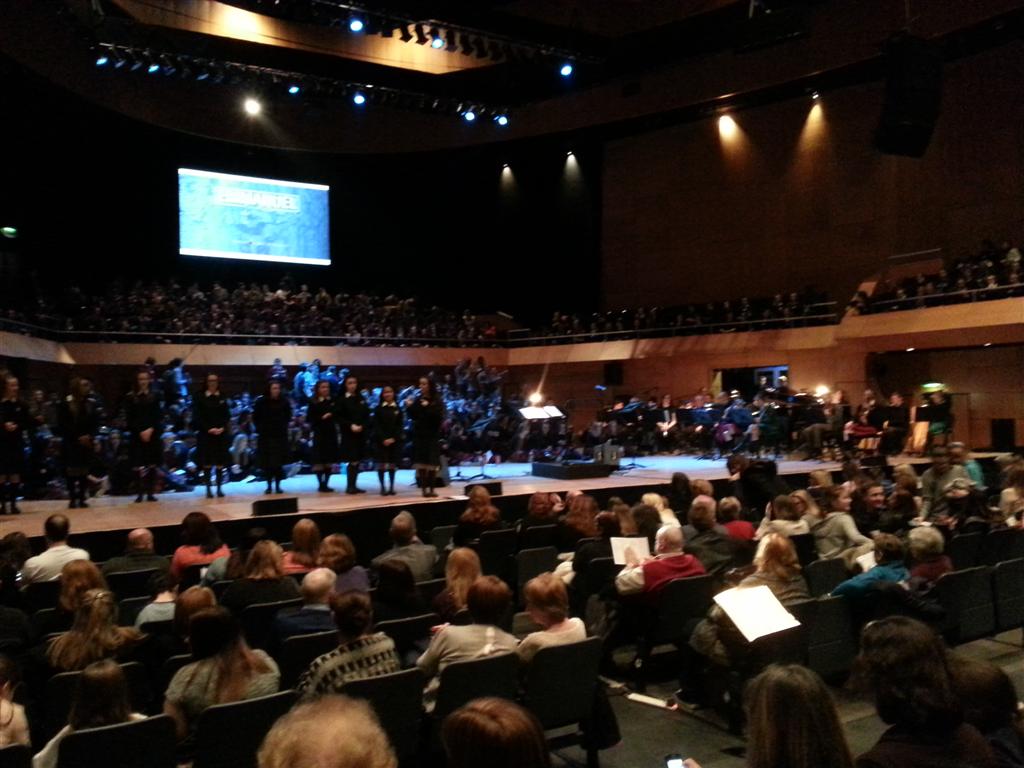 What another wonderful Emmanuel event last night! School choirs gathered from all over Dublin Diocese to sing the best of modern and traditional liturgical music under the direction of Ian Callanan. I was particularly struck this year by the quality of the solo singing. I loved all the songs but a few stood out as exceptional - 'Holy Ground' by Liam Lawton was a most appropriate opening song, 'No Greater Love' by Irish composer Feargal King was blessed with a fine solo and some tasty sax work, 'God Is' a beatiful song recorded by Holly Starr was noteworthy by the students waving their lit up mobile phones. Callanan's own 'Holy Is His Name' had all the choirs signing along with the wonderful choir of St Mary's School for Deaf Girls in Cabra, whose presence has enhanced the Emmanuel concerts for many years now. There were songs in Irish, English and Latin, older songs like 'Veni, Sancte Spiritus' and modern anthems like Matt Redman's 10,000 Reasons (Bless the Lord).
5/12/14

Last Sunday night I had the pleasure of attending the Fuaimlaoi concert in Harold's Cross Church. It was a wonderfully musuical and spiritual experience. It wasn't really a seasonal concert, no harm in that, but there was at least one song suitable for November-Remembrance theme - 'Song for the Last Farewell'. Some of the songs were also suitable for Advent, especially the moving 'Seacht nDólás na Maighdine', with its gorgeous harmonies and outstanding solo (thanks Karen O'Donovan!). Most songs were written or arranged by the choir's director Ronan McDonagh and the style is certainly and distinctively Irish, with a blend of Celtic/liturgical influences. This was enhanced by the use of whistle and uileann pipes, but there were also classical elements, with the choir accompanied by violin, viola, cello and organ. You can check out Fuaimlaoi at their website, where you can also find details about their CD Ancient Promise.
11/6/14
Still catching up. This week I've been attending events for the Ecumenical Bible Week. In particular there are presentations on the Bible and Film and the Bible and Music. On Monday I got to the film presentation in the Presbyterian Church in Arklow and it an excellent night. David Shepherd, Assistant Professor of Hebrew/Old Testament in the Loyola Institute and Trinity College, explored many aspects of the Bible and film, focussing especially on the recent film Noah and what director Darren Aronofsky intended. He reflected on the biblical and non-biblical aspects and had plenty of clips to illustrate the point. He also looked at Mel Gibson's The Passion of the Christ especially the portrayal of the non-scriptural Veronica, and where her story might have originated. He related this to a much earlier portrayal of her in a film by French director Alice Guy Blaché, who started making films in 1896 and died in 1968!
Last night there was another good session, this time in the local Methodist Church, with Ian Callanan speaking about The Bible and Music. Mr Callanan treated to the audience to lots of background information on how music features in the Bible and what instruments were used in Biblical times. He had the audience singing as well as he took us on a musical journey from Creation to the Revelation. Finally there was a helpful handout for people to reflect on what they had learned.
10/6/14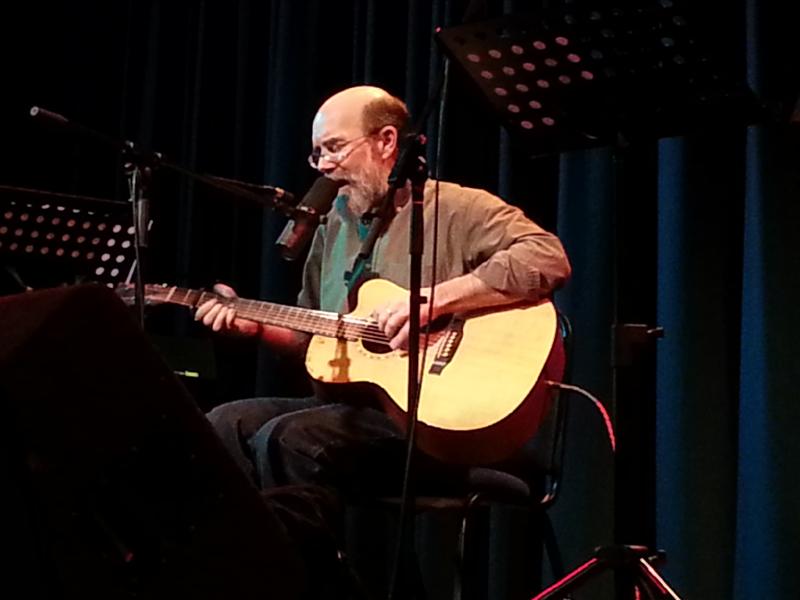 Lots of catching up to do here. I've been fortunate to attend several wonderful events in the last while. One of the best was the Michael Card concert in Liberty Hall last Friday night. I've been a fan of Card for years and it was great finally get to see him live, and I wasn't disappointed. The night was like a kind of musical sermon - apart from the great songs his chat between songs featured much thought-provoking reflection of scripture, and while it was challenging it was also easy on the ear, gentle, witty and wise! The familar songs were there - Joy in the Journey, Immanuel and a fine rendition of Why, songs I've used many times in school prayer services. It was great to get added insights into the songs from his introductions. El Shaddai was notable by its absence, but he did try some new material, all of it good.
A bonus on the night was the support act, husband and wife team John and Michelle Thompson from Nashvile. They sang some folk-gospel duets - hope they back for a full tour.
8/5/14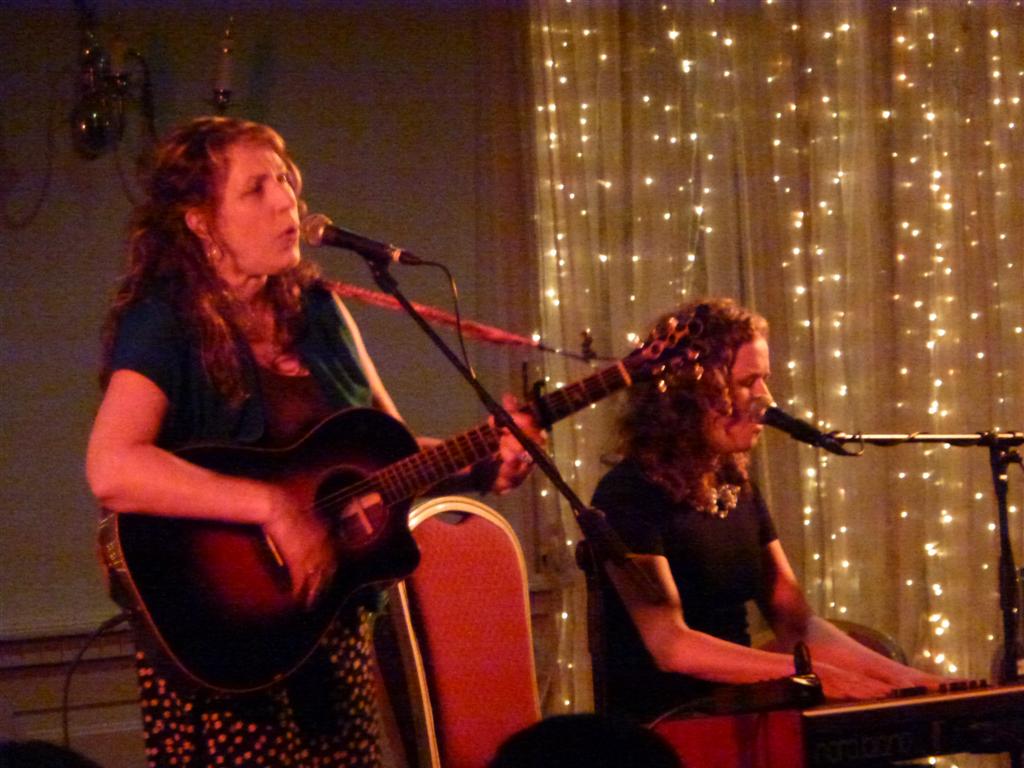 Had a great concert in Arklow last Thursday night with Beth Nielsen Chapman. I think I can safely say it's the first gig I ever ran when somebody sang in Latin! She did a lovely version of Mozart's 'Ave Verum Corpus', and also another spiritual song 'Pray' that she sang recently on BBC's Songs of Praise. And she sang her moving song about bereavement, 'Sand and Water'. What a treat, and what a lovely person! I was also inspired by her encouraging words about creativity and her songwriting advice given at a workshop with the music students in Arklow CBS. Chapman was accompanied by Ruth Trimble from Belfast who also impressed with her own thoughtful and well-crafted songs.
12/12/13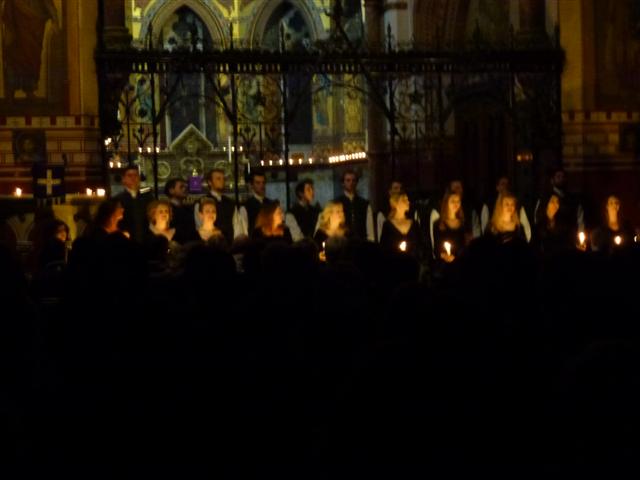 I got even more into the Christmas spirit last weekend by attending an Anúna concert in St Bartholomew's Church, Ballsbridge, last weekend. In fact it was the Christmas material that I liked most about the concert - there was a particularly fine version of 'Away in a Manger', a sprightly 'Ding Dong Merrily on High', and some traditional songs like the 'Coventry Carol' and the 'Wexford Carol'. Of the less seasonal material I loved the round 'Jerusalem', especially when the singers moved around the Church with candles (as they did for several songs) to create an interesting soundscape and a striking visual effect. Michael McGlynn added some quirky humour, and also worth noting is his comment as to how he regrets the Catholic Church making enough of its musical heritage. Probably true, in some parishes at least, but then you can also have churches with hugely impressive choral work, but so good that it deters the congregation from participating, and could direct more attention to the choir than to God!
6/12/13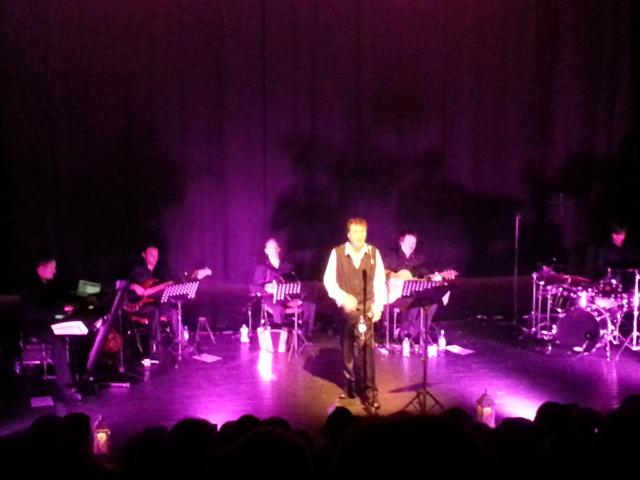 I really got into the Christmas mood last Wednesday when I got to Liam Lawton's 'Celtic Christmas' concert in the Civic Theatre Tallaght. I was won over straight away when he opened the concert with one of my Christmas favourites 'It Came Upon a Midnight Clear'. The night was a mixture of Christmas standards and Lawton's original material, including some songs not directly related to Christmas, like his song 'The Coud's Veil'. Most of the Christmas songs were from his new album Bethlehem Sky, just released. The title track is particularly beautiful and was inspired, Lawton told us, by a visit to the Holy Land. One of the standout moments of the night was when Lawton took to the piano himself and sang a medley of familiar carols. A few years ago I was at a Lawton concert and thought there was too much use of electronics, and while there was a little of that, the backing band provided some fine live music - especially effective was Nigel Davey on button accordeon. Lawton's easy manner won the audience over and he had them singing along with gusto.
5/12/13
Never have I come across so many poets in the one place! It was 'Soundings for Simon' a brilliantly conceived event in the Yellow House Rathfarnham Dublin last week, combining a fundraiser for the Simon Community with nostalgia for the old Leaving Certificate poetry book Soundings. And, like Soundings itself there was quite a bit of religious or spiritual content.
The organiser Daragh Bradish read one of his poems - a clever one about running the same event last year in the city center and the irony of walking past homeless people on the way home carrying the proceeds on the night! Nessa O'Mahony had some touching poems about her family. In one such I liked her image about the rhythm of childhood prayers coming back to her on the death of her grandfather. Seamus Cashman read an extract from a poem he wrote inspired by the ceiling of the Sistine Chapel, and in a more contemporary vein read one of his about a visit to the Holy Land, where he came across a cemetery sacred to the locals that had been largely built over. Ironically a Museum of Reconciliation was to be built on the remaining part!
John F. Deane was also inspired by the Holy Land. He told of a visit to the Wailing Wall in Jerusalem, a visit that inspired poems in his new collection Blessed and Broken. The poem he read from echoed his introductory words about reclaiming the Old Testament, which was also part of the Christian tradition - 'I have come to take possession of the songs, the psalms, the lamentations'.
Paul Bregazzi read Hopkins' 'The Windhover', while Tom Conaty read Kavanagh's seasonal 'Advent', both old favourites from Soundings. I'm looking forward to next year's event.
5/12/13
Never have I come across so many poets in the one place! It was 'Soundings for Simon' a brilliantly conceived event in the Yellow House Rathfarnham Dublin last week, combining a fundraiser for the Simon Community with nostalgia for the old Leaving Certificate poetry book Soundings. And, like Soundings itself there was quite a bit of religious or spiritual content.
The organiser Daragh Bradish read one of his poems - a clever one about running the same event last year in the city center and the irony of walking past homeless people on the way home carrying the proceeds on the night! Nessa O'Mahony had some touching poems about her family. In one such I liked her image about the rhythm of childhood prayers coming back to her on the death of her grandfather. Seamus Cashman read an extract from a poem he wrote inspired by the ceiling of the Sistine Chapel, and in a more contemporary vein read one of his about a visit to the Holy Land, where he came across a cemetery sacred to the locals that had been largely built over. Ironically a Museum of Reconciliation was to be built on the remaining part!
John F. Deane was also inspired by the Holy Land. He told of a visit to the Wailing Wall in Jerusalem, a visit that inspired poems in his new collection Blessed and Broken. The poem he read from echoed his introductory words about reclaiming the Old Testament, which was also part of the Christian tradition - 'I have come to take possession of the songs, the psalms, the lamentations'.
Paul Bregazzi read Hopkins' 'The Windhover', while Tom Conaty read Kavanagh's seasonal 'Advent', both old favourites from Soundings. I'm looking forward to next year's event.
29/10/13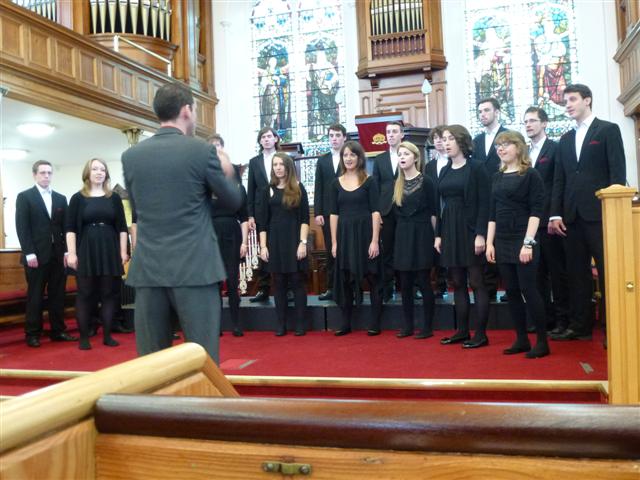 Last weekend I got to the City of Derry International Choral Festival, and what a musical feast! There was a sacred music competition on the Sunday which was an impressive mix of modern and traditional, from Avro Part's setting for 'The Deer's Cry', sung by the Clermont Chorale of Dundalk and Cór Mhaigh Eo, to the gospel sounding 'My Soul's Been Anchored in the Lord' by Moses Hogan, performed by the winning choir Voci Nuove from Cork (pic on left). In the high profile international competition on the Saturday night it was also noteworthy how many of the choirs sang religious music as part of their programme. The Cois Claddaigh choir from Galway sang the beautiful 'Beannacht' by Eamon Murray, the charismatic Polifonica choir from Belarus sang an 'Easter Canon', the youthful Ad Solem chamber choir from England sang 'Behold, O God Our Defender', the New Dublin Voices included a version of Psalm 96, while the winning choir, Voci Nuove again, had the most striking 'Molaimis go léir an tAon-Mhac Críost' by Ben Hanlon from Waterford. That competition had a guest performance from the Gospel Singers Incognito, a choir that featured prominently on Britain's Got Talent. After the wonderful acoustic performances of the competing choirs it was a bit jarring when they got mic'd up, but they certainly got the crowd going - all the phone lights were on for 'This Little Light of Mine'. They were more spontaneous and delightfully informal later on at the Festival Club. The festival also featured a dedicated gospel music competition, school choirs and a 'Sacred Trail' of music in churches on the Sunday morning, when I managed to catch the fine music of the local St Eugene's Cathedral Choir and their guests the St Mary's Pro-Cathedral Choir from Dublin. It was the inaugural festival for Derry's City of Culture year and all in all a wondererful integration and celebration of faith and culture.
7/10/13
Had a great time at the RE Congress last Saturday in Mater Dei Institute. The keynote addresses were thought-provoking (Archbishop Martin's talk is here), it was great to meet so many dedicated RE teachers and I hope my own workshop on Senior Cycle RE, Non-Exam was helpful to teachers. Thankfully the arts were not ignored! The music was varied, from Bernadette Farrell's familiar 'Christ Be Our Light', through Sebastian Temple's 'Make Me a Channel of Your Peace', to newer works like the Congress theme song, 'Fan the Flame" (Liam Lawton), Tom Kendzia's version of Psalm 103 and the upbeat recessional 'I Send You Out' (John Angotti). There were liturgical dancers early in the day and much attention given to symbolism, especially that of flame.
19/9/13
Two recent events reassured me that the faith is alive and well! I was down at the Faith Gathering in Ennis last week to give a workshop on 'Finding Faith on the Internet' (good to meet some from the Faitharts list) and was impressed by the huge crowds that attended and the large number of intetresting workshops. Great attention was given to the prayer services and ceremonies. One song that made an impact was a version of St Patrick's Breastplate composed by David Kauffman. I've added this workshop to the list of available workshops I can give. Check out the list here.

Meanwhile back in my home parish of Arklow there was a parish Mass for the start of the academic year involving participation from all the local schools - great to see effective parish-school links. Again one song grabbed my attention - 'The Lord is My Shepherd', by Ingrid DuMosch, performed with soul by local student Ciara O'Connell. The clip on left is a duet version, not sure who the male vocalist is!
13/9/13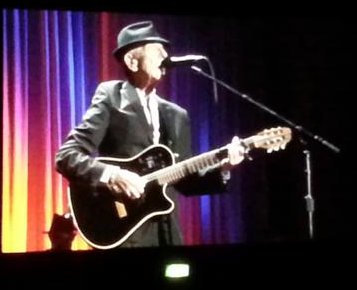 Last Wed night's Leonard Cohen concert at the O2 was one of the best concerts I've ever been at. It was an expensive night but the audience wasn't short changed as Cohen gave it his all including several encores. The words that spring to mind as I try to describe the event ... beauty, dignity, grace, presence, depth, humour, mischief, intensity, intimacy. Cohen was masterful as expected, and funny too, but his backing band and and singers were also superb, in particular the Webb Sisters and Sharon Robinson. I don't know where Cohen is at on his spiritual journey or what kind of a journey he is on, but his songs are and always have been suffused with religious language and imagery. I won't go into any deep analysis here but a few songs struck me as particularly noteworthy. After the romanticism of 'Dance Me to the End of Love' there was the hard-hitting 'The Future' with its repentance theme and these chilling words: "Destroy another fetus now We don't like children anyhow I've seen the future, baby: it is murder ". 'Come Healing' was particularly beautiful - "And let the heavens hear it, The penitential hymn, Come healing of the spirit, Come healing of the limb", enhanced by the gorgeous backing vocals. 'Going Home' was a gentle reflection on mortality with an eye to the afterlife - "Going home Without my burden Going home Behind the curtain Going home Without the costume That I wore". After Cohen's opening recitation the Webb Sisters gave a moving performance of 'If It Be Your Will' - "If it be your will, To let me sing, From this broken hill, All your praises they shall ring " (see them perform it here). Like many of Cohen's songs it came across as a kind of prayer. In fact he performs many songs as if they were prayers, and maybe they are.
I've rarely used Cohen's work in school, as there is frequently 'adult content' and the messages are often obscure and open to all sorts of interpretation, though I have used Jennifer Warne's versions of 'Joan of Arc' and 'Song of Bernadette' (which he co-wrote with Warnes) when covering arts and faith in a Transition Year module.
4/9/13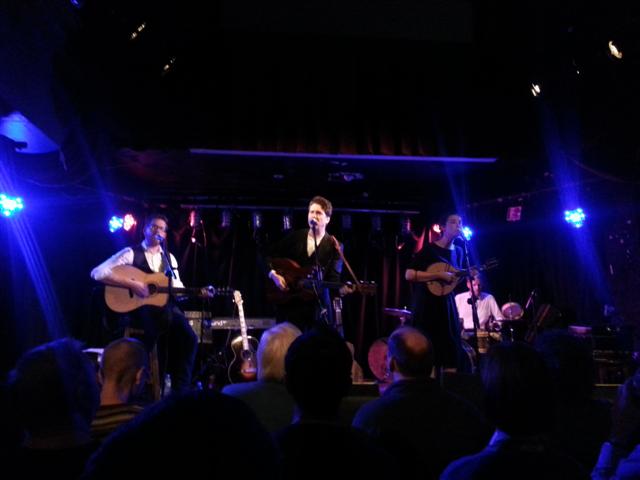 Last Wednesday I went to see Joe Henry playing a concert in Whelans. Henry is a US singer-songwriter who is widely known as a producer as well - recently he produced albums for Bonnie Raitt and Lisa Hannigan. His songs sometimes feature spiritual or religious themes or imagery, the best known example being 'God Only Knows' which featured on Bonnie Raitt's recent album. Unfortunately he didn't sing that one on the night, but the gig was really enjoyable. Henry's songs repay repeated listenings as their meanings are certainly not yielded up easily. He said onstage that his wife regards his songs as 'obtuse'! They are definitely genuine and thought-provoking, performed with passion! The icing on the cake was Lisa Hannigan doing backing vocals and playing mandolin (see pic).
17/8/13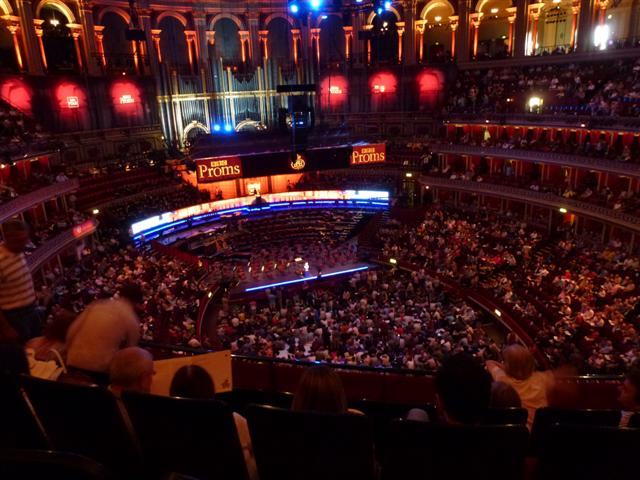 Last weekend I had my first visit to the Albert Hall in London for one the BBC Proms concerts. What an impressive venue - (see pic above)! Performers included the Irish Youth Chamber Choir, the National Youth Choirs of Great Britain and the National Youth Orchestra of Great Britain. First up was Vaughan Williams setting of the Walt Whitman poem Toward the Unknown Region, but the highlight for me was the climax of the evening - the familiar fourth movement of Beethoven's Symphony No. 9 with it's uplifting Ode to Joy - 'up above the starry vault/a loving father must surely dwell'. The concert was filmed for BBC Four and will be broadcast on Fri 6th September.
3/5/11
Last Saturday night in the National Concert Hall I got to see The Armed Man - A Mass for Peace, a striking work by Welsh composer Karl Jenkins. I had seen it before in Cork, but this time Jenkins himself conducted and it was accompanied by film clips to illustrate its powerful message of peace amidst all the war and militarism, mostly of the 20th Century. The orchestra and choirs were great, but I found myself mostly absorbed by the film clips - quite a saddening panorama of our times, but after all the menace and violence the piece certainly ends on a calming, peaceful and hopeful note. This performance will be repeated in the University of Limerick on Sunday 8th May. One of the movements is the Benedictus, and the clip on left gives a flavour of the experience though it's not from Saturday's performance.
28/4/11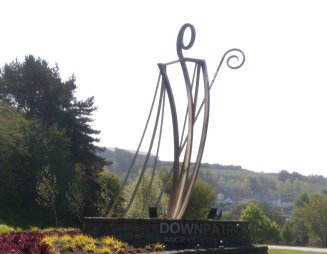 On Tuesday night last I headed up to Tobar Mhuire, the Passionist Monastery in Crossgar Co. Down to hear a L'Angelus concert. Unfortunately the band didn't do any gigs down south during this mini-tour (back in July, and doing World Youth Day in August)), but it was certainly worth the trip up north. As usual the band gave a great show, and their new songs were well up to standard. The old standards were on the setlist too, and along with the good-time Cajun songs they performed some of their sacred repertoire - including Be Thou My Vision, Ave Maria, and those beautiful watlzes - The Waltz of St Cecila and The Waltz of the Sorrowful Mysteries. It was an appropriate venue for these songs as it was in the multi purpose room that mainly serves as the church for the Passionist Community in Crossgar. Thanks to Fr John and the other members of the community for the excellent hospitality and the sing song that followed the gig for those staying over.
The monastery also featured a striking Stations of the Cross - figures arranged in the recesses of girders sunk into the courtyard - very effective.
For St Patrick's Day I made up a slide show of images of the saint - now I've a new one to add - the rather modern sculpture of the saint on the way out of Downpatrick - pic above.
24/3/11
Last night I got to experience the opening night of Emmanuel 2011 in the Helix. It was brilliant - around 700 students singing their hearts out as they performed a wide range of liturgical music from plain chant to modern gospel. Our own school had a group included so I was glad to be able to support them. Students had been praticing the music for a few months in school and yesterday was the first time they came together. Christ Among Us by David Haas set the tone, Lord I Want to Be a Christian was an African spiritual and featured some good solos and tasty guitar work. Irish composers were well represented, including Ronan McDonagh, Liam Lawton, Bernard Sexton and Ian Callanan who directed the choirs and got to blow out a birthday cake at the end. Apart from his own compositions, including the touching Warm Embrace, he had arranged some of the material, e.g. A Mhuire Mháthair. The audience got a chance to join in especially on Come Bring Your Burdens to God where we had to learn three-part harmony on the spot. Things livened up big-time in the second half, starting with I Will Follow Him from Sister Act. We got a taste of the theme song for the upcoming Eucharistic Congress - Though We Are Many by Bernard Sexton. Trading My Sorrows by Darrell Evans had everybody joining in the hand gestures, while Thanks and Praise by John Angotti and Ed Boldne had all the students standing swaying and clapping. Go Out and Tell by Bobby Fisher and Greg Lee was the perfect song to finish, sending us all out on a high! Fr Pat O'Donohue, Dublin Diocese Director of Music called on anyone involved in parishes to let this music and these students uplift our liturgies. Amen to that!
22/3/11
Web TV served me well last weekend as I was able to watch the Religious Education Congress from Annaheim in the Diocese of Los Angeles from the comfort of home. I was particularly impressed by the music, in performances and liturgies. Our own Liam Lawton, along with Tony Alonso conducted one presentation, "Castle of the Soul", on the Saturday - it was beautiful. Earlier we got to hear the Jacob and Matthew Band, who provided the lively theme song from the Congress, "People Rise Up". There was also a reference to a Jazz Mass, but unfortunately that wasn't featured in the webcast. The music at the closing liturgy with new Archbishop José Gomez was particularly striking, as was the whole event. There was much liturgical dancing, which I found distracting, but it certainly was graceful and respectful. Clip on left shows Opening Ceremony.
28/2/10
On Thursday light I found my way to Colfer's pub in Carrig-on-Bannow, Co. Wexford for a gig by American Cajun band L'Angélus. I first came across the band when they appeared on Today With Pat Kenny last summer and when they played for Catholic Underground during that first Irish visit. I enjoyed their Sacred Hymns Collection (see review here), and wasn't disappointed hearing the live for the first time.
This was vibrant, high-energy stuff from Katie, Paige and Stephen Rees - I've rarely seen a concert where the performers were enjoying themselves so much. It was mostly the "secular" material - Cajun two-steps and waltzes, country songs, Texas Swing, New Orleans Jazz and a touch of soul, but they also gave a beautiful rendition of Be Thou My Vision, from the "Sacred Hymns" album.
The original material, like the poignant Waltz of St Cecilia, was mixed with standards like Jambalaya, Peggy Sue and My Girl, and relatively unfamiliar songs like Wait a Minute (see video clip). I always like to get more at a live gig than just a performance of CD album material, and it was a great delight to see how much fun there was in this performance - Stephen Rees in particular was a howl, moving from sensitive ballads to growling shouting blues. His fiddle and sax playing was superb, while Paige's bass playing and Katie's rhythm guitar dove the music along, completing the excellent vocals. I was great to get to talk to the trio during the break and hopefully they will get back to Ireland this summer.
On the night I bought their album "Ca C'est Bon", and will give it a mention here after a few turns in the CD player.
8/2/10
Well, I did a bit for Catholic School's Week, but it didn't help that we were in the middle of Mock Exams, with no school assemblies as a result. Still, we did make use of our Prayer Room for some class services and conducted some classes on the theme. Apart from the discussions, I got students doing some artwork - e.g. posters to highlight the event, which got them thinking, I hope. At the prayer services I used the folllowing songs: Where To Now Edmund from the album "Islands of the Heart" by Peter Kearney - it's about the vision of Edmund Rice (it's a CBS); Be Thou My Vision by Cajun Group L'Angelus from their excellent "Sacred Hymns Collection"; and the very appropriate Salt and Light Amy Delaine from the compilation album "Songs From the Loft" (a must for every RE Dept!).
1/2/10
This week is Catholic Schools Week in Ireland. The resource materials have been sent to schools but are also available here. The secondary schools booklet includes a poem St Brigid, A Blessing by Christy Kenneally. I tried it in a few classes today and it went well I think. For the feast of the Presentation tomorrow T.S. Eliot's Song for Simeon might be useful , but probably too complex to use as a prayer. In the resource materials there are also prayers, readings, full services, fun activities and even recipes! Would be interested in hearing from anyone trying some interesting activities this week.
21/11/09
Have just been watching this morning's live coverage on EWTN of Pope Benedict's meeting with artists in the Sistine Chapel. Loads of food for thought there and I suppose, I hope, in a way it's a validation of the work of Faitharts and similar ventures!
The event was flagged as the first of many efforts to rekindle the relationship between religion and artists, surely a worthy and even urgent ambition. Around 300 artists from various disciplines gathered in this most appropriate of venues and when they weren't watching the Pope they were staring at the ceiling - not a bad idea when you're in the Sistine Chapel. It wasn't just the visual art that was on show - the chapel choir sang some of Palestrina's work at the beginning and end of the event, though we didn't see much of them as they were tucked away in the loft! It was the 10th anniversary of Pope John Paul II's Letter to Artists and the event started with a reading of that letter by an Italian film director, followed by an introduction from Archbishop Gianfranco Ravasi, President of the Pontifical Council for Culture, who spoke of the desire to renew the special relationship between religion and the arts. As we travelled a path of beauty and light the arts could open souls to the eternal. Pope Benedict himself was also inspiring in his address. But he was also realistic - accepting that some of those present might be remote from the practice of religion. Yet his language was the language of friendship, dialogue and collaboration. He stressed that the world needs beauty if it's not to fall into despair, and that the artists were the custodians of beauty. He was also conscious that there were problems, that there could sometimes be an escape into mere aestheticism, there could be the guise of indecency, and gratuitous gratification. But the pursuit of authentic beauty wouldn't go down those roads, in fact it could even wound us, which I found a rather striking idea, but makes sense if you think of a pained reaction to the depiction of suffering in a film for example, and indeed you wouldn't have to go much further that the Sistine Chapel art works to find examples of that. Finally, against the amazing backdrop of Michelangelo's Last Judgement he called on the artists to be aware of their responsibilities and grateful for their gifts as their God-given talents glorified the Creator and challenged them to be heralds of hope for humanity. As soon as I find video of the event and the text of the address I'll post the links, but it should be up on YouTube soon at www.youtube.com/vatican
16/11/09
Today in school we had a retreat with the Net Ministries team, most of whom are young Canadians visiting Ireland. We used the local parish centre and students thought it was helpful to get out of the school for the day. The team was excellent - dedicated, courteous and professional. I was glad to see them using plenty of arts resources - they sang, involved the students in the singing, and used short dramas to illustrate their points. I joined the team and students for a prayer service in the local church, which was a special experience for me too. One of the team sang at the prayer service, while there was some beautiful reflective music during the time for individual prayer (I hope to draw attention to some of this music when I can track it down - it was a compilation from various sources). I have rarely seen my senior students so quiet, reflective and focussed!
22/6/09
I went to the MAD (Make a Difference) Christian Music Festival in Glenealy Co. Wicklow last Sunday and caught some good performances. I didn't catch every band, but Emmaus was the best of what I did see. Fronted by Ronan Johnston they performed some driving Christian Rock as well as some meditative worship music. Particularly impressive were their new version of St Patrick's breastplate (Patrick's Shield) and the moving You Have Never Let Me Down, both on their new album Mountaintop. Ben Cantelon and Soul Survivor, returning from last year, were similar in style. Also returning was Shel Perris. Her material was very dance orientated, sung to backing tracks, which wasn't my cup of tea, but she impressed in the few slower, ballads-type, songs she performed with her band.
Many T-Shirts proclaimed "God Loves Hip-Hop", but I found that group LZ7 way too loud and took a walk to the Mad Café tent, one of the best new ideas this year, a new stage which featured (apart from the food) some more low key and acoustic groups. The Revival Gospel Choir from Arklow livened the place up big time, while groups Just Mercy and Water's Edge produced good music without being the least bit flashy. Two members of the Franciscan Friars of the Renewal sang a few heartfelt spiritual songs and seemed to go down well with the audience, a majority of which was probably non-Catholic Christian.
As a non-denominational Christian event it was quite interesting - evangelical prayer groups in some areas (even to the side of the main stage), the Franciscan Friars having impromptu prayers in another corner of the field, and everybody having a great time in the sunshine. And what a great venue - a huge flat field, plenty of room, more than adequate parking and toilet facilities. Great place to be on the longest day!
8/10/08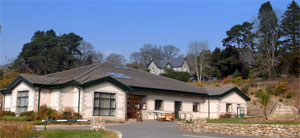 Yesterday I gave a workshop to teachers on using poetry in Religious Education, and what a great venue - Glendalough! Where better to go for spiritual inspiration. The event, organised by the Diocesan Advisors for Dublin (thanks Brigid and Mary!) took place in the excellent Brocagh Centre, with a tasty lunch at the nearby Wicklow Heather restaurant. The materials I used are available on request (Word documents) - see contact details above. We looked at some older poems by the likes of Patrick Kavanagh, Hopkins, Donne and Herbert, and how their poems could be used teaching various topics in RE. I was delighted at some of the topic suggestions I hadn't thought of myself. Then we got a flavour of the teachers' acting skills as we got a taste of some modern Christian performance poems. I enjoyed it anyway! Check out the various Blog entries for poetry for accounts of how I use poetry in class. Also on the arts front I enjoyed Sr Bernadette Sweeney's workshop on using religious music with our students - my favourite new piece (new to me) was Standing on the Shoulders by Earth Mamma.
16/9/08
Taizé was the focus of interest on a recent Sunday morning when RTE 1 broadcast a prayer service from the Pro-Cathedral in Dublin, with special guest Bro Alois, the new Prior of the Taizé community in France. I've already used clips of this service in RE class - we were loking at a variety of holy places in preparation for our RE journal, and I though Taizé was worth a mention. Fr Damien McNiece provided an introduction which included a little background information on Taizé, while Archbishop Diarmuid Martin introduced the service. As usual it was wonderfully prayerful, calm and relaxing. The distinctive Taizé chants were hugely evocative, especially for anyone who has previously experienced the music in a prayerful setting. Despite the rise of gospel and contemporary Christian music, the simple music of Taizé, much of it in Latin, is exceptionally popular with young people, who comprised a large proportion of the congregation.
20/7/08
Yesterday's Vigil at World Youth Day got off to a great start with a warm up set from Judy Bailey and her band. Judy is a gospel/reggae singer with an African-Caribbean groove! She also played WYD 2005 at Cologne. Her set from the vigil in Sydney can be seen at the official WYD website - it's the video segment "Prelude to the Evening Vigil" and is well worth a look.
18/7/08
Today's main event at World Youth Day was the Stations of the Cross - a dramatic re-enactment on the streets of Sydney. (Video clip on left gives a flavour). I can see myself using this in school in the coming year - at least one new resource of substance! It lasted about three hours but highlights will be shown on RTE 1 on Sunday (20th July) at 10.30 am, and there are also highlights at the official WYD website.
As for the Stations, it was a most striking presentation - the actors playing Jesus and the apostles were in the usual outfits we expect, but to see them walking through the highways of Sydney made the story entirely contemporary. Each station took place at key locations in Sydney (Opera House, Art Gallery, etc). At one stage Jesus, carrying the cross, was carried by barge across Sydney Harbour, a most unusual setting for the stations.
The main actors did an excellent job - there weren't speaking roles but the physical gestures and facial expressions were spot on, especially as the sufferings of Jesus increased (the sufferings were portrayed quite realistically). The actress who played Mary was particularly good, reminding me of Olivia Hussey from Jesus of Nazareth.
Though it was a vast canvas there was also a sense of intimate theatre in the close-ups. Throughout there was beautiful music accompanying the presentation - I was particularly struck by the windswept choir in black.
17/7/08
Today I started watching some of the coverage of World Youth Day from Sydney. The main events are streamed live at EWTN and RTE's Live service. The music was excellent as Pope Benedict XVI arrived in Sydney Harbour, with its distinctive Opera House as a backdrop. I particularly liked the youth choir's rendition of Servant Song by Richard Gillard. As the Pope's "boat-a-cade" made it's way along the harbour there seemed to be plenty of live music, including rock and light orchestral but unfortunately the cameras didn't let us see where it was coming from or who was performing - the focus was on the Pope himself chatting informally with the young guests on the boat. In his address I was glad to hear him praise "the creativity reflected in the arts". I'm sure we'll see more examples of this creativity over the next few days.
16/7/08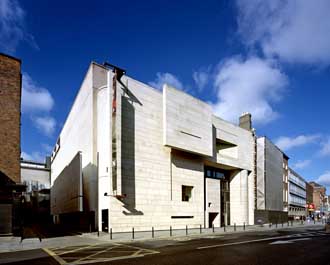 I'm ashamed to say it but when I visited the National Gallery in Dublin a few days ago it was to eat! There's a good restaurant - I especially enjoy the smaller one upstairs. Hadn't got much time - just enough for a quick look around the new exhibition, Revelation, running until 28 Sept. I might return for a more in-depth look. This features 29 contemporary prints on the revelation theme. Not surprisingly the introduction makes it clear that in this case it's not just revelation from God that's in question. However there are quite a few religious works, and a few stick in my mind - there were at least two very different treatments of St Paul's Road to Damascus conversion, a few colourful works in Eastern Icon style, including one on the birth of Christ, a rather peculiar "Crucifixion menu" (a crucifixion scene superimposed on a mirror image menu - have to think more about that - a statement about a la carte Christians?), some works featuring the monastic site at Glendalough, some Christ figures, a striking flower picture "Annunciation Lillies", and a reflection on the Light of the World - a stained glass window design embossed on what seem to be white card. There was a humorous Garden of Eden cartoon with a rather well endowed Eve, and just a hint of a lesbian relationship in one of the prominent works. More info here.
16/6/08
MAD 2008: Went yesterday to this new Christian Rock festival near Glenealy Co Wicklow, and what an enjoyable afternoon it was. I arrived in time to hear the Elation band (Irish group that has played before for Youth 2000 and youth events at Knock) - hadn't heard them before and they were really good - lively, driving soft rock hymns, when a excellent line up of vocalists and musicians. Also impressive, and quite similar to Elation in many ways, was Ben Cantelon and the Soul Survivor Band. Shel Perris had a good voice and lively Christian message but sang to backing tracks, which is not my cup of tea, though the younger people in the audience seemed to be enjoying themselves. The audience was quite varied with I'd say a slight predominance of teens and young adults, but plenty of parents and youth leaders as well. The venue was excellent - loads of space and toilets, free parking right beside the main tent, and very efficient stewarding. If there was a fault it was that the music was way too loud! I saw some people fleeing the tent and listening from outside, and I saw one fellow strategically using cotton wool!
The event was nondenominational but coming mainly from an Evangelical Protestant background. However, this Catholic founds lots to admire and nothing to offend! Pics from the event here.
16/12/07
Went to a great concert last week! Beth Nielsen Chapman was playing in Whelans of Dublin, and I'd say it's not often that venue gets such a spiritual experience. Yet the spiritual content was subtle enough at times. Mainly the concert was a really enjoyable musical treat. Her songs have such beauty and depth, some really serious stuff at times, but she's a great personality on stage, full of fun. And what a band! Apart from the two great guys in the mini wind section, and a guitarist, it was a family affair - her son Ernest on keyboards, guitar and excellent backing vocals, his cousin Trip on drums, his wife very effective on bass and miscellaneous percussion. She played several songs from her recent album of spiritual songs, Prism, including the playful God Is In, Shine All Your Light, and the haunting That Mystery. The second disc on that album has songs in many different languages from different spiritual traditions, and in this concert she joined them all in a long medley, which I thought worked really well. Of course there were plenty of old favourites, like Sand and Water, All I have (very romantic – a song with a very low divorce rate she said!) and the seasonal Every December Sky. All in all a great night – the icing on the cake was getting to talk to her at the end and get an autograph.
30/10/07
Got to the Cork Jazz Festival again this year. Went to the Blind Boys of Alabama concert in the Cork Opera House, and what a night! The support group was fantastic for starters. The Campbell Brothers performed some foot stompin', soul stirrin' black gospel music, with enough energy to light up Cork for a week. There was plenty of singing about judgement day and the morning train to take you there. A highlight was the praise song Lord I Just Want to thank You!, and slowing down the tempo a soulful version of I'll Fly Away, more commonly heard as an up tempo bluegrass song. And there was a cautionary tale - Don't Let the Devil Ride! This introduced as a "service announcement for Cork" - don't let the devil ride 'cause he'll want to drive! The Blind Boys of Alabama, singing gospel for six decades, received a great welcome from the packed theatre as they launched into spirited versions of gospel classics like People Get Ready, When the Stars Begin to Fall (a beautiful acapella version), Amazing Grace (to the tune of House of the Rising Sun!). There was plenty of banter and gospel exhortations between the songs, and the audience was on its feet for the last few songs - I'm a Soldier in the Army of the Lord was particularly good. After the encore the Blind Boys stayed on stage to greet the fans for a long while after. For both groups the message and the vocals were central, but both had the hottest of bands as well. See video clips page for a sample of the work of The Blind Boys.
21/10/07
Went to see John Michael Talbot in concert last night – at Mt Argus Church in Dublin. It was a beautiful prayerful experience. It seems he rang the parish priest and asked if he could do the concert there – an offer not to be refused! It was a short event, a very holy hour. I particularly liked his version of Make Me a Channel of Your Peace, and Cave of the Heart. The familiar favourites were there too, allowing people to pray/sing along. He didn't say a lot on this occasion but I liked his words of introduction to a song from his new album – Come Home Little Children from the album Living Water (his 50th) called us to come home if we have drifted, from Jesus, from Church, from humanity. Sound clips from this album can be heard here. Great to meet some friends and acquaintances there too – thanks Yvonne for the guided tour of that wonderful church and its Saint Charles of Mount Argus exhibition.
9/10/07
Lots to report on from the last few days. First off it was great to meet some of the people who use Faitharts at the RE Congress in St Pat's Drumcondra over the weekend. From keynote speakers and some workshops there was plenty of reinforcement of the idea that creativity and imagination are important in religious education. And there were quite a few artistic touches in the liturgies, especially the music.
21/4/07
Yesterday I started on the religion and music module, with an in-class concert with Peter Kearney. Peter is an Australian singer-songwriter living in Carlow, who specialises in faith inspired songs. This is the third time we've had him in school with the Transition Year classes. For a double class he sang and played guitar, and it was the most relaxing class of the week. All I had to do was sit at the back of the class and enjoy! Peter also tells the stories behind the songs, which suits perfectly what I'm trying to do in this module - to highlight the religious themes in music and to raise awareness of the issues relating to the different contexts in which music and religion meet creatively. This year Peter also brought a handout which divided his songs into different categories which helped to show the diversity of possibilities in this area - e.g. songs for liturgies, songs inspired by scripture, songs about social issues, songs for meditation. Peter has also written a musical about the life of St Francis of Assisi, Good Morning Good People! which he will perform with flute player Roma Dix in St Michael's Church Gorey, Co. Wexford on Thursday May 31st at 7.30 pm. Go along for some aesthetic nourishment! For more information on Peter's work see his website http://www.hinet.net.au/~peterk/
31/10/06
Just back from the Cork Jazz Festival, great music and atmosphere as usual. Struck me on Sunday morning that it was a pity there wasn't a high profile Jazz mass during the festival. I don't think there was any. Some mightn't like the idea, but I think with thousands of musicians in the city for the weekend there was a chance to involve them, even minister to them. I'm no jazz expert, but there are plenty of spiritual trends in Jazz, which isn't a million miles from gospel music. The Harlem Gospel Choir featured in one of the main concerts on the Friday night (unfortunately I wasn't down on time for that) so the festival wasn't bereft of spiritual input. I've come across liturgical/spiritual work by the likes of Oscar Peterson and Dave Brubeck, so let's hope that next year some imaginative parish will take on the task. There's a Church right down the road from the main venue, (the Metropole), St Patrick's parish I think, which would be an ideal venue. Though not jazzy, the choir there at Mass Sunday at midday was in fine form and there was a great sermon about the extra light we need to get us through these complex times. Funny how jazz, once regarded in some circles as immoral, now seems downright respectable compared to, say, the excesses of heavy metal! And there are spiritual nuggets in heavy metal too, but that's another story.
20/9/06
The inservice day in Laragh went well I think, at least I enjoyed it. The setting didn't seem so idyllic with the rotten weather. But I met some old friends and some new teachers signed up for the faitharts email list. The session was about using Music DVDs in religion class, either to illustrate themes under discussion or as a study of religious themes in music, or the search for meaning in modern culture (Part A of the NCCA's framework document for non-exam classes at senior cycle). The teachers seemed to enjoy the music and came up with some good ideas for dealing with this material in class. I can send the materials I used as Word document attachments on request (see contact link on left) - song words, worksheets, full list of songs used and on what DVDs. Might put these on site as download anyway.