Blog Entries Jan-March 2012
22/3/12
Still doing "Images of God" with 2nd Year students - looking at images of God on film in particular this week, and still using the old reliables - from the old Insight videos Martin Sheen as a young God in The Walls Came Tumbling Down, Bob Newhart as a rather inoffensive God in Packy, God as Trinity in Jesus B.C, Charlton Heston as a rather gruff God in the film Almost an Angel, Morgan Freemnan as God in Bruce Almighty or Evan Almighty (the most familiar portrayal for students). I have issues with some elements of Bruce Almighty, but that scene where he meets God for the first time is a howl. I show the clips, get the students writing about them and then discussing them.
I got a full class out of Old Testament images of God - and after looking at some of the images, especially in the Psalms, I get the students to draw any one image of their choosing.
That Powerpoint I've done up with various images of God is still available on request - use contact details over on left.
16/3/12
Went to see the Emmanuel 2012 concert last Wednesday night in the Helix and what a treat! 700 young people singing religious songs with gusto - and over 2000 when you add the three nights together. My own school was well represented, and two of our students got solos. And there certainly were some strong solos this year. The backing musicians were excellent as always - I was particularly impressed by the piano, guitar and sax playing. One of the highlights of the night was the group from St Mary's School for the Deaf who signed their way through all the material - their persentation was beautuiful, graceful and inspiring. (see clip above for a news item)
The material was introduced as "quality liturgical music" and it was certainly that and more. A lot of the songs had Eucharist as a theme, deliberately so I presume with the International Eucharistic Congress coming up in June. The Congress theme song, "Though We Are Many" by Bernard Sexton really felt like an anthem on the night. There were a few pieces from Liam Lawton's Glendalough Mass, along with "Take and Eat, This is My Body", by Ian Callanan, who was conductor for the night. I also liked his re-working of the old hymn "O Sacrament Most Holy". "Were Not Our Hearts", also by Callanan, is a fine song about the disciples on the road to Emmaus. There were some crowd pleasing foot stompers like "Trading My Sorrows" and "Over My Head", but the final "Amen" really lifted the roof.
Have been working on Images of God with second year students, always an enjoyable module. First off I get them to make their best effort to draw God. Then I ramble around the class discussing the various illustrations, e.g. asking why so many concentrate (sometimes to excess!) on giving God hair. This year as usual a minority drew abstract shapes or an eye in the sky, while most drew human forms, mostly older versions of Jesus (why so much emphasis on beards??). As usual there was one or two that left the page blank, which I complemented, even if the motivation was more laziness than theology. One noteworthy quote: astudent looked at another's drawing of God and said: "If He looks like that God help him!" At the end of the process I noted on the board which aspects of God the students were trying to convey in their pictures. In the following class I used a Powerpoint I had put together with various images of God from art and film. This is available on request - use contact link over on left side panel.
10/3/12
Have just come across an interesting article on praying the Rosary through art. Professor Maria Stella Ceplecha from St Paul, Miinnesota has chosen the Joyful mysteries to illustrate her point and has illustrated her article with classic paintings. The article can be accessed by clicking here.
9/3/12
During the week I continued the classes on the the days in Jesus' life leading up to Easter. Getting some great artwork from the students, with lots of discussion points, even if they can only manage "stick men" versions! The scenes from Jesus of Nazareth can still pack an emotional punch, even after seeing them so many times over the years. Getting songs to go with each phase has been more challenging. For the trial scene best I could think of was "Who Hit You Then" by Sal Solo from his great album Look at Christ, which is hard to find in any format (I'm still using my cassette). There are many fine songs about the crucifixion - I used "Were You There", sung by Russ Taffe and Selah, from the album Press On. For the Resurrection I used "Christ the Lord is Risen Today" by Ashley Cleveland, and "He is Risen" by John Michael Talbot. I've included a few of the songs below.



1/3/12
With my 2nd Years I've been doing the sequence of events from the Last Supper to the Resurrection. I like to combine the relevant Scripture reading, a video clip from one of the lives of Jesus on film - I still tend to stick with Jesus of Nazareth for this sequence. Then I get the students to draw their own version of the event in question. This gives me a chance to ramble around the classroom having discussions with individuals or groups of students. This time around I've tried to find relevant songs to play in the classroom while students are drawing. So far I've used "Come to the Table" by Michael Card for The Last Supper and his song "Why" for the Garden of Gethsemane scene, both from his album trilogy The Life. Play clips below.


23/2/12
I came across an interesting article today about a film star who became a nun and is now the subject of a documentary nominated for an Academy Award this year. Check out the story on the Catholic Ireland website. Apart from this there is much of interest to RE teachers on catholicireland.net and its sister website Catholic News Ireland.
Another website very useful to RE treachers is Busted Halo. In particular check out the "Entertainment and Lifestyle" and "Video" sections. There are some snappy videos and useful film reviews among other resources.

I've been watching some music programmes, two in particular, that reflect different approaches to the world. The Voice of Ireland (RTE 1, Sunday nights) could become addictive if you get drawn into the lives of these real people. The best thing about it is the quality of the singers, and there's no denying that. But there's a lot I don't like about it - the gimmick of having the judges initially sitting with their backs to the performers was awkward I thought, and quite honestly I often find the approach of the judges irritating. There's the in-built disappointment-as-entertainment - such shows are not a success, it seems, unless there are public tears. It's not the Coliseum, but it feeds the same unpleasant desires some people have to see others brought down. And as for the last two weeks - having excellent singers singing duets where only one of them goes through is a terrible idea. The superb Scottish folk singer Eddi Reader turned up on the show as a voice coach, which surprised me, because she was much more at home on The Transatlantic Sessions, currently in its fifth season, Friday nights on RTE 1 and BBC 4. Now this is a music show you could really enthuse about - top-notch folk, blues, country and traditional musicians and singers sitting around a house in Scotland playing and singing their hearts out and obviously loving every minute of it. This a world full of creativity and genuine spirit, free of gimmickry and narrow competitiveness. They don't often include a gospel song, but last Friday night's episode on RTE 1 (you can catch it this Friday night on BBC 4) ended with a mighty gospel song, "Jesus" sung by Amos Lee (see clip above - replacing previous clip 1/3/12) with an all-star backing group including Donal Lunny and Declan O'Rourke, writer of "Galileo". I can see myself using this song in my TY Religion classes at a leter stage - the whole fifth series is now available on DVD.
Eddi Reader made a third appearance, busy woman, on the John Murray Show (RTE Radio 1) on Wednesday of last week. Apart from singing some fine songs in studio she spoke of her reluctance to be on that Voice of Ireland show. She was disgusted by the typical TV talent shows like the X-Factor and didn't like the idea of sitting in judgement on the talent of others. She was finally persuaded to try it by Brian Kennedy - the crucial factor for her was that all those involved were themselves musicians. Eventually she felt so bad about one contestant losing that she gave him a slot singing with her on stage. I think she should stick with the genuine and avoid the razzmatazz!
11/2/12
Got to experience a bit of Heaven last Tuesday night at the National Concert Hall - event was the Transatlantic Sessions, featuring some superb folk musicians and singers, a veritable folk orchestra playing great instrumentals and accompanying great singers like Eddi Reader, Raul Malo (of the Mavericks), Karen Matheson and Paul Brady who turned by surprise for the encore, a mighty version of "Hey Good Lookin'". The only religious interest was the spiritual imagery in the song "Galileo" sung on the night by singer-songwriter Declan O'Rourke who really impressed. The TV show of the same name started last night on RTE at 7.30 and wlill run for the next few weeks. If you missed it you catch it on BBC 4 where the new season starts next Friday Fri 17th February at 8.30 pm.
Songs of Praise has to be one of the longest-running religious TV shows. Still going strong on BBC 1, Sunday afternoons, the episode on Sunday of last week featured Progressive Rock legend Rick Wakeman, who has played keyboards with the likes of David Bowie and his own group "Yes". I was surprised to learn that it was Wakeman who played the distinctive piano part on Cat Steven's hit "Morning Has Broken", which he recreated on the programme with Laura Wright doing the singing honours. Wakeman's background was Baptist, and despite the rock lifestyle he always prayed, but felt a particular clear signal from God at one stage to evaluate his life direction and get it into shape. Prog rock or not his choice of hymns was very traditional, with songs like "Amazing Grace" and "All People That on Earth do Dwell" - accompanied by the hearty singing of the assembled congregation and his own piano licks, sometimes complementary, sometimes a little over-ornate. One standout was the spiritual instrumental "Gone But Not Forgotten", written earlier but which accompanied him on the death of his mother. I could see myself using some of songs and some of the interview clips in class, especially in my TY module on faith and music. One of the issues that I raise in those classes is the question of how an instrumental can be spiritual. That produces quite a divergence of views among the students - some reject the idea, but one responded a while back with a spiritual instrumental of his own!
2/2/12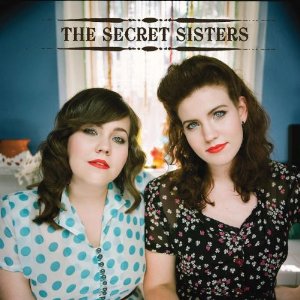 Last week I got to see the Secret Sisters live at the Sugar Club in Leeson St, Dublin - first time there and what a great venue! I've been playing their album frequently since Christmas and have been impressed by the sweet country harmony singing. They sound a little like the Everly Brothers, a suggestion they commented on at the gig. There's one gospel song on the album - House of Gold (see it here), an old Hank Williams song, and on the night they sang a beautiful version of In the Sweet Bye and Bye (see it here), and their own River Jordan - (see it here). Can't see myself using any of these in class as my students are not exactly country music fans, but I find it uplifting and refreshing for myself, great aesthetic and spiritual nourishment. So there!
In Second Year classes I've been looking at the Beatitudes as part of a study of Discipleship and the Kingdom of God. Has fitted in nicely with Catholic Schools Week as well. Have been collecting resources on the Beatitudes for years, and have used some prayers from David Konstant's prayer book on the Beatitudes and the Rosary as part of prayer services for the week that's in it. A contemporay album devoted to the Beatitudes would be a great idea, and I'm surprised that someone like Liam Lawton, John Michael Talbot or Michael Card hasn't tried it. For the moment I've used songs like The Beatitudes by the Monks of Glenstal Abbey (clip on left) from their album "Biscantoret", Behold Now the Kingdom by John Michael Talbot, The Cloud's Veil by Liam Lawton - good for "Blesed are those who mourn" I think - and for the same Beatitude Now is the Time for Tears, by Charlie Peacock from the "Coram Deo" album. I hope at some stage to develop a special page for Beatitudes resources.
21/1/12
Eternal Law is an intriguing new English drama from ITV on Thursday nights. If you suspend your critical and theological faculties it can be quite enjoyable. Keep in mind that my comments are based on the first two episodes only. The plot features two angels come to earth as lawyers to help people out. They clash with a fallen angel, a very sinister prosecution lawyer who is often surrounded by flames and pushes beggars into the river. One of the angels is new to the earth and moves from initial fascination to being baffled at the puzzling way people carry on. The other angel has been to earth before but blotted his angelic copybook by falling in love - he meets up again with this woman who doesn't recognise him from before and he has to resist the temptation to fall again. Irish actor Orla Brady does a fine job as "Mrs Sheringham" an angel who became mortal for love but who helps out those angels currently on assignment from the unseen God figure Mr Mountjoy. If you can ignore a little crude language and dodgy theology it's entertaining fare for mature viewers, thought provoking, amusing, compassionate, philosophical and, in last week's episode about a child custody case, quite moving.

10/1/12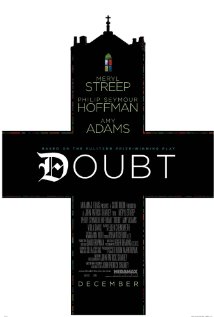 One of the best films I saw during the holidays was Doubt , starring Meryl Streep as a school principal and nun who must deal with the suspicion that the school chaplain, played by Philip Seymour Hoffman is conducting an inappropriate relationship with a student. It is set in the early 1960's and the period flavour is well conveyed. The acting is excellent as would be expected of Streep and Hoffman, and the script by John Patrick Shanley has a sharpness and intelligence that is rare in mainstream cinema. The controversial issue of abuse is handled subtly and with restraint, and I didn't sense any hidden agendas or axe-grinding. One could raise issues - e.g. why does no-one seem to question the child? Is the mother's attitude credible? Yet in the context of the time and within the world of the film it was believable. As regards school use, I'd be hesitant. There is a useful scene where the priest gives a strong sermon on the damaging effects of gossip, but I think the film is best suited to a mature audience. For very young students it might just reinforce the paedophile priest stereotype, and they mightn't get the film's subtleties.

9/1/12
Back to school today. I hate letting go of Christmas and all the great music, so I drag it out by covering the Three Wise Men in some Junior classes. After all, if it wasn't for them we'd probably be back in school earlier in January, and maybe we'd have received no Christmas gifts!. This year I'm doing it mainly with 1st Years as the others have experienced my resources in the past. As usual I've used the song "We Three Kings" and shown the arrival of the Wise Men from the film The Nativity Story, and also from the modern musical version The Liverpool Nativity. Some video clips, and the music I use can be found on the Advent and Christmas Resources page. I brought in my crib from home with the wise men figurines and added it to the sacred space table.
3/1/12
I caught Carole King and Friends at Christmas on BBC 4 on Christmas night, which mainly featured the secular music of the season. King herself, 70 years old next month and still going strong, impressed with standards like "Have Yourself a Merry Little Christmas" and new song "New Year's Day", but there was a mellow version of "Silent Night" from Richard Hawley (clip on left has him singing this version on another occasion). Her own songs were from her new album "A Christmas Carole", which was released in USA as "A Holiday Carole" - different strokes for different markets! There was no such hedging on the Johnny Cash Christmas Special from 1970, shown on BBC 4 a few times in the last week or two - he clearly spoke about the Christian message in Christmas, no political correctness from the great man! Some might have found his spoken interludes a bit preachy, but could you complain when the fireside music session featured Cash, the Everly Brothers , Roy Orbison, the Carter Family and more?
2/1/12
Canadian singer Neil Young was the star of a great music documentary/concert film Heart of Gold shown on TG 4 Tues 27 December, and the heart of that film was two concert segments - one that featured his old songs like "Four Strong Winds" (by Ian and Sylvia Tyson) and one that showcased more recent material, including "When God Made Me" a rather ambiguous reflection on God's relationship with people: "Did he give me the gift of voice/so some could silence me?/Did he give me the gift of vision/not knowing what I might see?/Did he give me the gift of compassion/to help my fellow man? When God made me." The sound of someone searching, with lots of questions, but sometimes it seems our age is afraid of answers.