Blog May-June 2009
22/6/09
I went to the MAD (Make a Difference) Christian Music Festival in Glenealy Co. Wicklow last Sunday and caught some good performances. I didn't catch every band, but Emmaus was the best of what I did see. Fronted by Ronan Johnston they performed some driving Christian Rock as well as some meditative worship music. Particularly impressive were their new version of St Patrick's breastplate (Patrick's Shield) and the moving You Have Never Let Me Down, both on their new album Mountaintop. Ben Cantelon and Soul Survivor, returning from last year, were similar in style. Also returning was Shel Perris. Her material was very dance orientated, sung to backing tracks, which wasn't my cup of tea, but she impressed in the few slower, ballads-type, songs she performed with her band.
Many T-Shirts proclaimed "God Loves Hip-Hop", but I found that group LZ7 way too loud and took a walk to the Mad Café tent, one of the best new ideas this year, a new stage which featured (apart from the food) some more low key and acoustic groups. The Revival Gospel Choir from Arklow livened the place up big time, while groups Just Mercy and Water's Edge produced good music without being the least bit flashy. Two members of the Franciscan Friars of the Renewal sang a few heartfelt spiritual songs and seemed to go down well with the audience, a majority of which was probably non-Catholic Christian.
As a non-denominational Christian event it was quite interesting - evangelical prayer groups in some areas (even to the side of the main stage), the Franciscan Friars having impromptu prayers in another corner of the field, and everybody having a great time in the sunshine. And what a great venue - a huge flat field, plenty of room, more than adequate parking and toilet facilities. Great place to be on the longest day!
15/6/09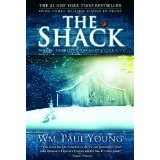 The Shack: This novel by William Paul Young has been a big hit in evangelical circles, and while I enjoyed parts of it, I have some issues with it. Without giving too much away, it's about Mack, a man whose daughter Missy is kidnapped. During his trauma Mack meets God and learns a lot about himself, about life and about God.
The earlier part of the book, including the kidnapping, is really well written, as gripping as any thriller, with thoroughly interesting characters. In the long middle section, where he meets God, the pace slows down dramatically, to suit that unusual plot development, but I felt it took from the novel as a novel. In that section it was too much like a theology book, too much like the author rather unsubtly using the characters to drive home his own vision of God. I like theology and I like fiction, but theology thinly veiled as fiction I'm not too keen on.
However I did like the way God is portrayed - the imagery is striking. God is most definitely portrayed as a Trinity. God the Father is Papa, no surprises there, but Papa is a kindly female figure - God needs to approach Mack this way as Mack has had unhappy experiences with his own father. Jesus is Jesus, another kindly figure who loves Mack and accompanies him on parts of his journey of discovery. The Holy Spirit is Sarayu, an ethereal being, hard to pin down, hard to focus on. God is entirely loving, forgiving and understanding, altogether a pleasantly warm presence. I particularly liked the bit where God has hung pictures painted by humans in the Shack - just like any loving parent would hang picture painted by their young children.
There is an issue with a human writer putting words in God's mouth that aren't scriptural, and any Christian writer has to proceed with caution. God has a lot to say in this novel, and at times He's overly dismissive of religion, and even politics, which grated. Also He's not keen on moral rules, which I thought was naïve on the writer's part. Fair enough, some believers can be too legalistic, and also if we are all perfect, we would be moral without any need for rules, but we're far from perfect!
The novel falls into the trap of going for spirituality over religion, which to me suggests of an underlying distaste for the imperfect community of struggling and flawed believers who make up any religion.
7/6/09
Got a chance at the weekend to see a preview of the film Sinner, a new independent film from USA. It looked promising, but was a real disappointment. The storyline features a middle-aged priest (Fr Romano) who had a secret love affair in the past that he feels guilty about. He has to share a parish with a young priest (Fr Stephen) who is conservative but in an unpleasant way (surprise, surprise) e.g. he rails against Vatican II liberals. Eventually Fr Romano sends him away for psychiatric evaluation! Yes, it's a bad time to be conservative! Into this mix comes a prostitute who preys on priests - Fr Stephen hits her - to protect his celibacy, he says. She tries to blackmail him but Fr Romano takes a more compassionate approach, though resists her advances. Meanwhile Fr Stephen takes pictures to build up a case against Fr Romano with the bishop. It's a pretty hackneyed male fantasy pot-boiler as might be obvious by now, but perhaps something good might have been made of it. However it's ruined by poor pacing and plotting, stereotypes and most of all by many objectionable elements - nudity, loads of foul language and many distasteful scenes.
5/6/09
Shock horror! I've just discovered I've written no blog entry for May! A sign of how busy things were in school. I'll make up for it in June. I've barely managed to get some new stuff and the news page and keep the media previews updated. Anyway, time to put things right. I've always regretted not writing down every funny thing I've got in exams or homeworks from students. Correcting TY exams recently a student was discussing art and religion and referred to Michelangelo painting the "16th Chapel"! Mentioned this in the staffroom but a history teacher had also got this in the past.