This page previews upcoming TV and Radio Programmes, mostly in Ireland and the UK. This is for information purposes only and does not imply recommendation unless clearly stated otherwise. Some of the material is available live or for download/podcast/streaming from the websites of the relevant broadcaster.

Note: All times and dates are accurate at time of posting, but broadcasters can make changes so it's a good idea to double check in the daily papers/teletext etc. Watch also for regional variations, especially on BBC. The Irish channels, and EWTN can be watched online and through their various apps.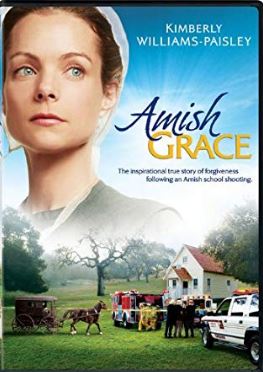 (TG 4 Thurs)

Amish Grace
TG 4 Thursday 16 Aug Midnight
(2010) Starring Kimberly Williams-Paisley, Tammy Blanchard and Fay Masterson. Directed by Gregg Champion. When a gunman killed five Amish children and injured five others in a Nickel Mines, Pennsylvania schoolhouse shooting in October of 2006, the world media attention rapidly turned from the tragic events to the extraordinary forgiveness demonstrated by the Amish community. Through the eyes of a grieving mother, Ida Graber, and other devastated families, this movie explores the Amish's astonishing reaction to the horrific shootings - of forgiveness and compassion.
Songs of Praise
BBC 1 Sun 19 Aug 1:45 pm
Great Yorkshire Show. The Rev Kate Bottley visits the Great Yorkshire Show, where the chaplain to the Yorkshire Agricultural Society tells her about the show's 160-year history and how the church has always played a central role. Kate finds out more about the challenges facing the agricultural community and meets a Christian farmer who is reaching out to offer support. JB Gill visits Thirsk to discover the story of the real-life Yorkshire vet behind the books of James Herriot. Herriot was the pen name of Alf Wight, and JB meets his son Jim at the museum that was once his father's veterinary practice and their family home. They walk up to Sutton Bank to enjoy what Alf described as 'the finest view in England' and talk about Alf's Christian values and the enduring success of All Creatures Great and Small in print and on screen. Kate also meets the newly appointed bishop of Ripon, Helen-Ann Hartley, and talks about moving to Yorkshire and her vision for her new role.

IN CONCERT: MISSA SOLEMNIS
EWTN Mon 20 Aug 6 am
A festive performance from the Staatskapelle Dresden, under the direction of Fabio Luisi, celebrating the heartwarming event of the reopening of the Frauenkirche (Church of Our Lady) in Dresden. No streaming, satellite only.
CATHOLIC AUTHORS
EWTN Mon 20 Aug 11 am
FLANNERY O'CONNOR - Father C. John McCloskey and guest Dr. Joseph Bottum discuss the life and writings of the great Southern Catholic writer Flannery O'Connor.
Father Brown
RTE 1 Fri 24 Aug 3:15 pm
Series 6 Episode 10: The Two Deaths of Hercule Flambeau. Father Brown hears rumours of the death of his arch nemesis.