This page previews upcoming TV and Radio Programmes, mostly in Ireland and the UK. This is for information purposes only and does not imply recommendation unless clearly stated otherwise. Some of the material is available live or for download/podcast/streaming from the websites of the relevant broadcaster.

Note: All times and dates are accurate at time of posting, but broadcasters can make changes so it's a good idea to double check in the daily papers/teletext etc. Watch also for regional variations, especially on BBC. The Irish channels, and EWTN can be watched online and through their various apps.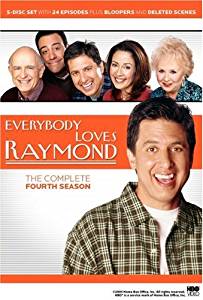 (Channel 4, Fri and Sun)

EVERYBODY LOVES RAYMOND: The Sister
Channel 4 Fri 17 Nov 7.35 am
Debra's hippy sister shows up unexpectedly and announces that she's decided to become a nun. Touching episode, respectful to faith, and very funny!
Father Brown
RTE 1 Sat 18 Nov 8:30 pm
"The Judgement Of Man" The local art gallery has the priceless painting 'The Judgement of Man' on loan from the Vatican and curator Binkie Cadwallader is flattered to be interviewed by the glamorous reporter Rebecca Himmelbaum. Series 3 Episode 10

Kevin Can Wait
Channel 4 Sun 19 Nov 6 am
Kevin learns that his childhood rival Terry is trying to reserve the church for his daughter's marriage on exactly the same date as his own daughter Kendra wants to have her wedding ceremony, so the two men start battling it out for their priest Father Philip's approval.

Everybody Loves Raymond
Channel 4 Sun 19 Nov 7.35 am
When Ray agrees to go back to church, he discovers why Frank has been happy to go along every week.

Father Brown
RTE 1 Sun 18 Nov 10:05 am
"The Time Machine" Father Brown visits student Jacob Francis at the family home as Lady Felicia is worried about him. Jacob's father died a year earlier, a presumed suicide, but Jacob is sure that he was murdered and has built a time machine in which he claims he can travel back to prove the case. Series 3 Episode 11 (S) (R)

Songs of Praise
BBC 1 Sun 19 Nov 3:00 pm
Love and Marriage. Katherine Jenkins is in Windsor to mark Her Majesty the Queen and Prince Philip's 70th wedding anniversary, and she is joined by Prince Michael, who was a pageboy at the wedding. Kate Bottley talks to another couple celebrating their 70th anniversary this year. The programme meets the sculptor who designed the commemorative £5 coin and travels to the Royal Mint to see it being struck. Plus hymns from around the UK, including two of the Queen's favourites, which were sung at her wedding.

Ballykissangel
be3 Sun 19 Nov 4.00 pm
Live in My Heart and Pay No Rent - Drama series about a young English priest working in a small Irish parish. Father Clifford and Assumpta unite to encourage a reluctant bride and groom. Quigley is on a mountainside, keeping a date he made 20 years before. Ser. 1, Ep. 3 With Stephen Tompkinson, Dervla Kirwan, Tony Doyle, Niall Toibin, Tina Kellegher.

Ballykissangel.
be 3 Sun 19 Nov 5.00 pm
Fallen Angel. Drama series about a young English priest working in a small Irish parish. Guided by Assumpta, Fr Clifford prepares for his driving test. For different reasons, Ambrose and Quigley are both anxious to locate Ballykissangel's pirate radio station. And at the hospital, Fr Clifford meets his match in a chess contest. Ser. 1, Ep. 4 With Stephen Tompkinson, Dervla Kirwan, Tony Doyle, Tina Kellegher, Niall Toibin, Deirdre Donnelly.
IN CONCERT: MAGNIFICAT IN C MAJOR
EWTN Mon 20 Nov 6 am
Leading Baroque conductor Tom Koopman conducts German composer Johann Kuhnau's Magnificat in C Major.

CATHOLIC AUTHORS
EWTN Mon 20 Nov 11 am, and Fri 7 pm
CERVANTES - Fr. C. John McCloskey welcomes Dr. Jonathan Reyes to discuss the author Cervantes, who is best known for his book "Don Quixote."

JOY OF MUSIC
EWTN Mon (night) 20 Nov 4 am
MUSIC AND THE LIFE OF J S BACH - Diane Bish visits where Bach played as a student in Luneberg, Northern Germany. She plays the following scores: "Whither Shall I Flee from Thy Spirit," "Toccata and Fugue in d minor" and "Little Prelude and Fugue in a minor." and amongst others.