This page previews upcoming TV and Radio Programmes, mostly in Ireland and the UK. This is for information purposes only and does not imply recommendation unless clearly stated otherwise. Some of the material is available live or for download/podcast/streaming from the websites of the relevant broadcaster.

Note: All times and dates are accurate at time of posting, but broadcasters can make changes so it's a good idea to double check in the daily papers/teletext etc. Watch also for regional variations, especially on BBC. The Irish channels, and EWTN can be watched online and through their various apps.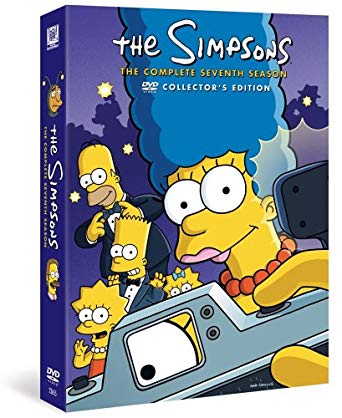 THE PATRONS OF THE ARTS IN THE VATICAN MUSEUMS: PRESERVING THE VATICAN COLLECTIONS
EWTN Sat 7 Dec 8 am, and Fri (night) 13 Dec 2 am
A stunning documentary on the Vatican Museum patrons who preserve the world renowned paintings of this revered museum. Included are works of Raphael, Bernini, Caravaggio, and Michelangelo.

THE SIMPSONS
Channel 4 Sat 7 Dec 10 am
Bart Sells His Soul : Bart casually sells his soul to Milhouse and finds something vital missing. Series 7 Episode 4.

Fern Britton Meets...
BBC One Sun 8 Dec 10.30 am
Fern meets comedian, singer and Pointless presenter Alexander Armstrong, who talks candidly about being sent to boarding school and discusses the origins of his faith.

Mass
RTE 1, RTE Radio 1 Extra and Long Wave 252 Sun 8 Dec 11:00 am
Mass with a gathered congregation and choir from Clogher don Óige the Youth Ministry organisation of the Diocese of Clogher with music led by Catherine McLoughlin. The celebrant is Fr Leo Creelman.

Songs of Praise
BBC One Sun 8 Dec 1.15 pm
Claire McCollum is at Beamish Museum to find out how Edwardians celebrated Christmas, and Rick Astley performs When a Child Is Born.

NEW! IN CONCERT: CHRISTMAS IN VIENNA 2017
EWTN Mon 9 Dec 6 am
A holiday tradition for over 20 years, this beautiful and inspiring Christmas in Vienna concert features a vast assembly of international vocalists performing spiritual Christmas music from around the world.

Lucy Worsley's Christmas Carol Odyssey
BBC 4 Mon 9 Dec 9 pm also Mon night 2 am
Lucy Worsley reveals the surprising stories behind our favourite Christmas carols - from pagan rituals to religious conflicts, French dances and the First World War.

THE QUEST FOR SHAKESPEARE
EWTN Fri 13 Dec 5 pm
LOVE'S LABOURS, LOST YEARS - Popular biographer Joseph Pearce, continues his exploration of the evidence for Shakespeare's Catholicism with a look at the controversy surrounding his marriage, the baptism of his children, and more.