This page previews upcoming TV and Radio Programmes, mostly in Ireland and the UK. This is for information purposes only and does not imply recommendation unless clearly stated otherwise. Some of the material is available live or for download/podcast/streaming from the websites of the relevant broadcaster.

Note: All times and dates are accurate at time of posting, but broadcasters can make changes so it's a good idea to double check in the daily papers/teletext etc. Watch also for regional variations, especially on BBC. The Irish channels, and EWTN can be watched online and through their various apps. EWTN is also available on most satellite services.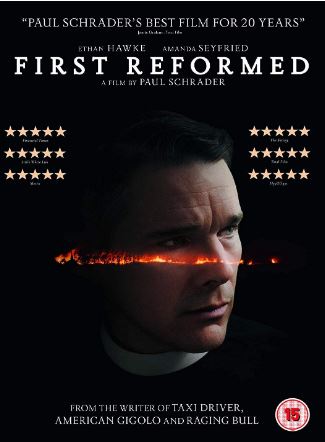 (TG4 Mon)
Hacksaw Ridge RTE 2 Sat 1 Oct 9:20 pm(2016) Director: Mel Gibson. Andrew Garfield. WWII Army Medic Desmond T. Doss, who served during the Battle of Okinawa, refuses to kill people, and becomes the first man in American history to receive the Medal of Honor without firing a shot. Issues of pacifism and conscience, but very violent at times.
THE SIMPSONS Channel 4 Sun 2 Oct 8.30 amSimpsons Bible Stories: During a particularly boring sermon by Reverend Lovejoy, Marge fantasises about Homer and herself as Adam and Eve, Homer sees himself as wise King Solomon, and Bart's David goes up against Nelson's son of Goliath. Funny, but on the borderline of respect. (S10 Ep18/23)
QUEST FOR SHAKESPEARE EWTN Sun 2 Oct 9 amPORTIA, GATE OF VIRTUE - The Merchant of Venice offers an introduction to Shakespeare's Catholicism. Illusions in the subtext of this play point to martyred Jesuit, St. Robert Southwell.
Mass RTE One Sun 2 Oct 11 amFr Brendan O'Connor celebrates Mass in the RTÉ studios, Donnybrook, with a group of musicians and singers led by Cavan-based Angela Uí Fhloínn.
Songs of Praise BBC Two Sun 2 Oct 1.15 pmThe Rev Kate Bottley explores Carlisle Cathedral as it celebrates its 900th anniversary. She discovers its monastic origins and joins visitors enjoying a specially commissioned art installation that invites people to 'rest under the stars' and take a closer look at the cathedral's unique star-spangled ceiling. With hymns from St Cuthbert's Carlisle and around the UK.
IN CONCERT: THE GREAT ORGAN OF NOTRE DAME CATHEDRAL EWTN Mon 3 Oct 6 amThe majesty of the great organ at Notre Dame Cathedral is showcased by organist Olivier Latry in this historic concert recorded prior to the catastrophic fire.
First Reformed TG4 Mon 3 Oct 9.30 pm (2017) Starring Ethan Hawke, Amanda Seyfried. Directed by Paul Schrader. Following tragic family circumstances, an ex-military chaplain, Toller is given the opportunity for a fresh start as a minister. Tortured by the loss of his family, Toller struggles with his faith and is further challenged when a young couple come to him for guidance. Catholic News Service Review.
THE SIMPSONS Channel 4 Tues 4 Oct 6 pmMissionary: Impossible - Homer pledges $10,000 to save his favourite British sitcom. But when the channel turn up to get the cash, he has to flee to a South Pacific island, where he's supposed to start missionary work, but instead introduces gambling and alcohol to the locals. Sending up the excesses of missionary zeal, but maybe also a jaundiced view of religion. (S11 Ep15/22)