This page previews upcoming TV and Radio Programmes, mostly in Ireland and the UK. This is for information purposes only and does not imply recommendation unless clearly stated otherwise. Some of the material is available live or for download/podcast/streaming from the websites of the relevant broadcaster.

Note: All times and dates are accurate at time of posting, but broadcasters can make changes so it's a good idea to double check in the daily papers/teletext etc. Watch also for regional variations, especially on BBC. The Irish channels, and EWTN can be watched online and through their various apps.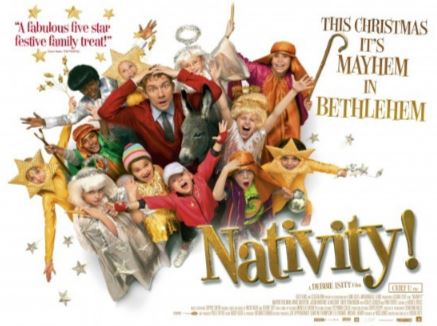 THE QUEST FOR SHAKESPEARE
EWTN Sun 16 Dec 9 am
MURDERED SPY, MARTYRED PRIEST –Joseph Pearce looks at Shakespeare's relationship with Christopher Marlowe and St Robert Southwell.

Songs of Praise
BBC One Sun 16 Dec 1:15 pm
Cornish Christmas. Aled Jones visits Mousehole in Cornwall to make a traditional star gazey pie with Michelin-starred chef Chris Eden and to hear about the legend of Tom Bawcock, the Cornish fisherman who saved the village from starvation. Sean Fletcher talks to Sir Cliff Richard, celebrating 60 years in showbusiness, and he performs his brand new Christmas song. Poet Lemn Sissay, who was fostered and later spent time in a children's home, tells Sean about his Christmas Dinner Events for young people who have been through the care system and might otherwise be alone on Christmas Day. Plus some favourite carols and performances from Fisherman's Friends and Mevagissey Male Voice Choir, all from St Pol De Leon Church in Paul. Carols include Hark! The Herald Angels Sing, The First Noel and O Little Town of Bethlehem.

THE CATHOLIC UNIVERSITY OF AMERICA'S CHRISTMAS CONCERT
EWTN Mon 17 Dec 6 am and Sat 23 Dec 9.30 pm
CATHOLIC UNIVERSITY OF AMERICA'S CHRISTMAS CONCERT - The annual Christmas concert presented by the Catholic University of America, featuring a brilliant blend of angelic voices and the wonderful sounds of the Christmas Season.

GREAT MR. HANDEL (THE)
EWTN Mon 17 Dec 10 am, Fri 21 Dec 9 pm
This classic film reveals how a great composer - Georg Friedrich Handel - takes personal despair and creates a sublime musical composition - The Messiah. Witness the later years of this 18th century musical genius and how he rose above illness and money worries to compose this beloved oratorio.


CHRISTMAS WITH COLLIN RAYE FEATURING ANDREA THOMAS
EWTN Mon 17 Dec 2 pm, Sun 23 Dec 8 pm, Thurs 27 Dec 9 am
Country music star Collin Raye and Andrea Thomas presents some of the most cherished songs of the Christmas season.

CARLOW CHOIR PRESENTS, THE: JOY TO THE WORLD
Wed 19 Dec 5.30 pm, Christmas Eve 10 am
Enjoy the sounds of the season in this delightful Christmas program from The Carlow Choir.

FILM: Nativity!
BBC 2 Thurs 20 Dec 5:50 pm
(2009) A teacher is put in charge of his primary school's musical version of the Nativity. They are competing with a local posh school to be the best-reviewed show in town, but are put under even more pressure when the teacher brags that his ex-girlfriend, who is a Hollywood producer, is coming to watch the show and is thinking of turning it into a film. But he hasn't actually spoken to his ex in years. Starring Martin Freeman, Ashley Jensen, Marc Wootton, Phyllis Logan, Pam Ferris, Clarke Peters. Dir: Debbie Isitt.

Call The Midwife
RTE 1 Thurs night 20 Dec 11:20 pm
"Christmas Special 2017" As the year comes to an end, Poplar faces unprecedented and relentless wintry conditions, which pose a challenge to the occupants of Nonnatus House and the community at large.

Gift of the Magi
TG4 Thurs 20 Dec Midnight
(2010) Starring Marla Sokoloff, Mark Webber and Michelle Beamish. Directed by Lisa Mulcahy. A newlywed couple burdened with economic hardship decides not to exchange Christmas presents to save money over the holidays. Secretly, they make sacrifices to buy the other a special gift.

IN CONCERT: SING NOEL! A CHRISTMAS CONCERT
EWTN Thurs (night) 20 Dec 2 am, Sun 23 Dec 9.30 am
From Ottawa, Canada, the Thirteen Strings Candlelight Orchestra and the Seventeen Voyces choir perform Fantasia on Christmas Carols and the Christmas Oratorio; French Noels sung by the Children's Choir from the Ecole Secondaire De la Salle.

FILM: Nativity 2: Danger in the Manger!
BBC 2 Fri 21 Dec 5:15 pm
(2012) Comedy. A worried new teacher has to juggle a pregnant wife and a class of children on a road trip to the national Song for Christmas competition. Starring David Tennant, Marc Wootton, Jason Watkins, Joanna Page, Ian McNeice, Jessica Hynes. Dir: Debbie Isitt.