This page previews upcoming TV and Radio Programmes, mostly in Ireland and the UK. This is for information purposes only and does not imply recommendation unless clearly stated otherwise. Some of the material is available live or for download/podcast/streaming from the websites of the relevant broadcaster.

Note: All times and dates are accurate at time of posting, but broadcasters can make changes so it's a good idea to double check in the daily papers/teletext etc. Watch also for regional variations, especially on BBC. The Irish channels, and EWTN can be watched online and through their various apps.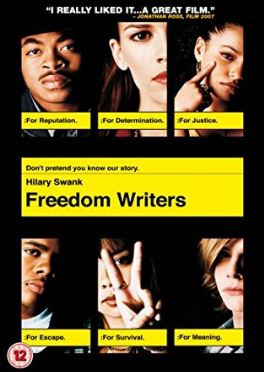 Film: Freedom Writers
TG4 Sat 14 Oct 9.30 pm
(2007) Starring Hilary Swank, Imelda Staunton and Patrick Dempsey. Directed by Richard LaGravenese. A young teacher inspires her class of at-risk students to learn tolerance, apply themselves, and pursue education beyond high school.

Father Brown
RTE 1 Sat 14 Oct 9 am
"The Laws Of Motion" – a rally driver who is also a cheating landlord is murdered, another case for Father Brown.

Songs of Praise
BBC 1 Sun 15 Oct 4:15 pm
Pontypridd. Aled Jones feels the warm welcome of the valleys in Pontypridd, where he hears how the bridge the town is named after was built by a chapel minister and sees how Syrian refugees are making the area their home. JB Gill finds out how singing and art come together in Christian worship and meets a chapel-inspired contemporary artist.
IN CONCERT: MISSA SOLEMNIS
EWTN Mon 16 Oct 6 am
A festive performance from the Staatskapelle Dresden, under the direction of Fabio Luisi, celebrating the heartwarming event of the reopening of the Frauenkirche (Church of Our Lady) in Dresden. (no streaming, satellite only)

JOY OF MUSIC
EWTN Mon (night) 16 Oct 4 am
ST. PETER'S CHURCH - Host Diane Bish brings you a sparkling array of classical music from St. Peter's Church in Salzburg, Austria.

Lucy Worsley: Elizabeth I's Battle for God's Music
BBC 4 Tues 17 Oct 9.00 pm
Lucy Worsley investigates the story of the most remarkable creation from the tumultuous and violent era known as the Reformation - choral evensong. Henry VIII loved religious music, but he loved power more - when he instigated his English Reformation he split from the Catholic church that controlled much of his country. But in doing so set into motion changes that would transform the religious music he loved. Lucy recounts how Elizabeth I and her two siblings were shaped by the changes their father instigated. Elizabeth witnessed both her puritan brother Edward bring church music to the brink of destruction and the reversals made by her sister Mary - which saw her thrown in the Tower of London. When Elizabeth took power she was determined to find a religious compromise - she resurrected the Protestant religion of her brother, but kept the music of her father - music that she too adored. And it was in the service of choral evensong that her ideas about religious music found their expression.
Bad Habits, Holy Orders
Channel 5 Thurs 19 Oct 10 pm
Party girls try the convent life in a reality TV show.