This page previews upcoming TV and Radio Programmes, mostly in Ireland and the UK. This is for information purposes only and does not imply recommendation unless clearly stated otherwise. Some of the material is available live or for download/podcast/streaming from the websites of the relevant broadcaster.

Is this page useful to you? Let me know using contact button on left.
Note: All times and dates are accurate at time of posting, but broadcasters can make changes so it's a good idea to double check in the daily papers/teletext etc. Watch also for regional variations, especially on BBC. The Irish channels, and EWTN can be watched online as through as through their various apps.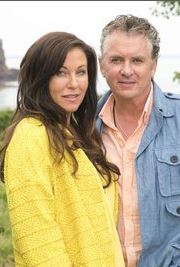 WOMEN OF GRACE
EWTN Thurs 25 May 4.30 pm
SINGING PEOPLE TO HEAVEN: CHOIRS AND CONVERSION, pt. 4 - Mike Aquilina, author of "How the Choir Converted the World," and Johnnette Benkovic discuss the hymn known as the Catholic Fight Song. Part 4 of 5.
Father Brown
RTE 1 Sat 27 May 10:55 am
"The Sins Of The Father" Father Brown becomes involved when a business tycoon receives death threats.

Songs of Praise
BBC 1 Sun 28 May 5:00 pm
In the aftermath of the terror attack in Manchester, Aled Jones discovers how the city is pulling together and the role that faith is playing in the recovery.

Damilola, Our Loved Boy
BBC 1 Sun 28 May 8:30 pm
With Babou Ceesay, Wunmi Mosaku, Juwon Adedokun, Sammy Kamara, Juma Sharkah, Robert Pugh. Feature-length family drama revealing the joy, tragedy and hope behind the iconic story of Damilola Taylor, who died on the streets of London in 2000, aged ten. The programme, told primarily from the point of view of Damilola's father, Richard Taylor OBE, follows Damilola and his family as they travel from Nigeria and begin a new life in Peckham, London. Richard's journey to London, the emotional repercussions of his son's death and the family's quest for justice unfold against a backdrop of national interest and private grief. Can a father find purpose again when the world denies him justice? Can a son overcome his guilt for failing to protect his brother? And can a mother hold her family together as grief overwhelms them? This is a story of survival, redemption and hope, with a family's love at its heart.

Grantchester
UTV Sun 28 May 9.00 pm and be3 Mon 9 pm
Drama series set in the 1950s, adapted from the novels by James Runcie. Sidney has lost his faith in a church that will not allow him to marry the woman he loves. He thinks his days in Grantchester are numbered, but when a little boy is abducted from the village, personal pressures on Sidney and Geordie come to a head. Can they resolve their own crises in time to save the child? Ser. 3, Ep. 6 With James Norton, Robson Green, Morven Christie, Al Weaver, Tessa Peake-Jones, Kacey Ainsworth.

Redwater
RTE 1 Sun 28 May 9:30 pm
Life slowly returns to normal in Redwater but tensions rise as the Byrnes host a family barbecue and Kat tries to get closer to Father Dermott, unaware of the danger he presents to her and her family. Series 1 Episode 3 .

IN CONCERT: MISSA SOLEMNIS
EWTN Mon 29 May 6 am
A festive performance from the Staatskapelle Dresden, under the direction of Fabio Luisi, celebrating the heartwarming event of the reopening of the Frauenkirche (Church of Our Lady) in Dresden.

JOY OF MUSIC
EWTN Mon (night) 29 May 4 am
ST. FLORIAN MONASTERY - Diane Bish's organ favorites from St. Florian Monastery in Austria.
Broken.
BBC 1 Tues 30 May 9:00 pm
Sean Bean, Anna Friel, Macy Shackleton, Naomi Radcliffe, Aoife McMahon, Fin Campbell. Dir: Ashley Pearce. Drama series written by Jimmy McGovern. Catholic priest Father Michael Kerrigan presides over a large parish on the outskirts of a major city in northern England, a well-respected figure throughout the local community. Father Michael reaches out to a troubled parishioner, a single mother-of-three, who is badly struggling for money after a series of unfortunate events - but she rejects his attempts to help. The woman's mother then dies suddenly. Father Michael has to cope with his own frail mother, living 60 miles away, and as he deals with the effects his own harsh, working-class upbringing and reflects on the conflicts within society at large, he questions how much of an impact he can really have on the ever-evolving spiritual landscape of modern-day Britain. Ser. 1, Ep. 1 (rescheduled from last week)

Everybody Loves Raymond
Channel 4 Thurs 1 June 8 am
The Angry Family: The whole family meet the school counsellor and a local clergyman to uncover what - and who - is to blame for the constant bickering between them and Michael's parents.