This page previews upcoming TV and Radio Programmes, mostly in Ireland and the UK. This is for information purposes only and does not imply recommendation unless clearly stated otherwise. Some of the material is available live or for download/podcast/streaming from the websites of the relevant broadcaster.

Note: All times and dates are accurate at time of posting, but broadcasters can make changes so it's a good idea to double check in the daily papers/teletext etc. Watch also for regional variations, especially on BBC. The Irish channels, and EWTN can be watched online and through their various apps.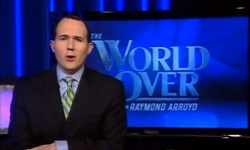 (EWTN Tues)


Broken
RTE 1 Fri (night) 20 April 2:30 am
"Episode 4" Father Michael risks breaking the seal of confession as he tries to help Roz Demichelis, while his childhood flashbacks intensify as his mother's condition deteriorates. Episode 4 (R)
Faitharts Review here.
VOX NOSTRA WITH VLAD SMISHKEWYCH
RTE Lyric FM Sun 22 April 7.00 am
The sacred music of Carissimi set the bar high in its day, and shines on this morning's Vox Nostra. Although Vox Nostra is always a varied bag of over a thousand years of music, this Sunday's programme has a distinctive Roman flavour–and we don't mean pasta Carbonara or La Dolce Vita. Giacomo Carissimi, born this week in 1605, set the bar high for the style known as Roman Oratorio, the pinnacle of early Baroque Italian sacred music. We'll get to hear Carissimi's oratorios and cantatas, selections from his mass (itself based on an earlier secular cantata), and even the Morning Madrigal will be Carissimi's. In between the Roman master's oeuvres will be vocal and instrumental works by Fayrfax, D'Anglebert, Scheibe, Abelard, Durón, and D'India, completing a very international morning of early music on today's programme.

Mass
RTE 1 Sun 22 April 11:00 am
Mass for Vocations Sunday with choir from the National Centre for Liturgy, Maynooth and a gathered congregation of priests, seminarians, religious and friends.

Songs of Praise
BBC 1 Sun 22 April 3:30 pm
St George's Day. Josie d'Arby presents Songs of Praise from Northampton's All Saints Church. To mark the 25th anniversary of Stephen Lawrence's murder his mother, Baroness Doreen Lawrence talks to Sean Fletcher about how her faith has helped during her 18 year fight for justice for her son. On the eve of St George's Day, the Rev Rose Hudson-Wilkin reveals the Middle Eastern identity of England's patron saint. Josie finds out about the Good Loaf cafe run by the Christian charity Crime 2 Christ and visits the town's premier rugby club, the Saints, which was founded by a clergyman at the end of the 19th century. The programme has traditional hymns from Northampton's civic church, All Saints.

TOLKIEN'S "THE LORD OF THE RINGS" A CATHOLIC WORLDVIEW
EWTN Sun 22 April 4 pm, also Thurs 26 April 9 am
Host Joseph Pearce uncovers the Catholicism found in J.R.R. Tolkien's The Lord of the Rings trilogy. Learn how Tolkien proclaimed the truth through his philosophical wit such as explaining the differences in myths which lead to C.S Lewis' conversion.
IN CONCERT: SISTINE CHAPEL CHOIR
EWTN Mon 23 April 6 am
For the first time in over 30 years

JOURNEY HOME
EWTN Tues 24 Apr 10 am
Marcus Grodi welcomes country singer Collin Raye, a former Baptist who converted to Catholicism.

CONVERSATIONS THE WORLD OVER WITH RAYMOND ARROYO
EWTN Tues 24 Apr 5.30 pm
CARROLL O'CONNOR - Raymond Arroyo's conversation with the late, great TV actor, Carroll O'Connor. He spoke candidly about the loss of his son to drugs, his acclaimed career, his most famous role as Archie Bunker, and how his Catholic faith informed the roles he played.

Broken
RTE 1 Fri (night) 27 April 1:50 am
"Episode 5" Father Michael has to mediate when Helen's devout brother, Daniel, clashes violently with her gay neighbour, Carl, as all try to come to terms with Vernon's death. Episode 5
Faitharts Review here.