This page previews upcoming TV and Radio Programmes, mostly in Ireland and the UK. This is for information purposes only and does not imply recommendation unless clearly stated otherwise. Some of the material is available live or for download/podcast/streaming from the websites of the relevant broadcaster.

Note: All times and dates are accurate at time of posting, but broadcasters can make changes so it's a good idea to double check in the daily papers/teletext etc. Watch also for regional variations, especially on BBC. The Irish channels, and EWTN can be watched online and through their various apps.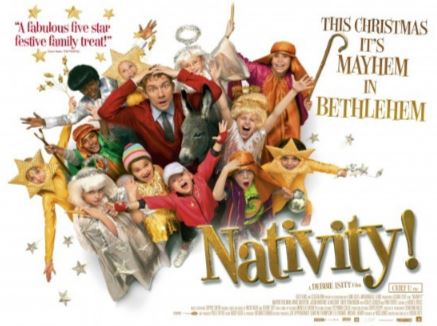 JOY OF MUSIC
EWTN Sat (night) 16 Dec 4 am
A DANUBE CHRISTMAS CELEBRATION

Songs of Praise
BBC 1 Sun 17 Dec 2:15 pm
Christmas in Winchester. Songs of Praise presenters each choose their favourite carol, and some are sung by candlelight in Winchester to celebrate Christmas. Sean Fletcher visits the Hospital of St Cross to find out about their tradition of giving food to pilgrims, and he catches up with former presenter Debbie Thrower, now a lay cannon in Winchester Cathedral. Carols include O Come All Ye Faithful, Away in a Manger, When a Child Is Born and Once in Royal David's City.

FILM: Nativity!
BBC 2 Sun 17 Dec 5:20 pm
(2009) A teacher is put in charge of his primary school's musical version of the Nativity. They are competing with a local posh school to be the best-reviewed show in town, but are put under even more pressure when the teacher brags that his ex-girlfriend, who is a Hollywood producer, is coming to watch the show and is thinking of turning it into a film. But he hasn't actually spoken to his ex in years. Starring Martin Freeman, Ashley Jensen, Marc Wootton, Pam Ferris, Phyllis Logan, Clarke Peters. Dir: Debbie Isitt.
Faitharts Review here.

IN CONCERT
EWTN Sun 17 Dec 8 pm
THE KING'S SINGERS - CHRISTMAS

The Alternativity
BBC 2 Sun 17 Dec 9 pm
Unique, hour-long film following the production of a contemporary one-off performance of the nativity play quite unlike any other. Ser. 1, Ep. 1

IN CONCERT
EWTN Mon 18 Dec Mon 6 am
SING NOEL! A CHRISTMAS CONCERT

JOY OF MUSIC
EWTN Mon (night) 18 Dec 4 am
A MUSICAL JOURNEY OF CHRISTMAS

CHOIRS FOR CHRISTMAS
RTÉ lyric fm, Tues 19 Dec 1 pm
Get into the Christmas spirit as Evelyn Grant plays a selection of the entrants to Ireland's biggest choral competition. Don't miss today's show for the announcement of the 2017 Choirs for Christmas winners.
Father Brown
BBC 1 Tues 19 Dec 1:45 pm
The Star of Jacob. Mark Williams, Ray Coulthard, Isla Blair, Dean Andrews, Sorcha Cusack, Roger May. Dir: Paul Gibson. Drama series based on the novels of GK Chesterton. Father Brown investigates when the son of a duke is abducted from Lady Felicia's Yuletide ball. Can he find the child in time for Christmas? Ser. 5, Ep. 1
Alternativity: The Performance
BBC 2 Wed 20 Dec 11:00 pm.
Contemporary one-off performance of the nativity play quite unlike any other. Ser. 1, Ep. 2

FILM: Nativity 2: Danger in the Manger!
BBC 2 Fri 22 Dec 5:15 pm
(2012) Comedy. A worried new teacher has to juggle a pregnant wife and a class of children on a road trip to the national Song for Christmas competition. Starring David Tennant, Marc Wootton, Jason Watkins, Joanna Page, Ian McNeice, Jessica Hynes. Dir: Debbie Isitt.