This page previews upcoming TV and Radio Programmes, mostly in Ireland and the UK. This is for information purposes only and does not imply recommendation unless clearly stated otherwise. Some of the material is available live or for download/podcast/streaming from the websites of the relevant broadcaster.

Note: All times and dates are accurate at time of posting, but broadcasters can make changes so it's a good idea to double check in the daily papers/teletext etc. Watch also for regional variations, especially on BBC. The Irish channels, and EWTN can be watched online and through their various apps.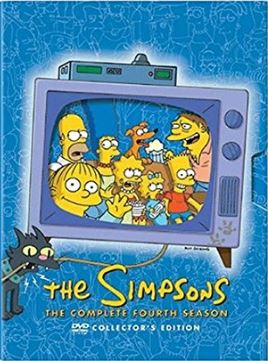 THE SIMPSONS
Channel 4 Sat 19 May 12:25 pm
Faith Off - Homer gets a bucket of superglue stuck to his head when his prank goes wrong at a Springfield University fundraiser. The only person who can get it off is preacher Brother Faith (guest star Don Cheadle), inspiring Bart to become a faith healer.

Feel the Spirit - A Jazz Celebration Service for Pentecost.
BBC 1 Sun 20 May 10:00 am
An international service live from St Martin-in-the-Fields in London's Trafalgar Square. The Rev Dr Sam Wells leads the service and the preacher is the new bishop of London, the Rt Rev Sarah Mullally. Will Todd's Jazz Missa Brevis is the Mass setting, sung by the combined choirs of St Martin's and directed by Andrew Earis. Hymns included in the service are Every Time I Feel the Spirit, Let All the World in Every Corner Sing and Come Down, O Love Divine.

Pentecost Mass
RTE Sun 20 May 10:55 am
Father Marc Oortman celebrates Mass for Pentecost in St Lamberts Basilica, Hengelo, a working class parish in the Netherlands. Music is led by the church's Schola Cantorum and Voies to Heaven choirs, with commentary and translation by Michael Kelly.

THE SIMPSONS
Channel 4 Sun 20 May 2:25 pm
Missionary: Impossible : Homer pledges $10,000 to save his favourite British sitcom. But when the channel turn up to get the cash, he has to flee to a South Pacific island where he's supposed to start missionary work, but instead introduces gambling and alcohol to the locals. Funny but critical of some missionary practices.

Songs of Praise
BBC 1 Sun 20 May 2:25 pm
Manchester Remembered. On Pentecost Sunday Kate Bottley is in Manchester to hear from survivors and families of the Manchester terrorist attack one year on. She meets a woman who tragically lost her son that night and a Methodist minister who was in the arena with her 11-year-old twin daughters. With hymns from churches across Greater Manchester and a very special performance from Katherine Jenkins and Parrs Wood High School choir.