This page previews upcoming TV and Radio Programmes, mostly in Ireland and the UK. This is for information purposes only and does not imply recommendation unless clearly stated otherwise. Some of the material is available live or for download/podcast/streaming from the websites of the relevant broadcaster.

Note: All times and dates are accurate at time of posting, but broadcasters can make changes so it's a good idea to double check in the daily papers/teletext etc. Watch also for regional variations, especially on BBC. The Irish channels, and EWTN can be watched online and through their various apps. EWTN is also available on most satellite services.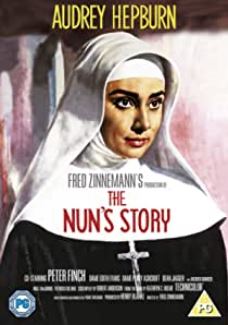 Film: The Nun's Story
BBC 2 Sat 16 Jan 1.15 pm
(1959) Audrey Hepburn starts as a nun who wants to be perfect, but is inhibited by her pride. Gabrielle van der Malenters enters a nunnery as a nursing postulant, but is frequently at odds with her superiors as she can't help putting care for the patients above her obedience to the order. Her greatest wish is to work in a hospital in the Congo.

THE QUEST FOR SHAKESPEARE
EWTN Sun 17 Jan 9 am, also Fri 22 Jan 5.30 pm
THE LESSONS OF LEAR - Joseph Pearce discusses what the play King Lear reveals.

Father Brown
RTE 1 Sun 17 Jan 10.05 am
The Sacrifice Of The Tantalus: When Mallory's pursuit of a fugitive ends in disaster, a familiar face returns to hunt the culprit. Series 7 Episode 6.
Songs of Praise
BBC One Sun 17 Jan 1.15 pm
Singer Brenda Edwards presents her first Songs of Praise. She is in east London, joining the Bonny Downs Baptists on their Sunday 'walking church' around the Flanders Field memorial garden, finishing with Holy Communion in their community garden. She also joins their walking football team to hear about the benefits of fun, faith and footie. Katie Piper meets the Rev Chris Lee, whose 60-second online sermons have gone viral, attracting over 170,000 followers. Katie also meets two award-winning women whose charity, Wave, brings those with and without learning disabilities together in friendship. There's music from around the country, including a performance from Brenda Edwards.

IN CONCERT: CECILIA BARTOLI IN VERSAILLES
EWTN Mon 18 Jan 6 am
World-renowned opera star Cecilia Bartoli's voice transports the halls and grounds of the Palace of Versailles as she sings selections from the composer and priest Fr. Agostino Steffani. No streaming, satellite only.

Father Brown
BBC One Mon 18 Jan 1.45 pm
A mysterious saboteur tries to stop Kembleford winning the Three Counties choir competition.