This page previews upcoming TV and Radio Programmes, mostly in Ireland and the UK. This is for information purposes only and does not imply recommendation unless clearly stated otherwise. Some of the material is available live or for download/podcast/streaming from the websites of the relevant broadcaster.

Note: All times and dates are accurate at time of posting, but broadcasters can make changes so it's a good idea to double check in the daily papers/teletext etc. Watch also for regional variations, especially on BBC. The Irish channels, and EWTN can be watched online and through their various apps. EWTN is also available on most satellite services.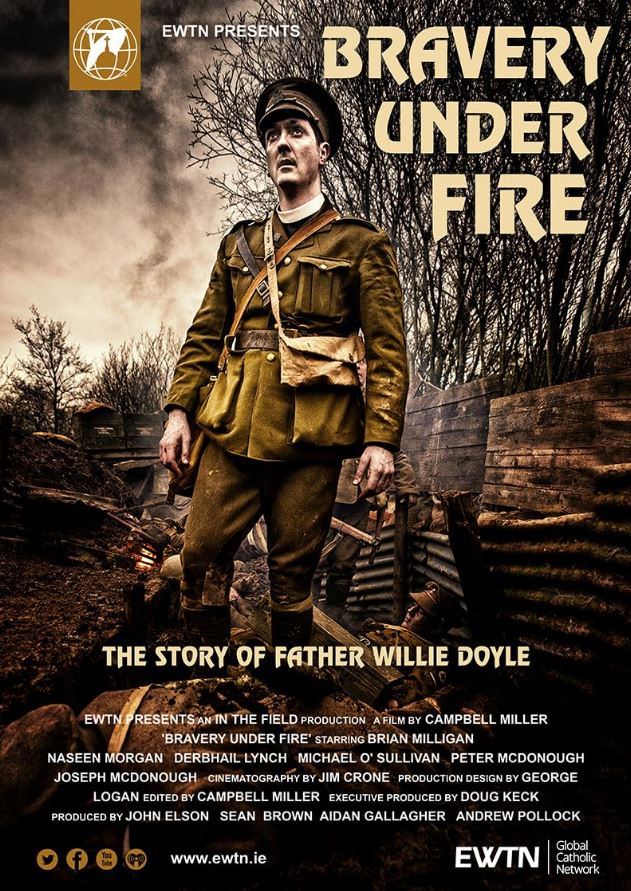 (EWTN, Sun)s
QUEST FOR SHAKESPEARE
EWTN Sun 11 June 9 am
THE WISDOM OF FOOLS AND THE SANITY OF MADMEN - Catholic motives are explored for Shakespeare having written King Lear. The play is a commentary on the position of Catholics as subjects of an intolerant and persecuting state.

THE SIMPSONS
Channel 4 Sun 11 June 9 am
A cool priest (Liam Neeson) convinces Bart and Homer to become Catholics. Fun and stereotyping!

Mass
RTE One Sun 11 June 11:00 am
Mass for the Feast of Corpus Christi with choir and congregation from the Church of the Holy Name, Ranelagh, Dublin. The celebrant is Fr. Paul Taylor and the musical director is Frank O'Donnell.

Songs of Praise
BBC One Sun 11 June 1.15 pm
Katherine Jenkins visits Syon House in west London to discover its rich Christian history and to look back on some of her favourite moments on Songs of Praise.

BRAVERY UNDER FIRE
EWTN Sun 11 June 9 pm
This original EWTN docudrama presents the life and ministry of Father Willie Doyle, S.J., an Irish Jesuit priest who was killed in action during World War I.

Sacred Music – the Story of Allegri's Miserere
BBC 4 Sun 11 June 9.30 pm
Simon Russell Beale tells the story behind Allegri's Miserere, one of the most popular pieces of sacred music ever written. The programme features a full performance of the piece by the award-winning choir the Sixteen, conducted by Harry Christophers.

Father Brown
BBC One Fri 16 June 1.45 pm
The Requiem for the Dead: Father Brown must delve into the past and open up old wounds when a child killer is found murdered.