Blog Nov-Dec 2009
30/12/09
Got to have another look at the film Millions on DVD last night. It's a film by Danny Boyle of Slumdog Millionaire fame and features a young boy who's a moral anchor for those close to him who compromise so easily. He tries so hard to be good, and is fascinated by the stories of the saints, many of whom appear to him, complete with halos, in little vignettes through the film. A big bag of money, the proceeds of a train robbery, comes his way - he thinks it's a gift from God and wants to use it responsibly, but finds it so hard just to give it to the poor. It's a sweet film, but not overly sentimental, and it's imbued with a warm attitude to religious faith. The scenes with the saints are particularly clever and amusing. It's not for very young children as there is some menace, complex moral issues and a one-night stand (with possibilities for the future!) between the widowed father and a charity worker.
28/12/09
At last some blogging time during the holidays. A few ideas from before Christmas first: sometimes I get frustrated with the way RE classes tend to get dumped on for matches, visiting speakers etc, but I've tried of late to see it as a blessing. Admittedly it can be a break from tough senior RE classes, but when there's only a few students left in the class it can be turned to advantage. Once recently I was asked by a student if he could use the time to write a song. I agreed if it could be a spiritual song! I keep a guitar in my classroom so he borrowed that and got to work with some other students. The end product was a bit rough, but not bad I suppose for 40 minutes. On other such occasions I let students read from my modest library of religious books and papers. I was pleasantly surprised when one senior student got into a Joan of Arc story and actually borrowed it to finish at home. In these situations the class dynamic changes and there is more opportunity for discussion, with individuals or groups.
23/12/09
I've been catching up on the US drama series Heroes via the box sets -I find it a strange way to watch a series. When it was first broadcast I didn't think I'd be interested as I'm not that much into superhero stories. But this time the characters are not super heroes in costumes, but humans with extraordinary abilities - some can read minds, some can be invisible, some can time travel and some can even fly. Episodes start and end with philosophical reflections on what evolutionary or other processes have lead to this phenomenon, and the series seems quite open to the idea of God. Themes of choice and personal responsibility abound as some characters use their powers for good, some for evil. And there is political resonance for today - in the third series, for example, shadowy government forces start to discard civil liberties and round up the ones with special powers - in one scene, as they are hauled off to some unknown destination chained and hooded in their orange jumpsuits, there's an obvious suggestion of rendition flights and Guantanamo Bay. A few days ago in school I was doing classes on the 10 Commandments and when I came to the 8th and 9th there was the usual difficulty in explaining the meaning of "covet". I was able to refer to one of the villains in Heroes (Sylar) who admits that he covets the special abilities of other gifted/cursed ones - and goes to murderous lengths to get these powers. One of students maintained that this greed for abilities is one of Sylar's powers/abilities/curses which raised the issue of choice - how much control does he have or is this lethal coveting something he can't help? In some episodes he tried to be one of the good guys but it didn't last, and in one of the posssible futures shown Sylar is seen as a reformed family man!
11/12/09
Recently I got to see the Irish premiere of a multi-award winning documentary The Human Experience. Can documentaries be regarded as art? Whatever the case, this film was well put together, and it should prove a great resource for teachers doing classes on the search for meaning. Unfortunately it is not available on DVD yet. It tells the story of two young American brothers, Cliff and Jeff Azize, who are searching for meaning in their lives. They live with the homeless in their native New York, visit a care centre for disabled children in Lima, Peru, and visit a leper colony in Ghana, Africa. I thought the Peru segment was the best - the children were so positive, considering their situation. One of the things I liked about the film was the way they let the people they visited speak for themselves. Also, the fact that it is segmented makes it particularly classroom friendly. There is a parallel story running through the film - one of the brothers reflects on his own upbringing and has many issues to confront - this culminates in an emotional reunion with his father. There are many thought provoking quotes interspersed through the film, which again should help in the classroom context. It's a film I'd like to see again to make a fuller judgement. Some of the film makers were present at the screening which was a treat. I asked about the DVD release but was told it would be a while yet as they were working on distribution arrangements. For the moment check out the film's website, and watch the trailer above.
8/12/09
Blogging has had to take a back seat for the last while, what with Christmas Exams and other pressing deadlines. I've also been having fun giving ICT courses for Religious Education Support - good to meet many Faitharts subscribers at these sessions. Two left to go - Navan Education Centre this Thurs 10 Dec, and Co Wexford Education Centre in Enniscorthy on Tues 15th Dec, both 7 to 9.30 pm. If interested ring Angela at Co Wexford Education Centre.
I love this time of year for the music. I've been using Christmas songs at Advent Prayer Services as usual. My article (here) on Advent and Christmas Resources gives an idea of the material I'm using. This year also some of my third year students are doing the journal title on special times of the year, concentrating on Christmas, so today we had a class on Christmas music, with clips of various songs, including ones they suggested themselves. I had most of them on CD or tape, but the 7Digital music download site is good for finding some clips (free) or whole songs (cheap!). One request was for Mistletoe and Wine - not one of my favourites! But they knew it well and even joined in the singing.
There are some interesting new Christmas albums out this year (see recent additions to the news page). Strangest of all must be Bob Dylan's Christmas in the Heart - I've been listening to some of preview clips on CD Universe and it's certainly an acquired taste! Christmas with gravel! I've noticed that some performers are not inclined to mention Christmas in their album titles - e.g. Sting's new album If on a Winter's Night, Midwinter Graces by Tori Amos and Song For a Winter's Night by Tommy Fleming all these, especially the latter, feature many Christmas songs and carols, so is this political correctness, a chance to include a wider range of songs or an attempt to reach a broader market?
21/11/09
Have just been watching this morning's live coverage on EWTN of Pope Benedict's meeting with artists in the Sistine Chapel. Loads of food for thought there and I suppose, I hope, in a way it's a validation of the work of Faitharts and similar ventures!
The event was flagged as the first of many efforts to rekindle the relationship between religion and artists, surely a worthy and even urgent ambition. Around 300 artists from various disciplines gathered in this most appropriate of venues and when they weren't watching the Pope they were staring at the ceiling - not a bad idea when you're in the Sistine Chapel. It wasn't just the visual art that was on show - the chapel choir sang some of Palestrina's work at the beginning and end of the event, though we didn't see much of them as they were tucked away in the loft! It was the 10th anniversary of Pope John Paul II's Letter to Artists and the event started with a reading of that letter by an Italian film director, followed by an introduction from Archbishop Gianfranco Ravasi, President of the Pontifical Council for Culture, who spoke of the desire to renew the special relationship between religion and the arts. As we travelled a path of beauty and light the arts could open souls to the eternal. Pope Benedict himself was also inspiring in his address. But he was also realistic - accepting that some of those present might be remote from the practice of religion. Yet his language was the language of friendship, dialogue and collaboration. He stressed that the world needs beauty if it's not to fall into despair, and that the artists were the custodians of beauty. He was also conscious that there were problems, that there could sometimes be an escape into mere aestheticism, there could be the guise of indecency, and gratuitous gratification. But the pursuit of authentic beauty wouldn't go down those roads, in fact it could even wound us, which I found a rather striking idea, but makes sense if you think of a pained reaction to the depiction of suffering in a film for example, and indeed you wouldn't have to go much further that the Sistine Chapel art works to find examples of that. Finally, against the amazing backdrop of Michelangelo's Last Judgement he called on the artists to be aware of their responsibilities and grateful for their gifts as their God-given talents glorified the Creator and challenged them to be heralds of hope for humanity. As soon as I find video of the event and the text of the address I'll post the links, but it should be up on YouTube soon at www.youtube.com/vatican
[video added above 22/11/09, full text of address here ]
16/11/09
Today in school we had a retreat with the Net Ministries team, most of whom are young Canadians visiting Ireland. We used the local parish centre and students thought it was helpful to get out of the school for the day. The team was excellent - dedicated, courteous and professional. I was glad to see them using plenty of arts resources - they sang, involved the students in the singing, and used short dramas to illustrate their points. I joined the team and students for a prayer service in the local church, which was a special experience for me too. One of the team sang at the prayer service, while there was some beautiful reflective music during the time for individual prayer (I hope to draw attention to some of this music when I can track it down - it was a compilation from various sources). I have rarely seen my senior students so quiet, reflective and focussed!
3/11/09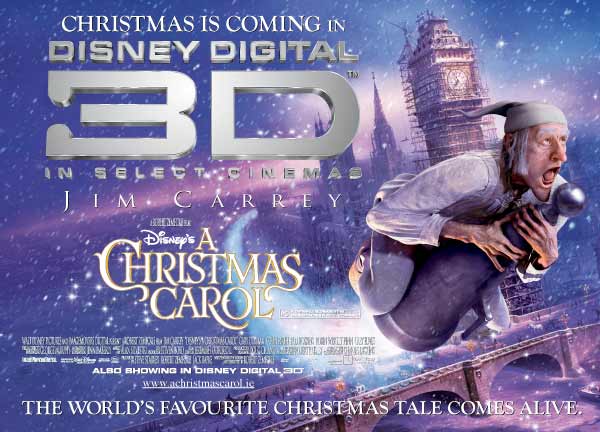 I know it's unseasonal, but last week I got to attend the multimedia screening of A Christmas Carol - this is Robert Zemeckis' new film adaptation of the Dickens story for Disney, and what a treat it is! Those who have seen his Polar Express will be familiar with the kind of animation applied here - a technique of motion capture that has the characters looking incredibly like the actors that do their voices. The effect here is immeasurably heightened by the eye-popping 3D effects. And it's not just the occasional gimmicky scare with something being flung at the audience - the 3D effects are seamlessly integrated throughout and you'd wonder how you could ever bear to watch it in 2D cinema or DVD. You seem to fly through the air with the characters, it seems to be snowing in the cinema, and yes, occasionally a few things appear to fly into the audience, the most delightfully disgusting being Jacob Marley's ghostly spittle as he tries to warn Scrooge about the consequences of leading a selfish life. The amount of detail is incredible - we see textured wrinkles and spotty skin, which doesn't sound very appealing but in the context it's brilliant.
The technical wizardry is jaw-droppingly impressive, but without a good story it would ultimately leave an empty feeling. Of course, Dickens provides a timeless and very human story of redemption at Christmas time which is told faithfully in this adaptation. Jim Carrey plays the central role of Scrooge with his usual zest - he savours the role, wallows in it, hams it up at times, and yet, despite many laughs it is a very serious story and we get to feel all of Scrooge's changing emotions. Yet, for some reason it fell that little bit short at the emotional level, perhaps because of the fact that the characters are animated no matter how realistic the detail. I felt this particularly to be the case when Scrooge is given a glimpse of the sweetheart of his youth, estranged by his over concern with money. The emotional resonance should, I thought, have been much stronger here. One of my favourite previous versions was the Muppet Christmas Carol and amidst all the crazy Muppets, the real Michael Caine did a better job at capturing the humanity of Scrooge.
The film doesn't hedge on either the frightening or the religious elements of the story - if anything they are heightened. Smaller children may get a legacy of nightmares from the death coach that chases Scrooge, or the horrors of the graveyard scene where the ghost of Christmas come lets Scrooge see what a miserable future and death he will have if he continues with his self-centred behaviour. After a series of horrors he finds himself dangling over a yawning grave, with his open coffin waiting for him, and under that a hellish red glow. Then there's the horrific appearance (video clip on left) of the ghost of Scrooge's deceased partner Jacob Marley - he seems to have come from hell or more likely purgatory carrying the chains he has made for himself in life (reminded me of the first appearance of the ghost in Hamlet). And as he leaves we get a scary vision, worthy of Dante, of many other troubled souls, tortured by the choices they have made in life.
But it's primarily a story of redemption and salvation and so the other religious elements are more positive, apart from a dig at "men of the cloth" who seem responsible for Sunday closure of a place where the poor can cook their food (reminded me of those who criticised Christ for healing on the Sabbath). There was liberal use of traditional Christmas hymns on the soundtrack. Sometimes it's just a hint, (Ave Maria), sometimes more prominent (Hark the Herald Angels Sing) and sometimes quite central (Adeste Fideles). On the end credits there's a new song, where Adrea Bocelli takes up Tiny Tim's "God Bless us Everyone".
Christmas Carol is due in cinemas on Nov 6th - go see it! For more info and trailers see the official website.