Blog October 2008
28/10/08
Have been doing my usual module on religious themes in music with my Transition Year students - most of what I've in the past is outlined in previous music blogs, and in my article on using music DVDs in class, so I'll just include just some new resources ad observations here. I used the usual DVDs (many are posted in the videos page) - this year James Taylor (Shed a Little Light) wasn't that popular (sob, sob), but as usual Alison Krauss (Down in the River to Pray) and Jewel (Hands) got a high rating - one student made a reference to "eye candy", but they did engage with the spiritual issues in the songs! Bruce Springsteen's song If I Should Fall Behind didn't fare too well with some, but one student wrote that he hoped to get it onto his MP3 player the next day!
Most interesting comments were raised by the Steve Vai clips - there were prayerful instrumentals For the Love of God and Whispering a Prayer (see clip on left). The boys loved his guitar playing, though some didn't like his facial gestures! They split fairly evenly on whether instrumental music could ever be spiritual, without accompanying lyrics. Eric Clapton (Tears in Heaven) and Bob Dylan (Knocking on Heaven's Door) went down well, with some of the more musical students joining in the singing, which I haven't experienced in these sessions before.
As usual I invited the students to bring in their own music (in advance so that I could have a listen myself and get lyric sheets printed), and just one student obliged (thanks Jordan!), but he produced loads of material, including the Dylan and Clapton tracks that I already had on DVD. Bon Jovi's Living on a Prayer featured as well and once again there was great singing along on the chorus. Some of the material was new to me - there were religious references, but in some cases the songs were open to widely varying interpretations. Reverend Wrinkle by Black Stone Cherry may have been about an inspired clergyman - "Moonlit man got it all in his head/He can find the beauty/In the things that are dead … He knows the only way back home". The Runner by Kings of Leon was hard to figure out - "I talked to Jesus/Jesus says I'm okay" - but this being used to cover up dodgy behaviour? Prayer by Disturbed reminded me of metaphysical poet John Donne in Batter My Heart, wanting to be wrenched violently away from sin - "Living just isn't hard enough/Burn me alive inside", but I suppose is also open to more disturbing interpretations.
12/10/08
On RTE Radio 1 this week Dave Fanning did an item on Christian music with his guests Liam Lawton and Ronan Johnston, both of whom are involved in Christian music in Ireland. It was a great idea for a mainstream youth orientated show, and at the end Fanning said they could have gone on for three hours about it. But that just highlighted the main flaw with the item - it was way too short. And so we got just snippets of some American Contemporary music from the likes of Casting Crowns, and often with jokey voiceovers which didn't help. I may be wrong but I felt that Lawton was uncomfortable with this format of fragmented music and fragmented commentary. He did manage to make an interesting distinction between American Contemporary Christian Music (CCM) and European sacred music - in general he found the latter to be more reflective, though he did praise Catholic American singer John Michael Talbot for his meditative material. Johnston concurred, and also began to talk about some of his favourites (like the late Mark Heard) who were somewhat off mainstream. He found the typical CCM material to be too safe, not allowed to deal with the doubts. He thought U2 was the greatest Christian band and instanced their song I Still Haven't Found What I'm Looking For, though I'd question how one who has encountered Christ could sing that. Where else could you go looking and still be a Christian? At one stage Fanning wondered if we weren't a bit disdainful over here about this kind of American music. Mind you his own introduction to the segment left something to be desired - Christian music from USA was "not all bible thumping hicks", he said, and assuming a lot about his young listeners urged them: "before you stretch out your cynical atheistic finger to turn to another channel, broaden your horizon". Remember that Examiner survey during the week showing a high rate of belief in God among young people.
This interview is archived here.
8/10/08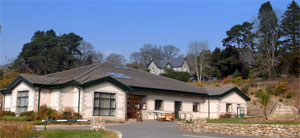 Yesterday I gave a workshop to teachers on using poetry in Religious Education, and what a great venue - Glendalough! Where better to go for spiritual inspiration. The event, organised by the Diocesan Advisors for Dublin (thanks Brigid and Mary!) took place in the excellent Brocagh Centre pictured), with a tasty lunch at the nearby Wicklow Heather restaurant. The materials I used are available on request (Word documents) - see contact details above. We looked at some older poems by the likes of Patrick Kavanagh, Hopkins, Donne and Herbert, and how their poems could be used teaching various topics in RE. I was delighted at some of the topic suggestions I hadn't thought of myself. Then we got a flavour of the teachers' acting skills as we got a taste of some modern Christian performance poems. I enjoyed it anyway! Check out the various Blog entries for poetry for accounts of how I use poetry in class. Also on the arts front I enjoyed Sr Bernadette Sweeney's workshop on using religious music with our students - my favourite new piece (new to me) was Standing on the Shoulders by Earth Mamma.
7/10/08
Used some more arts resources doing the Sacrament of Reconciliation - including a few confession scenes I've collected over the years. The confession from Ken Loach's film Raining Stones provoked some heated discussion - in this the sympathetic priest played by Tom Hickey advises a man not to report to the police that he has accidentally killed a loan shark. Further, the priest burns the loan shark's book of debts - one student complained that the priest was breaking the law by destroying evidence. It's a powerful scene, though with one F-word, so I wouldn't use it with juniors! I also used the one confession scene that appeared in Prison Break, when main character Michael Scofield worries that he has let the ends justify the means in his efforts to free his innocent brother from jail. But is it really a confession? At the end he is reluctant to surrender to God in cases he looses all he has fought for, but the priest cautions him about losing his soul. The X-Files is back in the public eye again due to the latest movie I Want to Believe (see review on Film blogs page), so I felt better about using an old confession scene with Scully reflecting on some strange events. She admits she has drifted away from the Church, though she's not sure why, and ends with a concern - that God is speaking but that no one is listening. I might finish off this topic with some songs and poems - I like Under the Rug by Randy Stonehill from his Lazarus Heart album, and Kenny Rogers Tell It All Brother from his days with The First Edition (available on various compilations of that group). Poetry wise there's Hopkin's Felix Randal and John Donne's Oh My Black Soul and George Herbert's Love to name but a few that deal with repentance and forgiveness.