Blog Entries Oct-Dec 2011
30/12/11

Got to hear lots of Christmas music over the holidays. One new song that impressed was "St Christopher", by the Lost Brothers, performed on The John Murray Show on Wed 21 Dec. Fortunately the video cameras were rolling.
6/12/11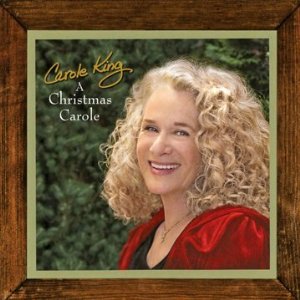 Got another new Christmas CD.
A Christmas Carole is a cleverly titled album from singer-songwriter Carole King ("You've Got a Friend" among others), just released. For the most part these are secular standards like "Carol of the Bells" "Have Yourself a Merry Little Christmas" and "Sleigh Ride", and they're sung well. There's also the traditional Jewish "Chanukah Prayer", and the more Christian "Do You Hear What I Hear". "My Favourite Things" was an unusual addition, though there are some Christmas references ("Doorbells and sleigh bells and schnitzel with noodles"!). All in all it's a pleasant work but I'd like it to have been more adventurous, with some more original songs - the nearest we get is "Christmas Paradise" and "New Year's Day", both co-written by King's daughter Louise Goffin. You can hear track samples and watch a related video at Amazon.
1/12/11
It's that time of year again, time to whip out the Advent and Christmas music. I love it! My article suggesting resources for the season is here and this year I've added a playlist of Advent songs that I think would go down well. I did Advent services with junior classes during the week and used mainly O Come O Come Emmanuel by Kim Hill from her "Real Christmas" album (the can be heard on the playlist) and John Angotti's Prepare Ye the Way from his Christmas album.

So far I've got no new Christmas albums this year (any ideas?), but I did come across the EP "Christmas Sky" by a Californian Singer J Peter Boles. I hadn't heard of him before, but I was impressed - he remonds me of Tom Paxton. There are fine roots/acoustic versions, with tasty guitar and mandolin, of God Rest Ye Merry Gentlemen, Silent Night, Go Tell It on the Mountain and Dona Nobis Pacem, along with one new song Warm Winter's Eve in December which tells the nativity story from the innkeeper's perspective - see clip above left. On his website you can hear samples of the tracks and download one of them for free.
And finally for today, treat yourself and try this song Show Me the Place, a new song from Leonard Cohen with some familiar religious imagery. All choir voices on this track were composed and performed by Jennifer Warnes, my favourite singer!
18/11/11
Last time round I wasn't too enamoured with Rev., BBC's comedy drama about a Church of England vicar. When it returned for a new season last Thursday night on BBC 2 I thought I'd give it a second look. The programme opened with the Rev, played by Tom Hollander, saying what seemed like heartfelt prayers while on retreat. So far so good, you don't see too many people praying on TV drama. (The next startling innovation should be a lay person praying!) The episode got a bit silly then when the Rev was treated as a hero because he was wrongly credited with tackling a mugger. At least this led to a worthy scene where his rationalising about accepting an award crumbled in a conversation with the Bishop of London - a charismatic cameo by Ralph Fiennes. Another plot strand about a school tour was more troubling. I got the impression that the show was struggling towards some insight when the Rev was called a "pedo" in the street and when he was struggling with huge child protection requirements for the tour. But there was a cheap shot at the Catholic Church - suggesting that you'd certainly need the protective measures if a Catholic school was involved. Admittedly the man making the slur was a dodgy character, but then in the "happy ending" the same character went off with the children on the outing despite child protection warnings, and the last shot saw the children and himself making obscene gestures from the back of the minibus. It left a queasy feeling, and there were some unnecessary crude elements as well, as if someone felt they had to make it "edgy".
12/11/11

Great to see Rita Connolly singing the Deer's Cry, by Shaun Davey based on the payer of St Patrick, at the inauguration of Michael D Higgins as President. Very soulful.
8/11/11
I seem to have my TY class rather intermittently, what with special workshop days, matches and other distractions! As indicated below somewhere I'm doing religion and music with the students. Today I used some songs suggested by an enthusiastic student, even if the religious content was rather peripheral. Living on a Prayer by Bon Jovi was popular with the students joining in on the chorus. Bon Jovi's Keep the Faith was more complex, relatively speaking, and I definitely had to provide lyric sheets as it was hard to make out the words. One I wasn't familiar with at all was Prayin' by Plan B (video top left), a rather unusual song about guilt and redemption. The lyrics of these are readily available online and there are any number of versions on YouTube - I used video versions as it holds the attention of students more than just a CD. Ah, the lost talent of just listening!
Last Sunday I was present for the live broadcast of Sunday Mass on RTE from the parish of Sts Mary and Peter in Arklow. The occasion was the 150th anniversary of the parish, and some of this history was outlined briefly in a video lead in. One of the encouraging facts outlined was there are over 700 lay people involved in parish ministries. I had to catch up on this video intro later as those of us in the church just got to hear the audio only. The church was mostly full for the occasion, and it was great to see many young people, not just in the congregation but taking a more active part in music and readings. Indeed the music was one of the more impressive features of the event, with a gospel choir on one side of the church, and a more traditional mixed choir on the other. The attractiveness of the music was enhanced by the poetic first reading - from the Book of Wisdom - and the sung responsorial Psalm was haunting - "Like a deer that y earns for running streams". Admittedly it was rather distracting to have all those cameras and lights in the church, and disconcerting to think that you might be on camera to the world at any stage and not know it. I've used the video of the Mass several times in class since then - to illustrate aspects of the Mass and of the local parish.
19/10/11
Today I tried out the first of the Mission Sunday prayer services. I used the songs mentioned below (entry for 13/10/11) along with Go Tell It on the Mountain from James Taylor's excellent Christmas album, and Salt and Light from the album "Songs From the Loft" (a great addition for any RE Dept). I took most of the prayers and readings from the resources sent to schools by the Irish Missionary Union (these can be downloaded from www.imu.ie) - click on the "Mission Alive" link.
13/10/11
Next week I'm planning to take classes to the prayer room for a service relating to Mission Sunday (Oct 23rd). So far I think I'll use I Send You Out and By Name I have Called You by John Angotti, along with Here I Am Lord (I have a version on CD by John Michael Talbot from his album Table of Plenty). Any other suggestions? If I get time I'll make up a special web page for mission theme resources.
Last Sunday I went to the Brooke Fraser concert in the Academy in Middle Abbey St Dublin. Fraser is a singer-songwriter from New Zealand who has written and sung with the well known gospel group Hillsong. Now she is pursuing a solo career with songs that are not specifically gospel, though I believe she still writes for Hillsong. Her songs on the night were very melodic, her band was really good, but the main problem was that I found that the words were very hard to make out. Whether this was because of sound quality on the night or her lack of articulation or becuase her voice was being swamped by the band I'm not sure. The opposite was the case with the Angotti concert reviewed below. If the message is important I think it's important to be able to make out the words.
9/10/11
Ha! There's an interesting date. One of my students said he was looking forward to this, pity we're not in school today.
I notice that The Way, that film starring Martin Sheen with the Camino de Santiago pilgrimage as backdrop, has recently been released in the USA - we got to see it back in May (see my review here , entry for 29/5/11). The film is due out on DVD on the 31st October. There's a perceptive review by Steven D. Greydanus at the National Catholic Register (click here), while over at the US Catholic News Service there's an interesting review by John Mulderig (click here).
8/10/11
Last Wednesday night my PC played TV for an hour as I watched a live concert streamed on the web from California. The artist was US singer-songwriter John Angotti who toured here this time last year - we were lucky to have him do a concert in our school - it was one of the highlights of the year.
The label "Christian Rock" doesn't do him justice as his appeal is much broader, and his songs can often be found in liturgical settings - some of his work was featured in last year's Emmanuel event for school choirs.
With a voice like Elton John and a knack for appealing melodies he is one of the outstanding Catholic performers in this field. Last week's web concert was from St Monica's High School in Santa Monica and the young students provided not only an attentive audience, but a fine vocal backing choir, perfectly complementing Angotii's classy band. However the heart of the performance was the singer's own voice and piano. The set started and finished with the catchy refrain "I send you out on a mission of love", there was a new version of "Make Me a Channel of Your Peace", and I particularly liked the moving "By Name I Have Called You". For all songs the words were crystal clear, essential when singing about the Word.
Between songs Angotti encouraged the young students not to be influenced by what others regarded as "cool". The world might offer lots of distraction, but the only thing that didn't end was love, and love sometimes moved us beyond our comfort zones. I liked the catchphrase "we can be bitter or we can choose to be better", and his notion that the music in heaven will be Bach and Hendrix! He stressed the important role of mystery, suggesting that if we were given the whole mystery we would only try to control it.
The concert doesn't seem to be available for playback, but there is plenty of concert footage from Angotti on YouTube (e.g. clip on left, recorded at the RE Congress in Los Angeles 2010). And he said he hopes to back in Ireland next June. His albums are well worth getting and should be useful in many school contexts.